Resources for research and inspiration
I started researching different monogram logos that can typically be seen in fashion design brands. I found that a common way to join the forms are through overlapping them, often creating something not initially legible, thus becoming an odd form for a logo. The monograms also utilise common characteristics found in the typeface. For example, the DC logo can utilise the 'C' by vertically flipping it to suggest it's also a 'D'. Having this in mind I decided to sketch out some initial ideas in Futura. I printed out my initials in the same size but in 'Medium', 'Bold' and 'Condensed medium' and cut them out. This was to give me a range of weights to experiment with as well as allow me to stencil them for accuracy. I found this was a good way to generate ideas as I could physically manipulate the type, often causing accidents leading to new ideas to try. It also helped me get a fairly close resemblance to the typeface which was helpful for alignment in my sketches. After several sketches I redrew some of my favourites to get a sense of which ones looked legible and suitable when filled in, as sketch outlines give a fall sense of space.
I chose the second Test sketch (see second image above) to develop into a monogram. this was because the 'S' and 'G' fit together so that they share a satisfying elongated curve. The distance between the two forms also generates a lot of negative space above the 'G' in addition to its open style counter, making it look spacious. I also liked how the bar of the 'G' looks like an arrow hen rotated. In my next steps I intended to experiment more with fonts in this chosen design layout.
Links for Research
https://www.stickpng.com/img/icons-logos-emojis/iconic-brands/chanel-logo
https://en.logodownload.org/dc-shoes-logo/
https://www.kindpng.com/imgv/Jimiwh_cnn-logo-black-cnn-logo-white-png-transparent/
https://www.pinterest.co.uk/pin/748019819350032840
https://en.wikipedia.org/wiki/File:Michael_Kors_(brand)_logo.svg
https://logos-download.com/11091-ea-sports-logo-download.html
https://pngimg.com/image/33948
https://1000logos.net/giorgio-armani-logo/
Design ideas and design process
After sketching some designs, I started to recreate them in illustrator. I started by creating a grid of 5X5 but found I couldn't maintain this for the taller Futura medium. Regardless I continued and began scaling the type and playing around with positioning of the elements. Once I settled on this I 'created outlines' of both of them and then used the 'Combine' setting in pathfinder to join them. I experimented with trying make the curve more satisfying through using the new anchor points handlebars to adjust the curvature to be more smooth I also experimented with removing and adjusting elements to create a more abstract monogram, similar to those I found in my research. Due to the 'Pragmatica Bold' variant having more variation in weight, they didn't intercept with the same width. Instead, I tried to accentuate the sharpness of its joint and felt like this was a nice twist, leading me to do the same with the bar of the 'G', making it look more like an arrow.
I found That these first two designs were too similar in construction so I decided to experiment with using a heavier typeface that could offer a more condensed feel. As a result, I chose 'Blenny'. I constructed the monogram in a similar layout but found that I could manipulate where the negative space fills the design to create more personality in the design. I started manipulating the spin and strokes in the type where they break off into terminals to be sharper. I also created a new stroke to follow the outline of the 'S' to make the design more legible. I think the new stroke styles make the type look slicker and create a nice contrast between stroke and terminal.
After finalising my designs, I attempted to animate them as rotating 3D logos in After Affects. Unfortunately, the tutorial I used required a lot of RAM to process the file. As a result, I had to resort to using the 'extrude and bevel' tool in illustrator instead as a mock up style. I think this doesn't work but felt it necessary to try anyway. This also led me to find another way to create some physical aspect in the design, so I tried adding different textures as overlays. I think these don't work either and find that my original intention of the animation would have worked best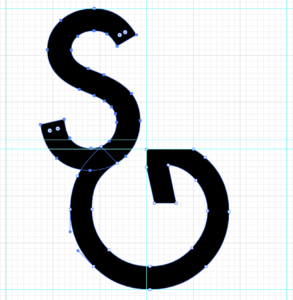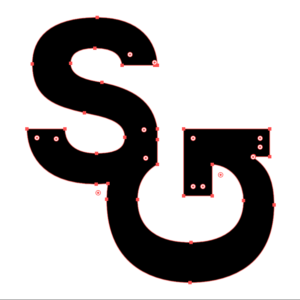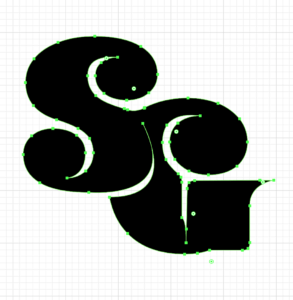 Software Tutorials
After finalising my designs, I attempted to animate them as rotating 3D logos in After Affects. Unfortunately, the tutorial I used required a lot of RAM to process the file. As a result, I had to resort to using the 'extrude and bevel' tool in illustrator instead as a mock up style. I used the box tool to position the front face of my design and experimented with the extrude depth to try and maintain some depth without the detail being filled of colour. I found for the slender designs this worked, due to more negative space to define the extrude element, whereas for the 'Blenny' design this didn't work well due to the lack of negative space in the middle. Regardless I explored using 'Diffuse shading' and picking a darker tone of front surface colour as well as directing the lighting to suggest a 3D design. This also led me to find another way to create some physical aspect in the design, so I tried adding different textures as overlays. I carried this process out by finding a royalty free texture of a crusted wall and overlayed it on the design, selected them both and created a mask. This showed the image inside the design, allowing me to then experiment with opacity and blend settings. I found that this texture looked too extreme and would have benefited to being a 3D render. Below are the links that showed me how to use these features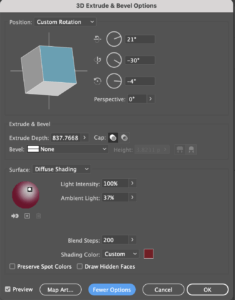 Links for tutorials
https://www.youtube.com/watch?v=Rcq3uq2WNsI