Amrita Shrilal has been involved in an exciting new collaboration with Bottomline Technologies this past year. Amrita is one of our MA Communication Design Graphic Design Pathway students graduating this week. She's also a BA Graphic Communication (Hons) alumnus.
Bottomline focuses on transforming complex business payments and processes into simple, smart, and secure systems. They work with financial companies and institutions globally, and are widely recognised as a payment and collections enterprise. They have banking relations with global banks, UK banks and, building societies, growth banks and payment service providers.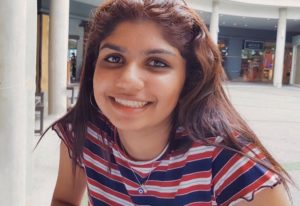 Amrita has a particular passion for user interface design. To develop experience in user interface design for the financial sector, she undertook a design brief for Bottomline's Head of UX Design (EMEA), Kellie White and, Senior UX Designer and Reading alum, Matthew Standage for her MA professional practice assignment. Dr Jeanne-Louise Moys, MACD Graphic Design and Information Design Pathway lead, supervised her project.
The brief gave Amrita the opportunity to explore approaches to designing a system that allows customers of different-sized businesses to customise the interface design, of a particular product, to match their brand needs. The challenging aspect of the brief was creating a seamless and easy process of designing elements of pages for customers with different levels of expertise on brand and webpage design. It required her to consider ways of presenting complex information and processes in a more straightforward method for end-users. Her design decisions were supported by her research into UX design, market competitors and the development of personas which helped her understand the user and business needs.
Amrita said: "I enjoyed this project as it was different from all the other UX projects I had done in the bachelor programme. It focused on Business-to-Business (B2B) rather than Business-to-Customers (B2C) which is more complex as you need to consider not just the user's goals but different types of business capabilities and interests. I had to think about how a particular organisation could utilise or benefit from the features of the system to make their process of designing the web interface a seamless experience."
The outcome of this project was a prototype of an interface system that allows businesses to brand themselves within Bottomline's products. It considers different user design needs and attempts to make the process of designing interfaces straightforward to those who are not familiar with design conventions or terminology. Some of the features within the system included editing the colour scheme, text styles and button styles.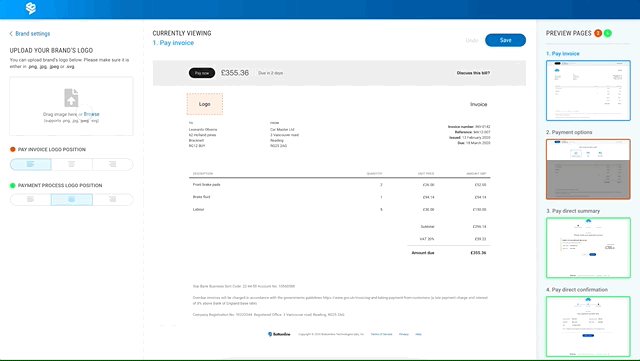 Reflecting on the project, Amrita said: "the project was a stimulating experience as I had to think about different user perceptions of design elements. I had to constantly ask myself whether it would be easily understood by someone without any design experience. Despite that, I enjoyed the opportunity to collaborate with Bottomline on an ongoing project and it helped develop my understanding of UX/UI design".
Kellie White said: "Amrita did a fantastic job of taking a complex problem and making it simple, a difficult task to accomplish. She worked well to align to good UX process throughout, from research through to ideation and user testing. I was thrilled with the outcome, she achieved a well thought out design solution and growth in her UX skillset through the experience. Well done Amrita! We look forward to future collaboration with the Department."
Matthew Standage added: "It was a pleasure to collaborate with Amrita and the Department on a professional practice brief. We were not only impressed with the overall quality of the outcome, but also the thorough research and design thinking that went into the process. One of the common challenges in B2B user-experience is striking the balance between complexity and flexibility. The work Amrita produced solves this problem well, using both visual and interaction design techniques to progressively disclose more advanced options to the user and provide guidance when necessary. We look forward to seeing how we can integrate her work and thinking into future product releases."
This project is the first collaboration between Bottomline and the Department of Typography & Communication. We look forward to exploring new briefs with them for our postgraduate students to work on in the future.
We also look forward to welcoming Matthew back in January for the two-day "Branding and user experience" workshop that he leads for our MA Graphic Design and Information Design pathway students in the spring term.