In spring term, our MA Communication Design students on the Information Design and Graphic Design pathways have the opportunity to undertake a wayfinding project, as one of their project choices. We usually collaborate with partners in the Reading community (for example, last year we collaborated with The Hexagon) and arrange visits to local sites. The pandemic provided an opportunity to develop new resources for teaching this project.
Wayfinding briefs provide great opportunities for strategic and creative user-centred design. Students have to consider how visual design supports decision-making and user experience of environments, as well as consider the needs and expectations of different users and stakeholders. They also require students to explore the interplay between functional problem-solving and cultural relevance and how branding and identity systems might need to work across a range of different materials and surfaces.
Wayfinding designer, and Reading alum, Joan Zalacain (http://www.zalacain.com/) leads this project. Joan says: "The importance of user-centred design is crucial to wayfinding but we also need systems that are appealing and sit harmoniously within their environment. We strive to convey this to our students as wayfinding is a growing area of international practice and our graduates need to be ready to deliver their best."
This year, factoring in the impact of Covid-19 restrictions on mobility, we developed a new brief to ensure students did not need to conduct any site visits to undertake the project. Joan worked with architect Maciej Kozak to develop maps and models that students could work with. In professional wayfinding practice, buildings are often at the planning or development stage, so it's realistic for wayfinding designers to work with these kinds of resources.
This year's brief envisaged a new community arts centre for Reading. Students worked on either an indoor or an outdoor wayfinding proposal for the centre.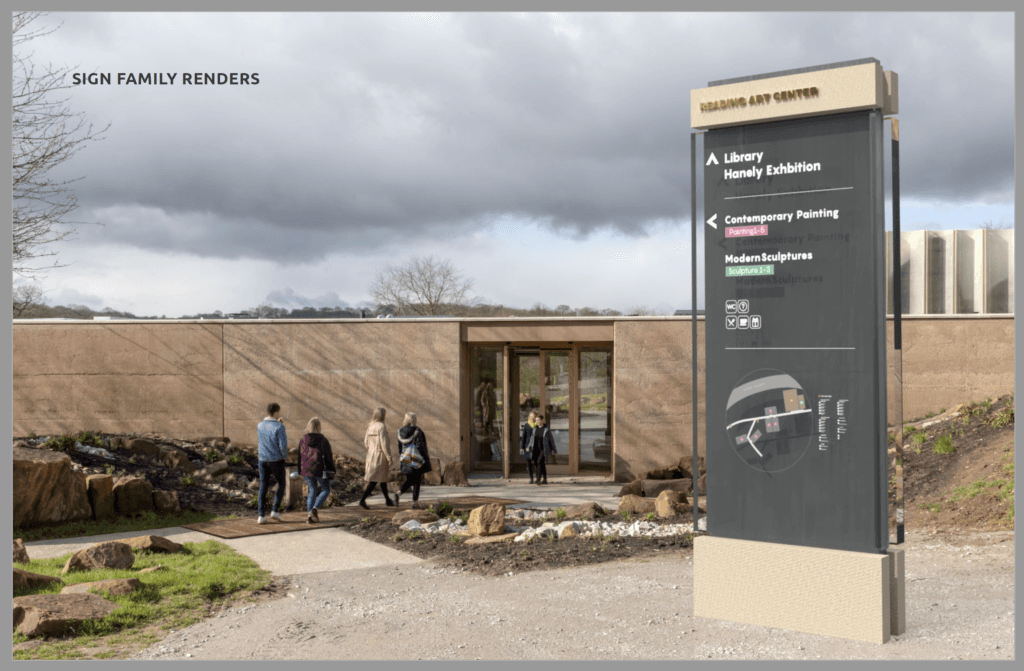 Information Design Pathway student, Fred Pena came to Reading because of his particular interest in wayfinding. He said: "The wayfinding project is a good opportunity to work on different aspects of design. Having to think about strategy, information architecture, user interaction, typography, and the development and application of physical objects in a three-dimensional environment really makes it a challenging endeavour.  It's about more than just making signage, but developing a whole system that has to be functional and visually engaging."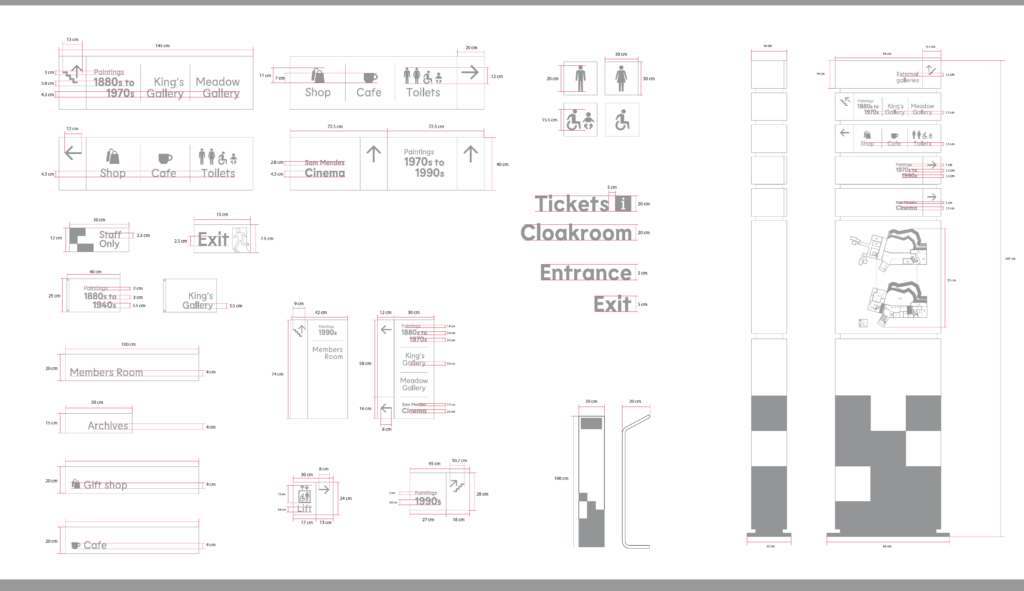 Siobhan Bailey (Graphic Design Pathway and returning alum from our BA programme) said: "I really enjoyed the wayfinding project as it was a completely new area of Graphic Communication that I was not able to study at undergraduate level. Coming from an art and psychology background before graphics, it was a perfect mix of the two and required a high level of critical thinking to meet user needs and solve problems. The skills I have learned throughout this project will be essential for me in terms of wanting to head into the exhibition design, events or wayfinding sectors, and in general for careers which require strategic thinking and initiative. Joan's passion for wayfinding and user centred design really inspired me and he pushed me to achieve my absolute best at every step of submission."

The project also includes a range of inspiring contributions from professional designers and agencies who are part of the Department's professional network. Thank you to May Chiang from Applied Wayfinding (London), Hayley Branston and Elena McLoughlin from Maynard (London), Anita Meier from Moniteurs (Berlin) who shared their professional insights and Reading PhD graduate, Dr Andrew McIlwraith who shared his expertise on mapping.
Evgenia Vrentzou (Graphic Design Pathway) said:  "Through the wayfinding project I learnt to have a more inclusive thinking by considering both the needs of people and the parameters of environment, in order to make an effective, creative and functional system. All the talks during the spring term were very inspiring and we gained important knowledge on how to develop our projects. Wayfinding combines both creativity and strategic thinking and is a part of design that I would like to emphasise even more in the future."

Evgenia also chose to explore wayfinding for her professional practice assignment. In this self-directed project, she designed a new wayfinding system for the coastal city of Heraklion. Her project built on the findings from participant studies she conducted to understand people's mental maps of the area – a great example of how we incorporate user research into practical projects at Reading.
In his professional practice assignment, Fred extended his experience of wayfinding to consider a journey-planning app that responded to new considerations arising during the pandemic. His wellbeing and urban mobility app – Let's Walk – focused on supporting people, who might have anxiety about going out during the pandemic but also need to get regular exercise, to identify appropriate places and routes to achieve their goals.
The wayfinding project is open to students on the MA Communication Design Graphic Design and Information Design pathways and MA Creative Enterprise Communication Design pathway. We look forward to running this successful project again with our new cohort in spring 2022.