BACKGROUND AND INITIAL BRIEF
I am, We are… Different by Design is a student-led group from the School of Art and Communication Design (Typography) advocating for diversity and inclusion within our creative fields. Two years ago, the team set out to create more of a sense of diversity and inclusion within our department, as students had felt this was something lacking. One way of doing this, was creating an annual zine that showcased design work in these fields and reflected on diverse and inclusive work. The zine has been designed to be distributed around the University of Reading, as a way to communicate to the University our opinions, design work, design skills and sense of diversity.
The purpose of this project was to curate and edit a zine on diversity and inclusion in the arts that would bring awareness to the growing diversity in our creative industry. The project presented the stimulating task to source, interview, edit and curate the third publication of the 'I AM WE ARE… DIFFERENT BY DESIGN' (IAWADBD). The aim of the zine is to showcase both work from current and past students within the school of Art, Film and Theatre, as well as designers world wide such as:
illustrator and writer Lily Williams (USA)

visual artist and educator Soofiya Chaudry (UK)

illustrator Lauren Tower (UK).
This is the third year that the zine has been published, and both of us have been fortunate enough to take part in this year's publication. 
We were conscious that although our client was someone we knew well, we understood that we still had to maintain a level of professionalism that is expected from us throughout the real job scheme. This meant we had to view Jeanne-Louise separately both as our client and as a supervisor. Our client allowed us to decide on what content would be most appropriate for the zine, and gave us freedom on who we could interview. As we were limited on the amount of spreads we were allocated for the zine, it was imperative that we only selected designers who we were creating change within diversity and inclusion. Having such free reign with who we interviewed was an exciting opportunity to reach out to diverse designers who inspired us, and were using their skills to create change.
OUR GROUP/COLLABORATION
This project involved working within a larger group with students across all three year groups, in both graphics and art; creating a sense of community spirit and inclusion. Our team communicated through a weekly meeting with our supervisor, enabling us to delegate tasks and troubleshoot any glitches we had quickly and easily between us. Our regular attendance to the real jobs meetings gave us clear direction for our next steps allowing the project to move forward.  This was an efficient way to stay organised and work toward a tight deadline, whilst also using both Trello and Messenger to contact each other outside of our weekly meetings. 
Working as a group on this project was fairly easy for tasks to be split and delegated, subsequently we did not have specific roles. Though the tasks we did were sometimes individual, we always kept in touch for guidance and advice ensuring we were both on track with the real job and with our own objectives. Trello was an effective tool as we were able to monitor progress, tasks, and deadlines, encouraging us to consider all aspects of the project right from the start and not lose sight of the final outcome. 
When we faced issues such as Aanand's inability to attend all supervisor and team meetings due to work obligations, time was organised for Aanand to catch up with Marianne to be given a de-brief on what was discussed and the aims and objectives for the following week. In addition, the pair of us dedicated extra time to areas of the project that needed focus and made time to speak to Jeanne-Louise or Liselot and Labiba (project managers). Overall, our communication and strong team bond allowed us to work effectively as a group to source, interview and write content for the zine and achieve a standard of work that we were happy with. We excelled to achieve a competent standard of work that was critically praised to be:
 "a really wonderful project and initiative" – Lily Williams
From the get go, the pair of us had taken a specific interest towards researching designers who were tackling the stigma around LGBTQ+ matters or were queer themselves. This stemmed from a personal interest on both our parts: 
"As a queer person, and a person of colour, being involved in the zine was an opportunity to reach out to designers who were queer people of colour and/or were creating change in their field. Being able to interview and talk to other queers of colour and what they are doing to create change has been an amazing opportunity." – Aanand Tank
"As someone who has close relations to the Trans community and identifies as an LGBTQ+ ally, having the opportunity to be a part of this year's zine and source work related to LGBTQ+ design, was something I could not pass up. This was my chance to speak directly with designers tackling Queer issues visually." – Marianne Winward
This common interest between us allowed us to work closer together throughout the project as we were interviewing designers in a similar field.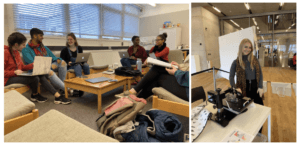 PROCESS
Initial Contact with the Client:
Our personal interest and existing understanding of topics surrounding diversity and inclusion made us keen to build a strong rapport with our client and learn more about diversity and inclusion from her. We wanted to demonstrate our dedication and interest in the zine from the start. Our process began with discussions concerning who and what we wanted to feature in the zine and why. Our featured contributors needed to be involved with diversity and inclusion because that was what we aimed to display – therefore, our individual tasks were to source and interview designers, artists, performers or educators. 
Research:
Our first stage of research involved exploring a range of designers and seeing in what ways they championed diversity and inclusion. As the pair of us had a strong passion behind queer aesthetic due to personal connections, we focused on sourcing content that was created by or for the LGBTQ+ community. This research stage was valuable in highlighting the lack of diverse queer work. It became clear very quickly that this was our opportunity to bring more awareness to the topic, to promote the content creators that are creating change for the queer community. One of the first challenges we encountered when sourcing creators was to ensure that the designs would be deemed diverse. Therefore we had to source people who were proactively creating content for change, rather than creating content that was accidentally diverse. 
Reaching out to  Designers:
When the both of us had sourced designers to engage with and feature in the zine, we had to reach out to them and gauge their interest to be a part of the zine. As social media, particularly Instagram,  is now a primary way for designers to showcase their work and reach out to people, we contacted a variety of potential contributors. These included but weren't limited to:
Jules Scheele – Illustrator

Soofiya – Visual artist and educator 

Lily Williams – Illustrator and writer

The Vinegar Stroke (a.k.a. Daniel Jacobs) – RPDR Drag Queen
This initial contact with potential contributors was an informal way of being able to see if they would be interested in collaborating, and showcasing their attitudes to design for change and inclusivity in the creative industry.  Other content creators we sourced (Lauren Tower) were already familiar with us and the zine, therefore we had their emails in order to contact them more formally to engage them with the zine.
Sourcing and Creating Content:
With our interviewees participation confirmed, we were in a position to begin drafting interview questions. This process involved doing some further background research into each specific person, in order to have tailored questions for them. In order to do this ethically our interview questions were proposed to the School of Ethics and signed off before we were able to send them to our participants, alongside a consent form for them to sign. This process of conducting interviews was very useful as it allowed us to explore and develop our professional skills as we had to be respectful and professional in our data collection. The opportunity to interact with a diverse group of people, it provided us with an overall perspective of what others view diversity as, and a voice of opinion other than our team and client. 
Once our contributors provided responses to our questions, we were in a position to begin editing down their answers. Each of our interviewees had provided us with some great responses and a huge amount of content to work with. This proved challenging when copy editing the responses in order to make sure it fit in the zine, due to the limited amount of pages. Once the main copy was finalised and signed off by Jeanne-Louise we were able to create a suitable title and blurb that summarised each article, that a user could read if they didn't have time to read the entire article. 
DESIGN DEVELOPMENT 
Visual references
In order to inform the design stage we spent time researching and exploring the existing zines, looking at aspects like shape, colour and type. This enabled us to gain an understanding of the genre of zines and gain a good understanding and feel for the possibilities of design layout. The research was beneficial as it showed us alternative typefaces and colour palettes, and how these influenced our design decisions.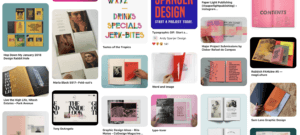 Pagination
This was the process of producing page layouts for our content. In doing this it helped us clearly distinguish the different articles in the zine, and allocate an appropriate amount of spreads. The pagination including conducting two main tasks:
distributing the content onto a range of pages

preparing the

page layout

.
When creating the pagination we had to take into account elements such as what pages contain colour and which is the middle sheet of the zine.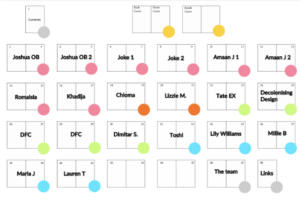 Working to an Existing Template
Liselot, our project manager, provided the group with a template to be used when designing each of our individual spreads. This ensured consistency across each spread in regard to columns, margins and baseline. The challenge here was to make sure that the zine didn't appear rigid and stiff. In order to overcome this, we used exciting and engaging typography in place of the suggested fonts.  In addition, column width and image widths had more freedom which meant the page seemed less dull. In doing this it created a zine that was cohesive yet each article had its own identity.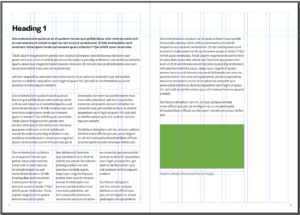 Design Development
The initial template of the spreads acted as the framework to our designs. We explored the use of bright colours, bold styles and fun typography, whilst contrasting this with the detailed aspects of our contributors work.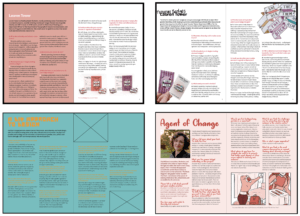 In response to feedback, we developed our spreads –  exploring layout, colour, and type in a more inspiring and playful way. From this we got positive feedback from Jeanne-Louise, our client, and supervisor. She was keen on the combination of hand lettering on the design, and was impressed with the copy editing for the articles stating that "It's fab!" and we've "done a good job in editing". From this feedback, our concepts were developed further. This was necessary in order to make spreads that were more engaging and  brought the design 'alive' – drawing more attention to themes of the work.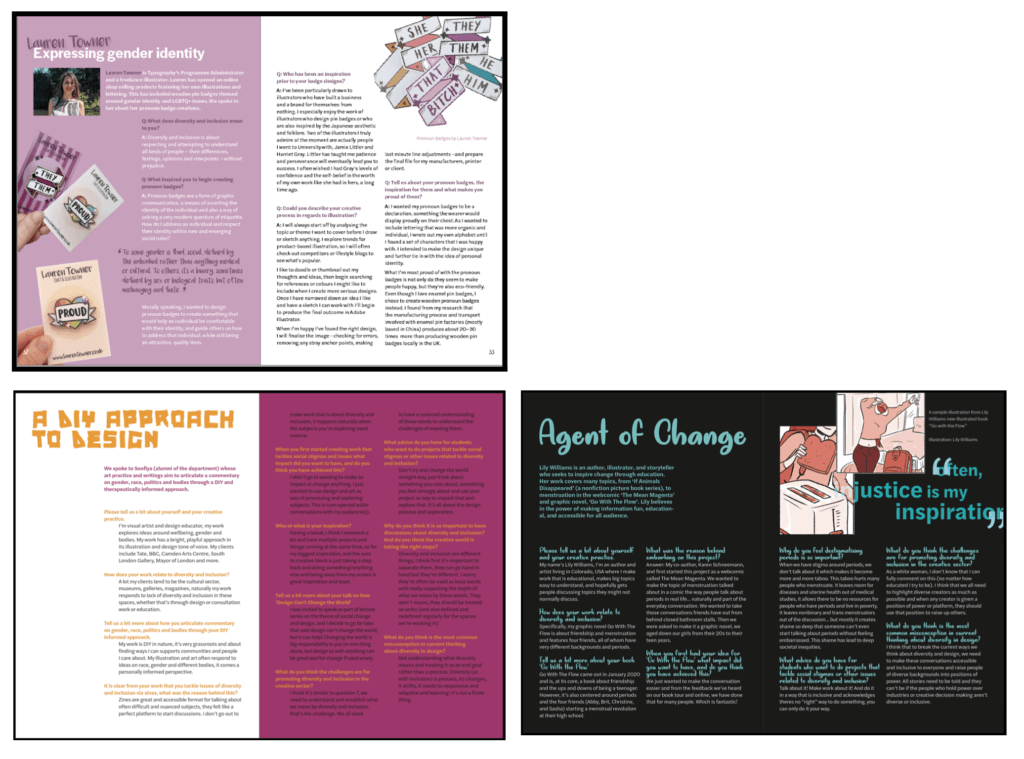 Challenges faced:
During the design process of this year's zine, the world underwent a pandemic in which many things came to a halt. Due to this, universities closed and face to face access to our team and supervisor was gone. This was a challenge that we had to overcome. Luckily, living in the technologically advanced society we are in we had access to video calling, where we used Zoom to continue our weekly meetings. This meant that we had to pull together as a team and really push our efforts in order to make sure the zine was completed on time. During this pandemic we had been finalising our interviews and chasing responses, however, contact with contributors was lost and a few wouldn't respond. Understandably they had bigger priorities and may have had other engagements. As a result of this, articles had to be cut from the zine, resulting in there being blank pages. In order to overcome this, as a collective we decided to dedicate more space to the articles that used predominantly images. This meant there was more space available to showcase the content created by designers. 
Moreover, because of the issues outlined above regarding COVID19, printing facilities were closed. Due to this, we proposed a digital zine that could be emailed out and published online. Also, to overcome this, we suggested having a print ready PDF for when things go back to normal. Although COVID-19 has not been ideal, it has stemmed the question of, where is the future of the zine? Where is it headed? Could a digital zine be the new thing? This sets us up for the fourth edition, which could take a more online presence?  
CONCLUSION
To conclude, this project has been one of the most enjoyable and exciting projects we have had the opportunity to be a part of due to its nature and topic. Throughout our three years of University, this project will stand out to us and be remembered as a high point in our degree. Having the experience of working closely with people from different year groups and departments has allowed all of us to gain a better sense of community spirit and diversity. Throughout the project, we were made to feel at ease with our group and never pressured to attend sessions and meetings if we were unable to with prior engagements. Having this freedom and sense of leadership throughout the project has been a unique opportunity on the course and further inclined us to stay involved and cooperative.
During this project, facing the challenge of a global pandemic has made us consider the importance of technology and staying engaged with one another. Even through this difficult time, the team has stayed committed and positive.We built confidence in our communication skills and teamwork and learnt to be responsive and adaptive to changing situations.
After being a part of this team, we both agree that other students should be encouraged to take part in the Zine project, whether it be to meet new people, represent diversity or be a part of a student led project. The experience has been so successful and enlightening that Aanand has spoken to Jeanne-Louise about still working on the zine after he graduates, as it is such a inspirational project to be a part of. Jeanne-Louise is thrilled and thinks that its "Great, that's fantastic that you are all keen to continue. Really excited about that" – Jeanne Louise