Promotion of the department
The Department of Typography & Graphic Communication consist of an inspiring community of creative and talented people. It has been running for over four decades which is why by 2018, a group of students, including myself, decided it was about time to put the Department on Instagram and share the amazing work that is produced here.
When working on another real job that involved the branding and promotion for the baseline shift events in the department, our team pitched the student-run instagram account idea to our supervisor. We argued that an instagram account would help us not only promote the baseline shift events but the entire department. Before setting up the account, we spoke to University of Reading's social media manager, Tim Watkins who I remember saying he was surprised that our department hadn't already made an Instagram account as we are the most creative departments at our university. He gave us tips and tricks on how to manage an instagram account in a professional but also fun and exciting way. He told us about getting permission to take pictures of people and people's work as well as how to make the whole feed look clean and coherent. We took on Tim's advice and began gathering content for the account.
Allocating roles and organising our weekly posts
We came up with a general timetable for our posts where we had a range of content varying from new books that had come into the reading room, our students work and interesting collections kept in the department. This timetable was altered every week and we used our trello board to assign roles to each other right at the beginning of each week. With permission, we took pictures of our lecturers' offices as they had  great graphic design collections that not everyone in the department had seen. We also used the story feature on Instagram to document our daily lives as students and the field trips or events that we all went to. More recently, we developed a feature that we named "Shout out Saturday" where we post stories, every Saturday, with a plugin to some of our students' own design accounts for people to go and follow. This was successful as it gave students the opportunity to put themselves out there to potential employers and also to their peers and fellow members of the typography and graphic communication community.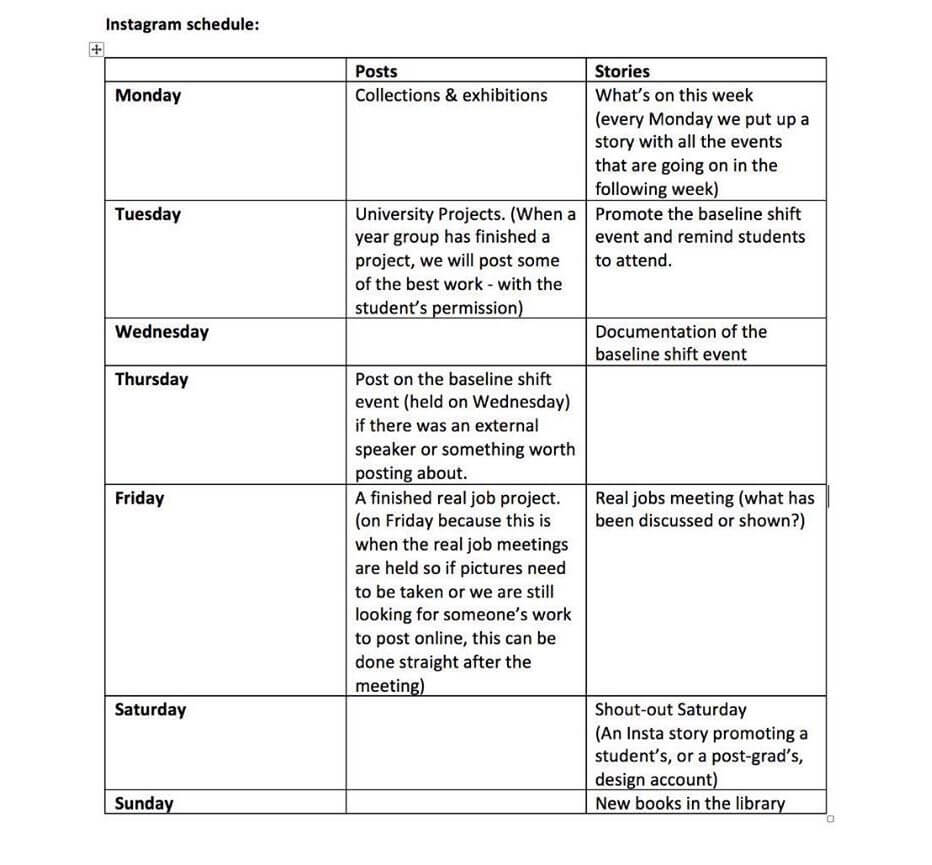 Branding of posts
To make sure the account was fun and engaging we decided to create curtain branded posts. In the beginning we used yellow in a lot of our posts to represent the two yellow doors that all of us students see walking into the department. We though the colour was happy and uplifting but also associated with our department building. We also used hashtags to categorise our posts. For example, when posting student work we would put a hashtag of what type of design it was and we also had our own hashtag (#uortypography) so students and others could put their work up using this hashtag too. We had a series during one reading week when we used black backgrounds to promote old student work that hadn't been posted before but definitely deserved recognition and we have more recently been posting branded posts and stories for the 2020 degree show promotion.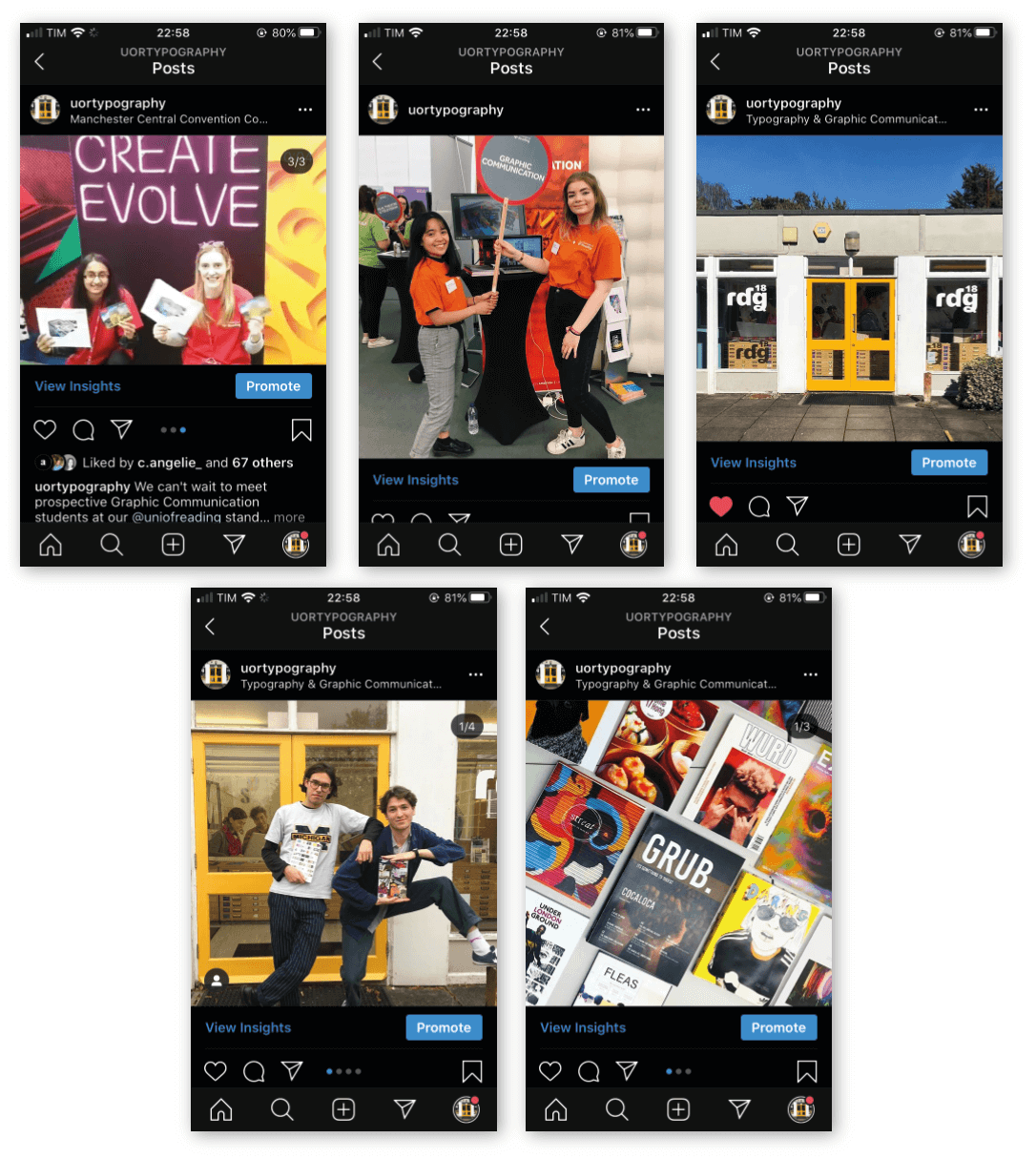 Our achievements
This real job was unlike any other because it allowed me to join a group of my peers in creating a social media presence that reached out to not only current students of our department, but also to our current lecturers, past lecturers, prospective students, alumni and external designers who are interested in our department. This was, undoubtfully, the most rewarding job I have been involved in because we were able to bring our creative community into communication with each other. We received messages from alumni saying they
"still feel connected to the uni through this platform" – Mauricio Villaymayour
Moreover, we were lucky enough to get in touch with the influential graphic artist, Patrick Thomas, who agreed to give a talk about all of his wild stories as an ambitious and risk-taking designer here, at the University of Reading. This was a huge achievement as we were able to find an influential artist, that is admired by so many of our students and staff and invite him to our department.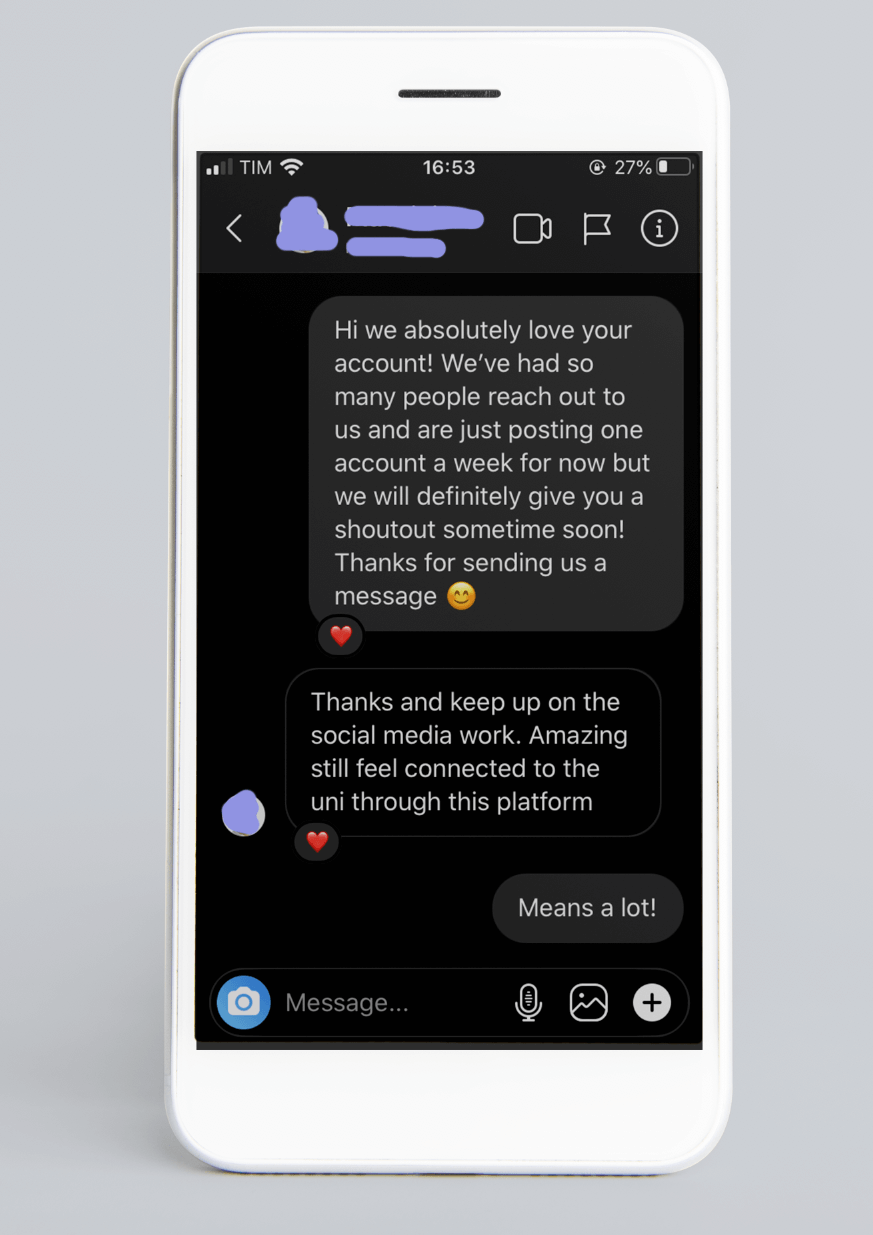 Challenges
We cannot forget to mention the challenges that we faced throughout this real job as these helped each of us grow as designers. During reading week, we posted past work from our students that we hadn't been able to put on the account before for various reasons. One of our posts was about another real job that had been completed by one of our students. We had posted this student's work with a positive caption that stated what a good job our fellow student had done and how their client was really appreciative of their work without entirely being certain that this was the case. After posting this real job work, we received a message that suggested we rethink our statement and perhaps amend it to something more accurate. We took on the constructive criticism and decided to change the caption of this particular post to make sure that our followers were happy with what was being said on our Instagram page. This made us realise that checking the authenticity of the statements that we made on this page was extremely important.
Another challenge that we faced was the effects of Covid 19 on our department. We decided to try and reach out to our followers during these difficult times by providing them with some uplifting and inspiring content. We gathered pictures of people's workspaces at home and posted these to inspire each other to keep going. We also constructed Q&A's with both our prospective and current students about their confusion with the future of their studies and tried to answer their queries as accurately as we could from a student point of view. We gathered peoples working from home tips and shared these with everyone and we also found some inspiring articles, design work and free online courses that we thought could give people something to do if they were feeling bored at home. We felt that sticking together through this difficult time was helpful to everyone's mood and we wanted to show that we support one another even in times like these. As this years degree show was moved online this year, we also worked closely with the degree show team to promote their social accounts and their website on our platform as well.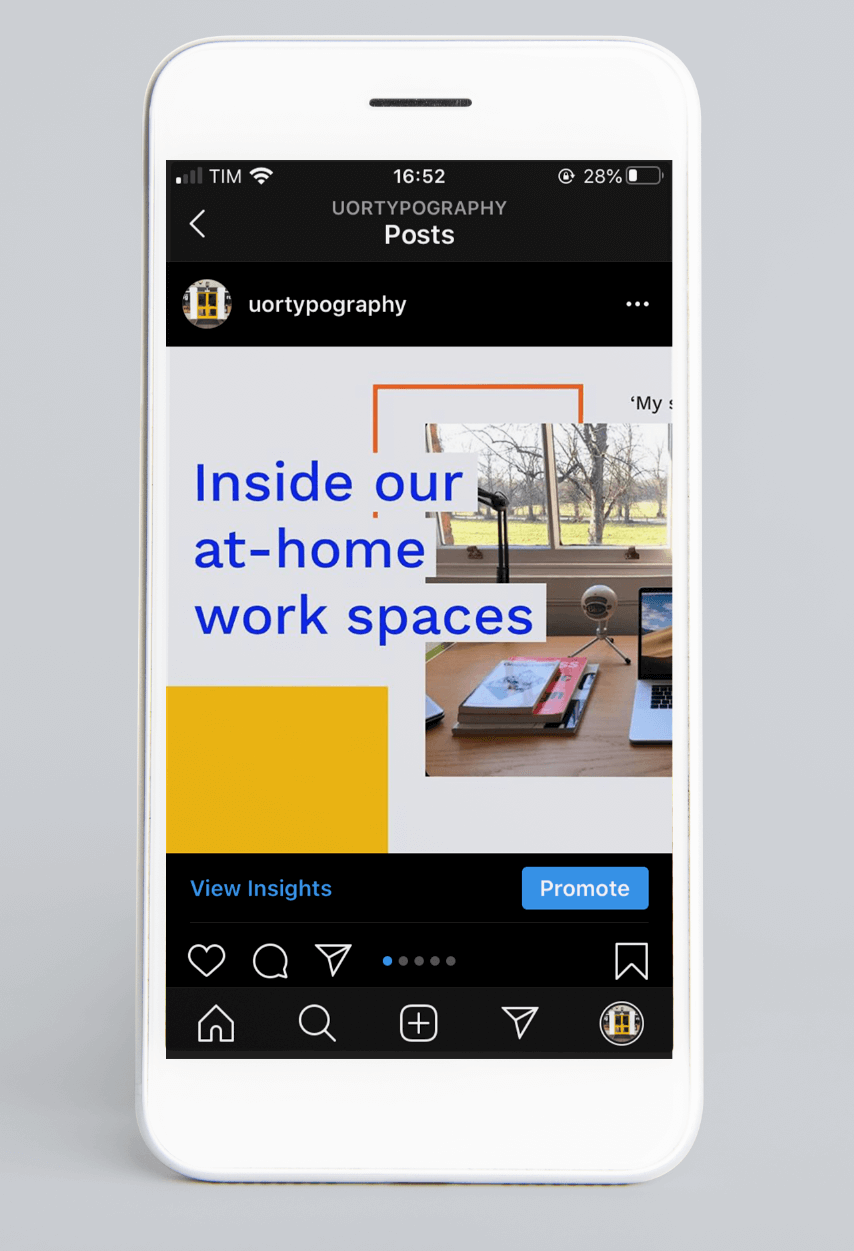 In conclusion…
Overall this has been a great experience. I have thoroughly enjoyed the journey of working with other students on the baseline shift committee and then taking on a leadership role with creating the Instagram account and organizing the content for our posts. Over the years we have been able to gain over 1,600 followers and we have been able to get in contact with some really great people. I have great faith in the Instagram account continuing to be inspiring and resourceful for students in the coming years and I look forward to seeing how it evolves with new students taking on the social media managing role.