This week was a very special Baseline shift event. Alumni from the Typography department returned to give us an insight into how their careers have progressed since graduating. Graduates from the past 15 years shared their broad range of their different experiences in the design industry with a room full of Part 1 students. Some lucky Typography applicants even joined us for a portion of the talk before being swept away back to their portfolio day. For all of us, it was a look into our futures.
Sarah Newitt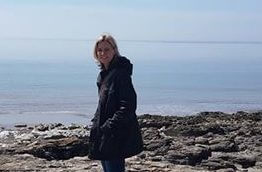 Sarah Newitt graduated in 2003 and currently works as Design Director at Kiku Obata & Company. She works on brand identity, signage and editorial projects in the fields of art, culture, commerce and the public realm. Sarah was part of one of the last years to complete the four year BA degree course at Reading, and she completed her dissertation on wayfinding. This ultimately played a huge role in securing her first job, as she was approached by the  Design Research Unit after presenting it at her degree presentation. Her relationship with DRU led to her designing the wayfinding material for Clapham Junction station. Over time, her interests moved away from wayfinding, so when she was approached by fellow Reading grad Fraser Muggeridge (who also visited us very recently), she took a job working alongside him. Working at Fraser Muggeridge Studio, which is known for typography and book design, Sarah learnt a lot about refining the visual side of her craft in a 9-year stint. But she needed another move in order to expand her career in new direction. A decision to focus on branding took Sarah to another extreme – a job at Small Back Room, a leading branding agency. This was a stepping stone into a new area – and an insight into a more corporate, strategic world.
'When I worked at a huge branding agency, it was more like two thirds thinking and one third graphics.'
In 2015, Sarah was approached by Kiku Obata & Company. She began working on a freelance project before being offered a permanent job with them. She now works there as Design Director, overseeing a range of complex projects for high end clients. Her roots in maps and signs still serve her well, but the creativity she is afforded at Kiku Obata lets her approach these disciplines from a fresh perspective.
'I still work on signage and way finding, but in a much more exciting way than before.'
Liam Basford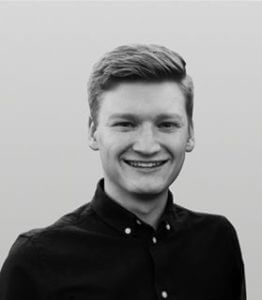 Liam Basford is the most recent graduate among today's speaker, having left in 2015. He currently works in Birmingham in the fields of branding and advertising. After graduation, he faced the problem of deciding whether to stay in his home town to work, or move to London, where there were many more design opportunities, but much more competition. He also faced the dilemma of which area within design he wished to work in, branding or advertising. During his studies, Liam completed two internships during second and third year. At the end of the course, he won a job at branding agency Fresh Britain where he learned about brand strategy and completed his biggest project, the rebranding of Bear Grylls. As of very recently, Liam works as an advertising creative at an agency called Chapter .
'Advertising is trying to communicate what the brand stands for.'
Liam kindly shared some of his design top tips with us, emphasising the importance of sharing your ideas with others as design is a collaborative process
'A great portfolio will get you an interview, a good attitude will get you a job.'
Within the term 'graphic designer' there are so many disciplines. It's good to be a 'jack of all trades' as long as the quality of work is not sacrificed. Liam suggested that as designers, we identify our two strongest skills and use them. In his case, he combined his typography skills developed whilst studying at Reading and his love of illustration.
'Enjoy what you do, don't take what you do for granted. Design is one of the few jobs you can get where you can express yourself on a daily basis.'
Liam also emphasised the importance of always continuing to learn. He's recently taught himself skills in film editing, for example. For him, the course at Reading provided a grounding in the theory of design, but kept his mind open to the need to keep embracing new technology and new ways to express ideas. A printed sheet of paper is not the only way (and, these days, seldom the best way) to convey a message!
Rachel Anderson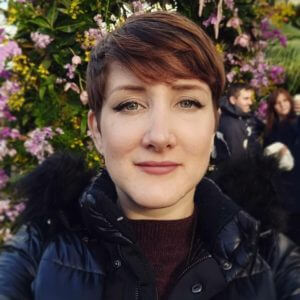 Rachel Anderson graduated in 2009, and then went on to do the MA in Information Design here at Typography. After graduating, Rachel worked as a visual designer at Nokia, designing many different types of apps including an app store. She moved on to join the design team at Microsoft as senior visual designer. She's now a senior product designer and mentor at Firefly Learning where she works with UI, UX and product strategy.
She was asked for some tips about how she migrated from feeling like a 'print' designer at uni, to becoming so focussed on digital products:
'A lot of the design principles translate across different types of design.'
In response to a query about how to present and sell work, she took a classic approach to getting clients to focus on objective criteria.
'Don't ask people if they like your design, ask if it solves the problem.'
James Hannaford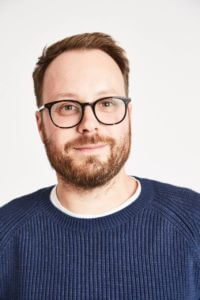 James Hannaford, a MDes graduate from 2008, is now Head of Creative at Jack Wills, working in packaging, branding, window design, social media, and digital design. He works on all design aspects within the company, leading a team of six people. Websites, shop windows, social media, branding material and brand identity are under his control, and he signs off everything creative before it is sent out, communicating with company members all over the world. Design is such a fast-moving industry, so the Jack Wills brand is constantly refreshing to ensure it stays relevant. It's important for the branding to appear holistic, whether a customer opens an email or looks in a shop window the same key branding elements should be recognised.
Starting at Jack Wills as a junior artworker three months after graduating, James initially worked on catalogues.
Whilst at the University of Reading, he did some internships working on printing presses which really expanded his knowledge and understanding of the printing process and finishes that are available. But it's connecting his diverse interests in design, print, advertising and fashion that provides James with his greatest satisfaction at work
'The best part about working at Jack Wills is interacting with the team.' – James Hannaford
As well as working full time at Jack Wills, James also does freelance work, mainly focusing on brand identity. When asked how he finds time to undertake so much work, he responded that he just really loved what he does and is very dedicated.
'I find freelance really engaging, but you have to really want to do it.' – James Hannahford
Q&A
The end of the talk played host to a short question and answer session with the alumni. When asked about how they felt the course at Reading fed into their everyday lives as designers, the prevalent response was that the strong emphasis placed on typography at Reading was a key underlying skill – and one not possessed by many graduates from other universities.
'Typography is a differentiator. Not every course has that grounding in typography or the expertise that we're exposed to.' – Liam Basford

'There's a good grounding in theoretical, historical and practical approach. After you know the rules and have mastered what design is, you know when you can break them.' – James Hannaford

'I have friends who took courses at other universities and they sound a lot like fine art. It seems exciting when you're at university, but it's much more difficult to make the transition into the real world when you're met with a brief.' – Liam Basford
Another point brought up by a few of the graduates was the benefits of the Real Jobs scheme. Working to satisfy a client helps us to develop key skills, whereas BA courses at other institutions can be more conceptual. Real jobs give us stories to take to interviews, where you've had to overcome problems specific to you. They give you a much more unique experience in design.
The way the course at Reading is set up (receiving a brief and working on it with consideration to the client requirements), is much like the 'real world'. The graduates all appeared to agree that the course at Reading really prepares graduates for going out into the world of design.
In concluding, Sarah made a point about understanding when to fight for your principles, and when to let things go. She suggested that a thorough understanding of design theory, copied with mature, help you know the limits of an argument
'You need to know when to let things go and when to fight your battles.' – Sarah Newitt
James's final thoughts were focussed on making understanding the relationship between design print, and, contrary to what many people might expect, making the point that a digital-first approach without a full schooling on the many possibilities of print can lead to rather bland outcomes.
'The grounding in design for print really helps when moving into digital design. With a purely digital background you're very grounded in the use of grids, having a print background gives a much more fluid approach.' – James Hannaford
We're tremendously grateful to all our visitors for giving up their time to inspire and inform the next generation of Reading graduates. We'll be keeping an eye on what they do next, and looking forward to another round of Alumni talks next term.