Our first Baseline shift Wednesday morning session kicked off this week and Typography students were lucky enough to receive a visit from two members of the design department at Dorling Kindersley's Knowledge team. Kit Lane, who is alumna of our department, and Karen Self, art director at DK, gave a very interesting talk covering many different aspects of the company, as well as promoting the varied internships they offer to students.
'It was very useful to have industry professionals come and talk to us so early in the course. It was good to know about internships I could apply for sometime in the future' – Ruth Bartley, Part 1
The DK difference
DK offered students an insight into the exciting world of publishing, from their own unique perspective as market leaders across a range of areas. They covered their practical design process as well as the design thinking that goes along with everything they do, emphasising the importance of considering the consumer (not just the reader) at every stage. The lasting impression was that DK operates very differently to many other competitor publishing companies. This was exemplified by the fact that the majority of design is done in-house, with comparatively huge amounts of time (often four or five months) are spent designing each book, spread by spread, as opposed to flowing text into a prebuilt specification.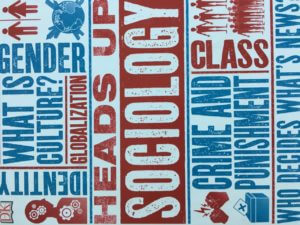 Design challenge
Students were given the opportunity to take part in a workshop led by Kit and Karen in the afternoon. This involved generating ideas for a new book named 'Urban Detective'. Students worked through a design process starting with some initial research into the theme before sketching out rough ideas for book covers and inside spread layouts.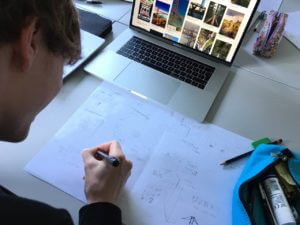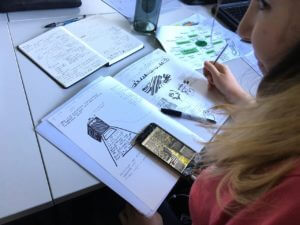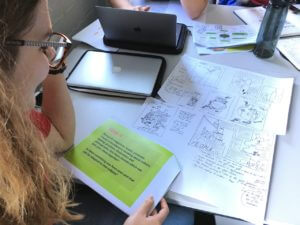 These ideas were then refined through peer discussion and input from Kit, resulting in a handful of clear concepts. A group crit let everyone to receive feedback on their work. Throughout the process, students kept in mind the audience and aim of the book, in true DK style.
'I enjoyed the workshop, as it made me consider more about book design, than I might have otherwise considered on my current project' – Alex Ganczarski, Part 1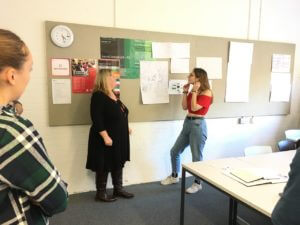 'I really enjoyed the workshop and am taking away a greater understanding of how to plan my ideas and concepts, as well as how the 2nd and 3rd-year students plan and execute their work. It'll help me a lot over the next 3 years of the course' – Rory Tellam, Part 1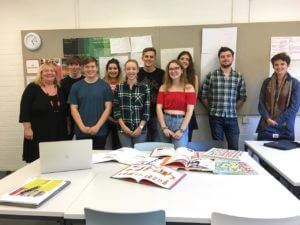 Portfolio reviews and interviews
Some students also took the opportunity of having a mock interview and portfolio review with Karen. This gave a feel of what an interview is like in a professional context, preparing them for heading out into the world of design beyond university.
'Karen made the experience calm and professional, offering great feedback on how to improve my portfolio' – Laura Marshall, Part 3

'It helped me to understand the process and content of a professional interview in a relaxed and casual context' – Fay Rayner, Part 3

'I am so glad I took on this opportunity. It has made me feel much more confident and prepared for future interviews' – Jacob Hawkins, Part 3
Overall, our visit from DK was a big success. Around 65 Typography students were offered an insight into what life is like in the graphic design and publishing industry, which will be very useful when considering career paths later on – and much sooner for our students in Part Three!