Overview
Third year students Ruth and Maya and second year students Lucy and Grace were selected to form the 'Undergraduate Recruitment team' to increase applications to the BA Graphic Communication course throughout the 2020/21 yearly cycle. The deliverables for the project were to be determined by 'blue-sky thinking' and the innovative ideas that were generated, with a variety of possible outcomes, including social media posts, digital or physical brochures/leaflets, presentations and the organisation of online portfolio days. The success of deliverables was measured by the number of applications that the course and department received for the academic year, aiming for a greatly increased number than that of last year.
Aims
To increase undergraduate applications for the BA Graphic Communication course

To raise awareness of the course to students who may not think of it as a viable option for their career or university experience i.e. those not currently studying

art or design

To generate innovative and creative long-term methods of promoting the department across the UK

To effectively encourage prospective students to apply through the emphasis of key statistics and facts about the unique academic and creative aspects of the course

To ensure portfolio days are run in the most effective way despite COVID-19 and so that they are run as similar as they would be if they were in person

To increase the use of student-fronted promotion of the course 
Target market
Students in their last two years of schools who are preparing for open days and beginning to think about their UCAS application

Schools who hold career/university days to help their students explore many different degree paths and specific universities

Not just art students but also the academic students who may not have even considered Graphic Communication because they do not yet understand what the course is really about

Three specific target groups; prospective students, applicants and offer holders. These groups will all be at different stages of the applicant journey, so it is important that our approach is appropriate for each one

Additional considerations for parents, who are interested in the application process for their child
Roles and responsibilities
The roles and responsibilities of the design team varied per deliverable and each team member was heavily involved in the idea and design generation process throughout the project. Additionally, each team member had a specific role that allowed for better team organisation and understanding of individual responsibilities. Ruth was project manager, being the point of communication between the design team and the client, Maya was finance manager investigating the realistic costs of implementing ideas, whilst Lucy was creative director supported by designer Grace. 
Lucy and Grace will continue the project into their third year with new team members in the next academic year, carrying our ideas forward for the next recruitment cycle.
User research
In order to fully understand the deliverables that were required at each point of the applicant cycle, a user journey was developed, mapping the various points at which we could interact with potential applicants and the language that would be used to target them. Figure 1 demonstrates how target users move from being prospects to applicants to offer holders throughout the year and the outcomes involved at each stage to promote the department. Figure 2 explains how this journey fits into the academic recruitment cycle, which is repeated each year, starting in September.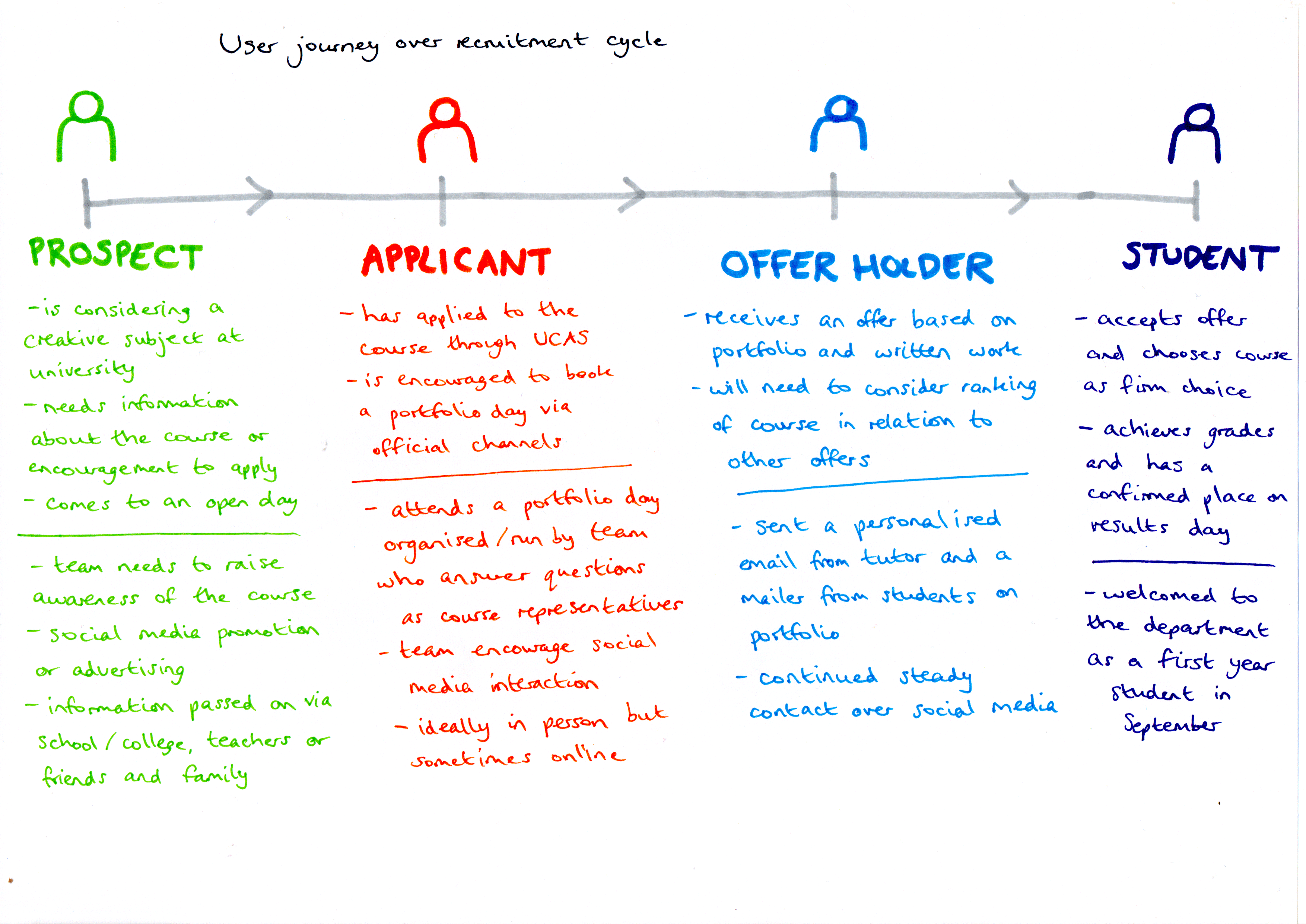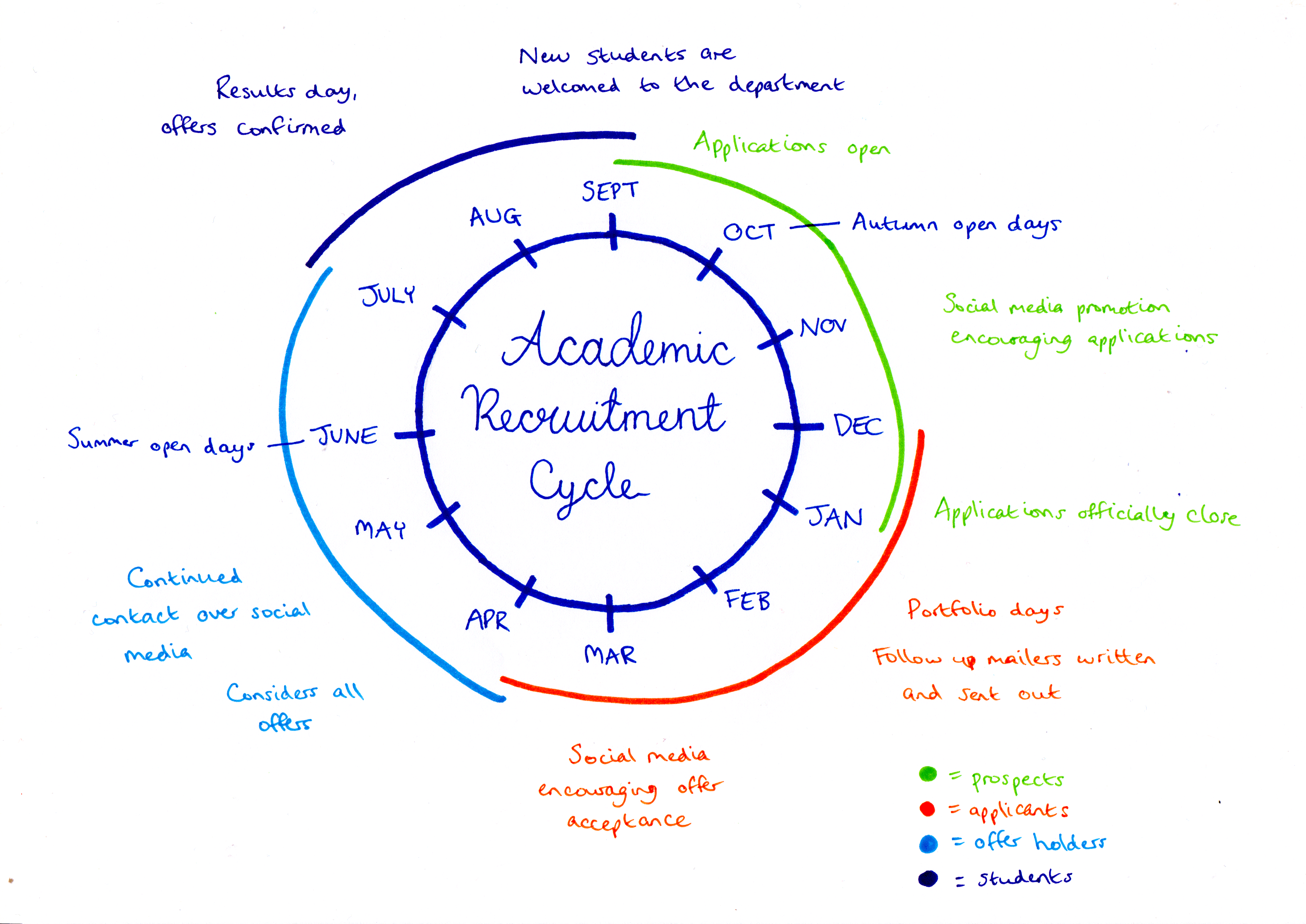 Outcomes
As the project progressed, a number of outcomes were developed and explored. As a team we were involved in the development of a Facebook group that was aimed at applicants. The purpose of this Facebook group was to create a platform for applicants to ask questions and to engage with the content that we posted. The Facebook group also enabled applicants to link with other students on the course and begin to recognise names from portfolio mornings and applicant sessions. Additionally, we helped to create posts for the department Instagram to promote the course, examples of which are shown in figure 3.
The portfolio mornings and applicant sessions were arguably the biggest part of this real job where most Saturday's two members of our team would join our supervisor and tutor James and help him run the session. We felt having existing students have some alone time with the applicants helped to make the applicants more comfortable and gave them time to ask us more general questions related to university life. Following each portfolio morning, a personalised mailer was written and sent by Ruth to each applicant turned offer holder, commenting on their individual portfolios and aspects of the course that were discussed in the session. A copy of the departments diversity zine was also sent out, as seen in figure 4. These were also supported by emails and phone calls to the applicants, a personalised approach that proved popular and received positive feedback from the students.
Aside from portfolio days and running the Facebook group we were also tasked with smaller jobs to promote the department. One of these tasks was to create a promotional video for applicants that had a brief introduction about some of the students in the department (including ourselves). The creation of this video had the purpose of showing potential applicants that it doesn't matter what background they have come from, graphic communication may still suit them. Using a variety of students helped to highlight our range of backgrounds despite still ending up on the same course.
As a team we also created a mailer that was to be sent out alongside our course brochure. We decided as a team that we wanted the mailer to be integrated with the brochure, and thought we could achieve this by creating a folded 'R' (for Reading) to sit on the corner of the brochure (figure 5). The 'R' contained a personal message from ourselves and also some information about the typeface of the 'R'.  Although this design was not produced for this year, the concept may be used within the next academic cycle.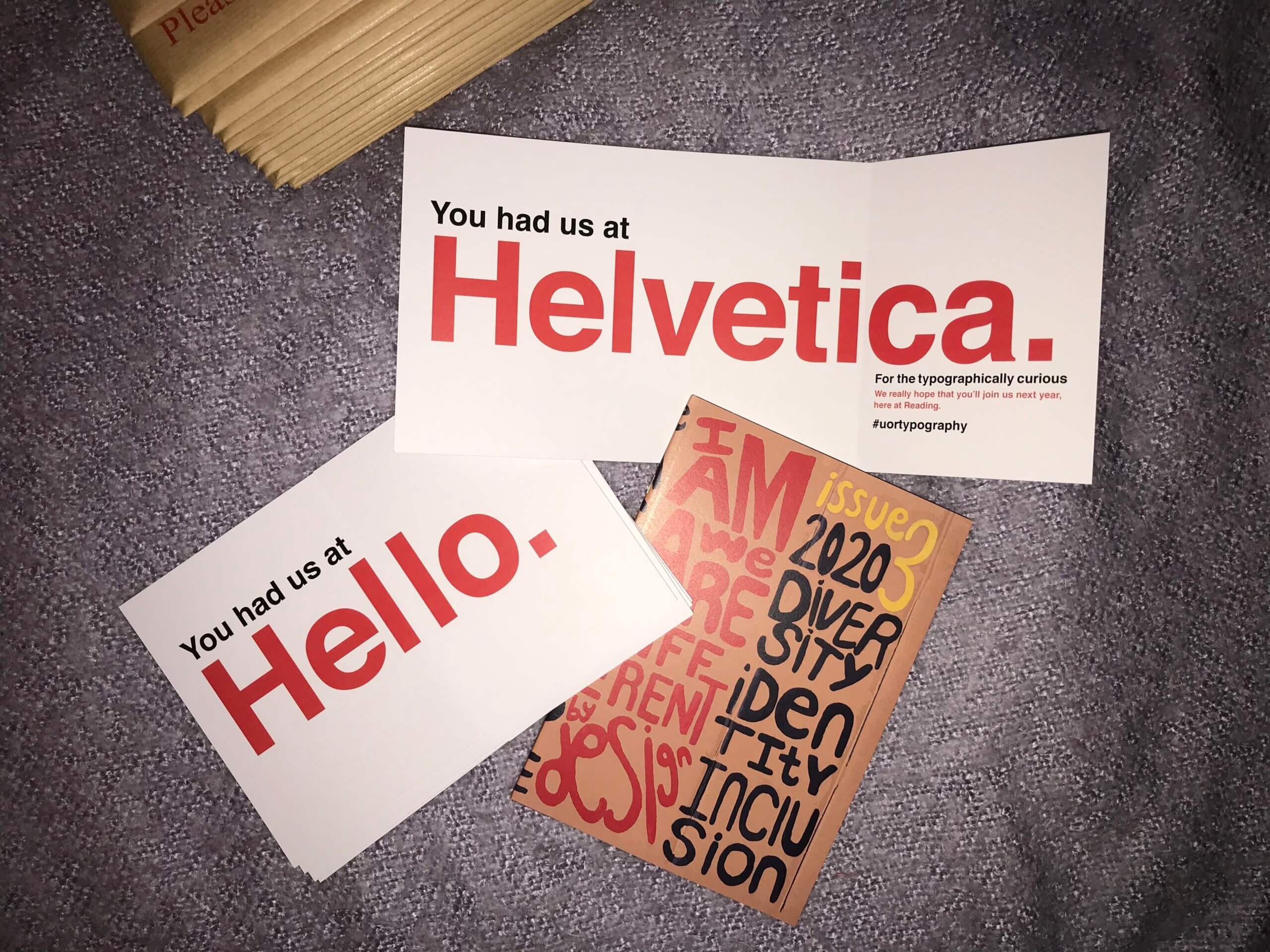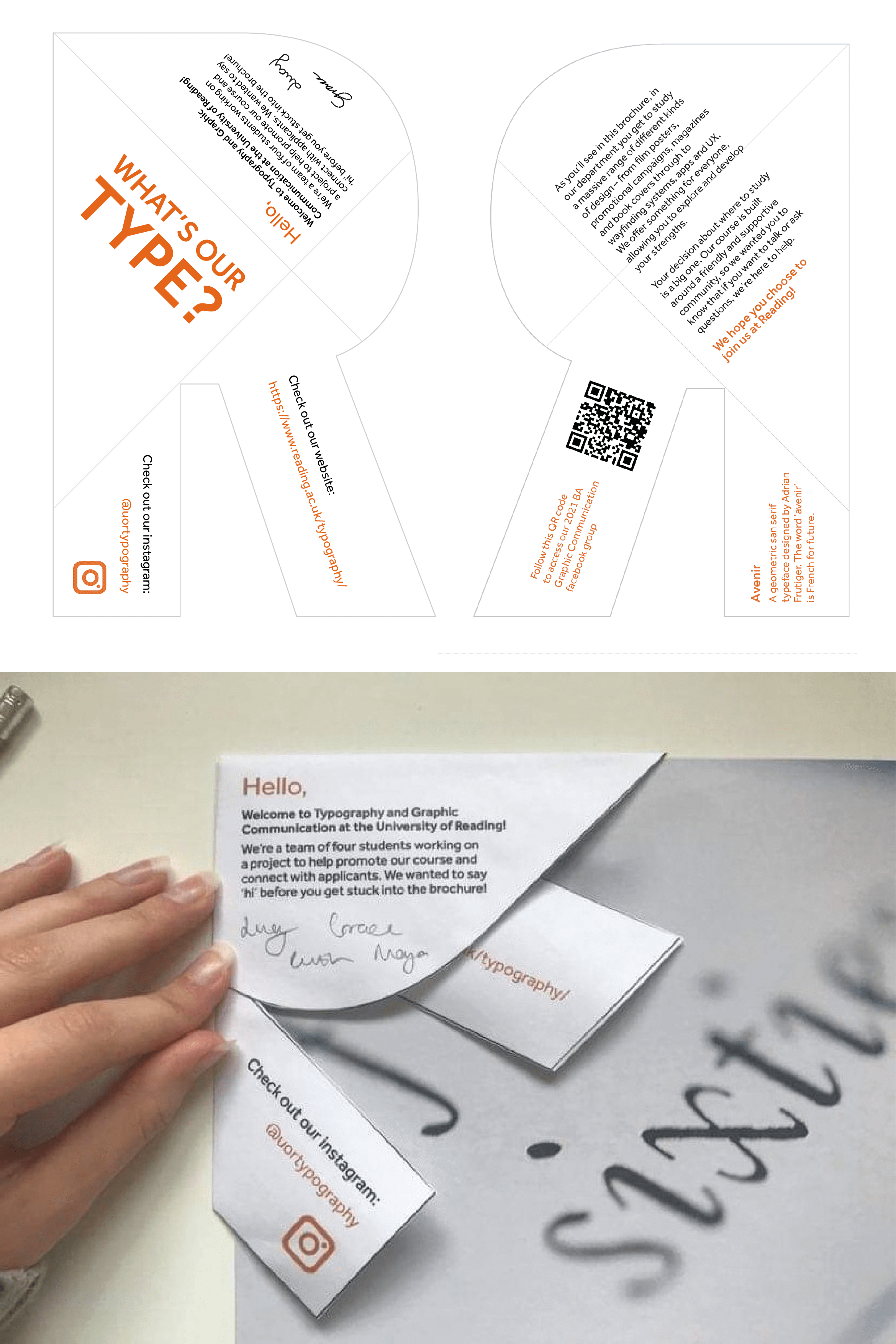 Team work
As the yearly recruitment cycle progressed, it became clear that working as a team and delegating roles efficiently was the best method of ensuring success. The portfolio days that were held every Saturday from December through to April were mainly hosted by Ruth and Lucy to ensure consistency and so that each week ran smoothly. Ruth and Lucy formed a partnership and by the end were completely confident in running a portfolio day alongside James. Despite Maya and Grace not being involved in all the portfolio days, Ruth and Lucy had briefed us on what we needed to do so that everyone was able to step in if needed. 
Aside from the portfolio days, working as a team was important when trying to create an innovative method to recruit possible students. In our weekly catchup with James we were often briefed with a task to prepare for the following week. We decided it best to think of our own ideas ready for a team meeting where we could then collaborate and develop our ideas further. We found this the most useful method to generate ideas as we sparked thoughts of each other. 
Not only did we work as a team of four but James was also an element of our team where working with him was crucial to progressing through the recruitment cycle. James' advice and insights into his previous experience of the recruitment cycle was helpful for us when pitching our ideas as James helped us to fine tune our thoughts into a successful plan.
Reflection
Working on this project during the Covid-19 pandemic created various challenges, mainly in generating and implementing mostly digital ideas, compared to the physical and more personable approaches used in previous years. As a team, we were required to adapt past outcomes in order to provide a relatively similar application experience for this academic year and we were conscious of increasing prospect participation at online portfolio days and continued interaction over social media and mailers. 
Measuring our success was slightly different and more difficult compared to other design projects we have worked on in the past, as we were more focused on applicant numbers and response rates, which we did not always have immediate access to due to confidentiality issues. However, it could be considered that this academic year is not comparable with other years due to the pandemic, which will result in changes to applicant behaviour despite our work to improve prospects. 
Overall, we worked coherently as a team throughout the year, having the opportunity to develop our creative thinking and strategy generation within the constraints of a mostly digital space. The project provided experience of working as part of a wider marketing team, as designers, consultants and idea generators, roles that could help inform our practice in our future careers. Personally, I (Ruth) have been able to improve my confidence and social skills in talking to a range of people online, especially at portfolio days answering applicant questions and promoting the department, which I can apply to upcoming job interviews. 
The transition of adapting social skills to work online I (Maya) found initially nerve wracking, however as we began the portfolio days I began to develop more confidence. The skills I developed through the portfolio days will be transferable as I begin to apply for jobs and undergo interviews. Overall, I feel that this job was an exciting job to be a part of, as the success of this real job has a direct impact on our own graphics department, which is unlike other real jobs.
— Ruth Bartley and Maya Goddard