The first mini project in design practice 1 module, to design an ideal gift to our partner base on three of their fun facts.
As my partner is a k-pop, anime and art lover, I first come up with the idea of designing a spieldose (music box) with moving anime characters. Fortunately, this idea is adopted and developed further into my final design.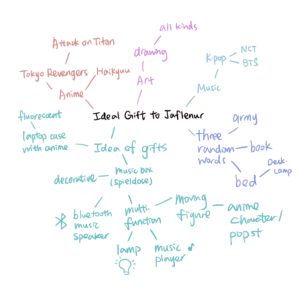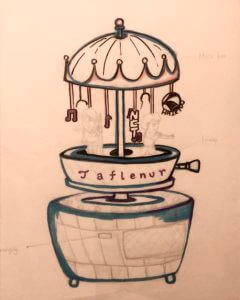 In the developing stage, I have given three random words of 'Army', 'Books' and 'Bed'. Nevertheless, I only chose 'Bed' as it is associated with an extended idea of a multi-functional desk lamp slash Bluetooth music player, which fitted with modern design, also best to play as a 'Bedtime Toy'. By connecting her favourite k-pop music, switching on the aesthetic moving machine with anime characters, as well as a desk lamp for lighting purposes, it becomes her ideal gift.
Although the gift has multi-functions that suit her fun facts, the model may be too complicated in manufacturing. On the whole, some adjustments with the colour scheme and simplify modelling will be needed if it turns into an actual product.