Design ideas and design process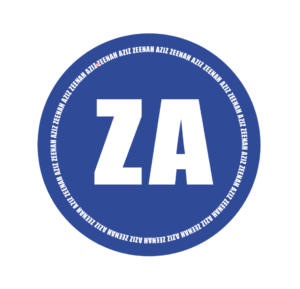 At the beginning of my design process watching tutorials and exploring different levels of design were extremely helpful. However, the first of my designs that were created was not carefully thought about. Upon opening Illustrator, I went straight into it, without any inspiration at all. I mainly wanted to test out the certain tools that I had learned through watching tutorials and apply them to my design. The first tool learnt was called 'type on path'. This was the tool that I had used for most of my three logos, and it helped them to have a clean and professional look. Despite my hatred for my first design, it really helped me to develop and think carefully about what I wanted to design next.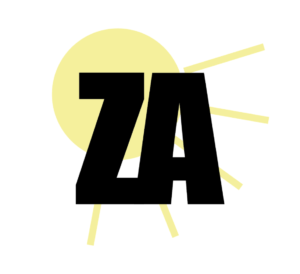 My second design was a lot more successful and thought out. It was inspired by the KA drinks logo because the colours and typefaces that it had used really stuck out and caught my attention. This was the effect that I felt all logos needed to have. They needed to be eye-catching and interest the viewer when looking at it. This helped to develop my understanding even further and made my second design a more successful one. Instead of using the 'type on path tool', I used illustrations and large type instead. I drew a simple sun design and large type to create a simple and minimalistic design. However, despite its minimalism it still makes an impact.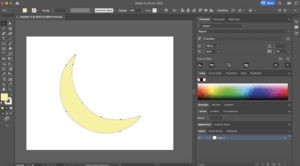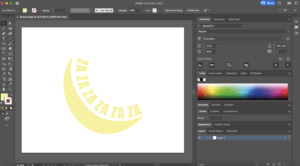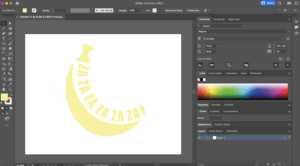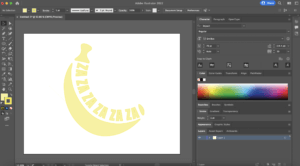 My final design was definitely my favourite. Initially I wanted to design and draw a crescent moon logo, in contrast to my second one. However, while designing, it miraculously turned into a banana, due to elements that changed its appearance. Instead of starting my logo again, I wanted to just go with it and see how my design would progress further. Even though it didn't go how I originally planned, I definitely think it was my most effective and interesting creation.
Software tutorials
When learning how to use certain tools and looking for inspiration, the tutorials provided were extremely helpful. The adobe ones were mainly my favourite, purely because of how simple and easy they were to follow. Step-by-step tutorials are usually the ones I go for because I feel more comfortable when I see how things are done visually and what it takes to progress designs further. This tutorial: https://helpx.adobe.com/uk/illustrator/using/creating-text.html was the first one I had watched. It taught me how to use the 'type on path' tool, which assisted me in all of my designs. When starting the task, it was a little scary since I didn't know my way around the software, things can seem quite daunting. However, when tutorials like this are made, it helped me to become more comfortable as well as understand more and apply it to my designs. By learning these skills, it will not only benefit me with this project, but with many more to come.
The next tutorial: https://helpx.adobe.com/uk/illustrator/how-to/change-font-typeface.html was a step-by-step written tutorial. This taught me how I can use the 'selection' tool to adjust type and create a unique typographic design. In all honesty, I really do wish I had used this effect in at least one of my three designs, but I think I got carried away with using the 'type on path' tool. Through learning this skill, it inspired me to design a more creative and colourful logo, hence why my second design was so different from my first. Other tutorials such as: https://helpx.adobe.com/uk/illustrator/how-to/combine-simple-shapes-to-make-complex-shapes.html also taught me new skills. The 'shape builder' tool taught me how to combine shapes easier and more effectively. Again, I wish I had used more of these skills in my designs, but they have definitely made me more comfortable with the software and understand more when creating simple designs.
Design resources and articles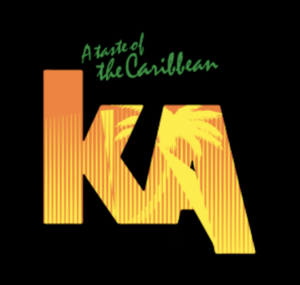 My design resources were mainly an article that I had found, and the KA drinks logo that I used for inspiration. The KA drinks were fairly simple, the designers had used a bright colour for the main text and a tropical background to make the name stand out. The sense of hierarchy and importance helped me to develop my own designs and think about the different levels within my design.
On the other hand, the article helped me to understand the significance of a logo and the meaning of what it stands for. The article I had used: https://sproutsocial.com/insights/how-to-design-a-logo/ was written by Michelle Grano. Her article stated so many different aspects and features that really made me think about my own design. From identifying what a logo is, to mentioning different fonts, design tools, emblems, symbols and so much more, her article was thorough in describing what logos are and the effects they can make on people. Not only did I gain knowledge and understating from this, but I applied the same comprehension to my own designs.
Learning across the module
Throughout the module I have definitely learned and achieved a wide range of knowledge. I have gained much more confidence and become a lot more comfortable with using the various different softwares. Compared to my quiz from last term, I have improved my skills a consistent amount and applied them to all my projects, not just this module. Software skills such as the 'type on path' tool, 'selection' tool, 'shape builder' tool and 'type' tool have all helped me to broaden my understanding of certain effects and also how to use them effectively.
My design skills have also improved vastly. From knowing how to develop certain designs and have a level of significance behind them. I have learnt that research really helps when going through the design process. It has helped to inspire me and spark ideas when I didn't have any, and also helped me to understand the meanings behind certain designs as well as how they can affect people when they look at them. As a whole, both my software skills and my design skills have improved considerably, and I will continue to use the knowledge I have gained throughout my various other projects.