In week 9 of Autumn term, a Feedback jam was held to help students gain additional feedback from tutors on their current projects. Gaining feedback from tutors aids students in directing them towards the next steps of developing their designs. In this post, we'll focus on two of the unique projects that students brought for review.
Carter's Steam Fair Real Job
When it comes to Real Jobs, focusing on the audience that we are designing for is key. A part 2 student wanted feedback on their re-designing of a logo for a competition brief set by Joby Carter, who is a highly skilled sign-painter and typographer, and owner of Carter's steam fair. The brief involved creating a fairground-style logo for a stereotypically conservative brand. This student wanted feedback to guide them towards finalising their logo to create a fairground font for Legal & General.
Rob Banham and Sara Chapman gave pointers on areas to improve; such as considering making the logo more bespoke by adding more variation to each letterform, creating more excitement and fun, while also implying work done by hand – like at a fairground.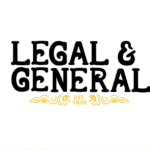 Part 2 student's Real job Legal and General logo redesign
Typeface development
We run an optional Typeforms module in Part 3 of our course, where students create their own typeface. One student during the session asked for feedback on their current iteration. This student took a character in Helvetica and drew points using a grid system. Several versions of this typeface were made using a 6×6 grid system to ensure consistency for their letterforms. Using a pathfinding algorithm, the student connected each point to make an outline of each letter, with this the letters were re-drawn over the connected dots to increase legibility and produce the body.
Claudia Rifaterra proposed that the student could overlay a dotted version over a standard Helvetica character to form a new character. Revising past concepts and combinations of designs teaches students that recognising the significance of making multiple versions of work is important to look back on when making future design decisions.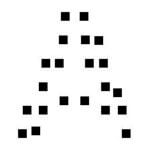 The dotted version that aided in creating the body of each character

Tracing over the connected dots and lines made in Python, each character was drawn using the dots as guides.
Conclusion
As students we should always consider what needs to be improved with our work and gaining feedback from tutors and other students is always helpful in enhancing our current projects.
'The personal feedback was incredibly valuable and useful for my Real Job. The opportunity to get additional help for my work by outside designers gives amazing extra support from experienced designers and professionals.' – Part 2 student
'It's always very helpful getting feedback from tutors' – Part 2 student