For this mini project we were given 10 different themes to choose from. Originally I chose the 70s retro style, I began researching and creating mood boards of  different colours, shapes and textures that I was inspired by.
When I started drafting my design ideas I found it really difficult to come up with an idea to represent me. I had experimented with three different designs which I did not like. I shorty realised that the colours of the theme I chose didn't represent me as I wanted therefore, quite last minuet, I decided to change my theme to something I thought was more up my street. I love simple and elegant designs with a range of neutral colours and thought that the theme 'New Minimalism' was exactly that.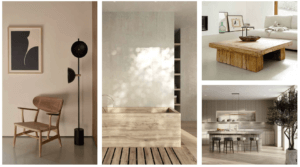 I started again by creating a first mood board of colours and textures that I found appealing that was related to my new theme, I focused on interior design and furniture from the website 'interior trends' which included; natural materials, raw woods, soft and earthy colours inspired by nature as well as some off whites and tobacco and browns.  This is where my inspiration for the background and textured circle came from. I took an image of wood and used the image trace tool (3 colours) to make it look a little more smooth, more graphic looking rather than realistic. I also then took the image of the wooden bath tube and used the drop colour tool to get the colours for my final design.
I then created a second mood board focusing on fonts and design layouts, I decided to design my logo in a circle as I thought it looked a bit more structured  and put together. I chose to work with two different fonts.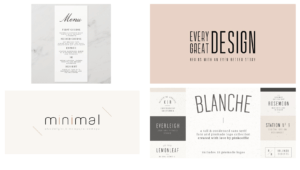 With regards to what I was going to name myself I experimented with a few different ideas these including my initials 'NBM', My full name 'Nelly Bridger Morales' which I found was too long. I then thought of just Nell as I didn't want it to be just my name 'Nelly' as I thought that it was a bit too plain and basic. In the end I decided to use 'Nelly' as I realised it was quite a unique name and thought it was the perfect amount of letters.