Background information
The collection I chosen was a sheet music cover from Frank Laughlin: The Orphan, illustrated by T. W. Lee, and published by Chappell & Co Ltd (New Bond Street, 50 – London) in 1870.
Illustration: Cat and sheet music in 19th century
The reason I choose this sheet music is that I was appeal by the drawing of the kitten, which is realistic and cute. From the picture, we can see a woman that put on noble clothes and accessory was holding a wretched and little kitten by whole hand, which correspond with the title 'The Orphan' above. The picture creates a sense of sadness and helpless of the kitten, which I assume the target audience may be upper class woman, and the illustration arouse their sympathy and appeal them to listen the music. Besides, the text is in different typography style, which is decorative.
In 19th century's sheet music cover, there are quite a lot illustrations found using cat as object.  It is said that animals were often used in advertising caught on in Victorian times, as using anthropomorphized animals in human activities more clearly demonstrates to the viewer an aspect of the character's personality, thereby making the consumer more sympathetic with the animal in question.
Printing technique: Lithographic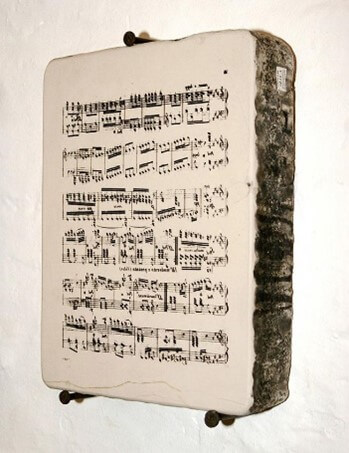 (An example of lithographic stone for printing music. The music is written backwards on the stone.)
Lithography is invented by Alois Senefelder in 1796, and was first used to print music in 1796 and the earliest music sheets to be illustrated by lithography were produced in this country in about 1820 and were coloured by hand.
According to the video on lithographic process and website of music printing history, the process involved drawing an image or text on a smooth piece of limestone with an oil-based ink. Then, acid was poured onto the stone to burn the image onto the surface. A water soluble solution was then applied, sticking only to the non-oily surface and sealing it. For printing, the water adhered to the gum arabic. The oily ink, however, repelled the water, thereby allowing for the printing of the images.
Overall, I have learnt the complicated printing process in lithography, the asthetic of vintage 19th century sheet music, and how illustrator attract the audience by animals in sheet music cover and advertisment. These advance me a lot in the history of printing and future album covers design.