To begin with I started to take pictures of anything that caught my eye, all the while trying to find a linking factor. When you're looking for lettering you find out that it is everywhere! Instructions, directions and notices to name a few of the categories. Many of the signs around department and campus were to give instructions regarding social distancing requirements in relation to the pandemic. All of the signs were designed in the same way and so they formed a set and were consistent across the University.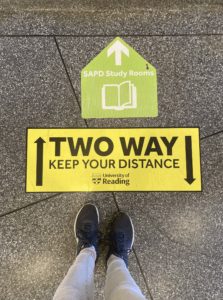 After collecting the photos I began to sort through them. I noticed that nearly all of them were circles with only a handful being rectangular. Within the circles, I organised the images by colour: white, green, yellow and red. They abided by the universal traffic light system with green meaning go and red meaning stop. Yellow is used to give instructions.
I could extend this way of categorising signs through shape and colour to see the different trends, not only on campus but in road signs too.