In the first week of Spring term this year, Baseline Shift invited Joan Zalacain to talk to the students about some of his professional expertise of working on a wayfinding project for Mecca.  Joan is Reading MA Information Design graduate himself, this term he will also be teaching our MAs.
Joan has been involved in many wayfinding projects, with a focus on improving user experience by simplifying processes and delivering information in an effective and easy to understand manner. We were pleased to hear more about his work in Mecca, the holiest city in Islam.
Joan had been living in Аmsterdam for two years, working as information designer, when he got the opportunity to be a part of his first really big wayfinding project. An engineering company in Mecca was trying to solve a problem with one of the main streets in the city; he was invited to work with an international team to co-create a proposal. From the start, it was clear this would be a high profile and expensive project, since Mecca is populated with thousands of people and there was little signage on the streets.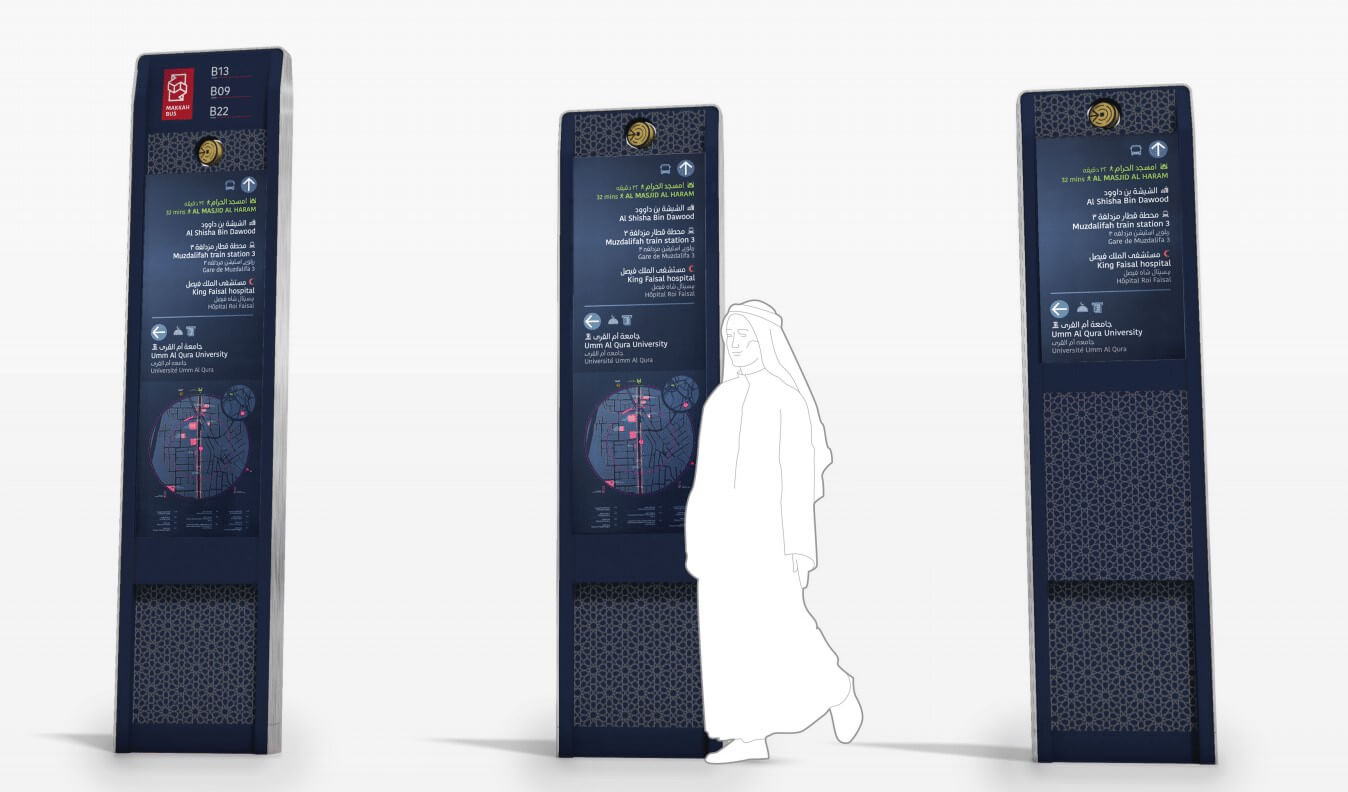 What is wayfinding?
Joan started his presentation with a definition of wayfinding, explaining that it is a system which assists people in reaching their destination through signage, and many other visual cues. He mentioned that wayfinding is not only signage but much more than that. When creating signage, he said, the designer has to think about  many elements, such as the viewing distance, the typography, the size and the appearance. This is to understand how the user might experience finding their way to a location and interpret the visuals.
Having completed wayfinding projects and set up his studio – Zalacain Wayfinding, with offices in London, Barcelona and Krakow – Joan is an expert in his trade and has completed a number of projects across the world. However, he cited the Qibla Mecca smart wayfinding system project was an especially 'interesting but complex one.'
Joan explained that a typical wayfinding project involves:
Visual cues or pictograms

Map diagrams

Psychology

Crowd controlling

Space layout
The goal of Mecca's city council was to cut down on usage of cars, promote the main streets and to make them pedestrian-friendly. A modern, technological wayfinding system was approved for a section of the major refurbishment. It had to deliver a solution that served local residents as well as high numbers of pilgrims that would visit Mecca each year in their journey to the Great Mosque of Mecca, Masjid al-Haram.
Research from Mecca reported that six languages are the most common between its citizens and pilgrims, and a six language system, also known as hexalingual, was chosen for the wayfinding system. The challenge was to manage such a large amount of data, and to work with the reality that destinations and user goals are different during the annual Hadj pilgrimage, compared to during a typical day in Mecca.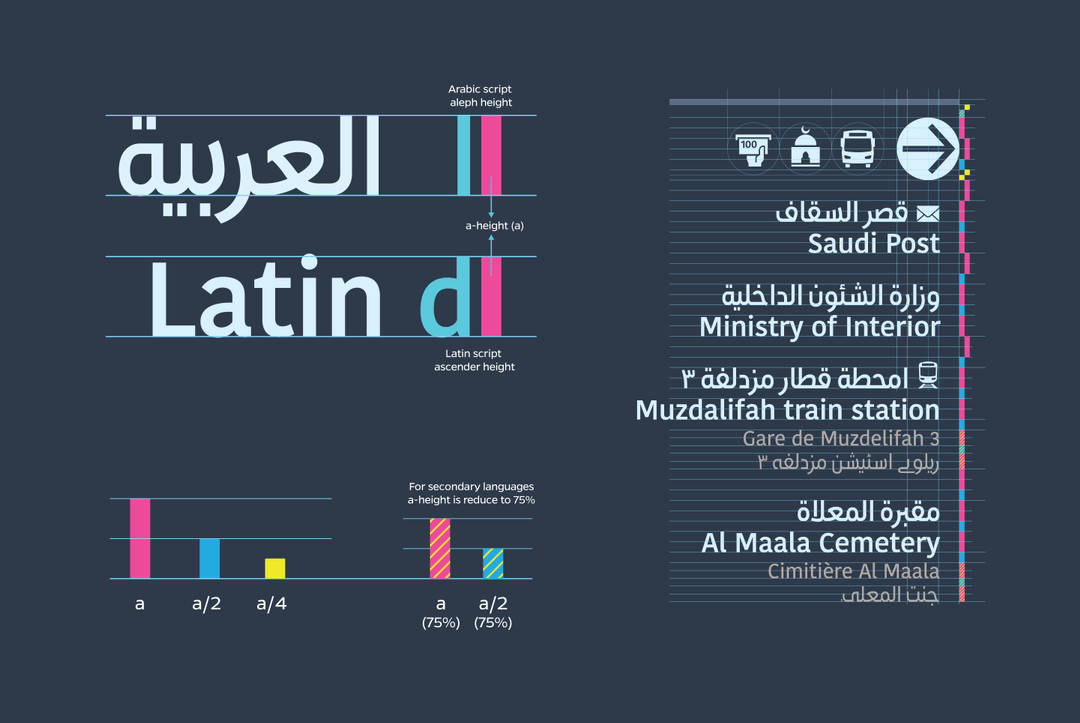 Pictograms & typography
Joan spoke more about the different challenges of the project and how the pictograms were very carefully designed. This section of the talk gave Part 1 students, now working on a pictogram project of their own, valuable insight on what an functional and culturally appropriate collection of icons is.
Brainstorming a series of personas and their everyday journeys was a big part of the design process, and it was an essential step for Joan and his team. The pictograms had to be recognisable to local people but also visitors from different countries.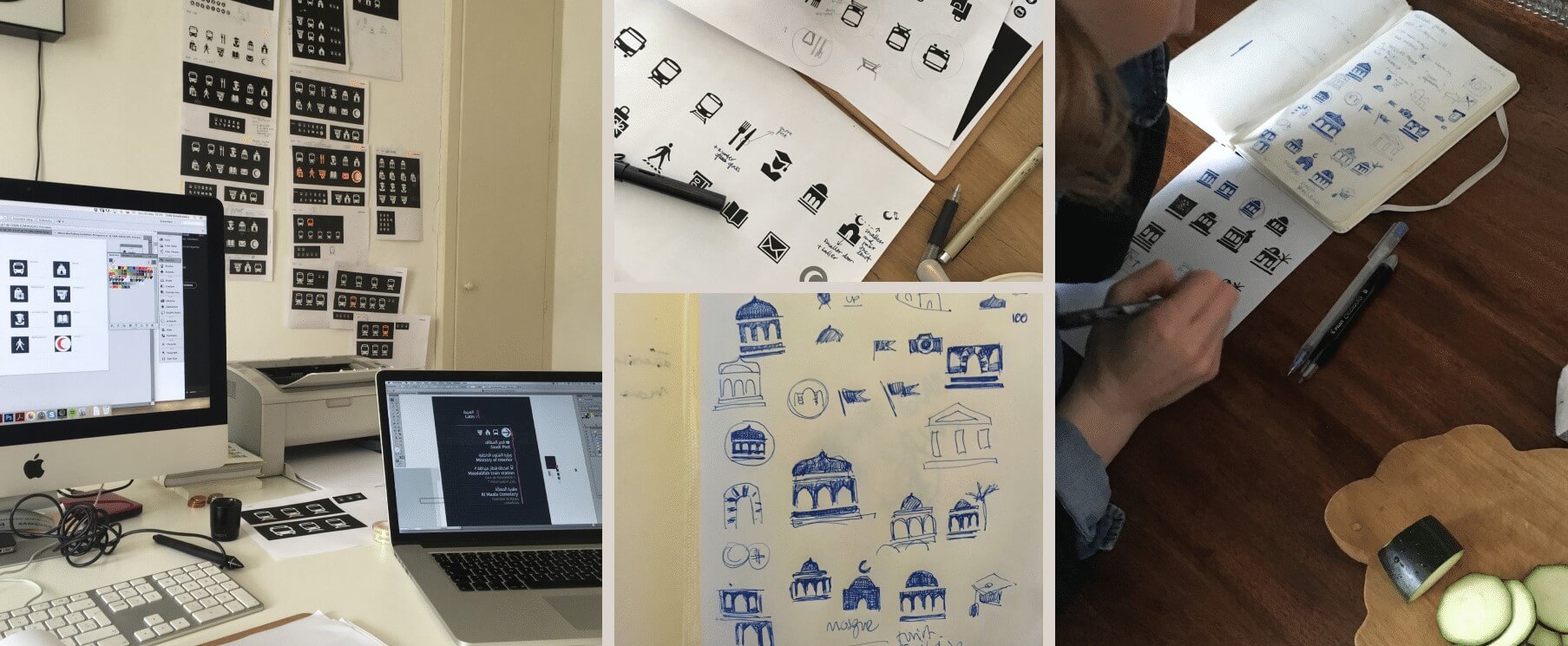 Joan included a video of how his team recreated some of the screens that were going to be used in the project and tested the designs within their own studio. After several assessments and demonstrations, Mecca's city council approved the design and decided on using the system as a city-wide feature. The project is still ongoing but should be completed in the near future.
The challenges
A significant challenge in the project, Joan said, was to choose the typefaces. He explained that legibility and distance viewing was essential. For example, there are more versions of Arabic typefaces which blend into Persian. After much research, including reaching out to Reading's Professor Gerry Leonidas as a consultant, the team settled on two functional typefaces: one for Latin and one for Arabic. After all the work they put in, the chosen typefaces worked very well together. 
'Our job was to find a pictogram that would be distinguishable between buses and trains.'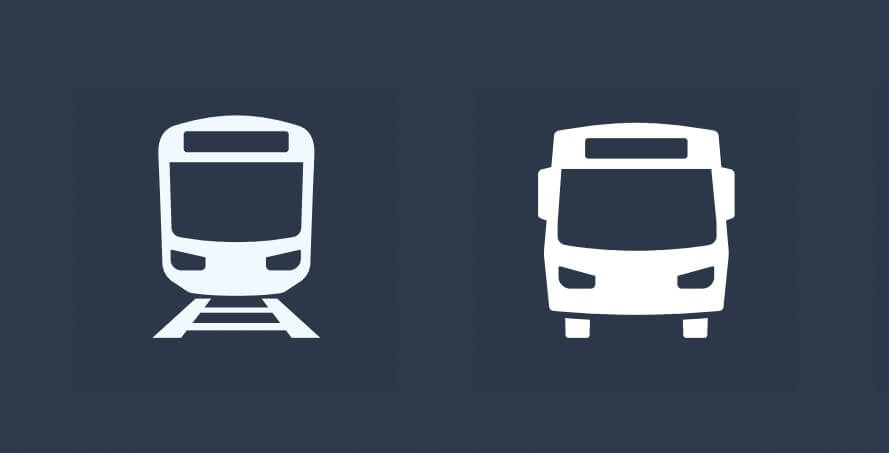 Another challenge Joan faced was the pictogram used for the metro system in the city, since it was totally different to any other such system in the world. Being overground, it looked more like a bus or a tram rather than a metro and the pictogram for it had to be very well recognised.
Once they had solved all these design problems and evidenced that their solution was effective, Joan and his international team presented the project to the mayor of Jeddah, who approved the overall outcome!
Reflection
Hearing about Joan's experience and process in this project was motivating and exciting. As a graphics student, it is common to think you have not yet reached your full potential, including not having experience working on some of the design aspects he talked about. However, Joan reminded us that experience takes time, and builds confidence. Building your knowledge about a specific design field, research, or communication principles will ultimately help in one way or another. Our profession offers endless opportunities of training and expertise, frustration and accomplishment. Design allows you to have a career which keeps developing and will offer many chances for us!
---
Students' thoughts
'Thanks for sharing such an interesting project with us. I have worked in Makkah before for a development project and I think it is so interesting to see the process of designing for such a complex place.' – MA student

'I enjoyed how Joan explained the entire project and how they needed to produce pictograms and wayfinding that could easily be changed for seasons.' – Hafsah Culasy, Part 1 student

'Wayfinding is something that I really enjoyed doing with the pictograms in part one, and haven't had much of a mention of since. So it was really interesting to see it be someone's career and see that it is possible to go into. It was also really interesting to hear how user focused he was in his projects, in the sense that he really tried to embody how someone would act in that situation and design for that.' – Robin Smith, Part 3 student