One of the interesting things about the pandemic is the wide range of graphic responses to it. Prom the government, to companies, to families in their homes, there is a massive variety of notices which have been put up, both formal and informal. Companies such as Tesco and Next will probably have their own in-house graphic designers while smaller businesses and families won't. This means that some notices look very professional and on-brand, whereas others will appear more handmade and thrown together. Two noteworthy examples I found where those of Tesco and one at a shop in the oracle.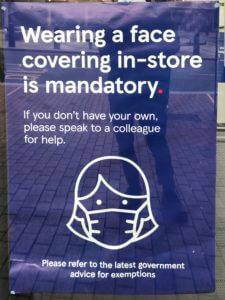 Tesco's poster keeps the Tesco typeface and colour scheme as well as a fitting illustration. As a sidenote, I think it's also quite interesting how a face mask has become so widely used and recognised. It's as if simplistic representations of face masks have entered our vernacular. While the poster clearly mimics the Tesco styling, which the designer evidently intended, I would argue that this makes it too easy to ignore. In a Tesco store, there may be many similar posters with this styling, which means this porter may blend in to the point were it's not actually paid attention to. This makes the design unsuccessful. I think mimicking the official Tesco aesthetic too much runs the risk of appearing too cold and official. I don't think this design really speaks to the customer in the exact same way as intended as it's styled almost more of an advertisement.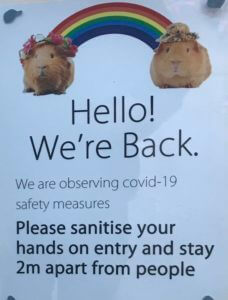 The other shop (which I unfortunately can't remember the name of)  on the other hand, has appeared to have taken a rather different approach. They have included two guinea pigs with a rainbow between them. This is quite bizarre, but I think it actually does a lot to maybe make the company's communication more informal and friendly. The rainbow has come to symbolise the NHS recently, and the guinea pigs may just be being used as symbols for a softer approach. I'm not sure if this is intended, but the rainbow between them makes it appear as if they were socially distant. It's not exactly professional, but I think this actually communicates to the customer better by doing a lot to humanise the business and its effort for the pandemic. The guinea pigs almost give the business a vulnerable quality.
To conclude, I think the more personal, if less professional communication involving the guinea pigs is actually better, because it humanises the company and is less likely to be ignored.