MERL Farm Toy Exhibition 'Playing at farming'
 Background
The MERL is a museum, archive and library located in Reading that covers everything to do with farming and the English countryside and rural life, affiliated with the University of Reading. The museum's collections include full scale tractors, objects, photographs as well as books and films. Their latest exhibit 'Playing at Farming' is a collection of farm toys assembled over the last 20 years by Peter Wade-Martins, this is only a small selection and includes different British-made horse and tractor-drawn implements. It is one of the most comprehensive collections of its kind that covers all known UK manufacturers.
Restated Brief
The Museum of English Rural life (MERL) already have a clear set of brand guidelines and a set style, however when we were tasked with creating new promotional materials for an upcoming exhibition, we were given creative freedom and could decide what components we wanted to include. The exhibition contains a vast amount of British made farm toys, including tractors, combine harvesters and horse drawn carts, with the artefacts being more 'fun' the client wanted a striking and bold design to help entice families as the exhibit was meant to open during May half term 2020.
Initially we agreed to these deliverables for our client:
Poster that could work at any A size
Booklet (Either a 1 off or mass produced dependant on funding)
Banner
However later on in the project we decided to add a children's worksheet or 'trail' to the set of deliverables for a more interactive experience for families and children.
Research and ideation
When we first got the job, we did preliminary research online. We looked up some posters of farm toys, and learned about farm toys on the market today. For example, they are wooden houses, plastic tractors, and some small animals. We also found that the colours of this kind of toys are usually very bright.
Initially we had a tour around the Museums current exhibits followed with a talk with the client to find out what they were after. While we were there we collected as much of their current marketing material as possible which included, booklets, leaflets and bookmarks, it was important we looked at these as we needed to make sure our design were cohesive with their current marketing material. These materials also influenced our colour choices, for example we have chosen a bright yellow and grey as reoccurring colours as these were prominent within the MERL's current designs. To look at a range of materials and designs we also researched into exhibition posters and booklets from other museums and collections to discover what compositions, styles, typefaces are most effective. At this point we decided to focus on illustrations and potential styles or reference images we could use, we had not yet been able to access the actual collection, so we had to go off photographs that had already been taken which was challenging as they was no consistency with the images. We also created user personas so we could make our designs better suited to the intended audience.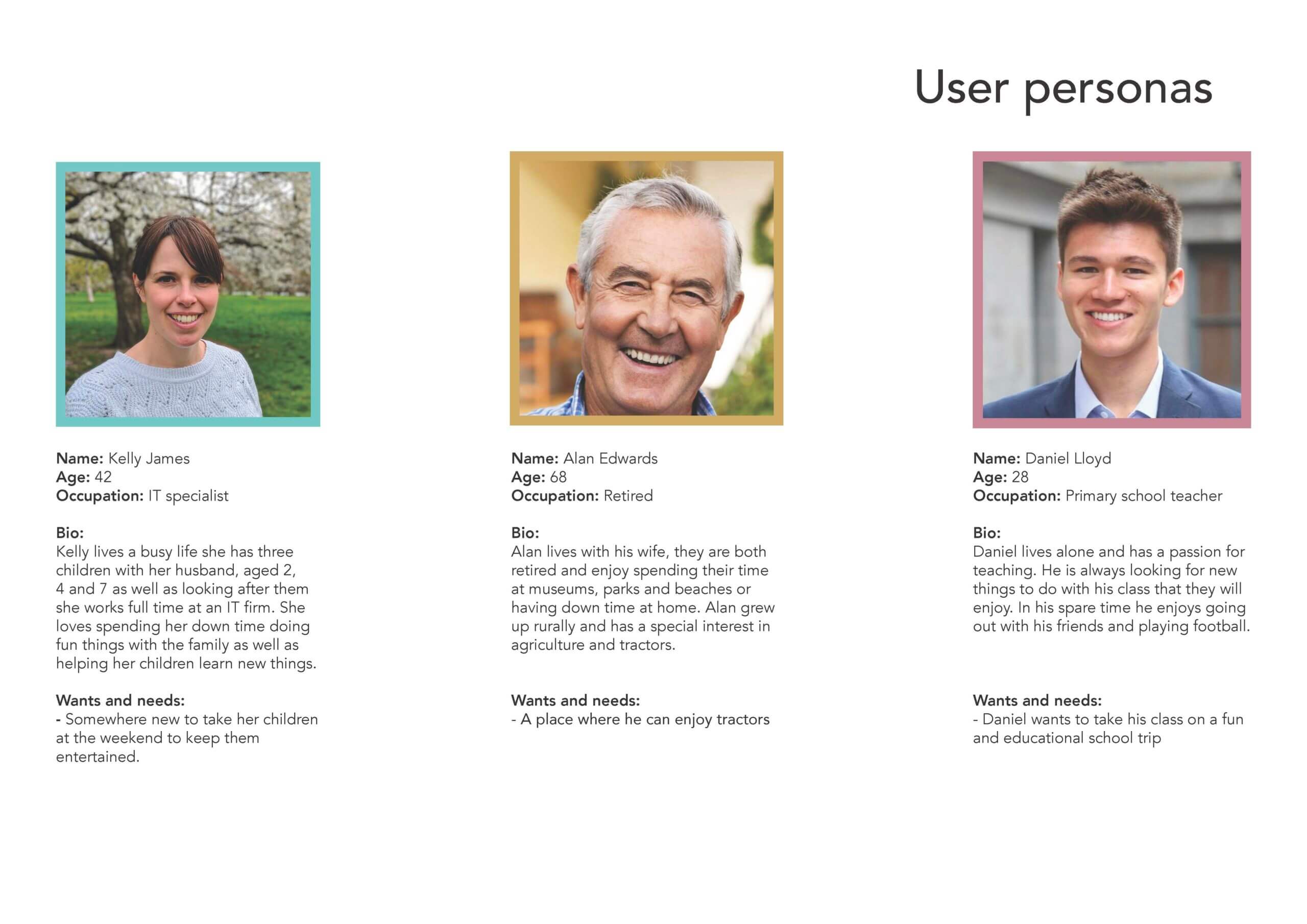 Design development
Initially we showed a range of farm toy illustrations to our client we had both created, these were in different styles and of different toys to create a range of potential options. Alongside these we provided potential compositions of posters using the illustrations. The client was fond of these illustrations and liked the style of drawing and wanted to use them, however he felt they would be better suited as stickers, or a logo, or something for the children. At first we found this slightly frustrating as we had spent a lot of time on the illustrations, however it was good to know they would still be used for something and it meant we had the chance to explore more options. Instead the client felt a photograph could be used in our compositions, this was to match the MERL's current theme more closely as they tend to use images over illustrations. As a result we arranged a photoshoot with a university photographer to be able to get good, high quality shots of the toys in the exhibition to be used on the marketing material. One of us attended this shoot as a director, instructing the photographer of what images we could use in designs, this was a very valuable experience as it is not something designers often get the chance to do and meant we could obtain the exact images we had in mind, this included different angles and close up shots of the toys, as well as singling out particular ones that could be focused on in the designs. When developing our poster ideas and speaking to our supervisor, he felt it would be better if we got rid of the frame idea as this was limiting our designs and was making it difficult to conform to brand guidelines, he also suggested we should experiment with the text to make it more fun and interesting as the exhibition is made up of light-hearted content, we implemented these changes and saw our designs start to become more successful.
It was very important that we followed the brand guidelines in this project as our client already had a well established brand, we found this quite difficult as we were provided with 3 different logos, all with further iterations, however our client was very helpful and provided us with full information on how the logos, typefaces and layouts should be used, information within this also helped lead us to our final design and included lots of different posters and layouts MERL like using.
Out of all three deliverables we found the booklet to be the most challenging to design, this was because it included the most content, one of which is lists of data, this had to be displayed well so that it was easy to understand and not too boring as otherwise no one would read it. To do this we made use of white space and tied in all the data to large colourful images to make it easy to read, this, combined with bright colours and more images especially for children, as well as splash pages make the booklet exciting and engaging for familes.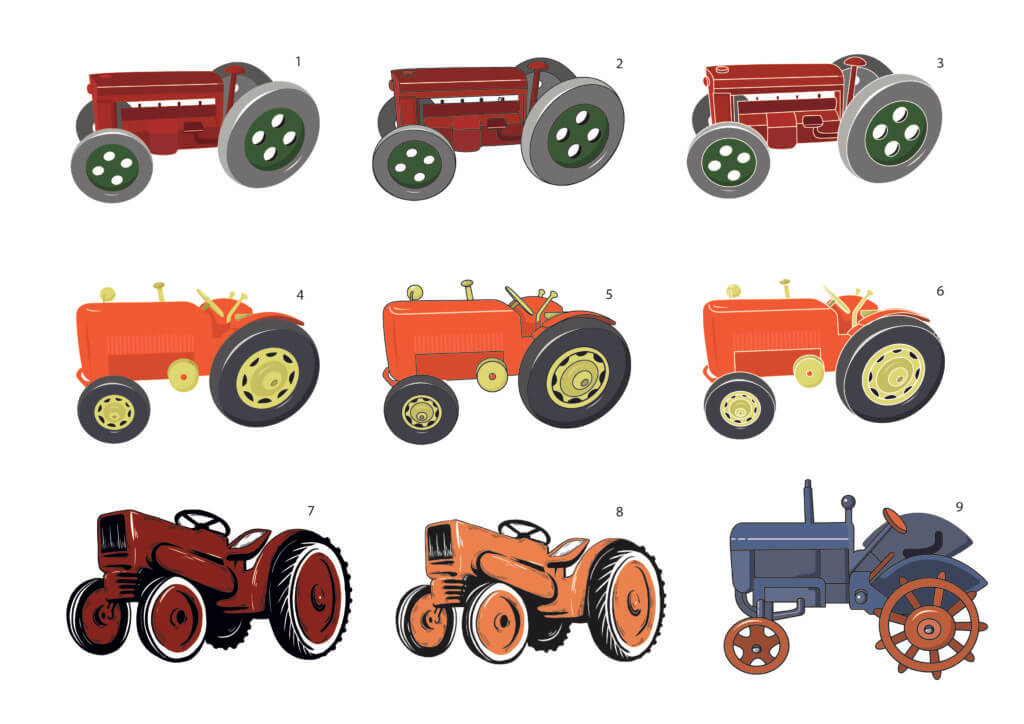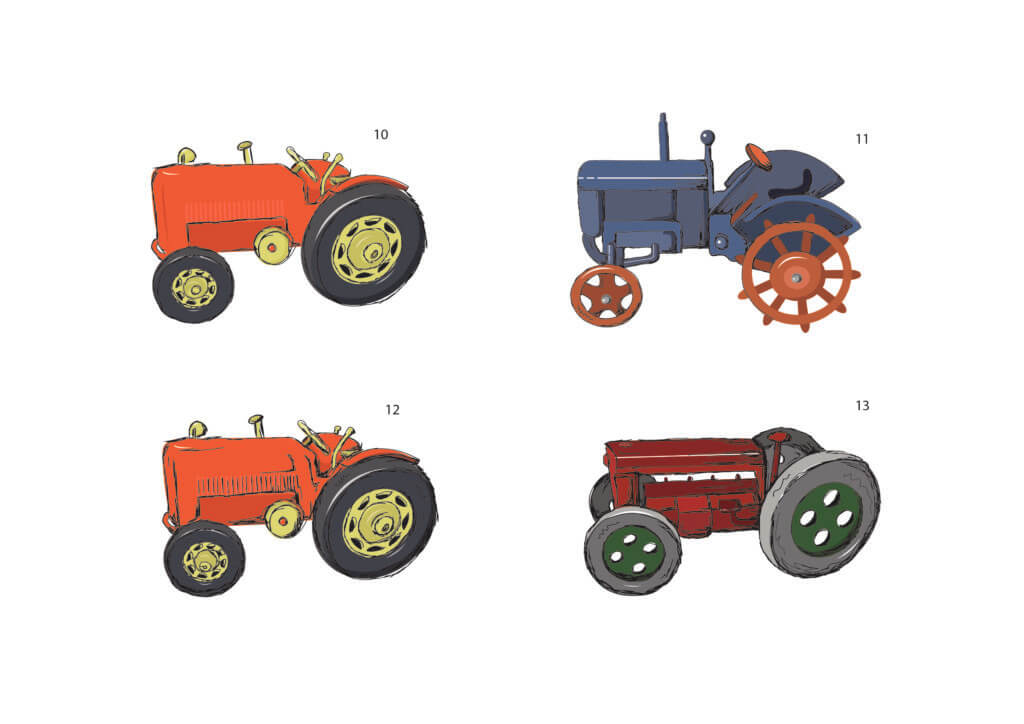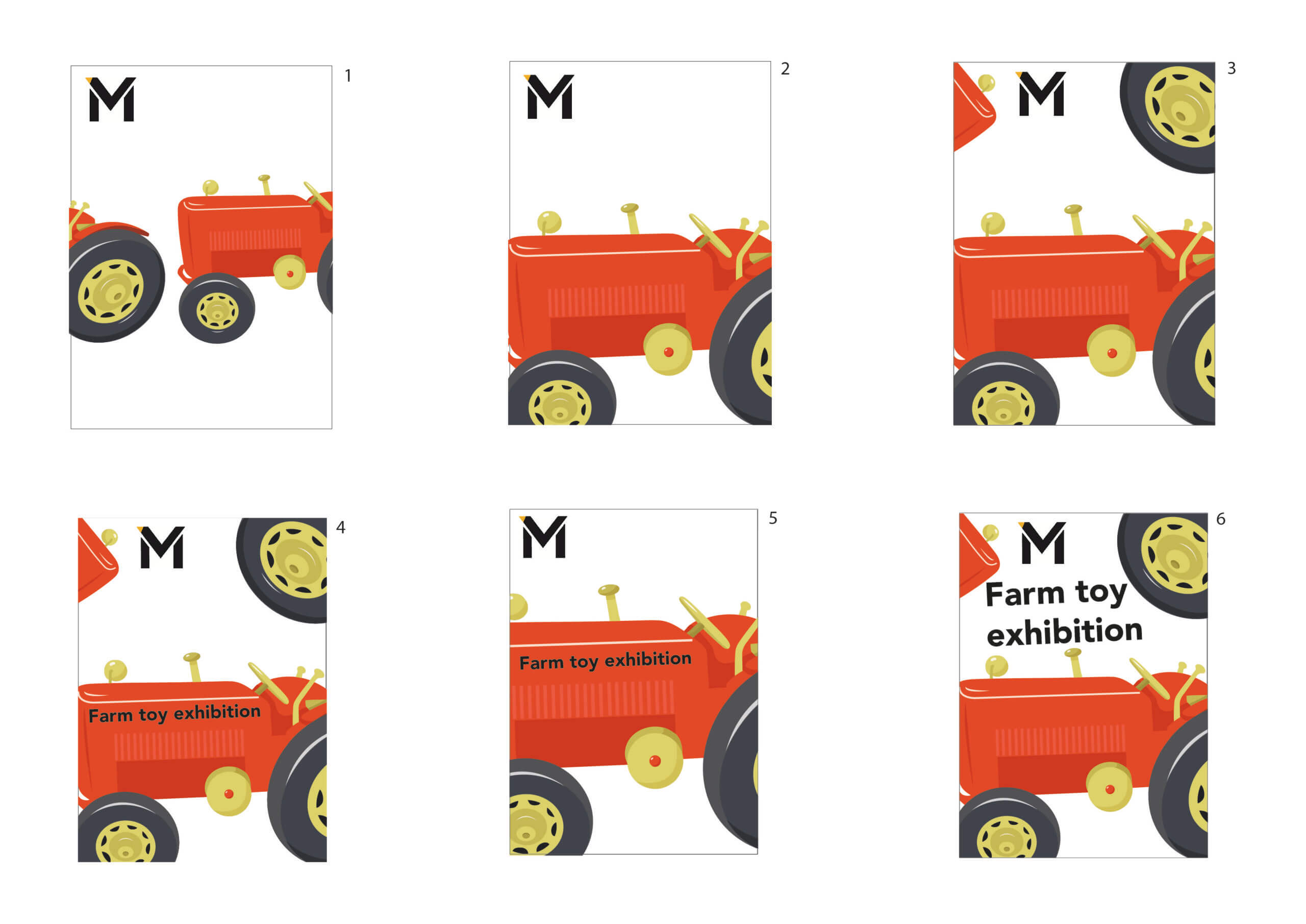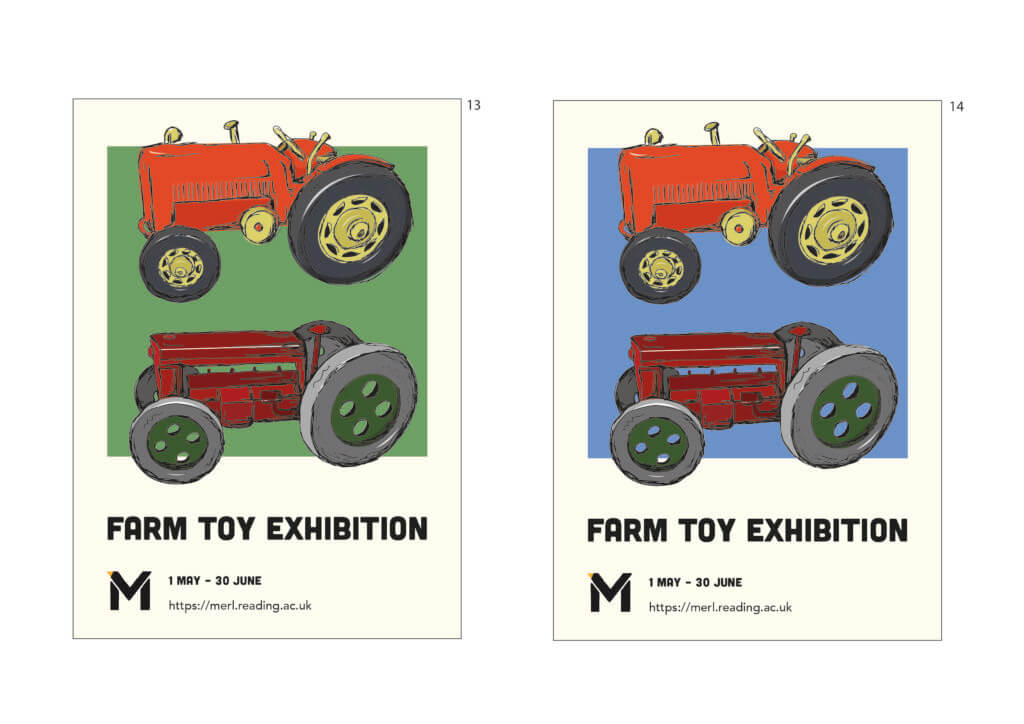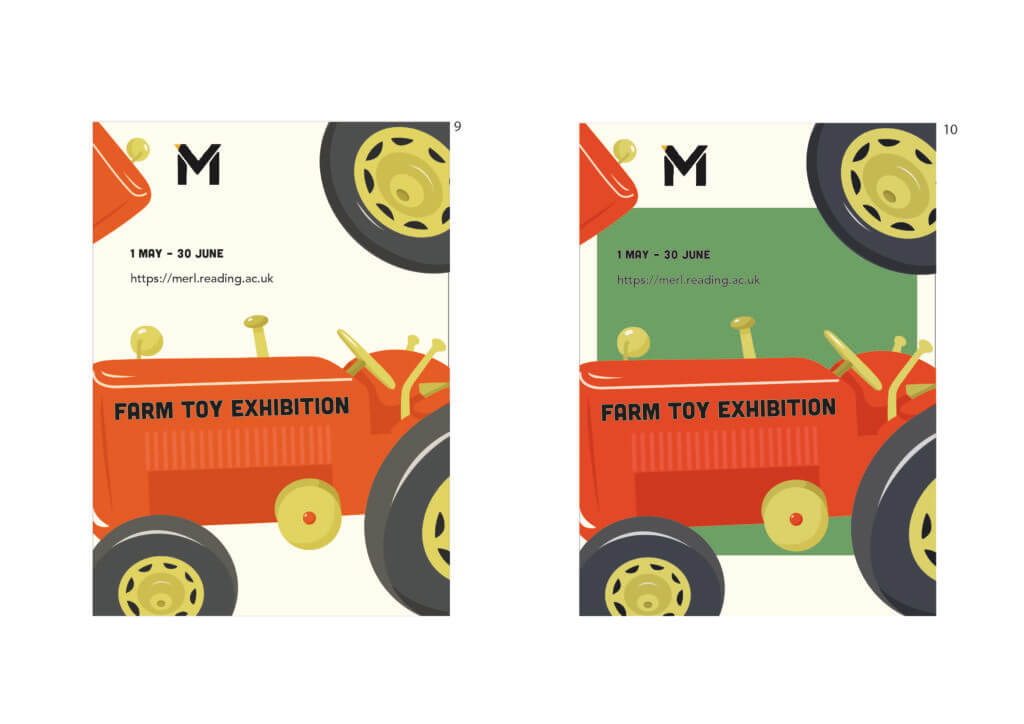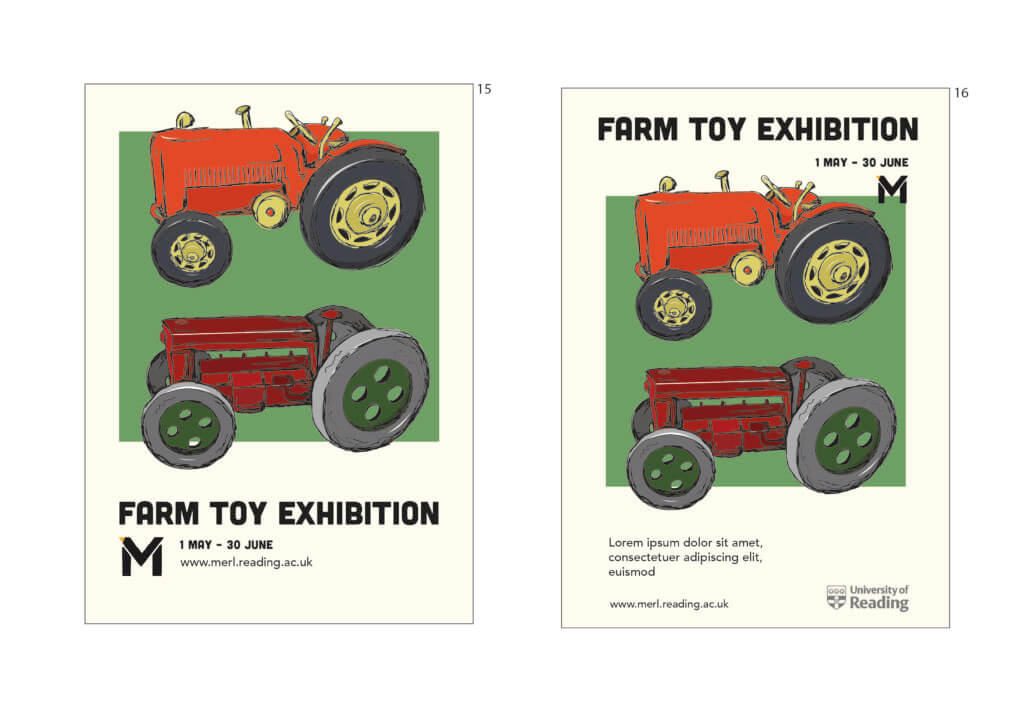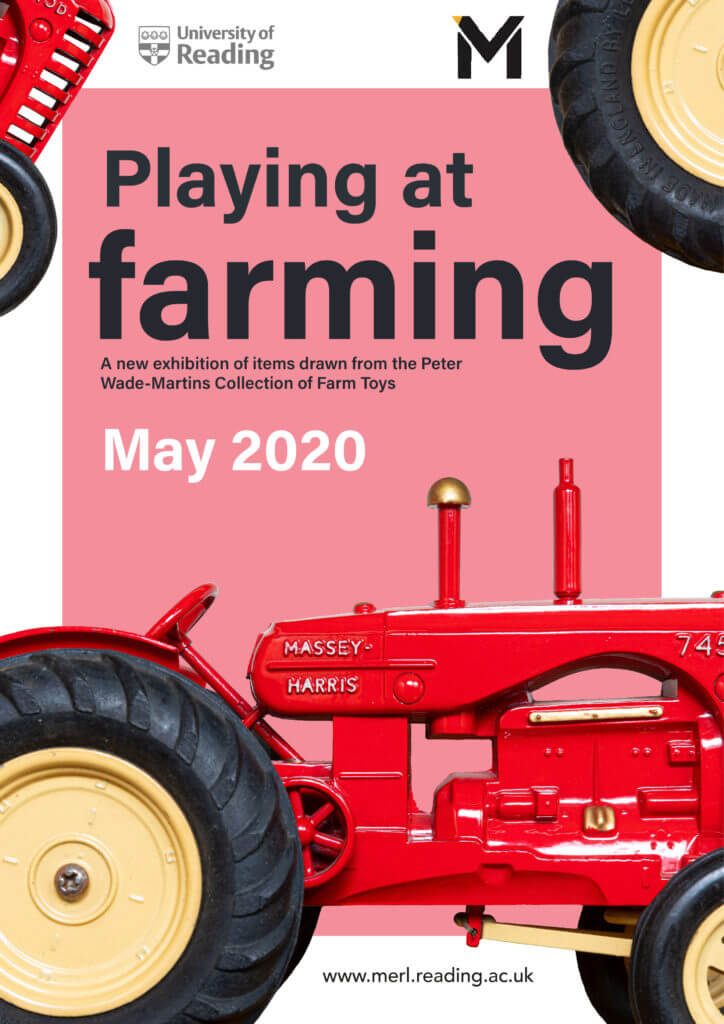 Final stages
The final deliverables are as follows:
1 Booklet
3 Posters
3 Banners
1 Children's worksheet
We were able to submit the PDF of the booklet to the client first as this is available to view on the MERL website, he wanted this ready even though the exhibition cannot open as a 'sneak peak' this is available to download at https://merl.reading.ac.uk/explore/online-exhibitions/playing-farming/ . We have also provided the client with PDFs that are print ready, so when we are able to print the deliverables it should be a straightforward process, the most challenging part will be printing and installing the banners, but the client is likely to hire someone from outside the university to do so. The amount of booklets produced also depends on the clients budget, at the moment it is likely that there will be one A4 booklet to go alongside the exhibit, however if the client can acquire more funds this could turn into having more booklets printed at an A5 size for visitors to take away with them.
"The designs are excellent and very striking, it will be a very nice colourful welcome when we do reopen it will be brilliant"
– Ollie Douglas, MERL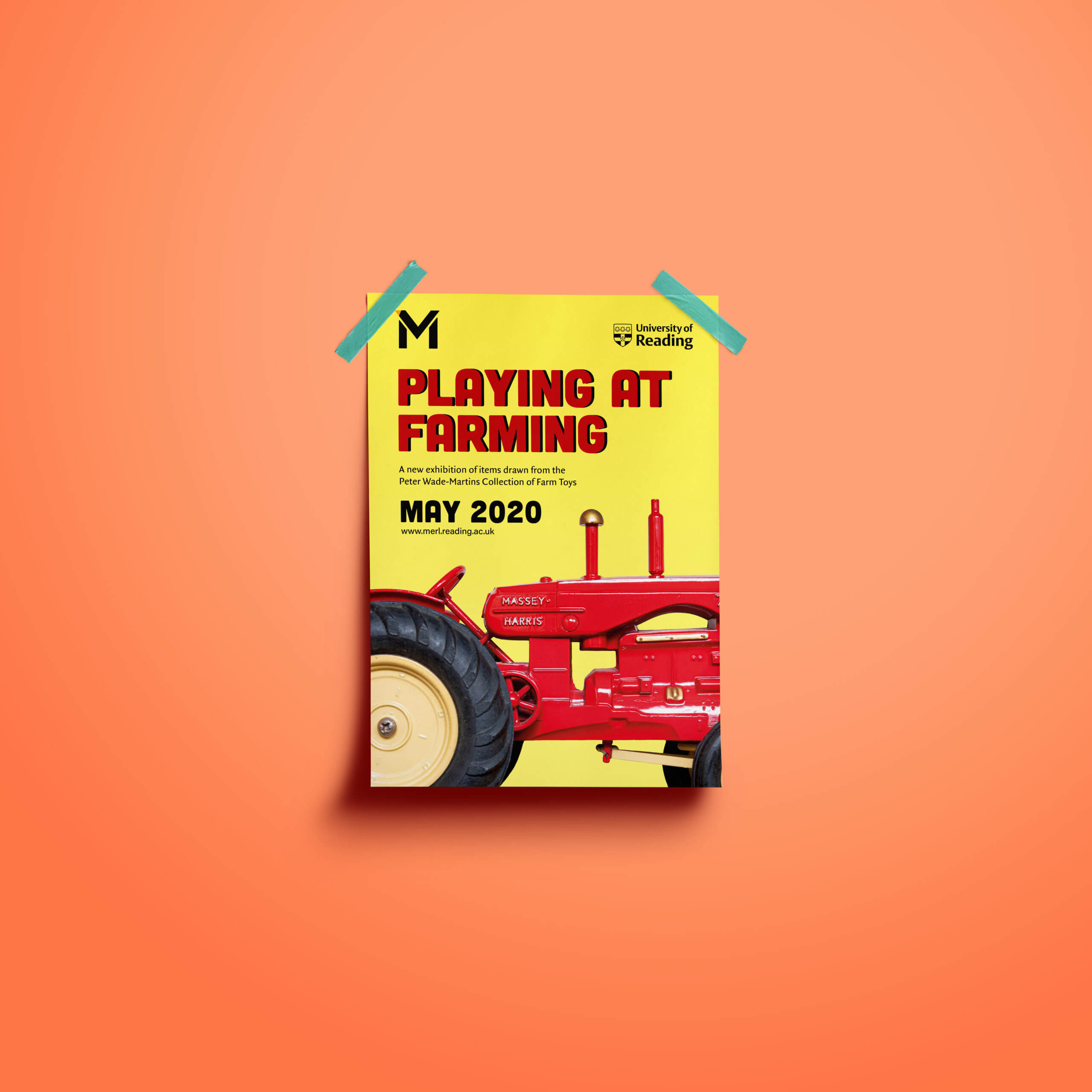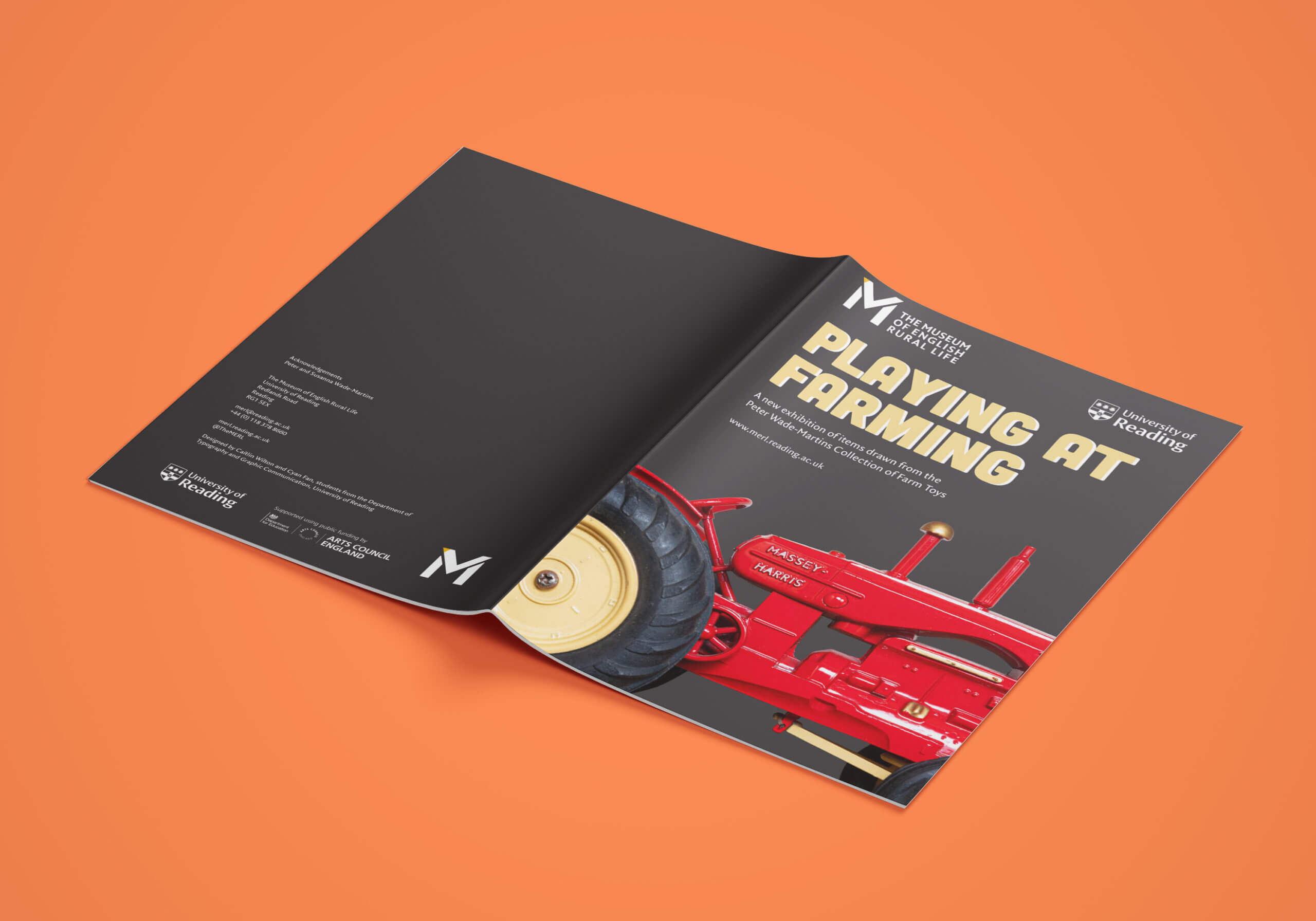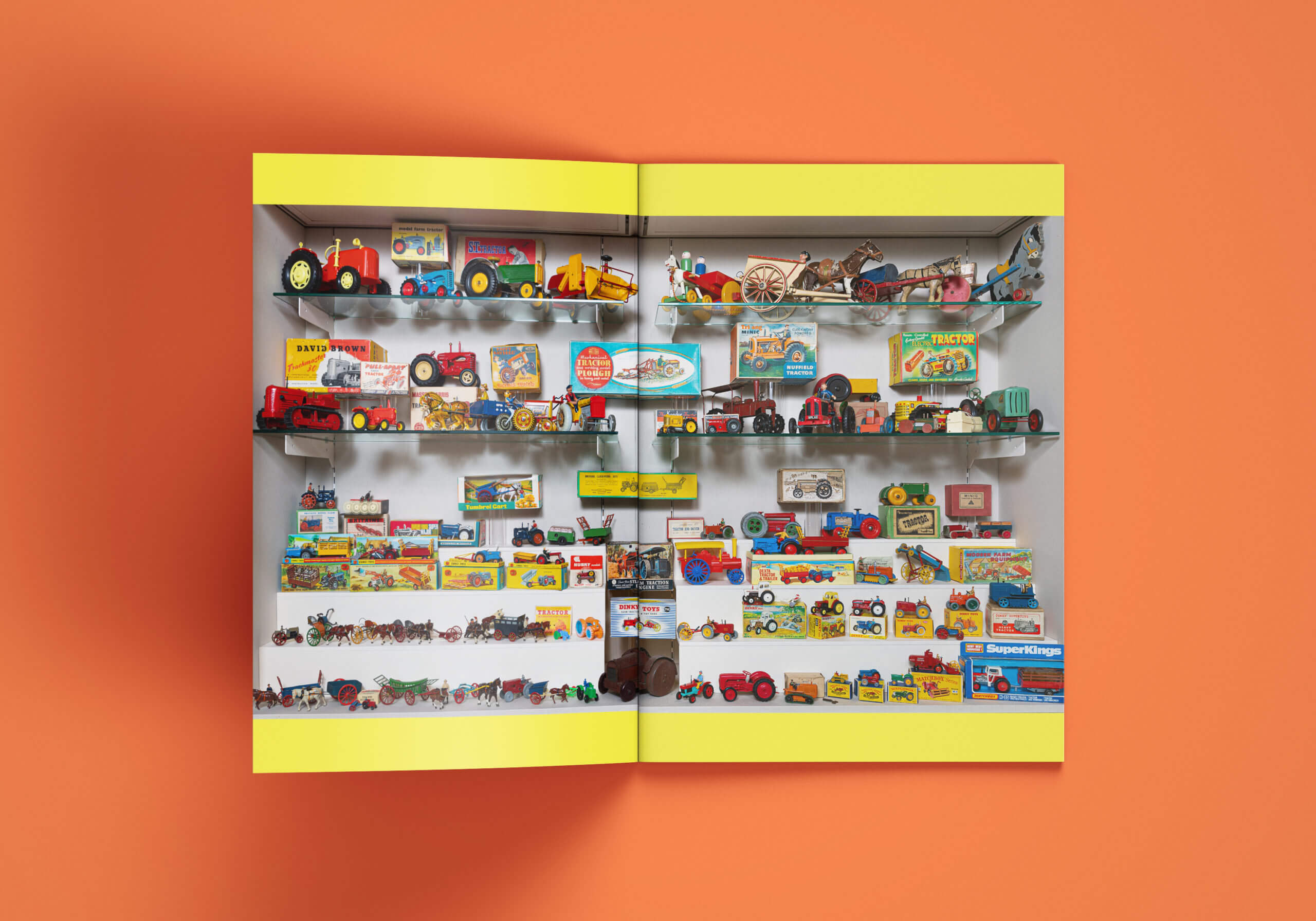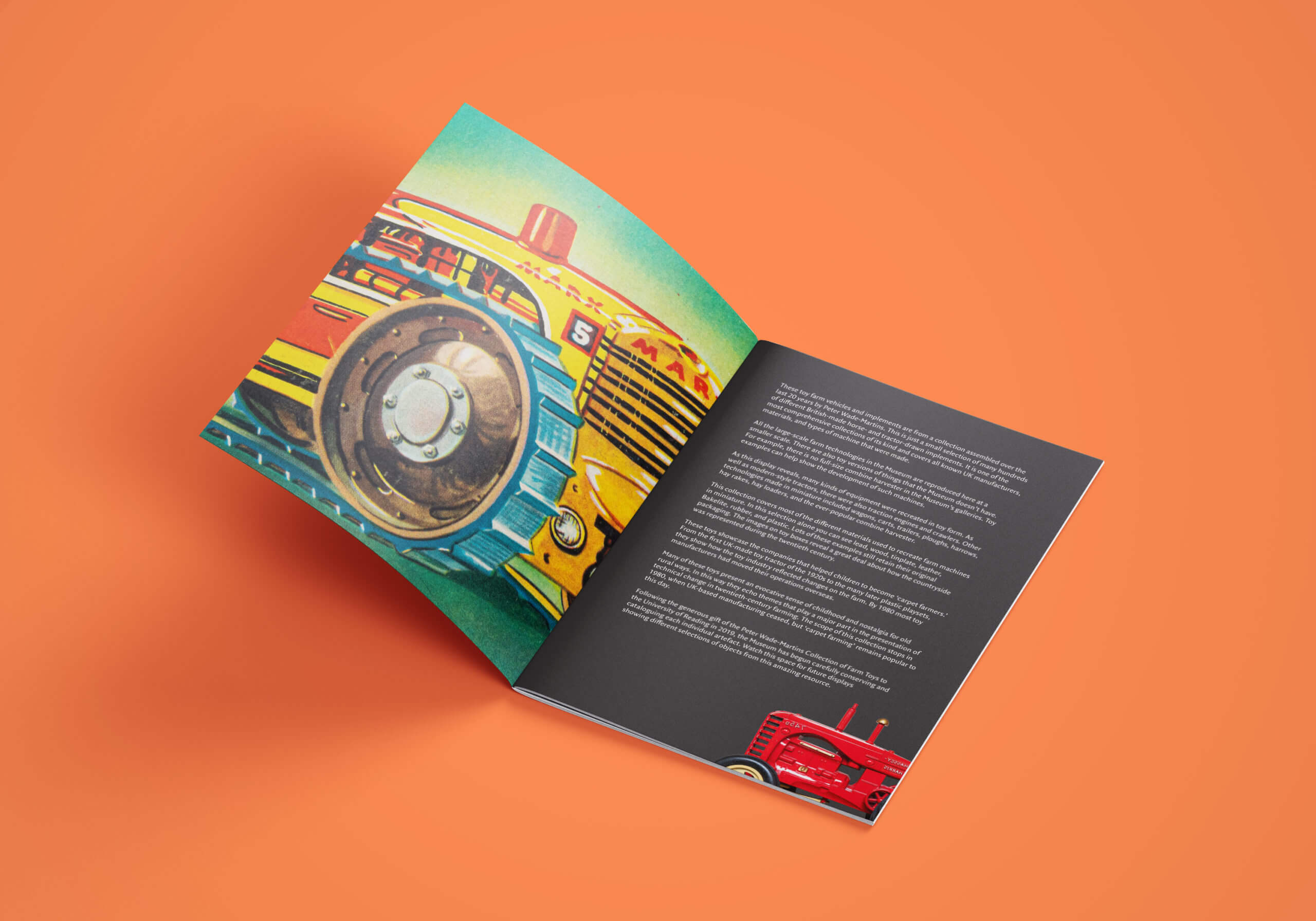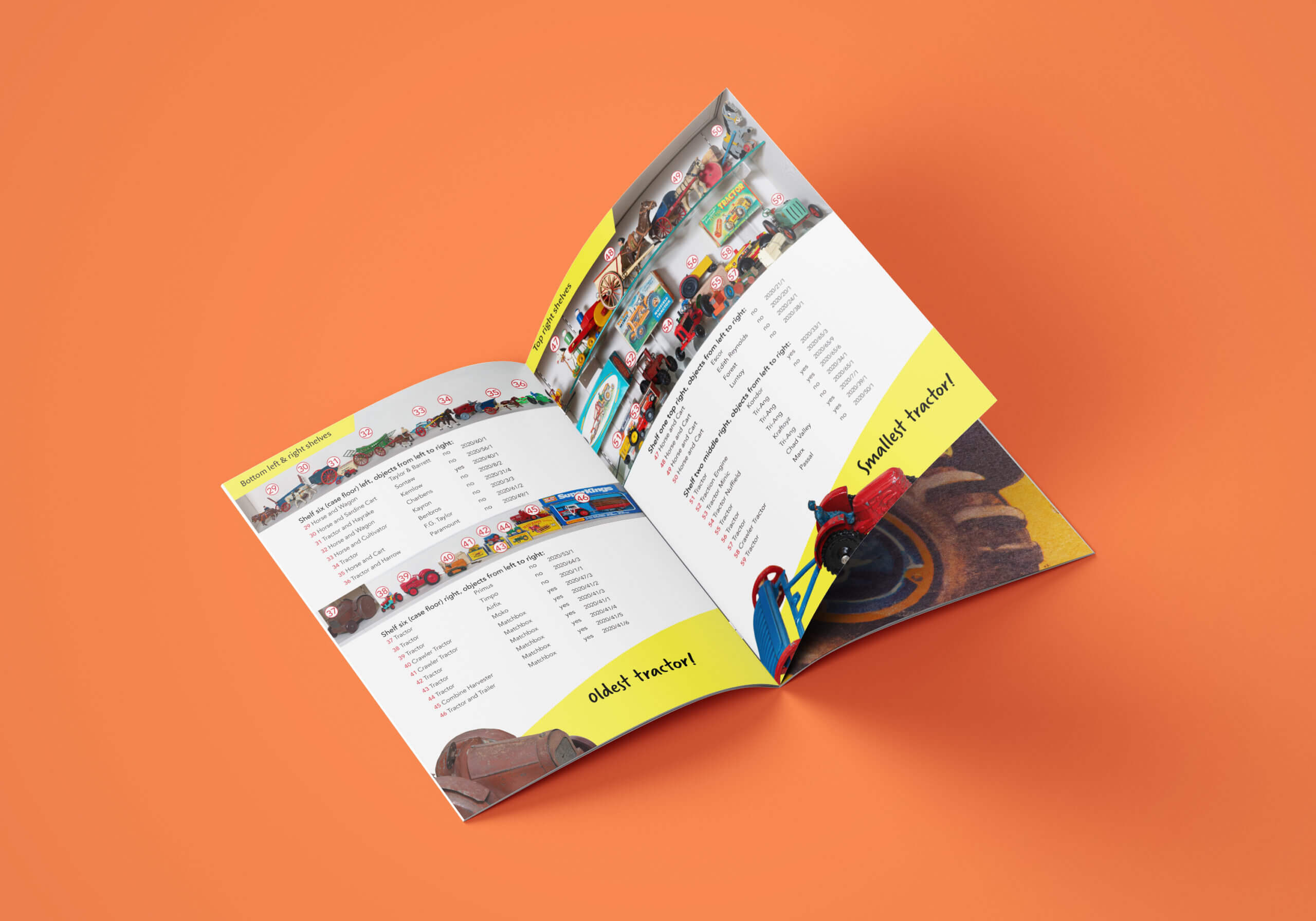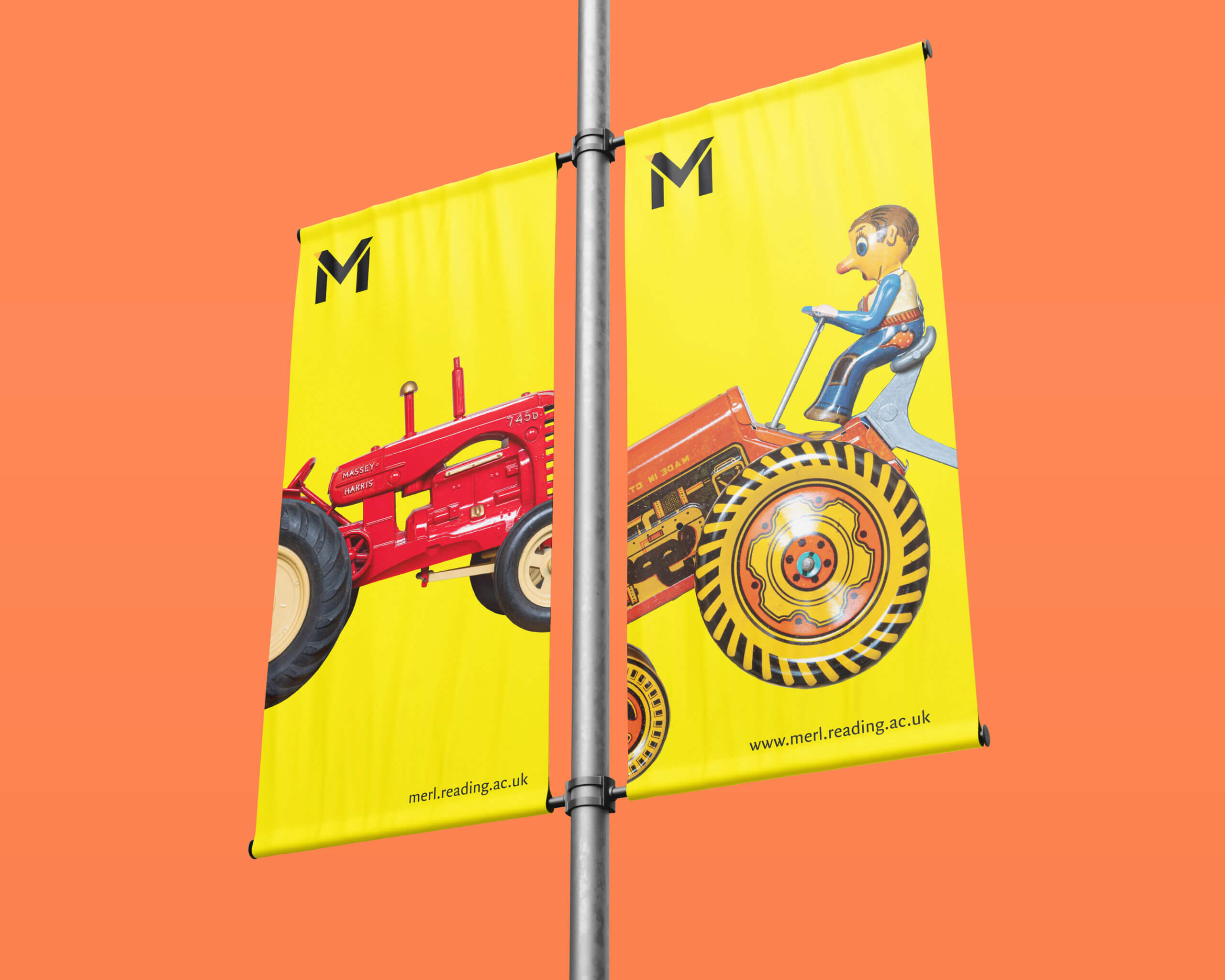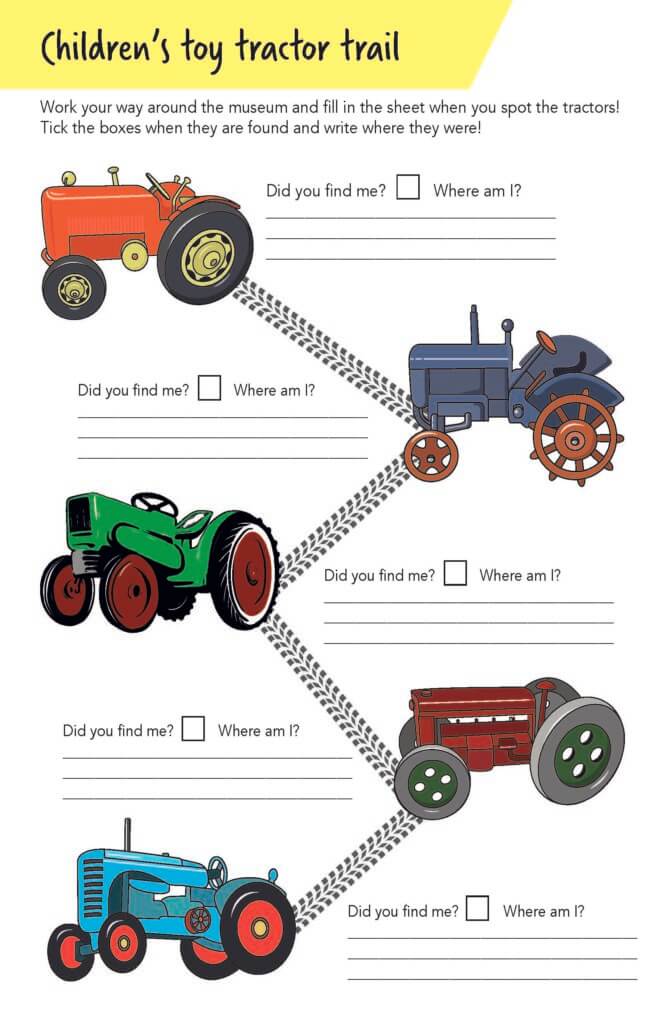 Reflection
We received really positive feedback on our final deliverables from our client and his team over at MERL and we are pleased with what we managed to produce. We feel as though we have created a cohesive set of deliverables that represent the content of the exhibition perfectly, the simple design makes use of bright colours to produce a bold and striking piece.
The original deadline set for this brief was 6th April 2020, which allowed for 4 weeks to get the deliverables printed in time for May half term, however as a result of the covid-19 situation the job took a lot longer than we thought it would. This was because it was hard to communicate and organise the job from opposite sides of the world, the client also became increasingly busy as a result.  However this lack of a deadline meant that the final deliverables were scrutinised over by various members of our clients team to make sure every detail was correct, additionally it meant we had time to create the children's worksheet as an extra deliverable for the client. It is not clear when the Museum of English of Rural life will be able to reopen to the public and for the 'Playing at Farming' exhibit to go ahead so no printing has been able to take place yet. However the PDF of the booklet we created to go alongside the collection is currently live on the MERL website as well as information on the toys so people interested can start exploring the exhibition.
There was two of us on this job and the collaboration between us affected the organisation and time management of the project. One of us was primarily responsible for communication with the client, the poster, booklet and children's worksheet and the other designed the banner. We communicated mainly through email, apart from when we met with the client face to face, we also used  google drive to share the most recent files between us, this helped to ensure everything we had was up to date. When communicating just between us we found messenger sites to be quicker however we had to revert back to emailing as one of us lives in China meaning emailing was easier.
This project introduced us to new experiences and issues we had not had to deal with yet. Neither of us had ever designed a banner before so it was important we got the dimensions and scale correct. Additionally we have never had to send anything to be printed professionally, as previously mentioned we have not had a chance to print the deliverables because of covid-19, however we have set up the files ready to be printed when possible. We also had to be flexible within our designs ready for printing as our client wanted the poster and booklet to work at different 'A' sizes, for example he could have a range of posters printed in different sizes from A4 to A1.
Caitlin Wilton & Cyan Fan