Background
The Typography & Graphic Communication Department annually organises and hosts a private and public degree show to showcase the graduating students' work at the end of their 3 Year course. Each year the degree show has a new theme chosen to encompass the range of work and to represent the graduating cohort. A team of the graduating students from the Typography Department have been given the responsibility to create a cohesive set of promotional materials relating to the theme.
Restating the Brief
The social media team consisted of Angie, Connie, Kate and Sophia. We had a number of design aims that needed to be achieved in order to fulfill the brief and produce a suitable outcome for the degree show:
To gather content (student work and projects) by the graduating students and promote and advertise it on an engaging and eye-catching instagram page.

To work with the other students on this degree show committee to come up with a theme that can eventually be developed into a strong brand identity used in all aspects of the degree show promotion.

To effectively promote the degree show on social media before, during and after the event itself.
Social Media Platforms
In order to achieve the goals of the brief, we had to take into consideration the various platforms we should promote the degree show on. We encouraged all upcoming graduates to also post promotional content on their social media platforms as well. The main platforms we as a team wanted to focus on were:
Instagram:

Promotion of the typography degree show through instagram posts and stories. The instagram account will have a cohesive theme that relates to that of the degree show and it will be designed in a fun and engaging way. Content will be posted before, during and after the event.

Facebook:

Before the degree show, promotional material will be posted on the 1st, 2nd and 3rd Year Facebook group pages to encourage students to come to the show. Photographs of the event will also be posted on the 3rd year facebook page.

LinkedIn: Promotion of the website launch and the instagram and encouraging potential employers and other degree show guests to fill in a google form with their contact details so that we can send them our invites as well as keep in touch in the future.
COVID-19
Unfortunately, due to the outbreak of COVID-19, there were quite a few obstacles that came our way, meaning we had to change our approach, deliverables and mode of contact with the rest of the degree show team. The physical degree show event had to be moved online, and heavily relied on our social media promotion and presence to extend the reach of our graduates' work — not only to people within the university, but also to potential employers and people within the creative industry. Meetings were held online through Zoom instead of face-to-face, and daily contact with the rest of the degree show team allowed us to show our progress and attain feedback. Overall, although the outbreak of COVID altered the final delivery of the event, it allowed for the team to think outside of the box and not restrict ourselves to one platform. The inconveniences did not stop the social media team from producing promotional materials to promote and advertise each graduating student and the launch of the degree show website.
Allocating Roles
Before beginning the design process we split up the roles between us to effectively and quickly execute this real job. The whole degree show team got together at the start of this process to establish our theme and preferred colourways. Kate worked closely with Aanand, the degree show group leader, in designing a logo.
Once we had established our brand identity we started designing the instagram posts. Angie worked on the promotional content which was posted at the very beginning of our feed which set the tone of the aesthetic to come and aimed to excite our audience and inform them on when the degree show was going to be. We also created some tiles that advertised the google form in our bio. Sophia and Kate worked closely on promoting each student and their work through both posts and stories, which allowed for each student to stand out on their own. Connie collated headshot photos of everyone in our year group and edited them into black and white versions that looked as cohesive as possible. She also designed the icons that represent each student's interests.
Design Process
Firstly, we all worked closely with the other degree show teams (website and e-invites) to come up with a theme. We decided that we wanted to show how our course stands out from the rest and therefore we decided to portray how as a class, we are experienced in more than just the basic design principles but we also have learned about the minor details of typography and the art of communication. We decided to name our degree show >A-Z (Greater Than A-Z) to emphasise how we are more than the alphabet, we are the semi-colons, the em and en dashes and the ellipses of the world of design.
When coming up with a visual identity we decided to use a holographic foil on our printed invitations as it had a vibrant visual personality whilst making the invitations tactile and engaging. However, with the outbreak of COVID-19, the printed invitations were not an option any more so in order to adapt we all got together and made different iterations of holographic gradients. This stage in our design process helped us develop new skills in Adobe Illustrator and Photoshop and allowed us to further explore different tools on the software.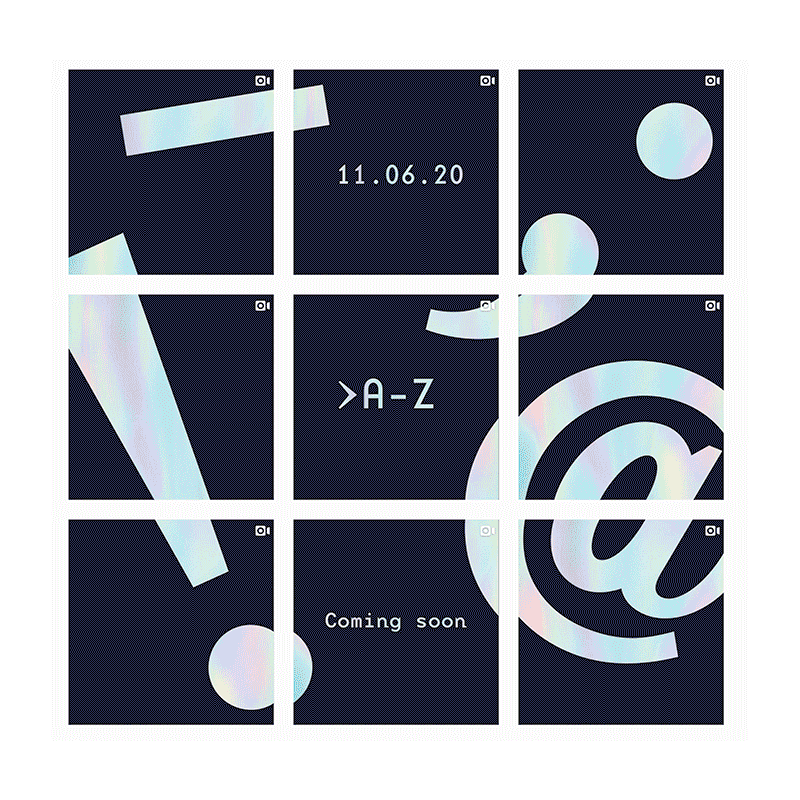 Once we came up with a colour scheme and a typeface that worked well for our brand and that worked well on screen, we began designing promotional content for our Instagram page using the brand guidelines. Utilising the grid format on Instagram allowed for us to think of ways in which we could entice a wider audience to look at our new page — we wanted to make a bold statement to create hype and excitement and set the tone for the further posts to come. Therefore, we decided on creating a large post which took up 9-tiles to achieve this. Upon viewing the Instagram page, potential employers and other creatives are encouraged to sign our invitation google form to keep updated with our degree show and posts of each individual student and their work.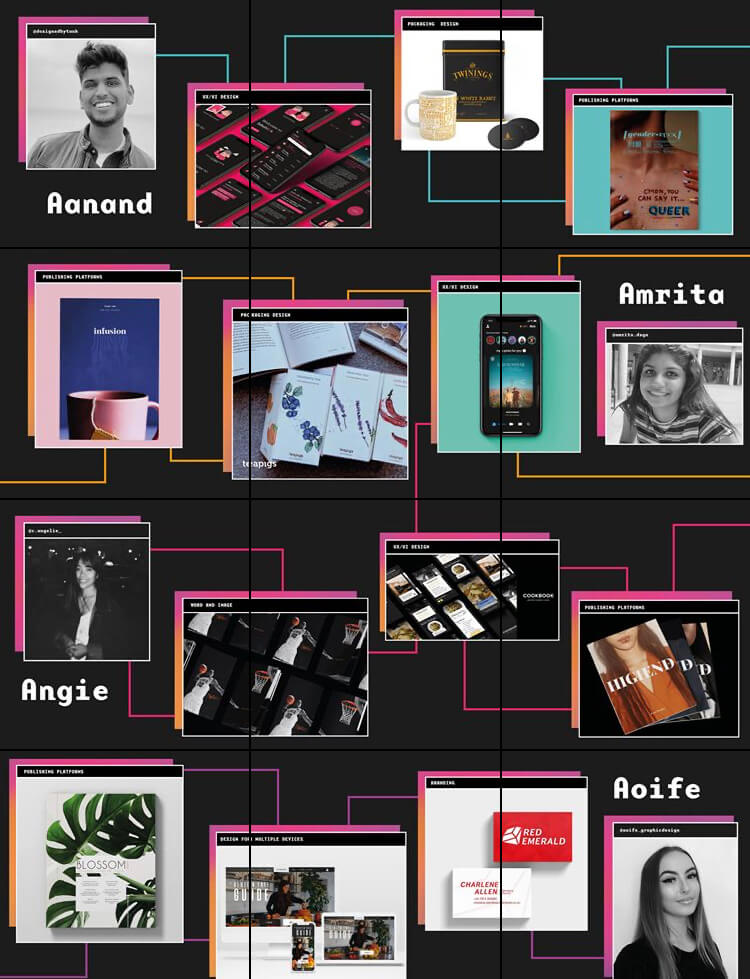 For the individual student posts, we also utilised the grid idea to showcase three of each student's projects and their picture as a sneak peek to the website. The idea of the connecting lines between each instagram profile was to pick up the outlined lines from the logo and visually show that as graduates and designers they are all part of the department. If the degree show event had been able to happen physically, the students' displays would have been side by side — therefore, so we tried to emulate this through Instagram.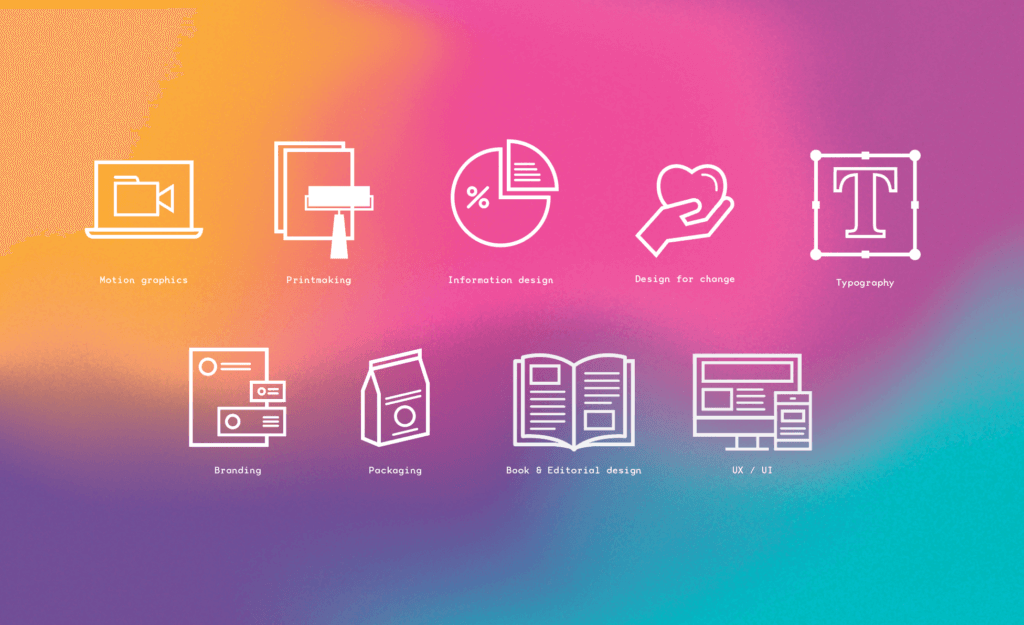 We decided to use icons for the graduates to quickly show those looking at their profiles what types of design they were interested in. The choice of icons follows the modules and areas of design covered during the students time at Reading. These include motion graphics, design for change, printmaking, UX/UI, Book & Editorial work, Packaging Design, Branding, Typography and Information Design. The design of the icons tries to follow a system of angled and curved edges. Any single lines that indicate something like lines of writing had curved edges for a softer appearance. Whereas most other edges were shape angles. This subtle combination attempted to compliment the main typeface identity, Base Wide Mono.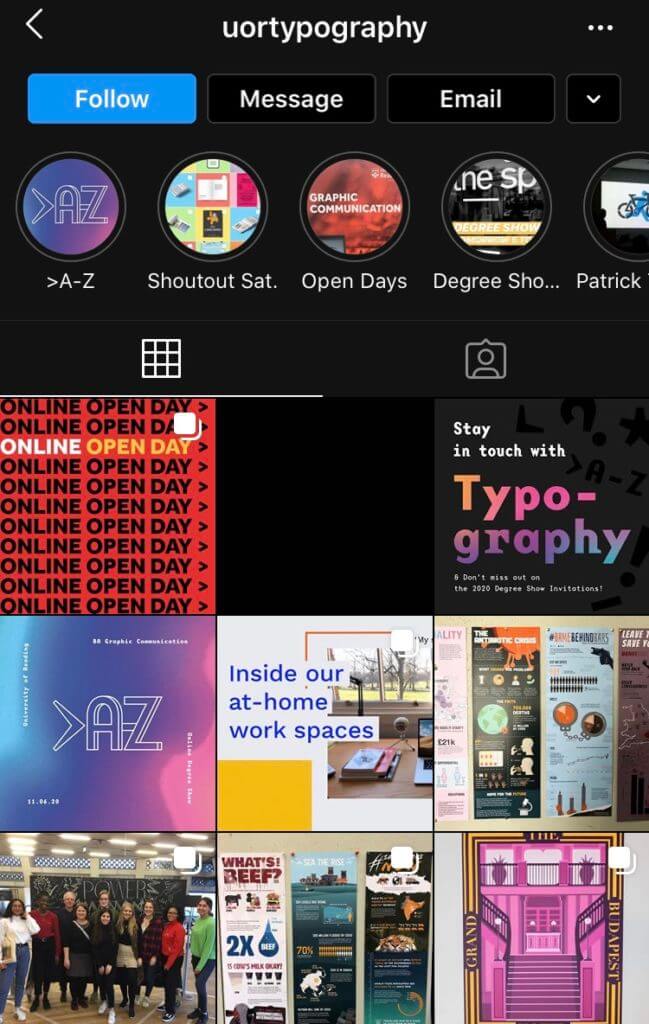 We also collaborated closely with the @uortypography team to make sure the degree show Instagram account was being promoted on the main department account as well. This helped us gain more followers and more exposure to previous graduates and potential employers.
Reflection
Overall, our team was in regular contact with each other and with the rest of the degree show team. Good communication allowed us to be inspired by one another and to share ideas and receive feedback on our developments quickly. Although we faced some challenges due to COVID19, such as lack of access to face-to-face discussions for discussions and feedback, we managed to work together to overcome these challenges and produce outcomes that both we and the team are happy with. Through these challenges, as a team we developed a strong set of transferable skills and strengthened our teamwork, communication and flexibility to adhere to a change in brief which can be applied to future jobs throughout our career. Through our teamwork and efforts, we hope that we showcased each student within our course to the best of our ability, in order to provide an opportunity for our graduates to achieve their goals and be on the path of the career of their choice.