Part 2 students who opted to design book covers for Oxford University Press in their design practice module this term were lucky enough to be given the opportunity to visit OUP headquarters in Jericho, Oxford last week.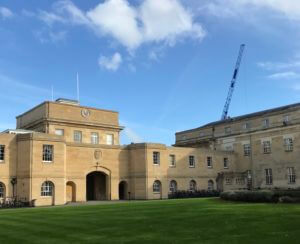 The project involves the redesign of an existing set of AS and A Level psychology textbooks, which students have been working on since the start of term. Attending weekly feedback sessions, students' work has developed week by week with focus on idea generation, exploration, illustration, hierarchy and typographic elements.
Having reached a stage in the project where concepts and ideas are beginning to form considered design pieces, students met with Fiona and Georgia from the design department at OUP for the first time since they gave the initial project briefing. They gave us a fresh outlook on the designs, offering valuable industry knowledge to help with developments and improvements we could all make. The designers were very helpful and enthusiastic about everyone's work.
'I thought that the feedback session with the designers was very insightful and I enjoyed hearing their different perspectives on our designs' – Shiv, Part 2
As well as receiving this feedback from members of OUP's design team, students were given a full tour of the OUP headquarters. This included an insight into the different design studios in the building such as children book design and educational book design (which our project falls under).
One of the OUP designers even talked us through her design process, including the style she uses when pitching concepts to clients. Students even got a sneak peak at some yet to be approved design concepts!
'The best part for me personally was when they showed us their designs and what they are working on at the moment as it was useful to see how their design process works and the quality of their work' – James, Part 2

'I enjoyed the tour of the design studio, in particular, looking at the developmental work which the designers were currently working on. I also thought that the tour of the printers house and the history of the press was very interesting' – Shiv, Part 2
Visiting the studio with tutors Jean-Louise Moys and Geoff Wyeth, they too had an insight into how the Oxford University Press is run, through a tour of the on-site museum and a thorough look through their library, home to thousands of OUP books.
'From my perspective it was a very valuable day. To feel the history of OUP, that can trace itself back to the early days of printing in 15 century England, to see examples of Fell type matrices from the late 17 century in their own museum and then also benefit from the experience of a team of practicing professional designers made the visit such a unique experience' – Geoff Wyeth
Overall, the trip gave Typography students at the University of Reading a unique insight into the world of publishing, an area many students wish to go into one day. Working on a brief set by a client so established in their field really gives Part 2 students a sense of what it is like working in the publishing industry, and a great opportunity to showcase their work.