In the creative London borough of Islington, graphic designer Jeremy Leslie has, ironically, flipped a failing newsagent selling mainstream magazines and cans of coke into an Aladdin's cave of over 700 magazines. Leslie explained how he fell into designing magazines whilst at London College of Printing (now LCC) when he decided to make a WordPress blog which gained momentum, eventually leading to the launch of his magCulture shop in London. Underpinned by the philosophy (and tagline) 'we love magazines', the magCulture brand supports a design studio specialising in magazine design, a shop, blog, yearly conferences and frequent events and podcasts.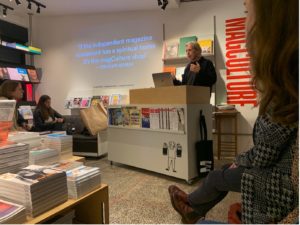 Leslie talked to us about how the business model of traditional mainstream magazines has had its day. He believes that the long running publications (Red, Vogue, Hello and so on) and taking inspiration from the independent magazines model, who rely on dedicated readers who are willing to pay three times as much in return for a high quality, magazine with little or no space given to advertising, that a loyal readership can subscribe to, collect, and display.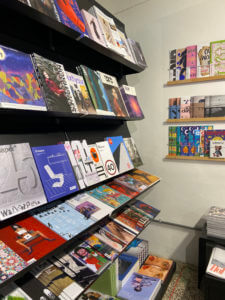 The talk and trip were useful inspiration for our part 3 design practice modules 'Publishing Platforms' where we are designing a magazine and proposing an online presence and business model for a new independent title. It was extremely valuable to visit the store and handle the magazines themselves to get a feel for the different materials, sizes, weights and formats that magazines can come in and the impact these have on their appearance and appeal. Additionally, it was very interesting to see the different magazine alongside one another as it highlighted the importance of the use of print finishes and styling to give each magazine a unique feel on the shelf.