Design Ideas and Design Process
For the photoshop creative images task, we had the option to pick our own theme, whereby I chose the topic of surrealism. In my first design, I focused on demonstrating the ability to create a design that appears to be altered from reality. The design is focused on the illusion of being able to see into the subject's head, which is accentuated with flowers and leaves sprouting from the cut outs. The design process heavily explored layering, depth and shadow. For my second design, I followed the objective to create an image where the background has been altered from the original. I used a photograph of a tent and replaced the opening with an image of the galaxy to reinforce the surrealist theme. I explored using the lasso tool in this design to remove the preferred area and challenged myself with the concept of the subject being outdoors.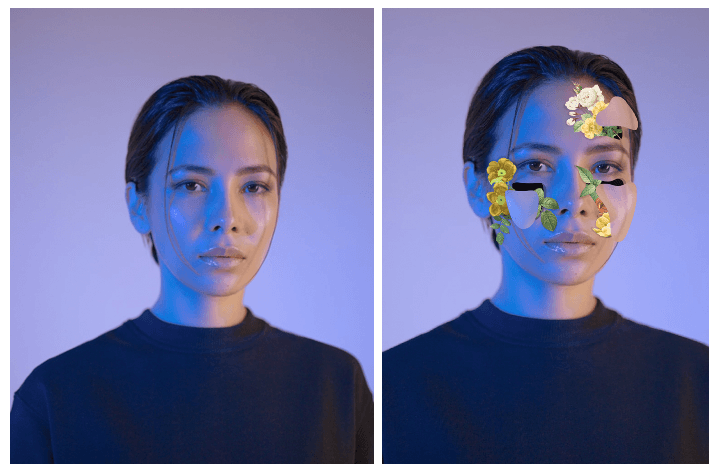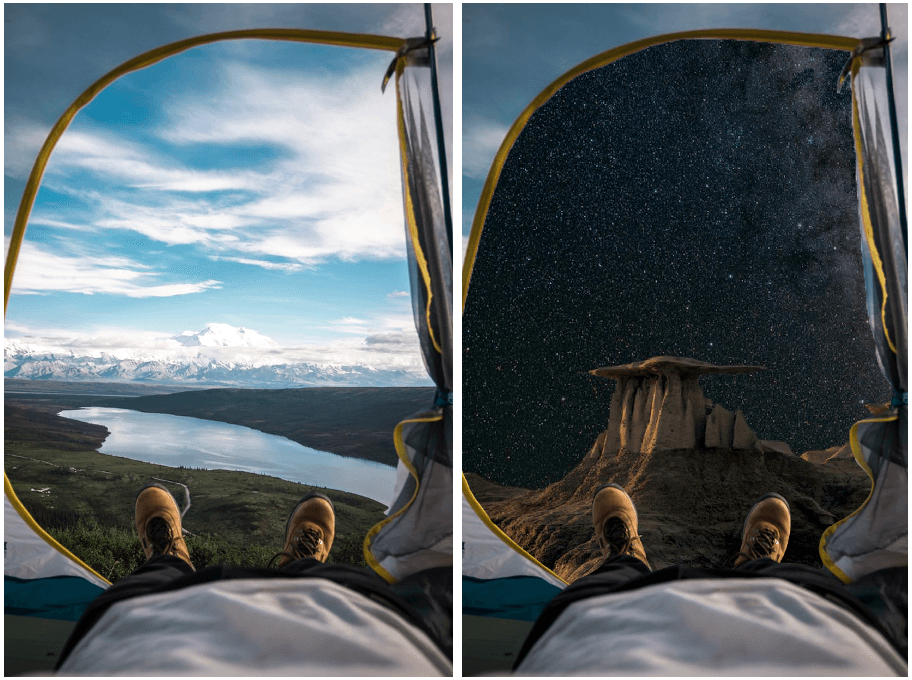 In my favourite and final design, in response to the objective to create an image that combines black, white and colour, I created a design where I was able to experiment with depth and perspective. I used a stock image of a rendered statue and used the lasso tool to copy and paste each section onto separate layers to allow me to move them with full control. I then used the same tool on new layers to create the inside broken area to the statue. This was a challenging process as I had to experiment with creating the right depth and perspective however I was able to create the desired effect. With the new layers, I used the gradient tool to create colour for the image. Once I was happy with the composition, I wanted to challenge myself further to incorporate more colour in order to compliment the overall outcome. On a separate layer, I created a range of circles and lines with the shape tool and again the gradient tool in reversed colours, I then proceeded to use the smart filter tool and blurred the edges to create a blended effect.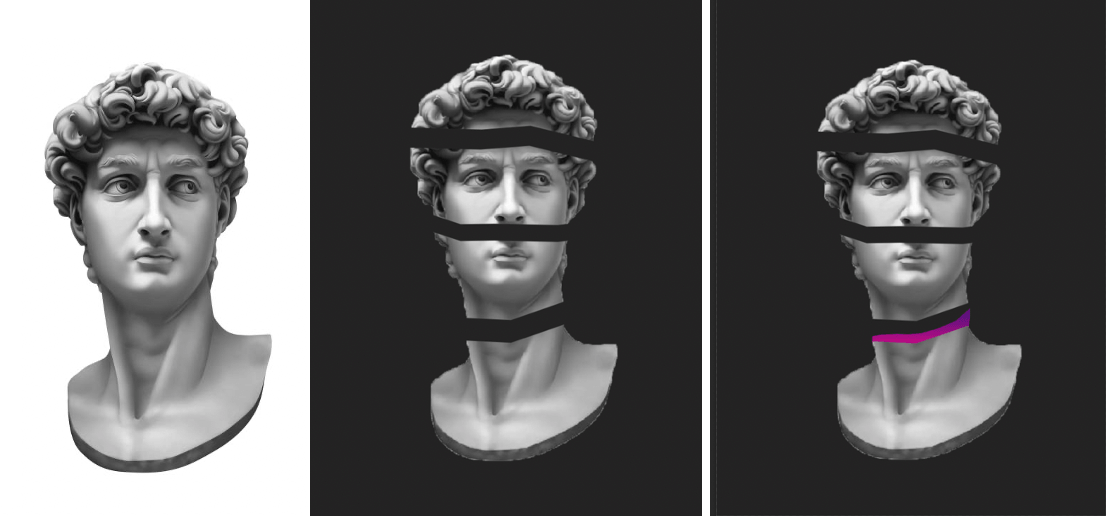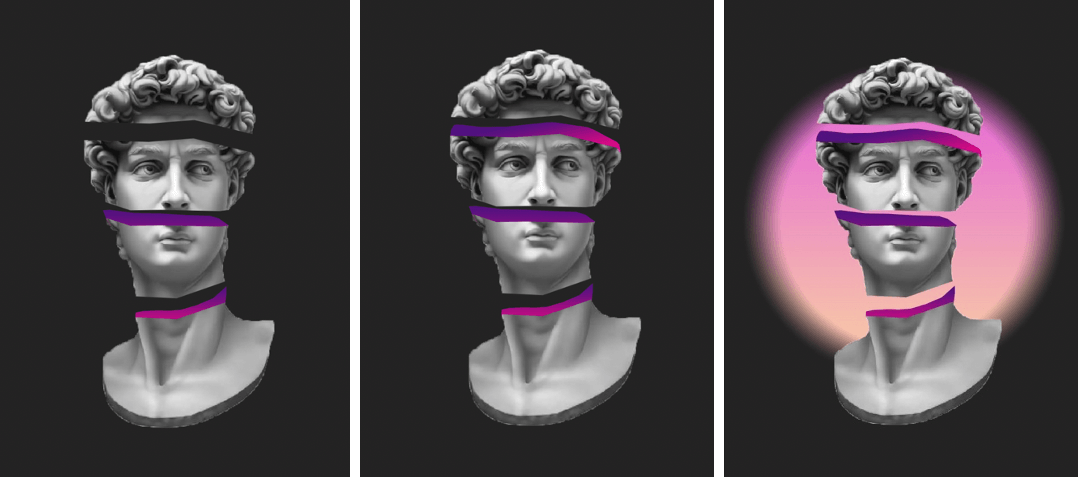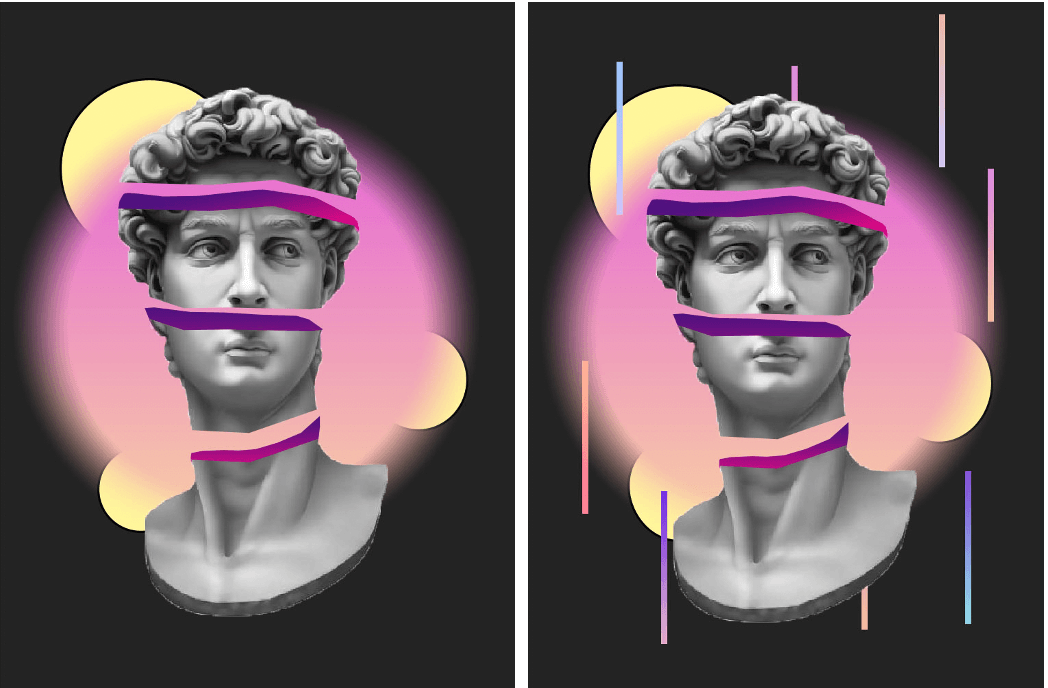 Software tutorials
Across the planning and design process of the task, I utilised a range of software tutorials to support the development of my ideas. Based on my plan, I had a sense of which tools I would require in order to complete the design. I made use of a wide variety of materials such as articles, videos and tutorials. A range of provided resources were used across the designs, beginning with a YouTube tutorial entailing 'editing in a non-destructive way'. Watching this video helped me construct my designs in a manner that made the surrealism theme not appear obviously edited but interesting to look at. In addition to this, I used another provided resource, in which being a video tutorial explaining how to use the lasso tool to accurately select image areas which was helpful in retaining control of my cut outs in all three designs.
I further gained knowledge from other resources I found which focused more specifically on my designs including a YouTube video detailing the recreation of Magdiel Lopez designs. I was able to learn which tools were best to use for my designs and how to appropriately apply them. After watching the video, I was able to splice content and create realistic 3D effects without relying on a 3D tool which allowed more flexibility. The tutorial further helped me with the usage of colour and gradation. I also used a website called Digital Arts Online which offered a range of article tutorials which helped with all of my final designs in terms of layering, colour and composition. From this photoshop task, I have been able to learn new skills and identify areas where I would like to advance them and obtain new ones. Across my research, I have identified my interest in surrealism, and I would like to explore complex designs which require more layers and closer inspection to detail.
There Is One Statue – Photoshop CC 2019 https://www.youtube.com/watch?v=Fau0NEatvOc&t=445s
https://www.digitalartsonline.co.uk/features/illustration/best-photoshop-tutorials/#2
Resources for research and inspiration
Before beginning the task, I devised a plan for all three designs to enable me to pre-identify research and inspiration I would need in order to for fill the design process. Upon researching different artwork on surrealism, I came across digital artist Magdiel Lopez, who I am already familiar with due to previously being inspired by him in another project. I found this task would be a great opportunity to use the newly found skills I have obtained to challenge myself to create outcomes emulating his collections. I was inspired by his portfolio due to the inclusion of colour, layering, composition and of course surrealism. I found all three of my final designs inspired by his work, most particularly my statue design. It was a good opportunity to challenge myself with experimental layouts and backgrounds.
In addition to my artist research, I also referred to Pinterest as a general ground of inspiration due to the wide array of posts available. The most influential search was "surrealism digital art photoshop" where I was able to note down the common attributes of different artists work and what makes their work surreal. I found the commonalities included the use of bright colours, therefore I made sure for this to be a strong element in my final designs. Another commonality was the general aura of the designs being unnatural but engaging. Observing these characteristics was beneficial in helping me develop my design ideas as it allowed me to step out of my comfort zone and try pushing my designs further at times where I would usually finish them. I had not really explored backgrounds and how they can influence the main object/attribute of the design so this experimental process was an insight into how they can transform the final piece so this has become a topic I would like to explore in the future.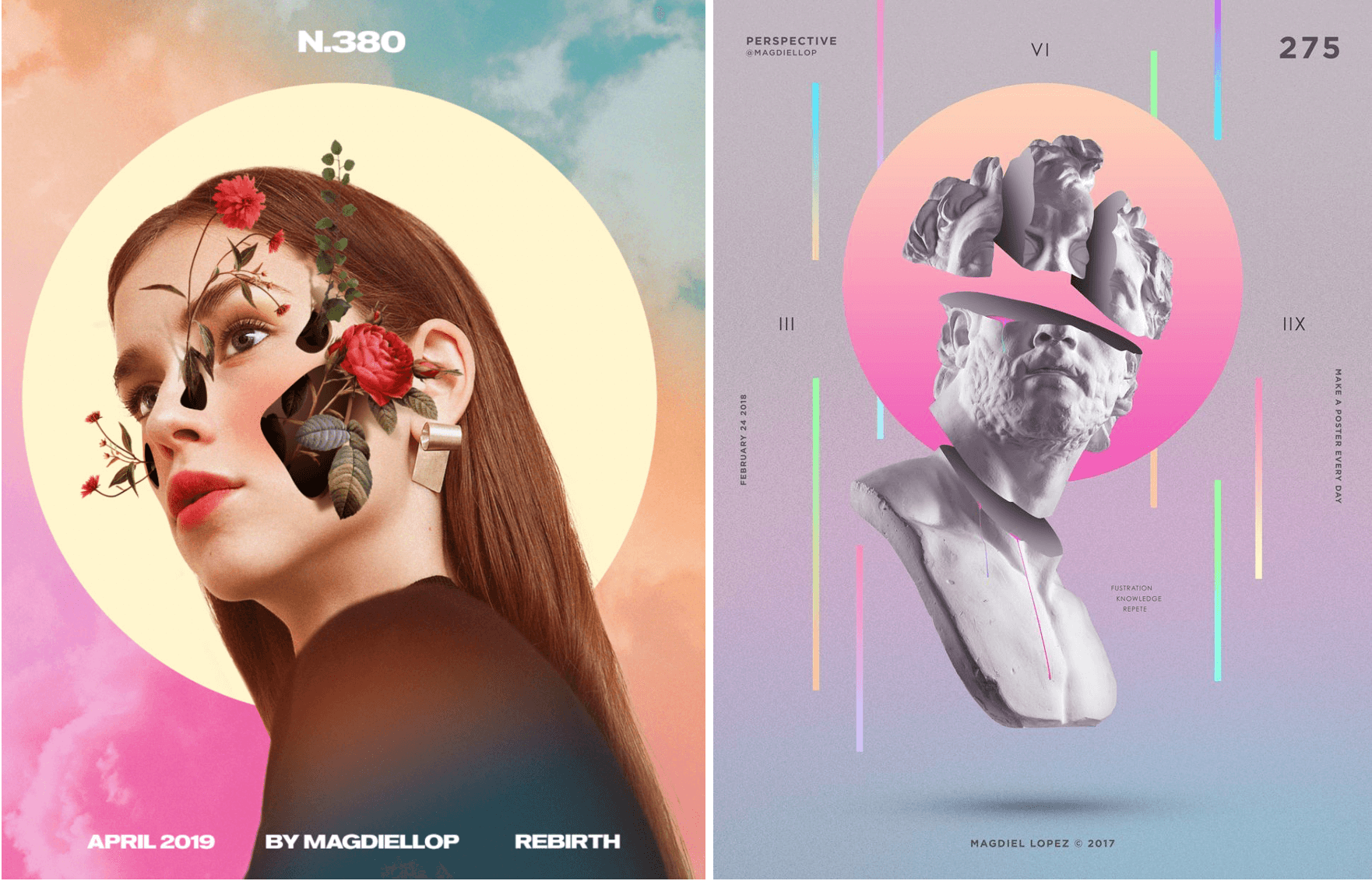 https://www.magdiellopez.com/
Pinterest.co.uk