Welcome to Typography!
Before you are fully enrolled on your course, these links will help you navigate welcome week and get ready for the start of your studies.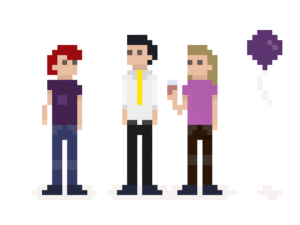 Gratuitous ad for our pixel fonts social:
All day and night, Weds 4 October!
Things to buy
Computer buying guide
Essential info about the laptop (and other bits) you will need on our course
Pre-sessional reading list
You don't have to buy or read all of these, but make sure you look at some of them, and perhaps buy the ones you most enjoy.
Studio equipment list
On our course, you make things! This is a list of essential kit.
Things to do before you arrive
Study smart: The course is now open!
This short online course (c.9 hours) is compulsory for all our new starters. It helps you understand life at university, including key skills in reading, writing and referencing (and how to avoid plagiarism). When you complete the course you'll get a certificate, and we'll need you to submit this in the first week or term.
IT Induction playlist on Youtube (link is live but content will be updated in mid-September)
Once you arrive, this list will help you configure your laptop properly to work with our systems
Staying in touch
Applicant portal
A useful place for messages from the University.
Welcome week
Department welcome week timetable
Timetable, info and links for welcome week. This will evolve in the weeks running up to the start of term – it's not FINAL until Welcome week itself.
IT Induction playlist (Youtube)
You need to run through all these videos before Thursday of Welcome Week.