In week 5 of Autumn term, we were joined online by our Department's own, Gerry Leonidas and Rachel Warner. It is an annual talk, giving some helpful advice and highlighting the importance of organisation in our careers. As a student, it is reassuring to hear that our tutors feel the same pressures we do, with Rachel confessing to being a procrastinator and Gerry feeling guilty when getting distracted away from a task.
"Sometimes the avoidance of something can be much longer than actually doing the task, they can turn into something huge." – Gerry
As people we need to work, study, socialize, exercise, and as Rachel puts it, "find time for the boring bits too". It is an overwhelming task to try and find order in the volume of daily activities in our lives and the time it takes to do them. To counter this feeling Gerry shares his own tactic of time management, being to split every hour into a block. Keeping his workload to a strict limit of these blocks so that he still has time to exercise and relax to avoid counter productivity. For the first chunk of blocks the brain is active and working efficiently, the later hours into the day it teeters off, adding a feeling of pressure and causing a cramming of work at a lesser quality.
Start with the small things you do
Schedule work for when you know you work well, if something requires lots of concentration and you work better at night, save time to work at night. Assigning time for outcomes is important and Rachel will do this by breaking the day in two halves with less straining work in the afternoon as she understands her brain does not function so well at this time of day.
What they use
To help manage her expectation of a day, Rachel suggests colour coding, this way she knows when she has some downtime and helps with anxiety levels. This way, on her calendar; Green blocks are for when she is teaching or running workshops, blue is for meetings, purple for research and so on. Gerry has a similar method with a focus on personal time and family. This will be in red and is strictly scheduled as to allow for time to unwind and clear the head. Unfortunately for Gerry, it took some burnout in his mid-thirties to realise the importance of personal time to destress.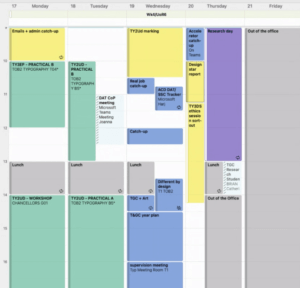 Use techniques that work for you
Burnout is real and with no holiday or break on the horizon, the workload can seem endless and can be daunting. Valuing time with family and friends is equally important to the work to unload. When assigning time for work in your calendars its always wise to build time in for holidays and allow time for slacking with work. It may also help to work in a change of scenery to break free from your daily routine. When assigning time for work, Gerry suggests working backwards from the deadline to the present. "It is easier to predict what will happen in two weeks than it is in two months." Approaching an estimation of a task duration from both ends can be useful.
"It's okay to feel as though you don't have enough time."- Rachel
The time management talks are always a pleasant wake-up call for students, so much so that they are requested year after year. It especially helps beginners understand where to start as a first-year has commented, creating a sense of unity within the department through our experiences and for some, experiences yet to come.
Here are some of the University resources recommended by Rachel and Gerry from mental health research on time management.
Making weekly and termly plans 
libguides.reading.ac.uk/studying-at-home/getting-organised
Managing your time: 
libguides.reading.ac.uk/time/distractions#s-lg-box-11666001
Dealing with perfectionism 
whatsupwitheveryone.com/perfectionism.php
"I valued the idea that winding down and down time is very important and has to be scheduled"- Tristan Bevan, a Part 2 student
"Tips from the tutors and hearing their reality, and that time management is something they struggle with too was helpful"- a Part 2 student