In week 3 of term, we were lucky enough to be joined by Reading graduate, Lucinda Scholey, founder and designer at Launch studios. Here she works in a small team creating packaging, app and web design as well as plenty of other services
After graduating in 2014, Lucinda worked as a Junior Digital Designer at Ve interactive software and data company. This was a job she enjoyed but wanted more. After realising her dream job didn't exist, she would make it for herself with the business now known as Launch, being a port of call for 20+ regular clients over its 4 and a half year life span. However, this was no overnight feat, as Lucinda made clear with her tips for pursuing a freelance career in the design field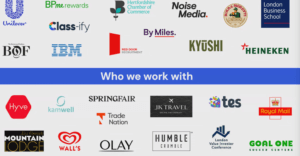 Six things to know before taking the freelancer leap of faith
1. Be purposeful
Why do you want to freelance? Is it for the money? The variety of work? The flexibility? All questions Lucinda implores we ask ourselves when starting a career as a freelancer. There are pros and cons to all jobs, but you must be sure that you really want to think through them. Being a freelance designer pays well, but you get out of it, what you put in, and that can sometimes be lonely when working solo although there may be no need to commute. The type of work that means every day will be different, and you have time to discover what you want to get out of your career as there are so many areas of design. So have a clear idea of what it is you want to gain from your ventures because, for some people, the cons will be a complete turn-off. 
When Lucinda went freelance, she noticed that businesses would call on different people for different jobs, solutions to problems lie scattered in so many different places. She considered that a wide array of designers should be employed in one business so that lots of clients can be satisfied under one roof, with employees specialising in different fields.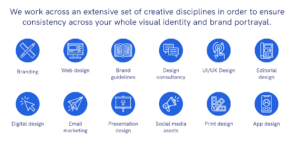 2. Be practical
Ensure certainty and confidence with your decisions, keep your foot in the door, but do not make any big commitments that could affect your quality of life and income such as quitting your job before receiving a stable income. Lucinda, learning from mistakes, makes sure she plans for the long term and spends time well. Fresh out of Uni, she was not ready, but Lucinda worked on being more confident, working with an agency in order to pay bills until she decided it was certainly the career for her. She plans for quiet times and would fill it productively without working. This can include updating the company website, posting blog posts and consuming new content, reading to motivate herself and keep grounded. 
3. Taxes and contracts
Lucinda provided extremely helpful insights into areas of the profession that is often omitted from inspirational talks. This includes considering whether you will work within or outside of IR35. This means you can be treated as an employee by your clients, ie. asking for holidays and being paid as if you are on the books. This affects all self–employed people and it is up to you to decide whether that's the right thing for your business. Being self–employed also means you are responsible for tax returns, Lucinda recommends an accountant to handle these issues for you who can also provide other financial advice, as well as detailing how certain businesses react to taxes. Sole traders file a tax return each year, Umbrellas remove a cut and pension before you get paid and Limited companies are registered and the fees will depend on the profession. Once a company starts earning more money is when it usually registered as limited. No matter what kind of company you have, a contract must always be put in place to ensure you get paid on time. Contracts can also be extended if more work is required from the designer with payments altered. 
4. Deadlines
Always set yourself a deadline! This does not have to be time-related, but Lucinda empathises that timekeeping is an important skill when starting your business. This can be in regard to when you might leave your full–time job, for example, when your company starts earning £3000. 
5. Portfolios and organisation
'The process is just as important as the outcome'–Lucinda
'It's harder to design for yourself than it is to design for other people', warns Lucinda, in the same vein that event planners often can't plan their own wedding. However, it is so important that websites, portfolios and blogs are presented accessibly to display your work as this is what customers will see as a promotion of your abilities. Show processes of work and not just the outcome to communicate your skill. To do this successfully does require lots of organisation and sorting files in a reliable way such as storing them in a cloud, Lucinda uses Dropbox herself. 
6. Networking and contacts
The best people to speak to before becoming a freelancer are those, simply with plenty more experience than yourself. Gain personal insights into common issues such as how clients submit briefs or what their rates are. It is important to never be afraid to ask the client what their budget is as it could avoid awkward moments later on at the contract stage where the client might be lost. Other freelancers, mostly in any industry would have the same issue so it can even be beneficial to speak to a freelance electrician for example. You may also learn about how they present themselves publicly such as on LinkedIn (one of the best platforms to network on as it spreads word of mouth) or Instagram and potentially make new contacts and allies in the field. Platforms like Instagram are also much easier to update and maintain than websites. 
Go for it!
Once you have followed all the tips above, you may be more certain on whether freelancing is the right career path for you, and these lessons have all been learned from Lucinda's own experiences and mistakes. It is important to be mindful of the cons despite the temptations of the pros. There's a lot of plates to spin, essentially working in all departments of a business, and it won't be for everyone, but with Lucinda's fresh take on the freelance career, it is really helpful when considering what direction to take once graduation from University. 
'It was an insight into a field of design I did not know about. Lucinda's journey was very inspirational and I appreciated the fact she was down to earth and truthful with the harder aspects of the job. '
–Jasmine (Part 1 student)
'Lucinda's honest, open discussion of freelancing and her business was incredibly insightful.'
–Matthew (Part 1 student)