With a fresh start to the academic year, Baseline Shift hosted its first session of the year online. We were pleased to listen to an incredibly inspiring talk from Arjun Khara,  PHD student and design researcher at the University of Reading – where he is also a seasonal lecturer since 2019. Arjun is also a renowned business consultant and co-founder of Quantico Communications LLP in Singapore.

During the session, Arjun has passed on some of his experiences and knowledge to help us on our design journeys to not just 'connect the dots but to design the dots'. Arjun presented key philosophies in regards to the design process, all discovered through his years as an academic within the design field, a businessman as well as a student of Life and its shortcomings.
Philosophy 101: a dial we turn and tune
'Design is not really a switch we flick on and off. Design is like a dial we turn and tune and keep on adjusting till we gain a clear signal.'
Indeed, some of his philosophies on design related to the constant need to discovering new things to come to a design solution. It is only through constantly searching for new questions and fine-tuning our discoveries that we finally reach an answer. This is exceptionally relevant to how we approach our design process in projects on the course; no matter how quickly we find answers to a design problem at the start, if we are doing things the right way we will constantly find that we need to dig deeper and deeper to pinpoint the exact solution we are looking for– until we gain a clear signal.
Philosophy 102: how to get there
The design process is imperfect, alive and constantly changing
'Learn not only how to see the horizon but learn also how to get there.'
As designers, we tend to strive for the perfect solution.  And after we have done the sufficient 'turning and tuning', there may be a point where we question whether we have really uncovered everything we need to create our design solution; When can we say that a design project is finished?

As Arjun quite simply said 'a design project is done when it's ready'. 'It's not about reaching perfection – it's about striving for it'. The design process is the place where error is what will push us along to finding different approaches and helping us along to the final result. And making mistakes always lead to a great amount of learning and applying that learning to future projects. The design process is a constantly active, living experience. Therefore, the first thing we need to know before worrying about whether a project is really finished is probably realising that there's a likelihood for it to not be ready just yet. And that's okay!
Throughout his talk, Arjun has reiterated how 'nothing is wasted'. After all, he himself did not believe he was going to use some of his qualifications in his career. He ended up using those whilst working with Accor Hotels, as a business consultant for years. Our future has not been written so no experience we have is wasted.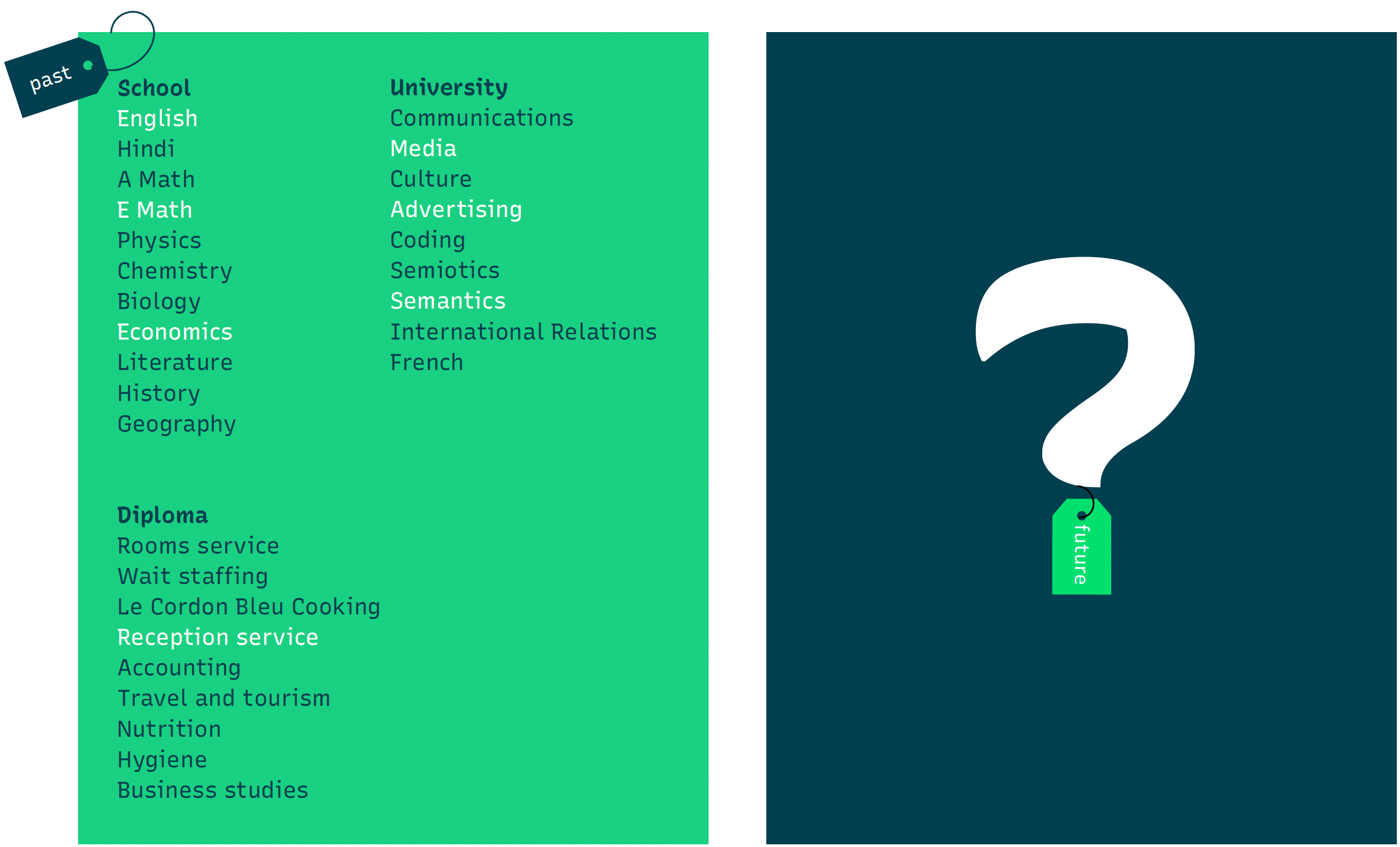 So go and try new things, one never know when one will need it – 'it's really important to have experiences outside your comfort zone'.  Anything we try will always find a purpose along our design journey. 
Philosophy 104: designer's laboratory
'A designer's laboratory is the whole world.'
In fact, the more we adopt a 'Carpe diem' way of approaching design, the more our inspiration grows. As Arjun stated, 'a designer's laboratory is the whole world'. It cannot be stress enough: inspiration comes wherever and whenever we decide to open our door and step outside to experience the world. The world contains the design solutions we are looking for.
Philosophy 106: the source of all those great solutions, i.e. you
The human brain has an incredible capacity to absorb just about anything, so creative-minded people like ourselves have a tendency to be able to translate and express what we have absorbed in an incredibly unique way– clients, employers know this. Arjun highlighted therefore that as designers we are the only people who can provide this creative thinking; from the absorption of our surroundings: the problems uncovered, to the production of unique solutions.  And how well the communication of those solutions is, will define how finished the project is.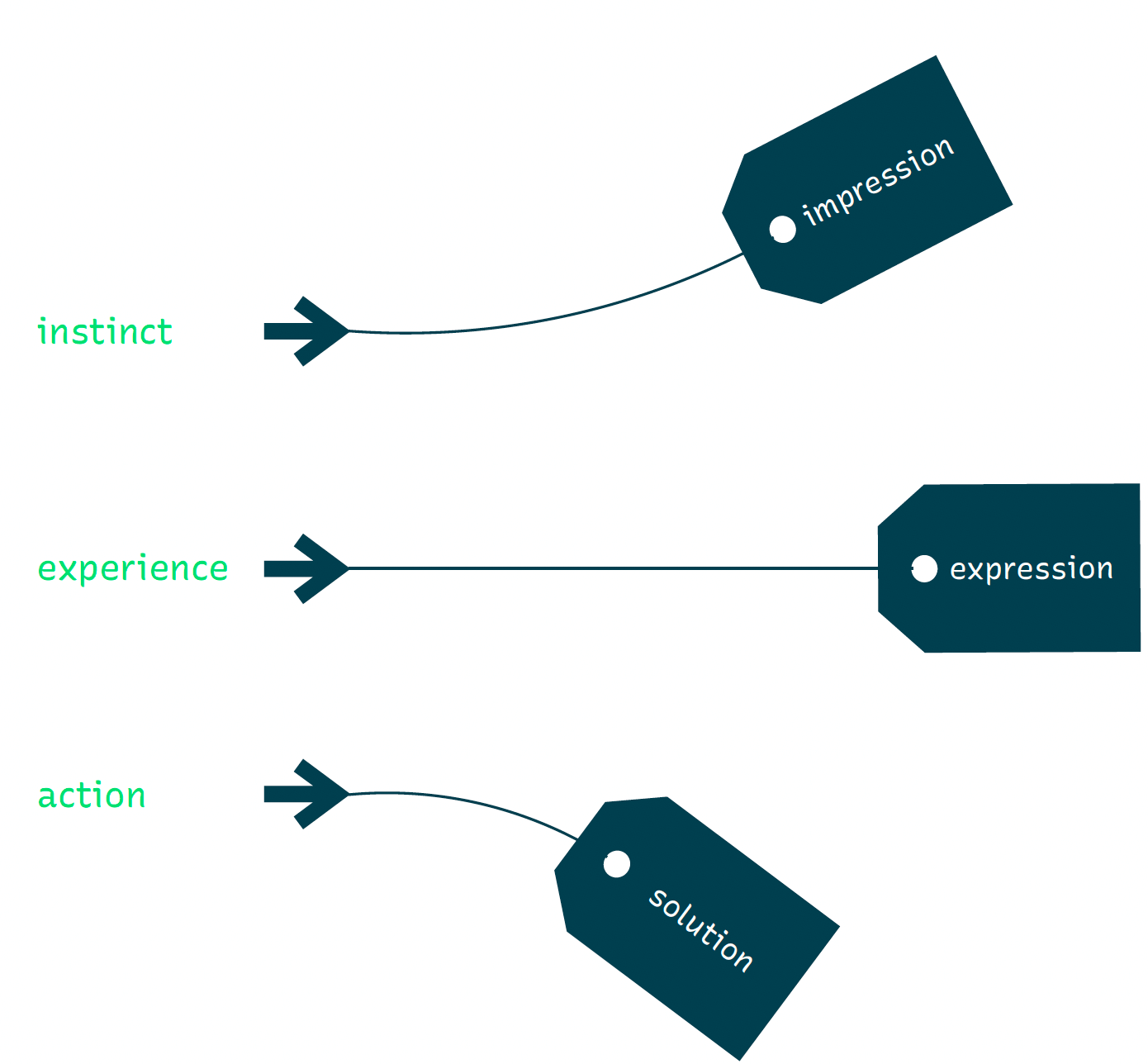 ---
 

Conclusion

The various relation between instinct and impression, experience and expression, as well as actively looking for the solution will all help inform our final design – the design process is live, organic and constantly changing. So what we can take from Arjun's talk is accepting that life can completely overhaul our plans – and similarly to how we must all deal with unexpected events, the design process is a strong reflection of how we look at the world. Therefore, to better inform our work and to fine-tune our search for solutions to a design problem, we must step outside, experience the world and try new things. Only once we have reached full capacity of taking in everything we have seen, heard or read, and only once we have communicated our solution, is our design process ready to conclude.
'A design mindset is a way of life and is thus applicable far beyond the confines of an office or studio.'

---

Student feedback

'Would love Arjun to join us full time, I listened to his taster lecture on poster design, and it's one of the reasons I came to Reading. Absolute agree that design bridges the logical side and the creative side.' – Lydia, MA student

'Arjun's in-depth explanation of his design history was really insightful, as well as clarifying how to design things with a particular audience in mind; his explanation of users and consumers was very interesting.' Benjamin, Part 1 student

'The talk was very inspirational and optimistic. It really highlights the positive and exciting side of design.' Part 3 student