For this project I split my collection into 5 different categories:
Magazines
Posters
Social distancing
PDF downloads
Covid-19 street art
For magazines I focused on Vogue and Time, as I found that they both covered controversial views on covid-19. I particularly liked these two covers from Times. (I found both images below in the vault for Times, under covers from 2020 https://time.com/vault/year/2020/)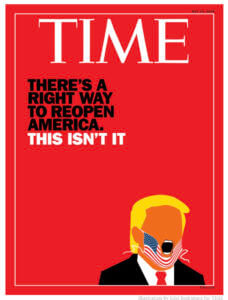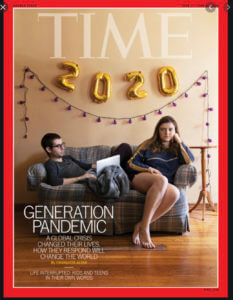 If you are following the news at the moment you will find that America seems to believe that they are immune to covid-19. Or a better way to put it, is that it is a myth (according to their president Mr Trump).
I found the Trump cover ironic as when it was published (14th May 2020) it states "over the past 14 weeks 84,000 Americans died of Covid-19." Yet America did not seem to be doing much to slow down the death toll. I found this magazine cover portraying the political     side of covid-19. Bar the controversial message the image is portraying. I particularly liked the graphics and typography that was being used. It's a fairly simple image with type and an illustration of Donald Trump with a mask (that is not being used affectively), yet it is clever. I like the message of the mask not cover his mouth, as he believed masks to be stupid; yet we all sat here wearing them everyday.
The second magazine cover, covers a social issue during the pandemic. Of the youths of this time and how this will shape their life forever. I found this one a good one to use, as we right now are in education and we are the youth being affective by this. The photographer Hannah, has been virtually photographing her classmates in quarantine. This imagery was done by a student which is why I think it is a good one to study. The issue Hannah wanted to portray was that she found that she was stuck in limbo due to covid-19. These years are the ones she's meant to be transitioning into adult hood, yet she's feels like she's going backwards being stuck in her childhood bedroom for the past several months. I found this topic interesting as I don't think its normally portrayed. I found a lot of social distancing and instructions graphics for covid. But this was the only 'generation pandemic that I found. Which you would think there would be more off with the amount of students and people being effected in education by this.
For both these topics, I believe that the target audience is meant to be different, yet has ended up the same. They are both a cry for help to the general public of this issues following this pandemic; outside of the deaths.