Background
Reading Film Theatre (RFT) is an independent cinema which prides itself on showing a wide range of films, from blockbusters to smaller budget and foreign films. They are located in the University's Palmer Building where they have two showings a week. RFT is a registered charity run almost entirely by volunteers and relies on income from Membership and Box Office. In 2020, RFT is celebrating its 50thanniversary and are curating an exhibition for Reading Museum to go in their 'Show & Tell' space. This exhibition is scheduled to happen in November 2020.
Aims
The main aims of this exhibition are to:
>  Tell positive stories about the value of independent cinema through the exhibition.
>  Generate awareness of the event with social media and physical leaflets/posters.
>  Help people understand that RFT is a charity and tell people what they are about.
Audience
The main target audience will be the general public as well as appealing personally to people who have been attending RFT for the full 50 years. As the exhibition is in such a public place it will be seen by a hugely diverse range of people with varying ages and backgrounds so the exhibition must also interest everyone to some degree. This is possibly more important to RFT as they are always keen to acquire new members and having an inclusive exhibition will encourage more people to join.
The scope of the project
The client had previously been to Reading Museum so she knew most of the deliverables she needs for the exhibit but I suggested to her additional promotional material for social media and a physical booklet to help advertise the event so the community knew it was happening. The list of deliverables includes:
>  Archive and digitise posters
>  Student designed poster project
>  Backdrop for cabinet display
>  A collection of physical 3D items for display use
>  Promotional material for exhibition (social media)
>  Physical item (booklet/leaflet to support the narrative of exhibition
> Sound bites
The initial exhibition date was in February but, it became evident early on in the process that the exhibition would take place in November which is after I graduate. Figuring out how to avoid this causing problems has been my main challenge through out this project so far. Another student could have taken over this project, but as I got to know my client and other people from RFT, I really enjoyed working with them and I had previously loved attended many of their showings. As a result, I am continuing to work with them to finish this project after I have graduated.
The second main issue I have faced is the university's closure due to the Covid-19 pandemic. This has temporarily halted design progress as originally I had scheduled to photograph and achieve the old student posters in the department over the Easter break. Before the Easter break I completed a three day long process of dating all the posters and organising them into chronological order. However, I was never able to photograph them as the university closed before Easter. During this time, I collected the fonts RFT used and acquired an SVG file of their 50thanniversary logo. This has allowed me to begin the design process by making some brief templates of printed items. A second reworked restated brief was created to allow for a new time plan to be created.
Research
During a visit to Reading Museum, I meet Brendan Carr who is the Community Engagement Curator. He has become a crucial contact in understanding what the museum want to get out of the exhibition. They want to showcase and teach people about highlights of the Reading community. After visiting Reading Museum with the client, I had a much clearer visual idea of what was wanted and required by the client. Whilst all the deliverables had been clearly identified beforehand, seeing the exhibition space in person made it seem more real. I was also able to gauge how high the quality of the work had to be by seeing the existing 'Show & Tell' exhibition. For items to go in the display cabinet, it was stressed that they should be three dimensional as physical objects are more interesting and work better than flat posters in a display cabinet.
I have attended multiple RFT publicity meetings where they discuss matters such as advertising, memberships, newsletters and other similar administration. As this project progressed, I was able to update everyone in the meetings on progress. I was new to these types of formal meetings and found the first one a bit daunting, but the environment was extremely supportive as they were all creative and would always offer help and ideas where possible. I feel these meetings have put me in a much better position for this project as I understand more the spirit of RFT which I will display though the exhibitions visuals.
Communication
My communication has massively improved from undertaking this project as there have been many different people and elements to this project that must be coordinated and kept moving. I have found this works best when I regularly email my client with quick updates on my progress as it motivates me to continue working and keep in contact.
Part 1 poster project
One of the main feature of the museum exhibition will be posters designed by past students of the Typography & Graphic Communication Student for Reading Film Theatre at the beginning of their 50 years. The current Part 1 students in our department have a film poster project which I was able to combine with the Reading Museum exhibition. As part of RFT's anniversary celebrations, they allowed their audiences to vote on their favourite films shown throughout their 50 years of running which created a 'top 10 film list'. These are the films that the Part 1 students were given the choice from to design their posters for. I spoke to the Part 1 students during their briefing to tell them about this exhibition project and how what they were designing could become a part of something bigger.
I loved seeing the Part 1 students' outcomes when they were all on the walls after their submissions. So many of them were really exciting and captured their respective films perfectly. It was interesting to compare the past and current student posters as you could really see how the development of printing technologies and materiality influenced the different designs.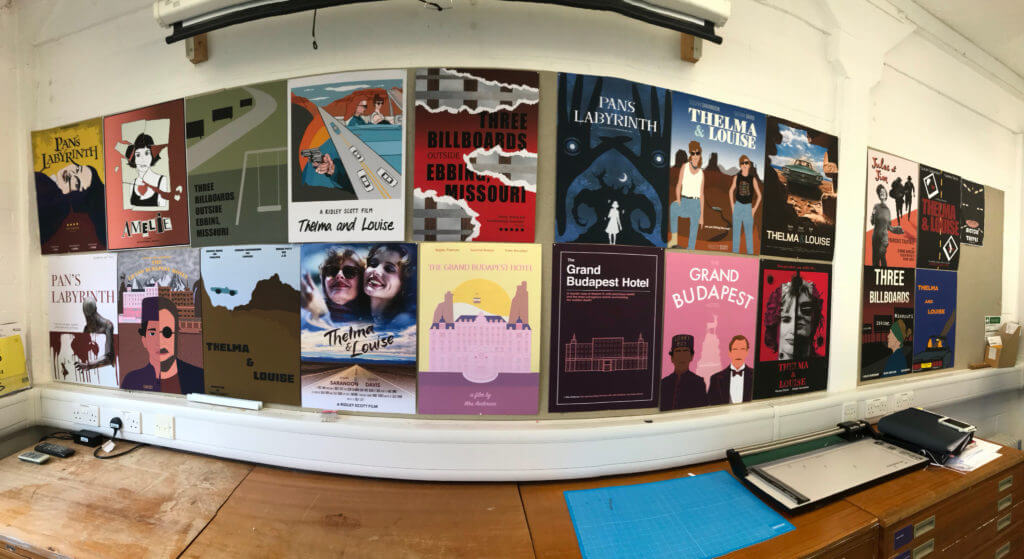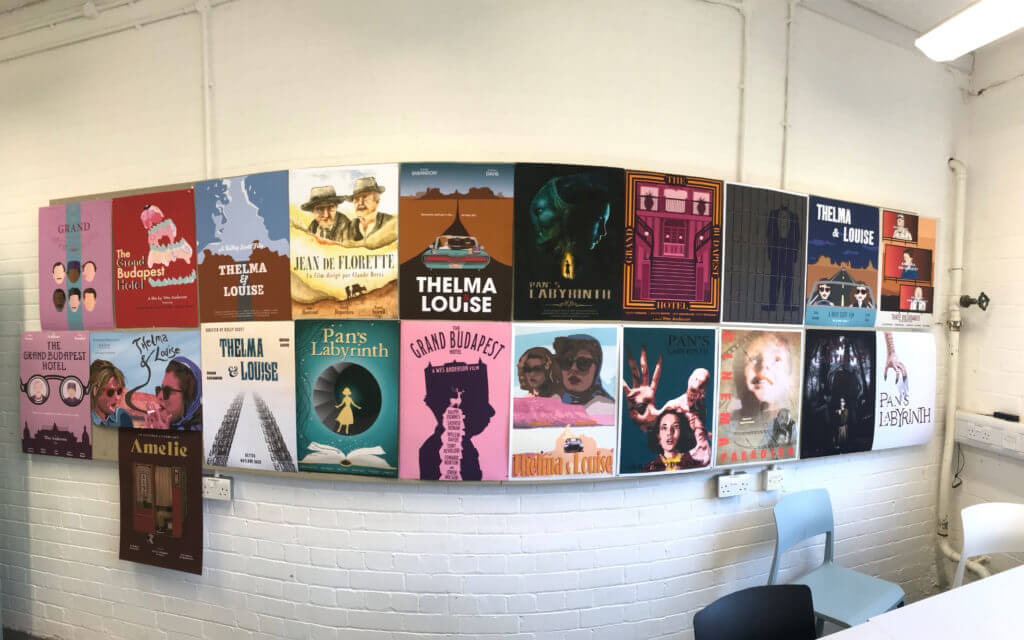 Crowdfunding
At the beginning of the year RFT encountered a worrying financial issue which nearly caused the organisation to be closed which thankfully did not happen. Money is needed to cover printing cost for all the physical items required for the museum exhibition. However, this did mean there would be no direct funding for the exhibition; money would have to be raised. This has presented to me with the opportunity to work with the university to create a crowdfunding page on their Reading Fundspace page which is due to be launched in late June. Complications with staff being furloughed over lockdown has slowed this process down but regardless, it has been planned in advance enough that it will not affect any part of the exhibition.
From this process I have gained written communication skills as the campaign pitch must appeal to anyone I am trying to persuade to donate to the cause. Approaching this task, I realised that as asking people directly to donate their own money can be quite sensitive and personal. As a result, I introduce RFT, the reasons behind the campaign and what money will go towards to allow people to understand the need.
Conclusion
Whilst there has not been much physical design in this project, I have had the opportunity to develop other skills that are an essential part of being a designer. I have learnt designers must be able to communicate well in every situation, not just through visuals as such a large proportion of any project in the real world will involve communicating with the client to make sure the final designs answer their brief.
I believe I have faced some difficult challenges but they are challenges that every designer has faced especially within the current pandemic situation. As a designer, the most important skill I have learnt is adaptability. Sometimes forces out of you control can demand you to change your plans but this cannot stop you from producing deliverables for the client. It is important to plan in advance but I have learnt that it is okay if something does not stick to your original plan.
Overall, I am looking forward to continuing this project as I know it will be rewarding when I am able to see the real exhibition up in Reading Museum.
Next stages
The next stage of this project is the design stage. I am due to be able to access the old student posters in the near future to finish photographing. I will have to continue looking ahead of the schedule to ensure everything is completed on time especially during these unpredictable times like we are in now. This is particularly crucial for printing as the process may become delayed and take additional time. I will also have to prepare for the possibility the exhibition date will be pushed back. However, I will continue to stick to the time plan in the brief where and when possible.