Background 
The D&AD new blood awards are made to help young creatives get a head start whilst they are still at university. Winners of the award will gain exposure. It will give winners something to put on their CV that can help them land a job. D&AD provided 20 briefs to chose from and I selected Audible.
Audible was founded in 1995. It is now the leading provider of spoken-word entertainment aimed to enhance users daily lives. Audible is a storytelling subscription service with podcasts and over 200,000 fiction and non-fiction audiobooks. In the UK in 2018 book sales fell for the first time in 5 years by £168m (5.4%). On the other hand audiobook sales surged 43% to £69m with Audible dominating sales (Sweney, 2019). In the US in 2018 Deloitte Global conducted a survey of more than 1,000 adults. The results show that audiobook and podcast listeners skew toward being younger, more educated, and employed. The study showed 26% of 25–34 year olds listen to audio books, compared to the next highest, 15% for 35–44 year olds (Stewart, D. Et al, 2019).
In the brief Audible provided they are aiming this campaign at 25+ year old, city dwellers. They are aiming to grow what is already shown above to be their largest demographic. These people seek effective ways of finding self improving activities and love trying new experiences. They are busy and active so the final design will need to show that Audible is an effective way of self-improvement that can easily fit into your life. I want the campaign to be relatable, to show how Audible can replace the mindless scrolling so many of us are guilty of.
Restated brief
The Audible project is an 'out of home' campaign aimed to persuade city dwelling 25+ year olds (leisure upgraders) in the UK that their needs and attitudes suit the Audible service.  The campaign wants to communicate that Audible is 'a better alternative to mindless scrolling'.
Construct an advertising campaign that persuades 'leisure upgraders' in the UK to sign up to a 30-day Audible free trial. This target audience is always on their phone for work, social media and leisure but could use Audible to satisfy their intellectual cravings. The campaign must focus on OOH (Out of Home) as the main medium. It should be able to work in different cities across the country. Bear in mind  'Audible have seen many proposals over the years, so ensure your response feels unique'.
Specific objectives of the project:
Create a campaign for Audible that is well designed and engages people. There has been many entries over the years for this project so it will need to be unique in the market and original in its user engagement.

Create a campaign that is flexible and can be used across the country

Design something unique

Hit the three judging criteria – 'a good idea, well executed, and relevant'

Personal – Be shortlisted for a D&AD pencil
Research
I was advised by a class mate, who has entered the D&AD New Blood competition before, that it is beneficial to get to know your users. I decided to apply for ethical approval to carry out interviews to better understand the needs and expectations of Audible users and non-users. I interviewed six people. These interviews aimed to understand where audiobooks fit into peoples lives, why people do or would people use Audible and what design language is appropriate. The results showed for 3/6 people the main reason they read or listen to Audible is for 'learning', 2/6 said 'enjoyment'. Demonstrating that the main reason people listen to audiobooks or read is for learning and enjoyment. Audiobook users explained that they used the services to fill time on a commute or travelling somewhere else e.g. the gym. When asked how the Audible brand should feel people chose very positive words. 4/6 used the word 'friendly'. Other positive words included: enthusiastic, engaging, wholesome and relaxing. When I interviewed Richard, a 54 year old (outside the target demographic) he said it should feel 'more serious, nothing that over complicates it and tries to be your friend'. This shows how things need to be designed appropriately to different age groups. 54 is not the target demographic, it is 25+. To meet the needs of the target demographic the end product of this project needs to feel friendly and positive.
The interviews provided insight used to create four personas for people that use audible, people who want a better commute, people who want to increase their productivity and people that want to use social media less.
Designing
The four personas inspired three style scapes depicting different directions the project could follow (fig 1–3). The best idea was 'better than mindless scrolling' (fig.3) because visually it felt on brand with Audible and it effectively answered the brief. The idea was to follow a short story of a girl listening to audible, being productive and achieving more, whilst everyone else was wasting time staring at their phones.



I presented the 'better than mindless scrolling' idea in a real job meeting. There was a positive reaction to the visual direction for the project. James said 'it hit the nail on the head'. I then showed him a character I had began to illustrate in my free time. James explained how in his opinion the character strayed away from the proposed visual direction. In his mind the style should be 'more dreamy', but it is up to personal expression. I took James's feedback on board and decided not use the illustrated character. The final visual direction was not dream like, because I could not achieve this style effectively, but was certainly more on brand. I used the 'better than mindless scrolling' style scape to create 3 distinctly different illustration styles for the project (shown below). This was beneficial for generating ideas and seeing what graphic style would best represent the concept. Rachel provided some helpful feedback for each style and reminded me to make something unique not generic.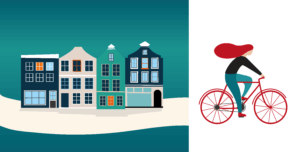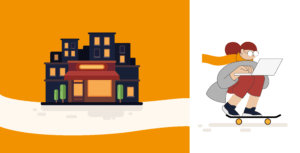 The final design
When designing the final piece I utilised different parts from the design concepts including the circular shape the buildings form in concept three and the character, building illustration style and grain effect from concept one. I developed a unique building illustration style using deep blues and grain textures to add depth. I used a gradient background from dark blue to bright orange. These are colours Audible provided in their brand guidelines and I utilised them to represent a sunrise as Emma walks to work. I also used Audibles own typeface which they provided and requested be used. I decided to give Emma, the protagonist, a green jacket and Audible orange trousers, making it easier for the viewer to follow her and the story. Everyone else in the piece is wearing the same dark blue, black and brown, making them blend into one another. There was a lot of elements to make for this piece… the buildings, cars, people, lights, trees, bushes etc. However, I do believe they came together to work in harmony. I decided to have the page Emma walked along develop into a page of a book to present the sign up information.
Emma needed to be listening to an audiobook whilst she travelled to work. I researched Audible's top selling books for 'education' and 'self improvement'. I looked at various books and some quotes from their authors. Think and Grow Rich by Napoleon Hill was popular. I decided to go with the following quote: 'Do not wait, the time will never be just right, start where you stand and work whatever tools you may have at your command and better tools will be found… whatever your mind can conceive and believe, it can achieve.' I liked this quote because it could be easily broken up into sections. It starts 'do not wait' which addresses the audience, working at that bit of their brain that feels like they should be trying harder in aspects of their life. It then says 'the time will never be right, start where you stand and work whatever tools you may have at your command.' saying to the viewer, forget about those excuses you have and get on with what you can do today. Finally it ends on a nice idea of 'whatever your mind can conceive and believe, it can achieve'.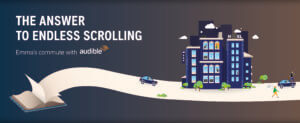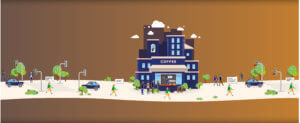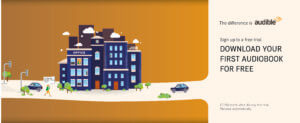 Reflection
This real job flowed differently to others due to the lack of a real client. However, Rachel kindly offered helpful feedback throughout. This provided discussion which aided the development of the project. During the project my biggest mistake was in time management when I decided to carry out user interviews. I thought these would be beneficial, and they were. However, this was a quick turn around project and gaining ethical approval for interviews and then carrying them out took up perhaps more time than they were worth. We create a lot of personas at university and I would have been capable of producing functional personas for the project without interviews. This would have allowed more time for the designing and production parts of the project. In the future I will make sure I am using the given time as effectively as possible. Overall, it was a good experience. I appreciated the opportunity to carry out an illustration-based project.
Conclusion
The brief set by D&AD aimed the project at 25+ year old, city dwellers who crave a sense of self-improvement. 'The audience is always on their phones for work, for social media and for leisure, but rarely to satisfy their intellectual cravings'. I think the final outcome of the project effectively answers the brief. The illustration style is unique, the detail makes it appropriate to the target demographic and it the final outcome feels on brand. It is a busy scene, reminiscent of the cities the target demographic live in. It provides relatability for the viewer to all the characters in the background that are addicted to their phone and then the main character who is trying to improve herself and her life. The storyline follows Emma on her commute as she sips coffee and watches the sun rise in-front of her. This outcome is also flexible. It could easily be set up in multiple cities across the country and the story could be adapted where appropriate. 
References
Sweney, M., 2019. New Chapter? UK Print Book Sales Fall While Audiobooks Surge 43%. [online] the Guardian. Available at: <https://www.theguardian.com/books/2019/jun/26/new-chapter-uk-print-book-sales-fall-while-audiobooks-surge-43> [Accessed 26 March 2020].
Audible.custhelp.com. n.d. What Devices Are Compatible With Audible?. [online] Available at: <https://audible.custhelp.com/app/answers/detail/a_id/5076/~/what-devices-are-compatible-with-audible%3F> [Accessed 26 March 2020].