The Tate Exchange workshop was a rare opportunity to represent our Diversity Project team at a School level. It was a valuable and unique project to be a part of due to experiencing public engagement and collaborating with a bigger partner like the Tate. A key focus of this job was the project management role, which Martha and I undertook. It was a big responsibility to take on for a workshop on this scale, however it helped strengthen our leadership and communication skills.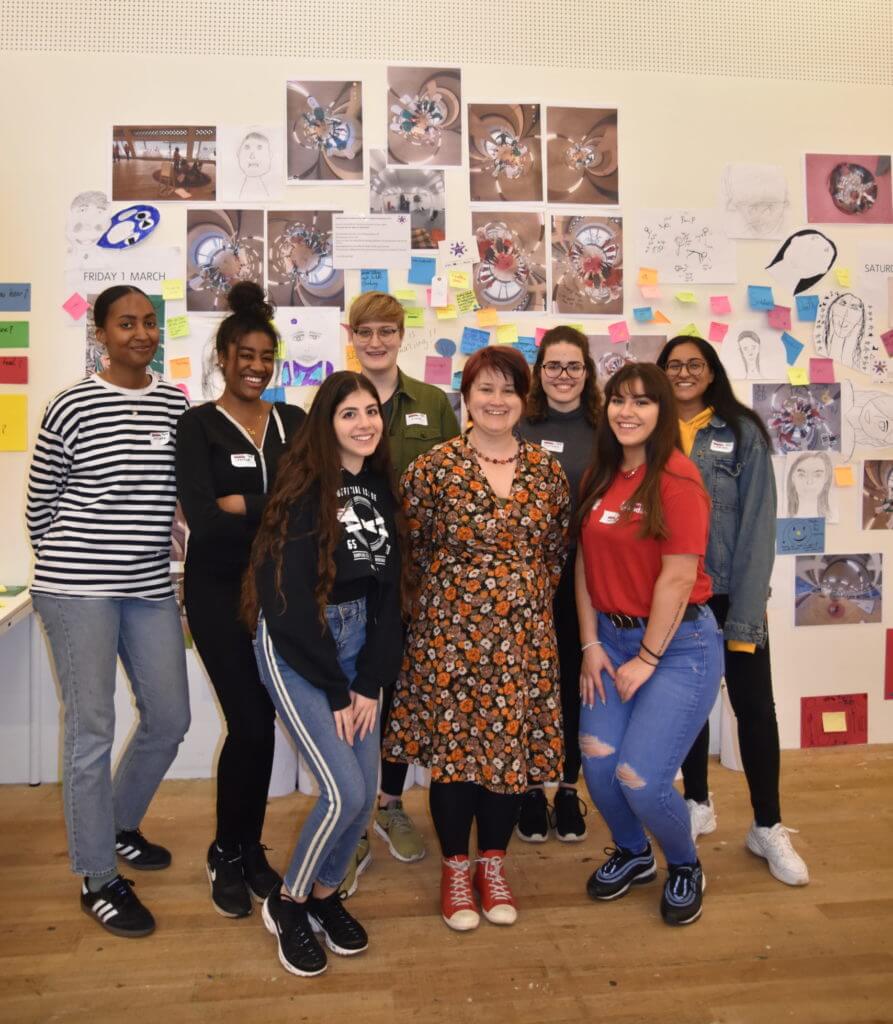 Background
The Tate Exchange is provided by Tate Modern, where they host workshops, talks and events every year in the Blavatnik Building. University of Reading were privileged enough to be invited back another year to run workshops and performances, under the name of Reading Assembly from March 1stto 3rd2019. The theme was 'Movement' and Reading's School of Arts and Communication Design all took on different interpretations of the theme to create fun and exciting activities for the public to get involved with.
The 'I am, we are…different by design' Diversity Project is a student and staff partnership project within the Department of Typography & Graphic Communication, and were offered the opportunity to construct a workshop for Tate Exchange on Saturday 2ndMarch. The team included: Camara, Charlotte, Labiba, Liselot, Malaika, Martha and Seniz. As a team, we are trying to celebrate diversity in our discipline and are passionate about wanting to counterbalance the dominant western canon. Our interpretation of the theme 'movement' was focusing on global movement and embracing everyone's identities. We all have individual identities that reflect our own personal experiences, culture and journeys. Flags represent collective identities, so we wanted our workshop to heavily revolve around representative flags but being aimed at specific personal identities.
Planning, Preparation and Communication
The ways in which we communicated:
Weekly meetings with our team, supervisor and client
Trello board for the team
Messaging on a group chat with the team
Emails with supervisor, client and Department's administrator
Our team had weekly meetings with our supervisor, which we used to brainstorm ideas, discuss our goals and plan our next steps. For a team of our size communication was crucial. Martha and I made sure the team met every week and were involved with their own responsibilities or tasks. This enabled our team to work well together and produce the outcomes within our deadline. Within the team, we used a group chat to always inform each other on updates or to arrange details of meetings. Consequently, most of the project management happened outside of trello because it involved different stakeholders and was also part of the wider Different by Design project. This meant we had to work towards the project parameters.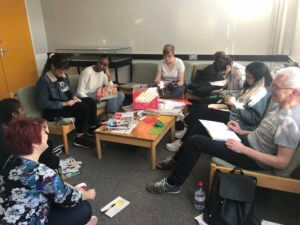 In order to ensure our activity would run smoothly on the day, we set up a practice run of the workshop to test the process, equipment and to check for any altercations along the way. This proved a success as we refined any aspects that needed changing and felt more confident for the official day. Overall, we set up a production process where everyone had their own job roles. Everyone was assigned to help set up and advised to encourage public engagement, however the different roles involved: scanning, printing, ironing, archiving and slideshow displaying.
The Workshop Activity
Our workshop activity was designed with a user-centred approach in order to appeal to people of all demographics. The activity thus entailed the public making their own identity flags, which was a simple but effective task that anyone could do. It also worked well within the timeframe we had and the space constraints. To improve the user experience, we had information sheets explaining what our workshop was about and what to do. However, a key aspect was having our team interact with the public to explain why we were doing this workshop and to spread our message.  We supplied them with paper to design on, readymade cut-outs of coloured paper and recyclable materials, as well as the option for them to create their own shapes and images. We encouraged the public to create anything personal to them and also displayed our teams readymade bags to inspire or stimulate people's creations. Once the flags were created the public handed them over to the scanning and printing section. We scanned the flags, not only to print onto transfer paper, but to compile all the flags into one collective flag showcasing everyone's amazing work. The transfer paper printouts of each flag were ironed onto tote bags, enabling the public to take home a sentimental bag they designed themselves. Who doesn't love taking free things home after an eventful day out with friends and family?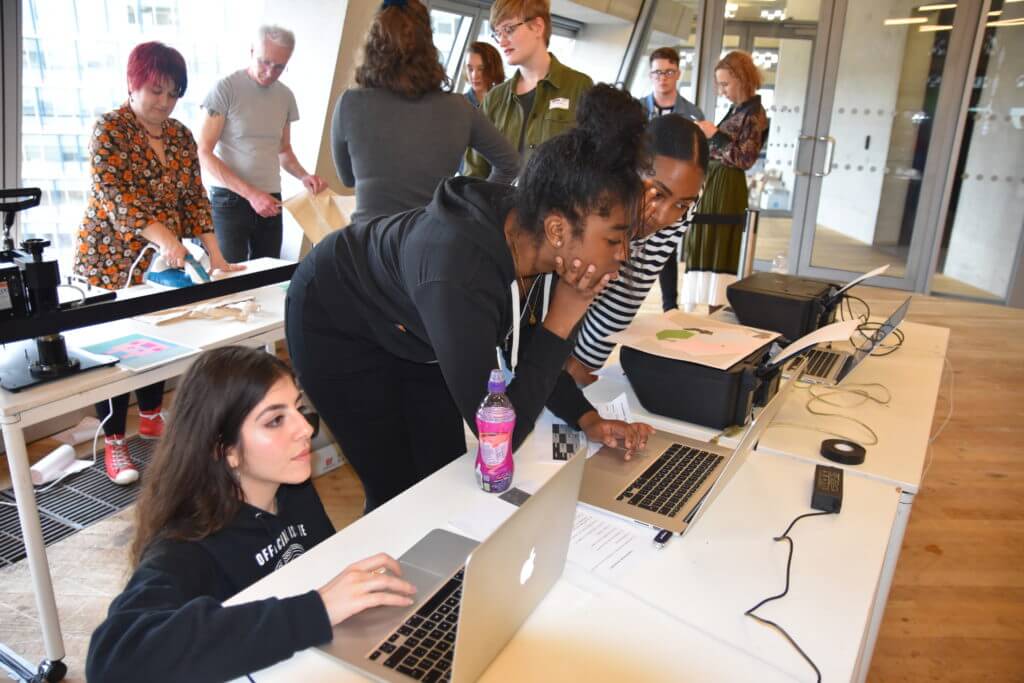 The Challenges
At the beginning of the workshop we experienced some challenges, however we eventually managed to quickly overcome them. The first and biggest challenge we faced was not being allowed to use the heat press by the Tate. This worried our team as we needed a way to get the flag prints onto the tote bags. We solved this by using irons instead and had postcards as a backup option for the public to take. Another challenge was the back log of tote bags to transfer onto. This meant the public had to either patiently wait or come back later, although we soon realised that the public were happy to wait for something they created, and everyone was pleasant.
Leadership role
Being co-leaders of a workshop at the Tate was a great opportunity. We were pushed out of our comfort zones to plan and run a well-functioning workshop that would need to be suitable for all ages and backgrounds. Time management, team managing and problem solving were only some of the skills we were able to absorb through being leaders on this project. It also enabled us to improve our organisational skills, as we had to create everything from scratch in a limited amount of time, and to effectively communicate to our client regularly. We kept in regular contact with Anna (the organiser of the Reading Assembly) which involved gaining knowledge on Tate Exchange programme and space, running our ideas by her and discussing health and safety. Prior to this, we did not usually consider health and safety issues in our work, however this project enabled us to gain insight into how to plan a safe workshop. For example, the irons were dangerous equipment so therefore we had to corner off the production section to the public. Thinking about a rooms spatial awareness for a workshop and budgeting equipment supplies were also elements we were not used to, however has now helped us to feel more confident in being able to run a future workshop.
Feedback
Our team were very pleased that we received such positive feedback. We had people of all ages and backgrounds take part, from toddlers to Danish cabinet ministers, creating different interpretations of their own identities. Lots of people expressed that they enjoyed their time and liked the idea of the activity, some people even stayed on the floor for hours. They especially enjoyed being able to take a tote bag home with something on it that they took their time creating. One person even said:
"I loved all of it. I would definitely do it all over again"
which shows the positive impact it had on some of the public. All the encouraging feedback left our team eager to continue this workshop activity in the following year at the Tate Exchange 2020.
Reflection
This project for the Tate is unlike any other real job because of the amount of people it attracts. Placed in the heart of London it's a popular tourist spot, which therefore meant we had to work in a professional and official way to create an enjoyable public experience. However, the activity turned out to be a success with the table of crafting always being full and busy. We were happy that everything fell into place, ran smoothly and that our activity was popular in the room on the day, highlighting that allowing people to express their identities is a good thing. The variety and quality of work the public created was wonderful to see and the collage of flags were inspiring to everyone. It was not only the flags that impressed us but was also the involvement and dedication people put into them. We were delighted with how everyone waited and were considerate of how many bags we had to print onto, thus making the whole experience fun and relaxed. Being able to interact with the public was one of the highlights of the workshop as it was inspiring to see how everyone was so different in their identities, it was also really beneficial for our communication skills. Events managing was new territory for Martha and I, however we were educated by a variety of advisors throughout the process to help us succeed. We learnt that organisation is one of the most important aspects to event planning but mainly that a successful workshop is when the public are enjoying themselves.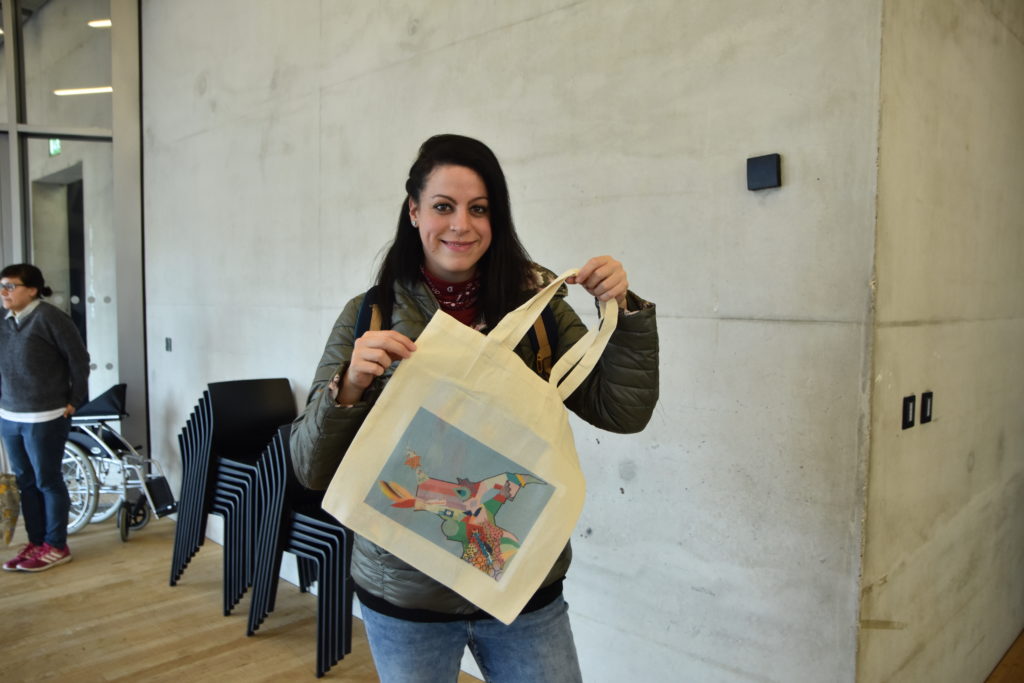 Each year the second years lead the team, therefore for the 2020 workshop Martha and I handed over the leadership role to Liselot and Labiba. However, we still helped guide them by sharing our knowledge and experience of leading the first workshop. The improvements we made from the 2019 to 2020 workshop was to be able to use the heat-press machine, this saved time on the production flow and reduced the amount of people waiting for their bags. We also provided more paper/card supplies for people to utilise, which resulted in amazing diverse and creative designs. In addition, there were also more people involved in the team, which meant more people could interact with the public to create a discussion as well as being able to rotate our job roles on the day.
Overall, our team's goal of promoting diversity and trying to counterbalance the western canon was achieved through being able to use the workshop as our platform. Even though we can't see any immediate changes, we were able to talk to the public and share what we are trying to accomplish to hopefully inspire others.