As week 1 of the autumn term began for the students and tutors of our department, Baseline Shift had its first talk. James Lloyd, our Part 1 tutor, outlined the key things to know about assessment and feedback on our course. Whilst usually we'd welcome designers from all professional paths of design, this week's session was useful in understanding how feedback works and how we can benefit from it.
What is feedback?
In order to understand the importance of feedback in relation to our work, James offered Part 1s the chance to comment on what they felt good feedback was. These included:
'Enables strength and growth'

'Balance out your views'

'Must be clean and concise'

'Feedback isn't a one way thing'
Whilst feedback is an essential aspect to our learning on the course, it isn't found in the places where we might think. James invited students to give their thoughts on what was the most prominent form of feedback that we gave here at our department. Interestingly enough, about 50% said that it was written. However, James emphasised that feedback can be encountered in different forms: the most obvious one being in the final rubric assessment, but also in communicating with our tutors and peers. As seen in the pie chart, the depth of feedback extends a lot further than what we might expect, especially at the start of Part 1.
'The best feedback you can get comes from each other.'

– James Lloyd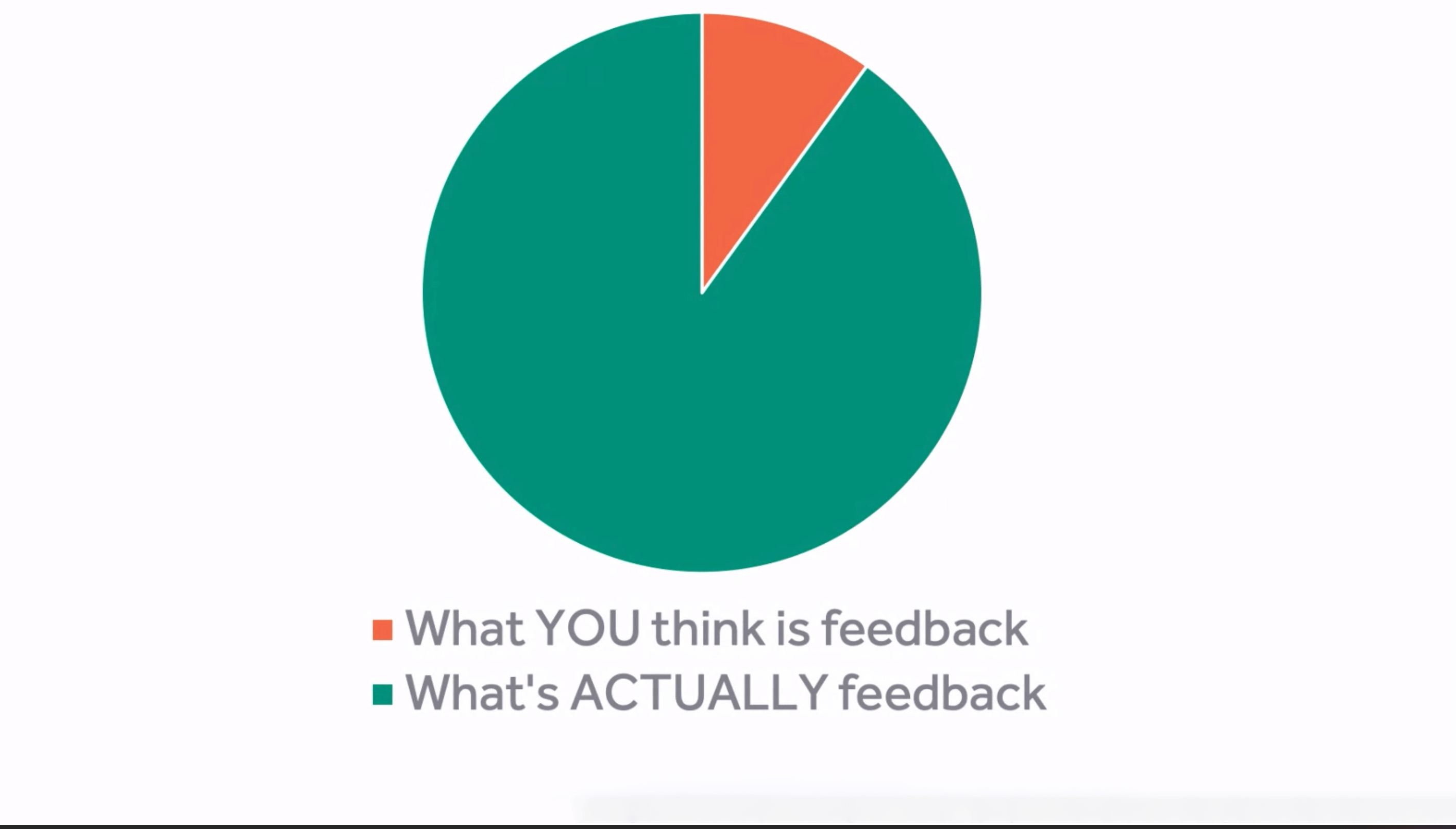 Listening with an open mind
In design, keeping an open mind exposes us to new things that we would've never thought of before. Feedback stands on the same ground as this notion. Looking beyond what a tutor says during our design process on a particular project means to look for knowledge through our peers and other tutors who aren't necessarily related to the project we're working on. 
But how can we interpret sometimes contradicting views on our work? We need to understand these different perspectives and make our own assessment when presented with a mixed bag of feedback.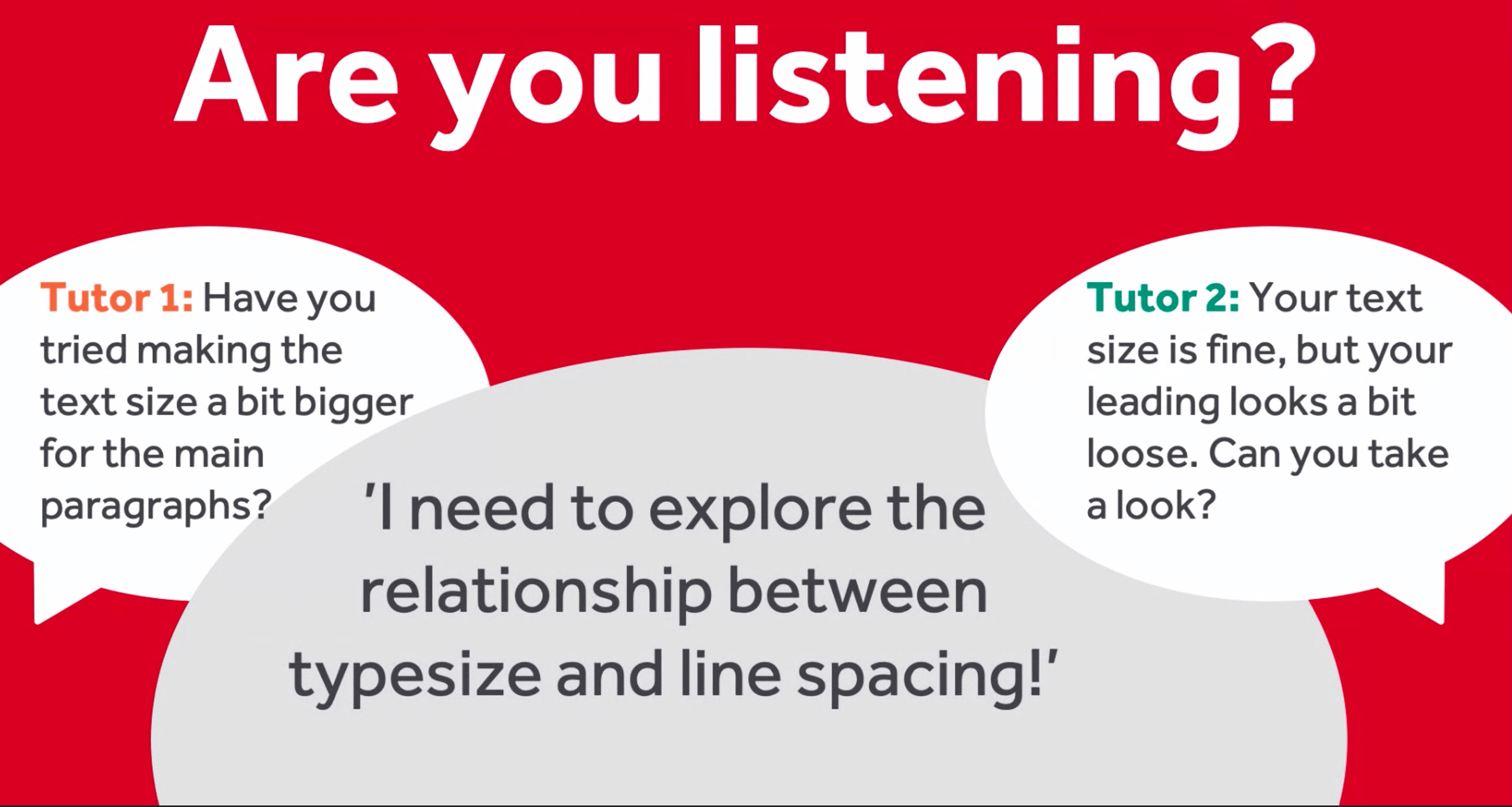 As James pointed out, tutors come from all professional and personal backgrounds, and as human beings, this wide variety of experience enables us to form our views on design and our world. But in order to take in these views, we must collect the right tools to interpret them. Whilst students shared their thoughts on what made good feedback, the recurrent topic was that it remained critical, honest and useful. This usefulness transcends through how we listen to it in the first place. Where tutors could suggest possible solutions to an occurring problem in our design process for a particular project, the way we can make the most out of the feedback is to use these solutions as guides in our approach to the project. This could mean exploring certain aspects of our designs further, or extending our understanding of professional design conventions. 
'Look beyond what the tutor is telling you.'
– James Lloyd
Collaborating this year
Due to COVID-19, the way that we, as students, can receive and provide feedback remains limited. But we can still find some sense of normality through opening different channels; not only can we book a space in the department for us to come together and help each other, but we can also use Blackboard Collaborate,  to meet and share our work online. So sharing our work amongst each other, contacting tutors and keeping these channels of communication open is the best way to get the most out of our feedback this year.
Reflection
Essentially, being open and curious helps us make the right choices when it comes to our work. Taking in each other's perspectives and experiences as guides for better thinking and design practice is always the right step towards becoming a good designer. Communication with peers and different tutors is therefore essential for success on our upcoming projects and enables us to look for balance in our own views.