Editorial
Typeface design, as a prerequisite of typography, but a slightly different discipline, can be examined in many ways. This third issue of Typography papers provides examples of three approaches, as well as papers evaluating the contribution of a distinguished forms (Nicolete Gray), and an expert user of type (Hans Schmoller).
Hendrik D. L. Vervliet provides a thorough historical description of the italic typefaces designed by the great French punchcutter of the sixteenth century, Robert Granjon. With a wealth of illustrations and listed information, Vervliet gives the most complete account yet of Granjon's italic oeuvre.
Gerard Unger tells the story of a typeface from the inside out. He details the development of a typeface to be used for signing and information in Rome during the Jubilee of the Roman Catholic Church in the year 2000. Unger takes us through the influences, decisions and discussions involved in meeting this peculiar brief, to make a modern type that reflects the Roman tradition.
Fiona Ross highlights issues that have to be taken into account in designing non-Latin types. She stresses that linguistic and visual awareness of scripts is an essential pre-requisite for producing readable and culturally appropriate typefaces, and gives us an overview of some of the technical constraints that have influenced non-Latin type design in the past.
Nicolete Gray died in June 1997. She was a pioneering historian of type and lettering, as well as an ardent campaigner for handwriting reform. Michael Twyman assesses her contribution to the field of letterform scholarship, and Frances Spalding examines Gray's similarly pioneering involvement in the promotion of modernist art in Britain.
Hans Schmoller directed typographic design at Penguin Books between 1949 and 1976. There he pursued a self-effacing form of classical typography that was always attuned to the sense of the text. S. J. M. Watson traces Schmoller's steps in designing the one-volume Pelican Shakespeare (1969), examining that area of good typography which overlaps with editing in its sensitivity to the meaning of words.
Christopher Burke
Sue Walker
Article summaries
Hendrik D.L. Vervliet:
The italics of Robert Granjon
The basic design of our old face italics derives from types that the Parisian punchcutter Robert Granjon (1513–90) began to cut around 1543. This paper is an attempt to identify Granjon's italics and to ascertain the historical evidence for ascribing them. It is an update of a previous article by A. F. Johnson (1941), who listed fourteen items. The present article describes thirty typefaces, the attribution of three of which remains provisional pending further research.
Gerard Unger:
A type design for Rome and the year 2000
In October 1997 Gerard Unger was appointed by the Agenzia romana per la preparazione del Giubileo to design a system for directing and informing millions of visitors to Rome in the year 2000. Part of this project was the design of a new typeface for use in printed documentation, on computer displays, and on directional signs. This paper is Unger's personal account of the way he worked to produce a typeface that links modern type design to the tradition of Rome. He describes both the influences on his design and the constraints within which he worked. The final part of Unger's paper, Text and space in Rome, is more formal, written for his clients, and describes the rationale for the visual organization of the elements on the signs. The whole paper is typeset in Unger's new typeface itself, which has been christened Capitolium.
Fiona Ross:
Translating non-Latin scripts into type
The idea for this article arose from an illustrated talk of the same title given at ATypI 1997 held at The University of Reading, UK. Non-Latin scripts cover a huge range of writing systems; this paper refers only to those scripts that best exemplify the issues under discussion, and those with which the author is most familiar. Fiona Ross draws on her long experience of working on non-Latin typefaces at Linotype UK. The essay is necessarily an overview, as each issue mentioned could merit an entire article.
Michael Twyman:
Nicolete Gray: a personal view of her contribution to the study of letterforms
Frances Spalding:
'A true statement of a real thing': Nicolete Gray's promotion of modern art
S.J.M. Watson:
Hans Schmoller and the design of the one-volume Pelican Shakespeare
The Complete Pelican Shakespeare is a landmark in the typographic design of Shakespeare editions. S. J. M. Watson traces the typographical decisions made by the book's designer, Hans Schmoller, and evaluates his contribution to the design of Shakespeare texts. The author draws mainly on an archive of material held in the Department of Typography & Graphic Communication at The University of Reading, which is catalogued here in an appendix. The paper provides a detailed case study of designing and producing complex text, and also illuminates wider issues concerning the design of one-volume editions of Shakespeare's collected works.
Robin Kinross:
Review of Wim Crouwel: mode en module (Huygen & Boekraad)
Colophon
Typography papers [3] is published by the Department of Typography & Graphic Communication, The University of Reading, PO box 239, Reading RG6 6AU, England
Editors: Christopher Burke & Sue Walker
Editorial board: Andrew Boag, Robin Kinross, Paul Luna, James Mosley, Paul Stiff, Michael Twyman
Production manager: Mick Stocks
Composed and printed in the Department of Typography & Graphic Communication, The University of Reading
Production team: Andrew Cross, Neil Rogers, Mick Stocks, Jennie Walsh, Geoff Wyeth
Page make-up by Text Matters, Reading
Typeset in Monotype Ehrhardt and formatted in QuarkXPress; printed on Mellotext smooth super white, 115 gsm
ISBN 0 7049 1123 x
© 1998 Typography papers the authors and Department of Typography & Graphic Communication
All rights reserved. No part of this publication may be reproduced, stored in a retrieval system, or transmitted in any form or by any means, electronic, mechanical, photocopying, recording, or otherwise, without the written permission of the publisher or copyright holder.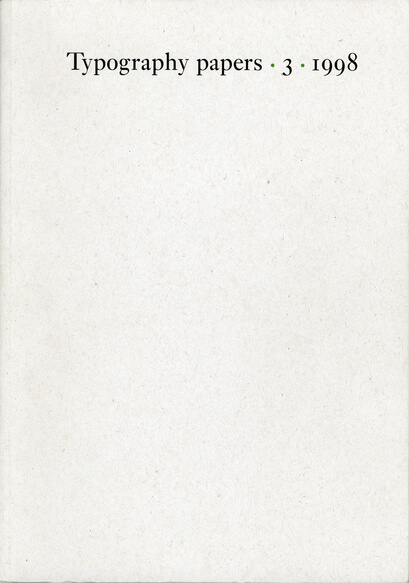 Hendrik D.L. Vervliet:
The italics of Robert Granjon
Gerard Unger:
A type design for Rome and the year 2000
Fiona Ross:
Translating non-Latin scripts into type
Michael Twyman:
Nicolete Gray: a personal view of her contribution to the study of letterforms
Frances Spalding:
'A true statement of a real thing': Nicolete Gray's promotion of modern art
S.J.M. Watson:
Hans Schmoller and the design of the one-volume Pelican Shakespeare
Robin Kinross:
Review of Wim Crouwel: mode en module (Huygen & Boekraad)