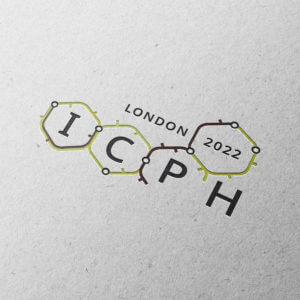 Background
The biennial International Conference on Polyphenols and Health is the most important international forum to discuss the latest developments in the field of polyphenols, food, science and health. The conference changes location internationally every two years and is due to next be held in London in December 2021, however due to the coronavirus pandemic it was delayed until April 2022. We were approached by the co-presidents of the organising committee Jeremy P. E. Spencer, a professor of cardiovascular and metabolic research and Gunter G. C. Kuhnle, a professor of food and nutritional sciences, at the University of Reading. The main reasoning for the conference is so that professionals in the sector can come together to educate, share and learn from each other about the current developments in the Polyphenols and Nutritional Sciences industry. 
Brief
The clients required a brand identity which communicated its London location and its contents roots in polyphenols – a chemical compound found in only plant-based foods. Additionally, the clients required a programme template (to add the details of the event themselves at a later date), that would utilise the brands identity, and communicate the details through a simple typographic system.
Deliverables
Primary deliverables
Our deliverables included a logo, and a document that demonstrated a systematic approach to the application of the brand –  the brand identity guidelines.
Additionally, the clients wanted a medium that could be used to communicate the event's details – through our process and discussions, we agreed that designing a programme was appropriate. 
Secondary deliverables
Initially these deliverables were not outlined by the client, but to display the brands adaptability we also provided some mock ups of merchandise, social media, business cards, as well as the programme (as this was specified not to be printed).  
Research and Ideation 
Our initial approach to this project began with an introspective research phase. We wanted to liaise with our clients in order to get an understanding of the users who would be attending this event. From such discussions, we drew up personas on our clients, which could extend onto the general audience – as many of the attendees were also in similar professions, but from different nations. We approached this by developing a series of questions that were semi-structured, as it would allow us to extract valuable information for our value proposition canvases. In retrospect, our value proposition canvases were surface level, but still allowed us to draw useful 'gains, pains and jobs' and develop an approach to visual identities concepts.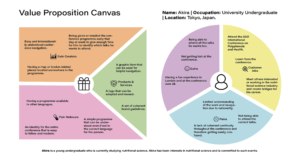 Another way in which we addressed our research phase was by analysing the industry and the comparators' visual identities. We categorised the different visual identities and analysed them for their logo (shape, semiotic meanings), colours and typography. This informed us on our initial ideas phase.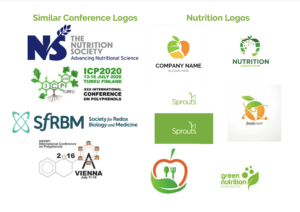 From our context and research, we developed a series of colour palettes from a wide scope. With the intention of using greens (seen amongst comparators), using our design knowledge of colour psychology that green reflects health.
Typeface selection for the brand began from the informed basis of our research. We looked at 4 different potential avenues. We drew on using typefaces to reflect the underground's Johnston, however this is not available due to copyright. https://www.whatdotheyknow.com/request/new_johnston_typeface_opentype_f – some food for thought and controversy for designers who want to use this typeface.
Instead we looked at other types of sans serifs that reflected a more scientific, 'personality'. There was also an issue that we needed to address that the 'I' needed more than a single stroke, to reduce confusion of a lowercase 'L'. 
Our ideation phase commenced by drawing on the visual identity categories and producing some sketches. It was evident (from our feedback) that all parties had a tendency to favour logos which drew on the idea of polyphenol structures. 
Design Development 
We developed our colour palette with the proposition of making it seem 'earthy', and arrived at our green and brown colours – a development from green and black. Interestingly, we base our colour pallete on one found through refinement, called 'avocado', ironically relating back to the idea of polyphenols found in plant based foods.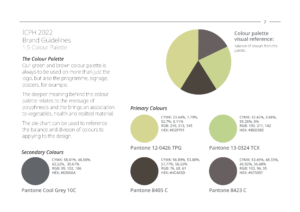 We resolved the issue of letters confusing the I and L, by revisiting earlier suggestions of typefaces from research: Noto Sans. The typeface also provides a simple, and legible read.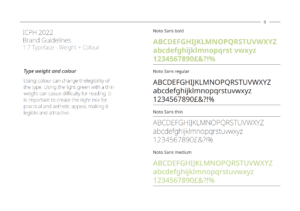 The logo solution drew on the two key concepts: London, and polyphenols. The logo could be criticised for being meaningless to those outside the industry, but from feedback we had got from our clients, they understood it exactly. We also received peer feedback from designers, and non-designers to see what they associated the logo with. It was successful in communicating the 'London' concept. We note that this is limited by our sample being exclusively familiar with London, and the underground. 
The programme's development was a consequence of the visual identity. It produces a very simple typographic layout to communicate the event details, as this was what was requested by the clients. Criticism has to be given to how the visual identity had not created a 'style' for imagery or illustration, which could be used within this document.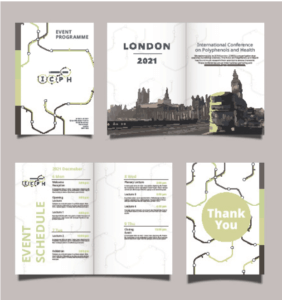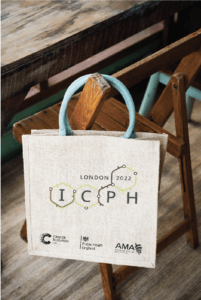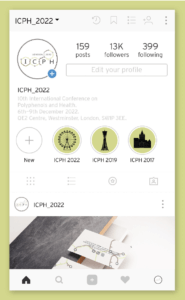 Reflection 
As this was the first real job for both of us in our design careers, we were inevitably going to run into some challenges. Nevertheless, we embraced this throughout the project and it has definitely helped us grow as professional designers. 
One of the most prominent challenges that we ran into, was creating an identity which communicates the conference's location internationally, without clichés. As the conference changes location every two years it was important for the client that we reflected that year's location (London) without adding common London features, such as the Shard or the London Eye. After excessive ideation and sketching we developed a logo using visual aspects of Harry Beck's London Underground Tube Map to reflect the city. Although the clients loved this concept idea, in retrospect we believe that it does not succeed in its international communication of London. This was a compromise we actively made as without clichés it is difficult to reflect London to an international audience. However, on the other hand, we feel the decision was valuable as it is conveniently compatible with the chemical structure of Polyphenols and was too big a chance to miss. 
On account of the coronavirus pandemic the conference was pushed from December 2021 to April 2022. This offered its own challenges in the fact that all aspects of the design relating to 2021 had to be adapted, however, the most difficult challenge that arose from this was the difficulty in communication with the clients. As the conference had to be delayed this caused numerous issues for Gunter and Jeremy that were more prominent than that of the visual identity design. We struggled to receive contact from them at times due to scheduling issues, however on reflection there is more we could have communicated to them, to fast-track the answers we needed instead of waiting on their response. With hindsight, it helped us understand the importance of communication between designer and client and how essential it is to maintain this relationship.
"We both wanted to say how pleased we are with the design and its outcome. The identity perfectly reflects so many aspects of the conference in a simple visual way. We look forward to seeing you at the event" 
– Jermey Spencer and Gunter Kuhnle, co-presidents of ICPH.
Although we were faced with challenges, our visual identity was happily received and commended by Jeremy and Gunter, which was a fulfilling outcome of the project.
By Rebecca Allen and Alex Gwynne