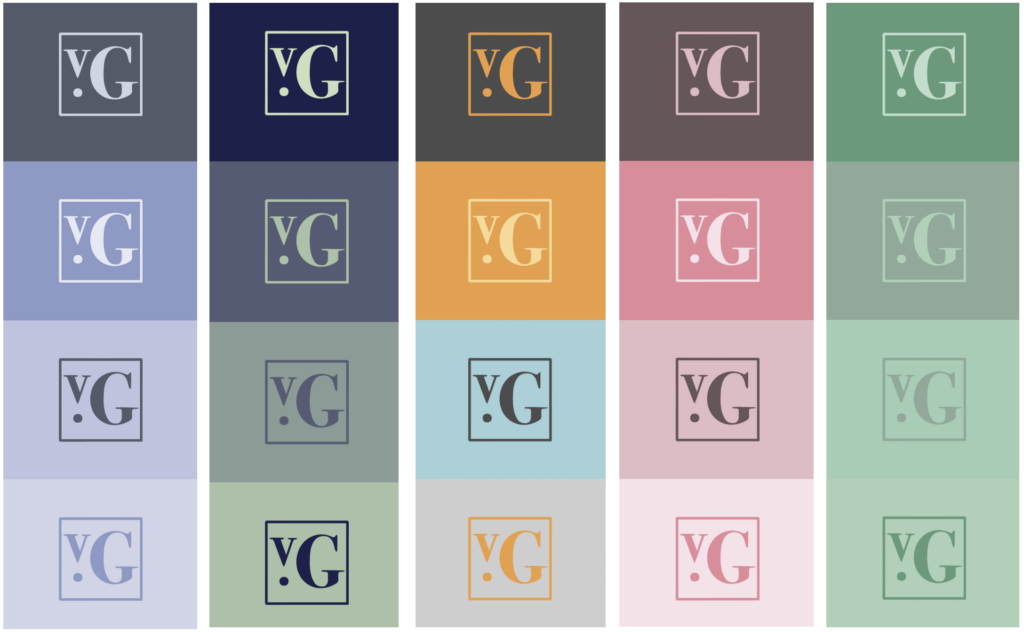 Background
The client for this project was one of the owners of a start-up company based in Luxembourg, called Voll Getestet (VG). The company is still in its infancy, but plan to start by selling their own line of pregnancy pillows. In the future, they are hoping to expand their business into other maternity products.
Restated brief
The client is looking for a logo that could be placed on labels and on their website. They were looking for a logo with a sleek modern style, preferably only using their initials 'VG' to help with their expansion into other countries in the future. They were open to some experimentation due to their broad requirements.
Aims
Design a logo which will look good in colour and black and white
Design a logo that works in both online and printed contexts
Design a logo in a minimalist style
Audience
The audience for this Real Job would likely be pregnant women and mothers. The audience can also potentially expand to friends and family of pregnant women and mothers. We expect the audience to value a sense of safety and comfort during pregnancy, therefore the brand should reflect a sense of luxury, quality and serenity.
Expected Deliverables
Logo – for online and printed use (PNG and EPS files)
Logo Guidelines pdf, to include:

Recommended accompanying typography
Colours schemes
Logo application advice
Mock-ups of design in context
Research
In the beginning we asked the client to give us 10 adjectives to describe the company and brand. In their own words the company described themselves as, 'calm, caring, clean, professional, pure, reliable and wholesome'. They didn't want the design to be  For inspiration our client suggested to us a large range of famous logos to that they enjoyed the look of, such as McDonalds, Amazon, Nike, PlayBoy, Pepsi, Ryanair, Dove, Ralph Lauren, Carrefour and Coca-Cola—this gave us a general idea that they wanted a simplistic and clean design. As mentioned they preferred something typographic, but were open to other suggestions.
For our research initial research, we began by exploring maternity related imagery and shapes. This led us to explore other logos for parenting and pregnancy. We kept our research very broad originally to help us explore this genre of logo design. We noticed reoccurring colours and motifs such as pastel colours, flowers and generally a lot of curved lines and soft edges.

From our research we wanted to create a logo which represented growth as with a child or a pregnant mother as her family expands. This has been symbolised with the use of dot in the bottom left corner, which grows to become the 'V' shape, then evolving further to the 'G'. The letter G is the largest of the letters as we felt the curve represented similar shapes as a pregnant women's side silhouette, hence this is the first part of the logo the eye is drawn to with the thickest of all the lines displayed. This design was also inspired by the golden ratio to help us represent the luxury and elegance only further expressed by using a serif typeface.
Design Development
From this research we went on to draft a few hand-drawn sketches for the logo design, using the common themes we had previously explored. It was by the recommendations of our supervisor that we do two main things at this stage; firstly to only sketch concept until the client has picked ones we liked and secondly to try to draw as many logos as possible to figure out every possible configuration we could.
**IMAGE // Sketches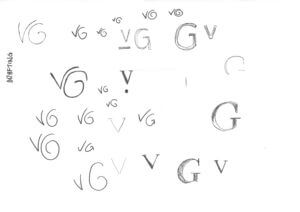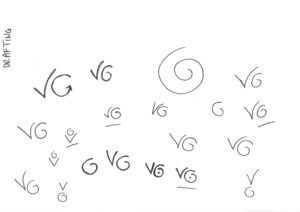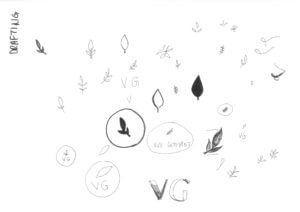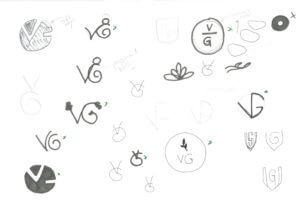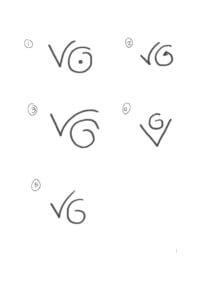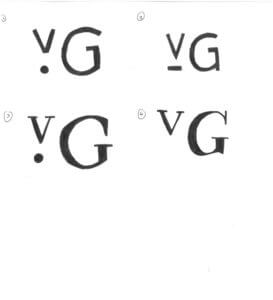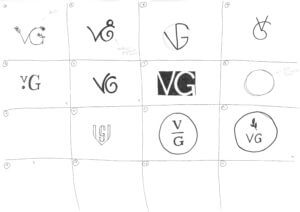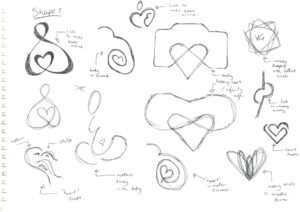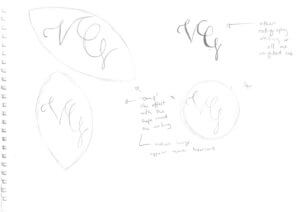 From this, with the help of our Real Job supervisor, Rob Banham, and from advice from the weekly Real Job meeting, we selected our few logos to present to the client, keeping the all sketches we had already done in our back pocket just in case none of them were satisfactory (see below).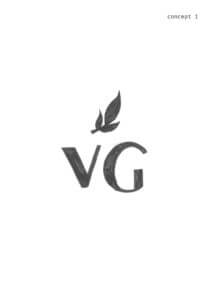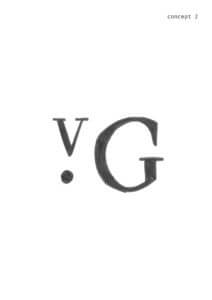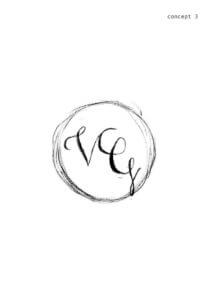 The client chose concept two. Knowing the basic premise the client preferred for the logo, we moved to working on this in Illustrator (see below). Neither of us had worked exactly with this approach to designing a logo before. But having done so much sketching beforehand and the client picked from a line-up of sketches, the designs real did feel like 'concepts' instead of finished designs. For one of us, in the past when they had shown more 'designed' concepts to clients, the client liked what they saw and didn't ask for further revisions and iteration when really they might have needed it. Showing sketches instead of digital designs really proves to make sure the client considers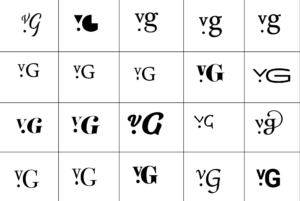 From this spread we decided to refine our ideas further, and between us explored our three favourite concepts further. This pushed us to design a range of three ideas for the logo with varying concepts behind them (see below). From this spread we picked our favourite iterations to present to our client.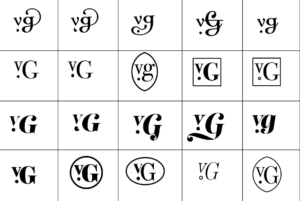 In iteration 1 we wanted the typeface to express the forms we had consistently experienced thought our research on maternity, to represent a soft approach, this was enhanced by the italics to help express the difference of these few letters from any others on labels or documents.
In iteration 2 the use of the box surrounding the logo helps encase it, by bringing all the elements together helps pull this typeface-based logo into the form of an easily identifiable icon. The typeface here is very bold and stands strong, representing a strong family unit – a feature we thought would be helpful for if and when the company wanted to expand into other areas.
Iteration 3 was our most elaborate, the soft curves extending from the 'g' gave the logo a distinct look which helped give it the form of an image over lettering. As our research had shown a softer approach was more commonly used, we also opted for lower case lettering to express a quieter voice but retaining the impression of 'luxury' the client wanted. Obviously, iteration 4 is a variation on this same design; we decided to include it as they were both favourites of ours and we couldn't choose between them ourselves.
We then went on to present five colour concepts for the logo, when not in black and white format as shown below. These were mainly based on pastel colours to represent the 'calm, wholesome and professional' feeling the client wanted.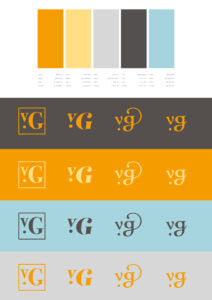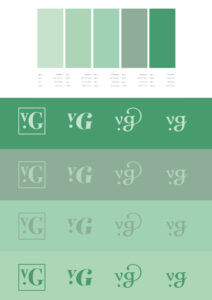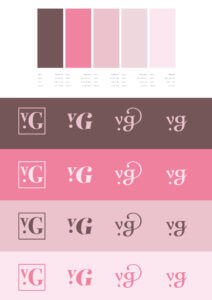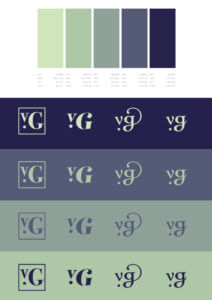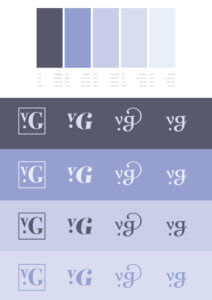 After talking our client through each of the four final logo iterations and the colour concepts, iteration 2 was chosen as the one he wanted represent the company. But curiously, when choosing the colour design, he didn't just pick one, he chose all of them. Although somewhat complimentary to the choices we made, it posed challenges for us. From the impression we got from the client, this exchange was simply for a logo and once it was done, the client preferred to have as much control over the design with himself and the other associates involved in the business; in his mind he wanted all of them for flexibility.
After these decisions, the client wanted a longer form of the logo with the SARL (the European version of LTD) for letterheads and other 'official' documents. We asked him if he wanted SARL on under the logo we already made for him too but he declined. We simply applied the typeface we used in the main logo (Bodini 72) for a range of options presented on the table below. We felt that all of these options were very clear and bold, helping the reflect the 'high end' aspect of our client's company. The client chose option A3, seen below.


To round off this project, we delivered to the client a short document that explains to the client and to any future graphic designers they employ how to appropriately use the logo. This document ended up not being particularly long as it seems that the client wants to be in charge of the outward facing image of the business, so we left it somewhat adaptable with the recommendation that they maintain a document like this in the eventuality that they employ designers in the future.
Reflection & Conclusions
This project certainly taught us new approaches to developing a logo. Presenting sketches to a client at first seemed a little primitive, but actually had a lot of value for developing an appropriate concept and subsequent iterations. Designing a logo as a collaborative effort was also new to both of us and doing a project like this as a team was extremely valuable for getting perspective. We worked by exchanging files after every feedback session or meeting with the client, so in the end we both felt very equally involved in the design process this way.
Unfortunately, we both feel this project could have taken less time if our client was slightly more direct. Our relationship with him was a confusing one, there was much deliberation over what his role was in the company. Throughout the project we only communicated with him and initially he told he was passing it on the actual 'owners' of the business. But later he old us he was on of the founders of the company is his but he was reluctant to tell us this because he didn't want to 'intimidate us'. This meant that during our first few meetings till this came to light that we were unsure what to ask him as he originally represented himself as a middleman who would not be making these decisions, only passing on information. Neither of us apricated being lied to, especially for this reason. After it came to light that he was in fact the boss we experienced a rather rushed approach to the project, which although we were happy to oblige, it seemed conflicting to his previous manner towards the project. From this we have learnt how to deal with clients who are not very clear with their communication by being more direct with our questions and understanding of their involvement in the project.
Personally we are both in agreement that this would not be the logo we would have chosen to reflect this company as we feel it has a slightly too harsh approach. We both prefer the other iterations with a softer and curved appearance may have been more suitable. However, if our client is satisfied with the final design, we can't ask for much more. We can't wait to see them being used on their website and product labels as well as in emails and thought their expansion. We are both also feel we worked well as a team, separating the work equally, helping us expand on our teamwork skills.
by May & Connie