Background
The typography applicant gift was a project created to make a more personal means of communication with successful applicants, when congratulating them on getting accepted to the University of Reading. The applicant applying process entails prospectus students to showcase their work in a portfolio, where it will be marked by a member of staff in the Department. After this stage, applicants usually find out soon after whether they were successful in gaining a place on the course or not. The Department of Typography & Graphic Communication sends out two hundred offers a year to potential students, 30% of which choose University of Reading. With such a high conversion rate, the client wanted us to make the applicant's experience on accepting a university to be more appealing towards the university and ultimately further increase the conversion rate. The best way to achieve this was to make the gift as personal as possible, which we could send out directly to applicant's homes.
Our aims were to compile consumer research to inform our design decisions and establish user needs, which was extremely useful for finding the best solution to make the gift personal. Another aim was to find an efficient way to batch print around 200 invitations, which proved to be the hardest task of all due to us choosing to use letterpress as the print production. Overall, our main aim was to make sure the applicant knew how impressed we were with their application whilst connecting them to the Department in a personal way.
Restated Brief
The brief of this job was to design a typographic gift, using letterpress printing, for prospering aspects after portfolio day. This is in order to connect these applicants to the department through the use of a personalised gift with notes on letting them know how impressed the department was with their work.
During the first client meeting, we discussed the possible options that we could take, there was a lot to consider with not a lot of time so decisions had to be presented and resolved fast, to help hasten this process it was necessary to gather 'consumer research' in order to get a better idea on the content needed for the gifts and also reinforce on the format and other potential aspects not previously considered.
Research
Questionnaire
To get a better idea of what potential applicants were looking for when applying to universities we created an online questionnaire for a class of first years studying the same course. We felt that asking students that have just began their studies here would give good responses in terms of finding out what other universities are doing for applicants and how the department could improve with their application process. The questionnaire was made up of 11 questions, these were structured in such a way as to keep the participant's answers open but focused as to not stray from the question, these were quite difficult to produce at first as there was a lot of back and forth to make sure that the questions were being asked clearly without room of misinterpretation.
Overall, we learned more than we could have hoped for, the students were able to answer the questions effectively and their feedback was really good. We were able to find out the areas in which the department was doing well in and also where it could be improved, an example being with the personal emails as students said "I literally showed everyone because it made me feel really special and wanted", "morale boosting", and " [it] surprised me as no other uni had done this and it was really nice to receive such personalised positive feedback". From this we know that students appreciate hearing what the universities they have applied to think of their work. They preferred more uplifting messages rather than being critical, as this calms their worries about whether or not they are right for the course or that they'll fit in by giving them reassurance and making them feel more comfortable about their work.
User personas
These were influenced from the questionnaire results. Creating personas was useful to us as this allowed for us to explore the different kinds of applicants that apply to this course and create a number of scenarios based on their needs. We created four users with contrasting demographics, scenarios or circumstances for applying to the course. We began by creating goals for each user based on this. Following this were any concerns that they may have, such as if the course is right for the applicant or if they'll fit in (these also relate to the answers from the student questionnaire that we did), and then the needs of things that would meet these concerns or worries from the user, such as by ensuring that they feel welcome and that they will be supported in their learning.
Ultimately however, these user personas weren't really used very much as these simulated scenarios were straying away from the idea of receiving a 'gift' and leading more towards an 'informal designed document' of the department (such as with having a map of the department), which are already done through other means such as open days. However, there was no denying that a lot of these goals were related to the gift and therefore were still used to influence how we handled our design or also be used for another future project.
Design Development & Deliverables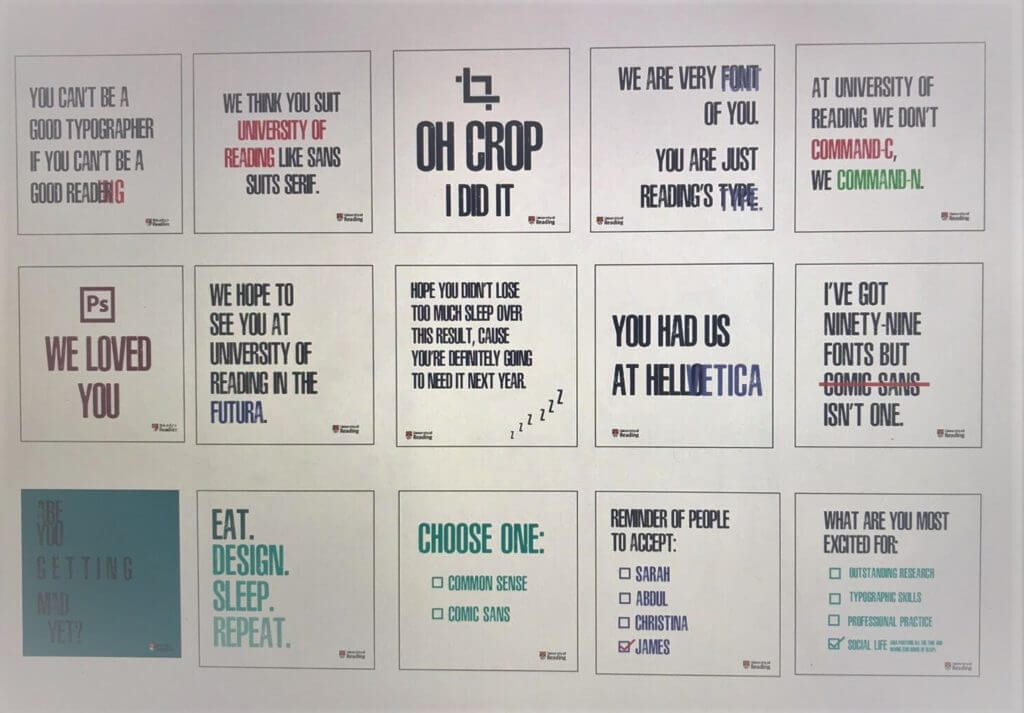 Successful Applicant Gift
We were given a lot of freedom with the design, which we thus explored potential formats and inspiration for the letterpress aesthetic. There were a lot of ideas and concepts presented to the client and after a lot of back-and-forth we finally landed on a design that we were all happy with. To elaborate, there formats had to be of appropriate size so that it could fit inside an envelope and be sent to potential applicants after their visit on portfolio day. The material of the gift was also chosen to be card stock as anything below 250gsm felt very flimsy which wasn't appropriate for a typographic gift.
We also had to consider how we were going to print in relation to it being letterpressed, so we explored the options available to us from within and local to the department. Our first consideration was to use metal type (small text) with a mix of large wood type (masthead). We did not use either of these as a) the large type has bumps and scratches from use over the years, and b) making the form would be time consuming to test the print quality along with being difficult to store once in a forme. Therefore, this process was made more efficient by suggested a more modern way of creating an impression that comes from a digitally designed document.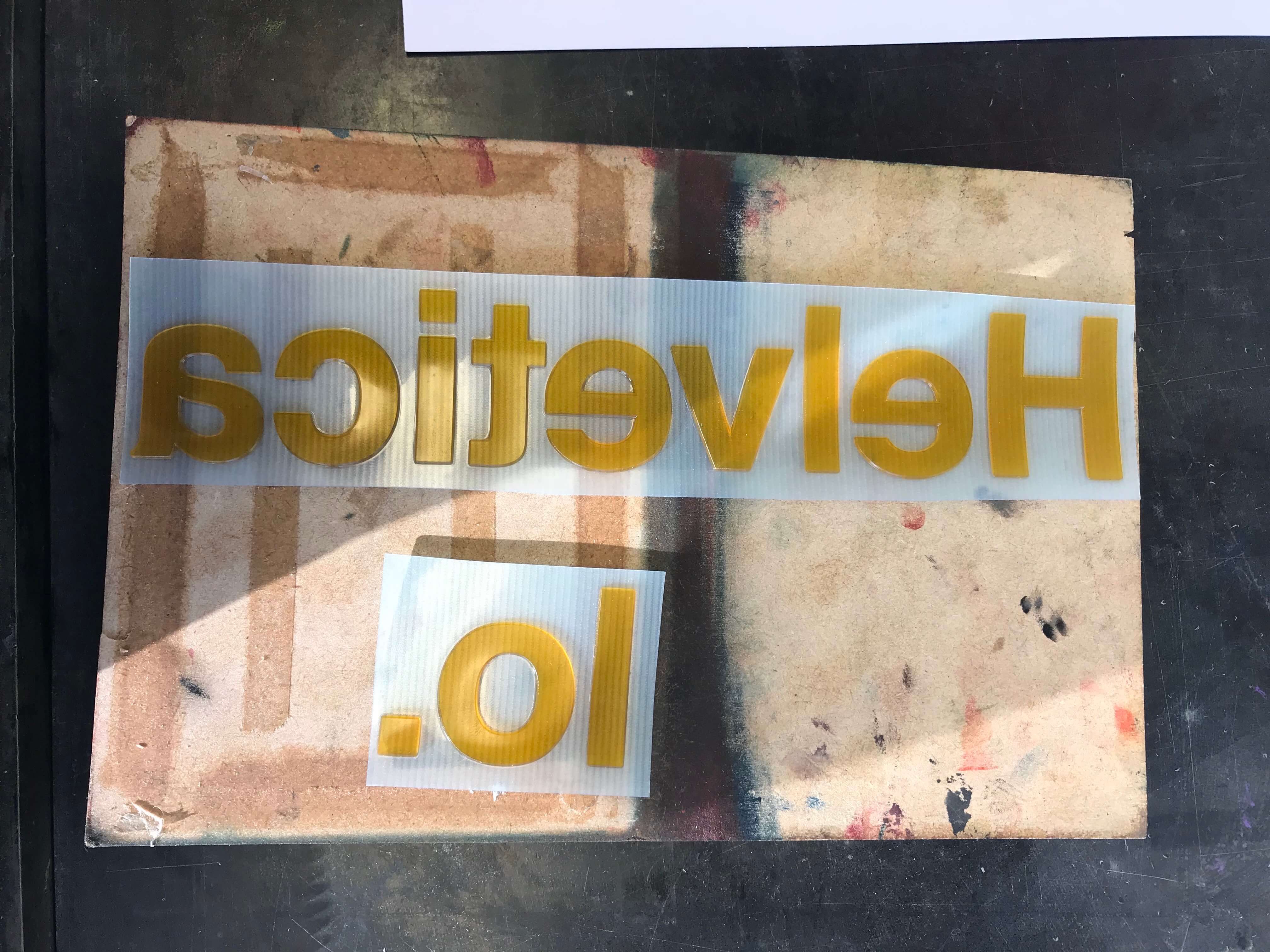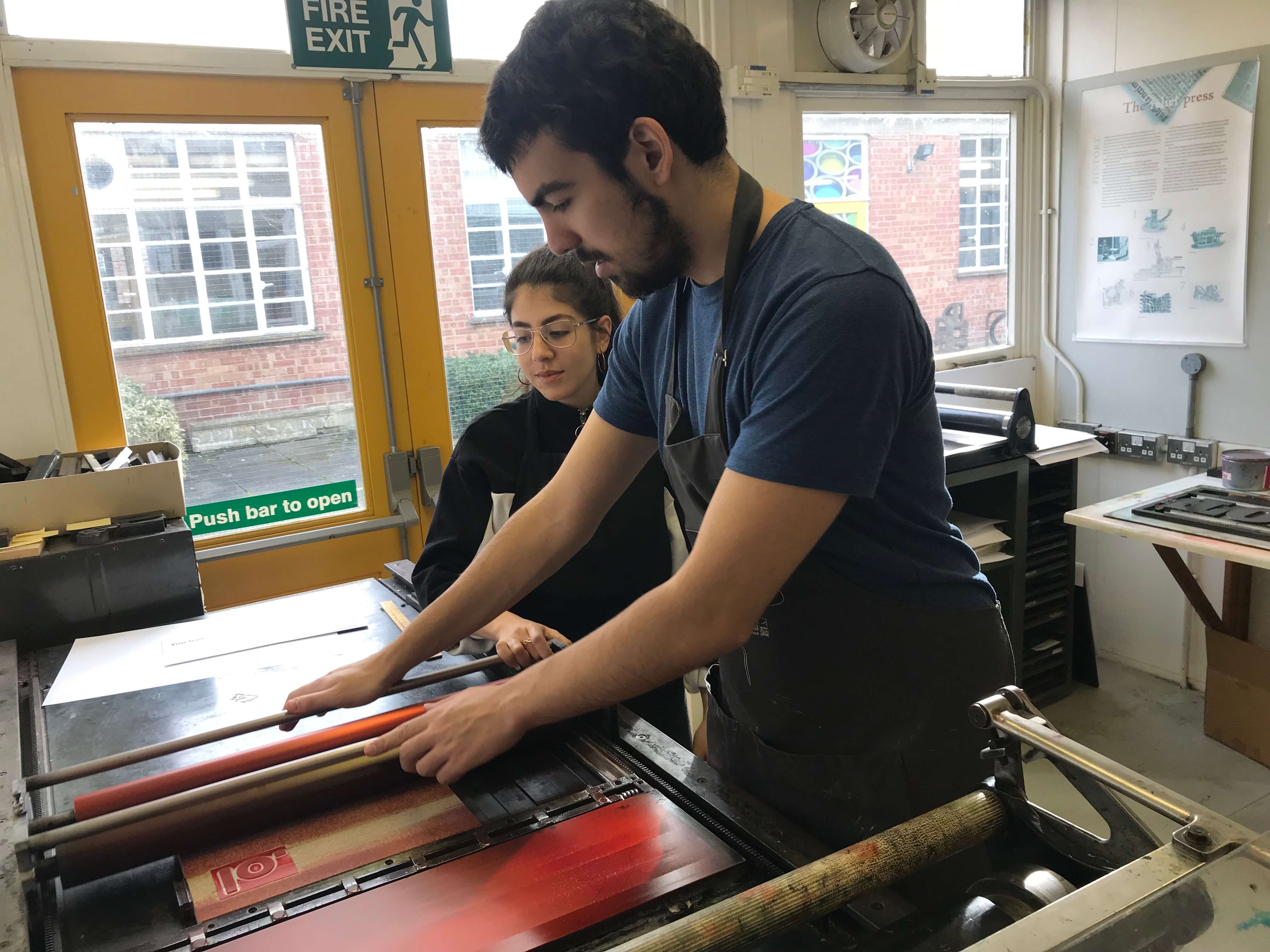 Photopolymer plate printing, or post-digital letterpress (p98a), is a technique that takes advantage of a UV light sensitive material to expose and make a plate suitable for letterpress from a data. In short, we can make plastic plates from anything designed on screen and we can letterpress with it, which makes the design process more efficient and really gave us the freedom to explore the appropriate sizes and typefaces (able to keep consistent and use Helvetica typeface.
The final design featured a typographic pun of sorts, a gate fold that when closed read "You had us at Hello" and when opened read "You had us at Helvetica", which we thought was a clever idea due to both representing the department's playful side but also testing the applicant's knowledge (something that only typographers would understand).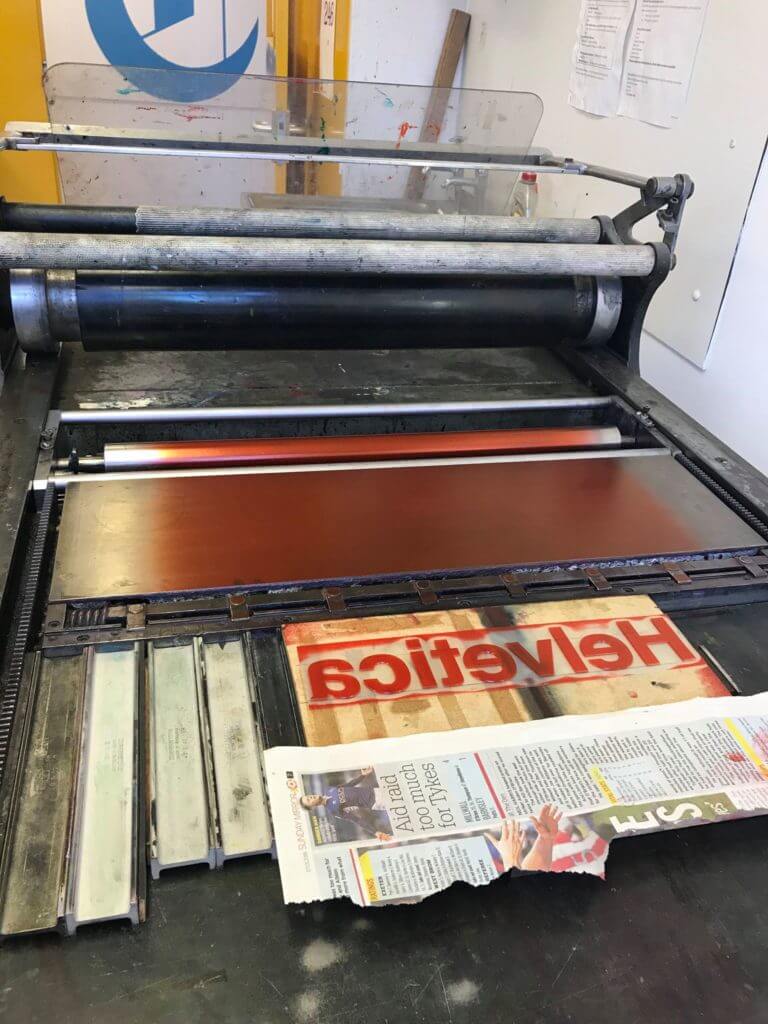 The printing process was planned way before we began, as we feared/predicted that hand rolling the plate with ink and creating an impression with the press would take way too long. Luckily the department had a roller press which contained a sort of automatic ink rolling system, which would save a lot of time by efficiently spreading the ink between rollers and also ink the plate evenly ready for printing. The amount of ink we used, as supervised, was recommended that we used at least the equivalent of a 20p coin to start with (a funny but efficient measuring system for inking) which would last for about 6 prints until we had to re-ink another 20p coin again.
Our design focused on doing two things, 1) it had be have a of letterpress aesthetic, and 2) it would contain personalised notes from us for the applicants. On portfolio days we would look at the prospering applicants' portfolios and make personalised feedback on their work and write them on the back of their gift, taking the feedback about feedback from lecturers making applicants feeling wanted into consideration.
The limitations from this was definitely time, the gifts had to be printed and ready to be sent out asap before the next portfolio day (happened weekly every Wednesday) which meant that we had to letterpress the front and the back of the gifts resulting in two days a week being used up which was very heavy on our schedule. There were times when we physically could not meet the demand and because of this we had to print copies with the masthead printed digitally rather than letterpressed. This was of course very disappointing on our end but ultimately it was the best alternative to no gift at all. Another tricky aspect of this is that the gifts were written on the day, as we looked at the applicant's portfolios, meaning that if this was a one person job then this task would have been virtually impossible to accomplish especially with a second deliverable.
Portfolio Day Takeaway Gift
Portfolio days are for prospectus students to come to the Department, with their portfolio and piece of written work, to see if they would be able to gain a place on the course. Originally, creating a takeaway gift for the applicants was not a deliverable, however after speaking to our client we agreed it would be a good way of subtly introducing the gift to them early on. Portfolio days for us turned into an all-in-one production day of interacting with applicants, gaining some information from them and then creating a card introducing them to another fellow applicant.
Firstly, we had to agree on what activity we could do with the applicants to understand what piece of design work we could produce. We knew that we wanted the applicants to feel as comfortable as possible and due to our main design using 'hello' we thought it would be ideal to do an activity that would introduce who people were. The workflow of the activity included asking applicants to sign their own names so we could scan these in and use on the design to feel as though they personally wrote the cards themselves. It also entailed asking them what inspires them about design and why they chose to apply to our University, whilst also taking a photo of them. All these aspects combined were intended to make the takeaway gift as friendly as possible, with the key feature being that they were double-sided. This meant that each applicant was being introduced to someone else on the day and learning something they might have never got to know.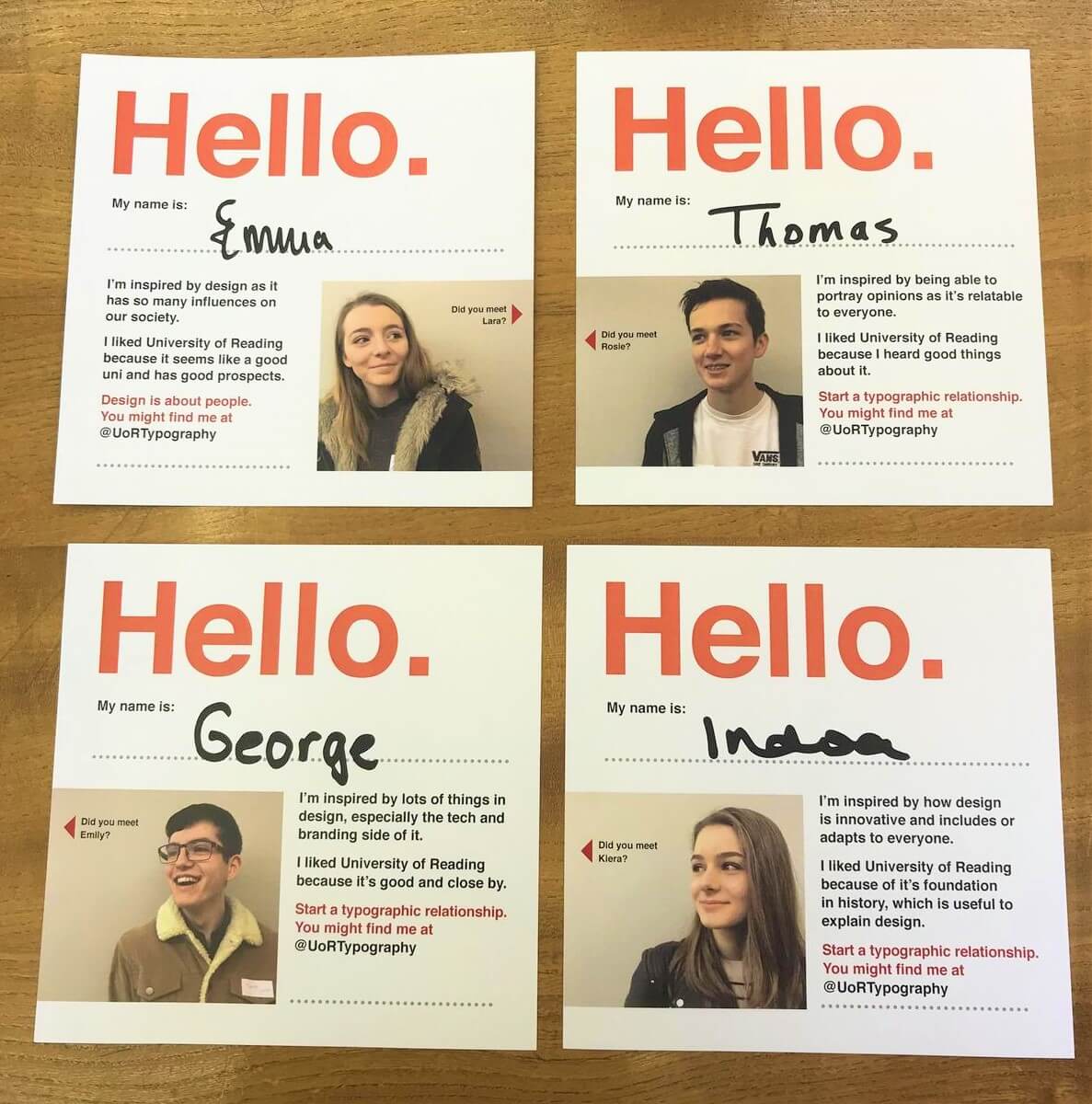 The design development had a few iterations, as trying to figure out the best way to make it clear that the card needed to be turned over to see the other applicant proved difficult. We came to the conclusion of using an arrow as a visual cue, whilst also asking the question 'did you meet X?' to prompt them to turn over. Overall, the design is quite simple as we did not want to overwhelm the applicant or be too intrusive to their lives. However, we did keep to the same identity as the original gift to link it all together.
The successes of this deliverable were that we were able to interact with potential new students to answer their questions or queries and to make them feel welcomed and comfortable. Connecting people together was also a good experience because we were able to make applicants feel excited and less nervous if they were to join, as they had already met someone in the same position as them. However, we did also face some challenges with this deliverable. This included getting students to open up and not be so nervous as well as the tight time deadline of producing a batch full of takeaway gifts within a few hours. Although, after the first portfolio day and making sure the work flow worked, we managed to get much faster with the production flow and leave the gifts in applicant's portfolios to surprise them at the end.
Overall production consisted of: portfolio day, printing the applicant gifts (either digitally or letterpress), writing the gifts and finally preparing the envelopes ready to be sent to applicant's homes. This was all done within a week for each portfolio week, which taught us how to work quickly in a tight time frame and was beneficial experience for future projects.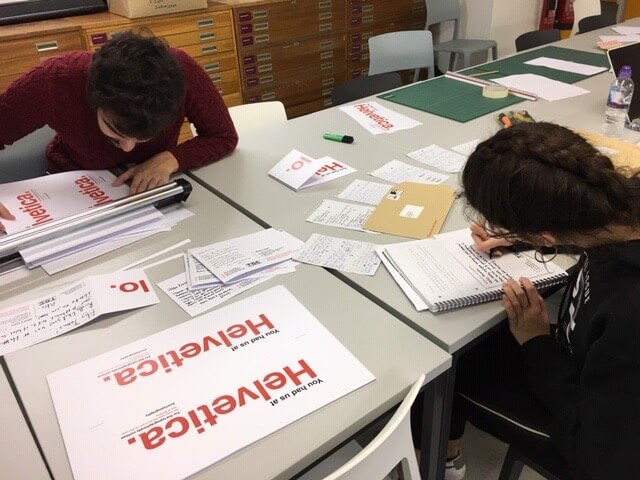 Reflection
Overall, considering the quick turnaround,  we managed to create something really special for the applicants. The feedback from lecturers and applicants have been amazing, it was also very exciting to see their reaction at the end of portfolio day and find the surprise 'Takeaway gift' we left for them. It is slightly harder to know how the applicants felt with receiving the personalised gift as these were sent by post shortly after their portfolio day visit, however our supervisor has received good feedback from those that were really impressed and got in touch.
Our client also helped us with printing on portfolio day during gaps when he was free, to both ready the next batch of applicant gifts to be letterpressed and the takeaway gifts to be trimmed and ready for the applicants to find (as these were produced on the day), he was very understanding of the time pressure that this was being put on us and was very pleased with our work by the end of it.
This project also taught us how to letterpress print in an almost production line manner, with 20 good gifts being printed every Tuesday, which has taught the limitations of manual production.
Thinking forward, the applicant gift can definitely become a yearly thing. The idea of having a pun/ play on words definitely has the potential to change through both its terms and design. We are proud to have started something new for the department and are certainly looking forward to seeing how students after us handle this brief.