TGC Podcast STICKER – Ai Task
Design Ideas and Design process
I started off this project by researching and looking at anything that could inspire me and start a flow of ideas. For me images that have various meaning interest me a lot. I like the challenge of understanding and finding meanings that may not even exist but only you see so I wanted to put that touch of diversity in my project as well. In all my projects (Ps Cover, Id post card, Ai sticker) I use this big bold red bar code. Spotify had a very smart idea, they automatically created bar codes for songs so if you found a sticker or a post with a song code that you liked , you could just scan it and find the song immediately by using the camera on a mobile device. I thought to integrate the barcode in my design so it could be easy to find the podcast and listen to it. The same idea is on the other projects.
For the creation of the sticker it was pretty simple. I created a circle using the ellipse shape tool and inserted text on it by using the text on path tool. I decided to use bold font so it can stand out a bit more and chose to have the "podcast" slightly smaller to prioritize the other text.  For the barcode I used the ellipse shape tool again and created a mask by putting the barcode under the circle.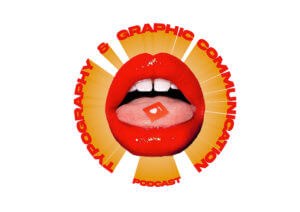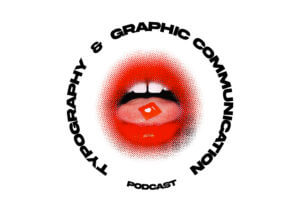 For my second and third idea I use another image that fascinates. I also used this image in one of my podcast cover ideas. The message that I get from it is how social media has become addictive and fake but it can also mean that you can explore new ideas and find new information that you have never heard or seen before.
Software tutorials
I didn't really use any tutorials because in school previous years and during Covid I played around a lot with these programs, especially Ai. The most recent new trick I learnt was the one I used on the second sticker which the blur halftone effects. I saw this on an Instagram post by @panter.vison that has tones of videos and images that help you create and inspire.  https://www.youtube.com/watch?v=-aJiVJIt-mQ
Design resources and articles
Looking for inspiration is a nonstop thing. I save images constantly so that they can inspire me one day when I need to do a project. I mostly Instagram, Pinterest and Google since they all have a huge variety of different images and themes. The standard for podcast images where studio microphones or headphones so I wanted to design something with a bit more edge to it so that it isn't something so obvious.