Design Ideas and Design Processes
First idea…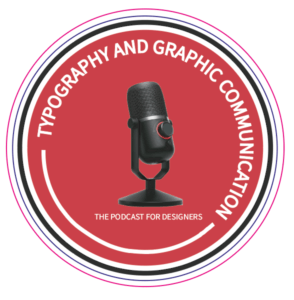 This is my first idea of a sticker. I began this task by selecting aspects from both one of my podcast cover and postcards, such as the same colour scheme and focal image as well as typeface. I decided on using the shape of a circle based on existing stickers I have looked at and thought this shape would be the most effective. I later placed the image on and adjusted the text to fit within the shape after watching tutorials on how to do so. I like this sticker however noticed how the precision of lines on this design could be more defined, to proivde a cleaner finish.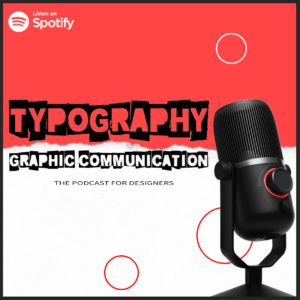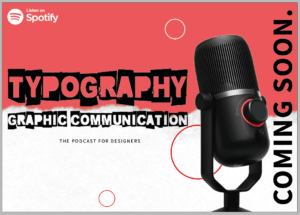 Second idea…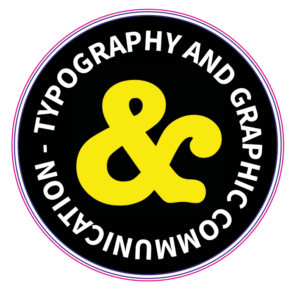 This is my second idea of a sticker. This design is a much more simplistic attempt compared to my previous one and is designed for one of an alternative podcast cover I designed. I enjoy the colour scheme and I like dominancy of each colour, and how yellow is the most powerful, yet there is less of it. This allowed the sticker to have an easy flow of hierarchy. I like the simplicity of this design but how much it stands out also.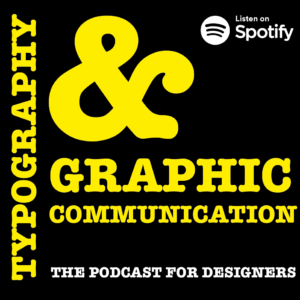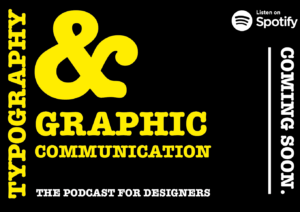 Third idea…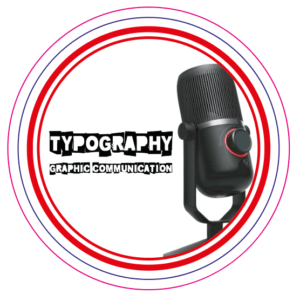 This is my third sticker design which I found to be the most effective. I began this by adapting factors of my previous designs however referring back to my favourite podcast cover and postcard to make clearer links between the three, therefore used the title and typeface. Already this made such a big difference, so I later adjusted the image from being in full sight to being slightly beyond the shape to compliment the type, providing a more abstract look which I enjoyed. I then added a border which provided a stronger balance and developed this by modifying the weight of the strokes to create my final sticker design. I like the outcome of this design as it not only resembles my postcard and podcast cover but is effective independently.
The development…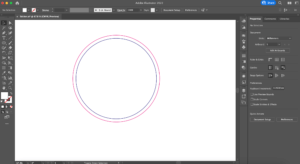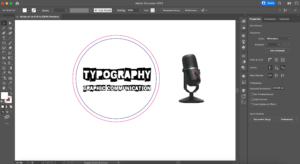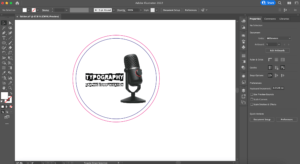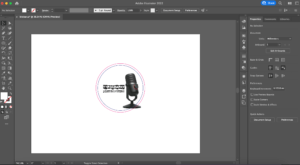 Software Tutorials
Initially, I knew the basics of how to use and function Adobe Illustrator, however lacked some understanding of more in depth and complex functions, such as cutting images and adjusting the orientation of text to fit within a desired shape rather than just in a text box with standard orientation, however after doing some research and both reading and watching online tutorials, I became much more comfortable to use these features and incorporate them within my design. Some tutorials I watched include https://www.youtube.com/watch?v=V-5j6tuPlQA and https://y-designs.com/ideas/tutorials/illustrator-tutorial-type-along-a-path-wrapping-text-around-a-circle/ as well as https://www.youtube.com/watch?v=E69lde513Yk and https://helpx.adobe.com/illustrator/using/cutting-dividing-objects.html which I found to be extremely useful links and helped me overcome some issues I was faced with when designing my sticker such as typing around a circular shape and cutting an image.
Watching and reading these online resources as well as the given tutorials provided, I am much more comfortable using illustrator to design effectively. I overcame my problems and am able to confidently use tools I was first unfamiliar with.
Even-though, I have developed my knowledge and skill set by a great amount through practice and learning, I still hope to build some more by watching alternative tutorials and learn how to use further complex functions and precision using the pen tool to design not only more effectively, but professionally for a much cleaner outcome.
Design Resources and Articles
Additionally, I found previous questions and answers to problems other people where experiencing similar to which, I myself was struggling with, so used them as guidelines to help me improve. I also read some online support given by Adobe themselves on how to use some functions within the software and what to do when I faced technical issues https://helpx.adobe.com/uk/illustrator/tutorials.html. I read online step by step guides to assist me in my designing, such as how to write along paths. One link I found extremely useful was, https://www.youtube.com/watch?v=4c4bEoT_mwE which taught me how to cut and divide a shape, in simple steps which were easy to follow along. I also valued the website https://helpx.adobe.com/illustrator/using/cutting-dividing-objects.html where I read on how to cut shapes at a much greater extent.
In general, I looked at websites on how to design stickers and overall sticker outcomes to create my own. This website provided a step by step guide on how to create the sticker https://www.stickermule.com/uk/blog/the-newbies-guide-to-designing-stickers-in-illustrator. As well as this, I studied pre existing stickers, to obtain inspiration. I did this by looking at brands and organisation and their merchandise as well as my peers work using Padlet, where everyone uploads their versions for each other to see their processes https://padlet.com/rewarner/TY1SK21_22.
I built my design ideas, my gaining inspiration from stickers I already had myself, by looking at the shape and amount of information on them for it to not be too overpowering, to design a sticker effectively.
The skills I have learnt and developed throughout this task will help me with future designing and I hope to build on more to ensure I have the correct knowledge and understanding to design both efficiently and professionally.