For the TY1SK module, we were allowed to choose four tasks to complete over four weeks, and one of the tasks was 'creating vector objects' in illustrator. We had to create an illustration for a social media banner, to accompany  podcast for the novel 'Homegoing', by Yaa Gyasi.
I chose to complete this task because I wanted to further explore illustrator, and I wanted to increase my skillset. I was also really fascinated by the theme of this novel and that is why I chose this task for my blog post.
 Design ideas and design process

I decided to use the same colours seen on the 'Homegoing' book cover, in my banner design, which I think would allow the viewers to see the banner and immediately recognise the book cover. I also kept the hexagon element in the centre of my design to hug the African continent, while pointing to the sisters either side. The African continent immediately offers context with Ghana to the viewer, with Africa being at the centre of heartache and home-going. I kept the symmetrical layout, suggesting a mirrored image. I think portraying the half sisters in a silhouette form makes the depiction universal. I wanted to portray their cultural connection to Africa and each other, and their vulnerability.
I wanted to create my own pattern, but still keep the geometric shapes found in African designs. Using the shape tool, I created a few rows of connected triangles and filled them with red and orange, similar to the book cover. Then I duplicated my triangle rows to create a pattern for the background. A useful video helped me to turn my pattern into a swatch which I could then place inside any shapes/outlines of my choice. I selected my design, trimmed it into a square shape, opened up pattern options, and  chose 'make pattern'. This turned it into a swatch.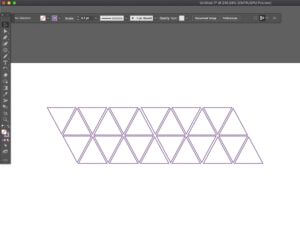 A screenshot showing the first step of creating my pattern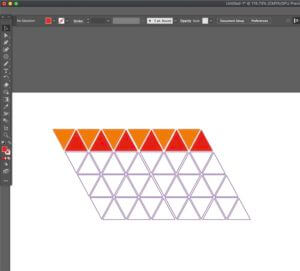 A screenshot showing the second step of creating my pattern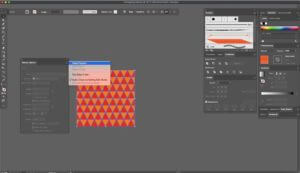 A screenshot depicting how I turned my pattern into a swatch
I drew the outline of Africa, and placed it in the centre of the banner, filling the shape with my pattern. I also placed the pattern around the edges of the banner, leaving a white hexagon around the outline of Africa.
I decided to incorporate flowers with a similar appearance to those seen on the cover, but gave them less visual impact so that it doesn't distract from the sisters. The flowers are also mirrored symmetrically, and lean in towards the centre, guiding the focus of the viewer to the place of home-going.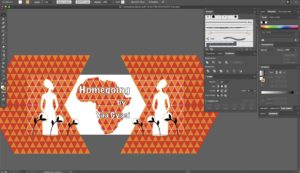 A screenshot depicting the flowers that I drew and included in my illustration
To depict the spiritual side of the novel, the belief of death allowing a slaves spirit to return home, I decided to fade Esi by reducing the capacity. I think it shows the distance between her and Ghana, but also her soul. I kept Effia's opacity 100%, and I tilted her head downwards to show her shame and sadness for being married to a slave trader.
I experimented with a gradient background, however it  did not compliment the other elements of my design, so I removed it. I still incorporated the gradient effect on my Africa outline, fading it in from the left. I think this depicts the lost cultural connection and identity of the displaced slaves.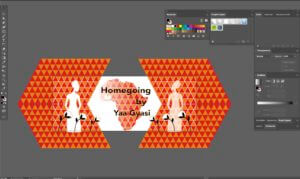 A screenshot displaying the outline of Africa fading in, and the two half sisters, Esi (faded) and Effia (head tilted downwards)
A screenshot displaying the attempted gradient background
To emphasise the complexity of 'love' and brokenness of slavery, injustice, greed, and racism, I placed a broken heart on the African continent, where Ghana is located.
The typeface 'Avenir' is a geometric typeface which fits with my geometric design, but it also has a human touch which relates to the circumstances depicted in the novel. It is very clear and easy to read.
Software tutorials
The essential and recommended videos that were provided, were very insightful and useful.  Watching the videos reminded me of how to use the pen tool, shape tool, direct selection tool, and the shape builder tool in my designs.
The 'Combine shapes' video taught me how to combine shapes, by selecting the objects you want to combine, and using the shape builder tool, drag across the shapes to combine them into one shape. I did not use this skill in my banner design either, however it is something I could use in future designs.
I was unfamiliar with the Image Trace command, so that tutorial was insightful and I will definitely be using that skill in more of my designs in future, especially if I hand draw an image that I want to bring into illustrator.
I was not sure how to turn my triangles pattern into a swatch which I could then place as a fill into any shape/outline, so I found a useful video to help me, called ' How to Create Patterns in Illustrator Tutorial', https://www.youtube.com/watch?v=n34-YmNJMrc .
Dansky showed two ways of turning a pattern design into a swatch/pattern. I trimmed my design into a square shape, selected the whole shape, went to window, pattern options, and at the drop down menu I just selected 'make pattern'.
Resources for research and inspiration
To help me with my illustration for the banner, I read a summary of the novel on  https://www.bookbrowse.com/reviews/index.cfm/book_number/3418/homegoing 
It helped me to understand what the novel is about, and to gather my ideas of how to portray the two  sisters.  The summary gave me insights into the existing book cover design choices. It gave me ideas about how I could portray the two women in ways that depict their similarity, differences and connections.
It made me aware of their lost identities and also a sense of disconnect, because they are not even aware of each others existence. Reading the summary made me realise that there is a much deeper meaning behind the novel 'Homegoing'. It is not just about the two sisters, it is also about so many other women and men, and slavery, greed, racism, and injustice. However there is also hope for reunion and home-going.
I found a very inspiring video tutorial called 'Illustrator Tutorial | Web Banner Design (Shopping)', https://www.youtube.com/watch?v=a9vzcdbPMOs Graphic designer, Kaukab Yaseen explained a variety of different skills and techniques to use, and showed how to create gradients, as well as blending an image into the side of his banner design and making the image to appear like it was fading into the rest of the banner.
Although the gradient background did not work with my illustration, I did still take inspiration from this video, by fading in my drawing of Africa. It also further inspired the idea of fading away Esi's body by reducing the opacity, which I did to depict the idea of death allowing a slave's spirit to return home.
I researched for appropriate typefaces for banner designs, and found useful information in a blog called 'Most appealing Banner Fonts to use in 2021' https://email.uplers.com/blog/most-appealing-banner-fonts/ ,and from this blog I found the typeface 'Avenir' which I found  very suitable for my banner design.