For the postcard assignment I have decided to create a piece that represent the person who played an important role in Graphic Design, William Morris. William Morris was a British  textile designer, book designer and created famous "Golden Type". He created Kelmscott Press in 1888,"Deeply concerned with the problems of industrialization and the factory system, Morris believed that a return to the craftsmanship and spiritual values of the Gothic period could restore balance to modern life. He rejected tasteless mass-produced goods and poor craftsmanship in favor of the beautiful, well-crafted objects he designed.In 1888 Morris decided to establish a printing press to recapture the quality of books from the early decades of printing."
I have chosen black and white photo of William Morris.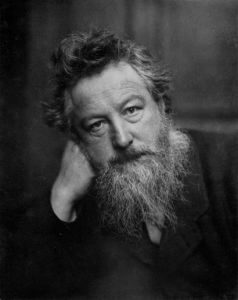 I used Adobe Illustrator for this task. I tried a new selection of tools. To create an outline of William Morris's photo, I have used the "Image Trace". Then I have filled the background with black color and added three circles with stroke color(transparent). I aligned the  text around the circle, to curve the text and wrap it around in a shape of circle,I applied "Type on the Path Tool".And the final step was to create a PDF.
Overall, it was an intriguing experience, as I anticipated one outcome and got a totally different design. I also learned a lot of technical skills, which helped in my other projects.