Design ideas & design process
Our task for this project was to design and create three different podcast covers for a Typography and Graphic Communication podcast using Adobe Photoshop. Having never used photoshop before, this was a great opportunity for me to familiarise myself with the software and get to know the basic tools. Our podcast covers were to be a combination of image and text, but we were free to be completely creative with our ideas. My initial idea was to a create a tree from individual letters, to represent the importance of typography in everyday life and to give an indication to the general topics of the podcast. I found an image of a tree that i liked and placed it into photoshop before adding lots of individual letters to the shape of the tree. This took time but i then learnt how to duplicate things which made it a lot easier. I also cut out an image of a sun and added this in to the image, because i wanted to experiment cutting up and adding images. During the process of the second design, I learnt about cutting images and using layers to show different parts which allowed me to replace the tea with coloured liquid by initially cutting out the shape of the normal tea splash. I wanted to use a fairly normal image and to add a creative spark to it with the watercolour splash, and had seen similar designs like this previously which is where my inspiration came from. For the third design, my idea was to have the text merging into the image as if it were a reflection. I changed the format of the text so it appeared as if it was on the floor by adjusting the angle, following the reflection of the yellow door. I also used the dodge tool to lighten the colours of the door. My first design idea was my favourite, so I developed this more by warping the podcast title text so that it appeared as part of the sky.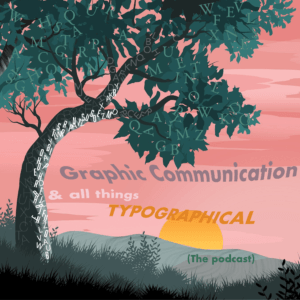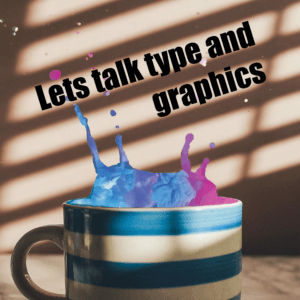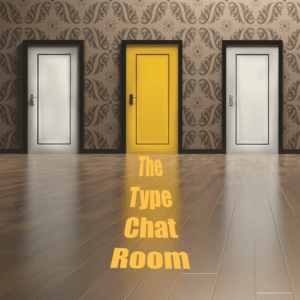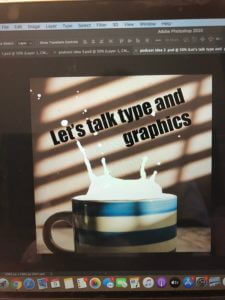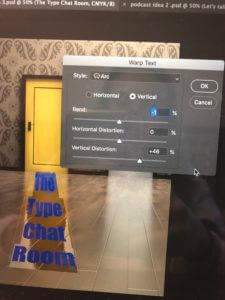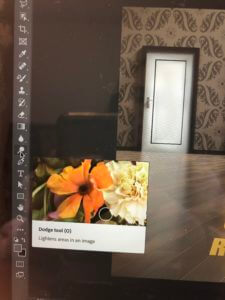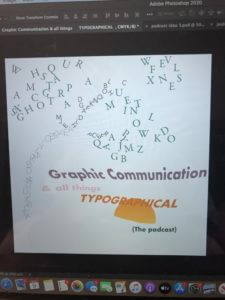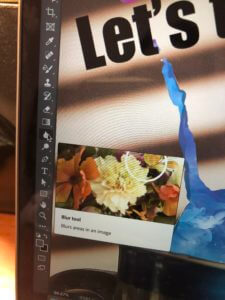 ---
Software tutorials
To begin with, I watched Rachel's video first which showed me how to set up and create a new file in photoshop, place images into the file and combine them, as well as demonstrating how layers work. This was useful in understanding the basics of photoshop and how it works. There were certain keyboard shortcuts that I took in from the video such as "Command T" to transform images which was really helpful as it simplified the learning process. When I had further queries about what tool to use i would search up what I needed on google or watch some different tutorials which really helped. I watched the video thread titled 'Get to know photoshop' which contained clips about opening images, saving work, and generally getting to know the work space area. I then watched the adobe tutorial on working with layers, which was really helpful in understanding how they work and why they should be used. I found the youtube channel Adobe Creative cloud useful for general tutorials on getting started and using photoshop. I also used Terry White's youtube video tutorials on photoshop. This was helpful as i didn't know what each of the photoshop tools did before so I learnt the uses of some of the important ones such as the cropping tool. Another adobe tutorial i found useful was the one about working with and combining images.
https://helpx.adobe.com/uk/photoshop/how-to/combining-images-basics.html?playlist=/services/playlist.helpx/products:SG_PHOTOSHOP_1_1/learn-path:get-started/set-header:ccx-designer/playlist:ccl-get-started-2/en_GB.json&ref=helpx.adobe.com
---
Resources for research and inspiration
I wanted to get some general podcast cover inspiration, so I went to Spotify and had a browse through different podcasts, paying close attention to the details of the image provided to get a feel for what i should include in my image. I asked myself what each image was trying to say and if it interested me, then why? I found that most of the covers incorporated bright colours to catch the eye of the viewer, and the name of the podcast was usually embedded into the image. I then used the free image site pixabey, in order to search for free, high quality images that I could use in my designs. For my first design I started searching for photos of trees made out of letters, but there were none that I particularly liked or were what i was imagining in my head, so I changed my mind and browsed images of just trees, thinking that I could create the lettering effect myself. For inspiration, I looked at Matthew Price's article 'How to design a podcast cover: the ultimate guide' which gave me lots of helpful information and tips on the design process, and here i got to see lots of examples to learn from. For a further introduction into Photoshop and for future inspiration, I looked at the step by step tutorial on How Amr Elshamy created "Round things". This was really fascinating as you get to see the amazing finished product and are walked through the different stages of the process as well as the tools used.
https://helpx.adobe.com/uk/photoshop/how-to/use-polar-coordinates-filter.html?playlist=/services/playlist.helpx/products:SG_PHOTOSHOP_1_1/learn-path:key-techniques/playlist:topic/set-header:get-inspired/en_GB.json&ref=helpx.adobe.com