For the TY1SK module, I designed a podcast cover (which can be seen below) and a podcast postcard. In this blog post, I will be discussing how I used Adobe InDesign to create my podcast postcard designs. While designing the podcast covers, I came up with the name Counterfeit for my podcast. I chose this title as it incorporates a typographic term counter, which are the enclosed or partly enclosed areas within characters, such as in the letter 'd'.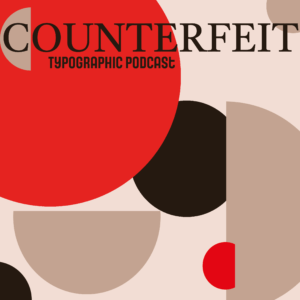 Design Ideas & Design Process
I began by creating a more collage-like outcome, incorporating images I downloaded from the website Pixabay, with solid colours within my colour scheme of red, dark brown and beige.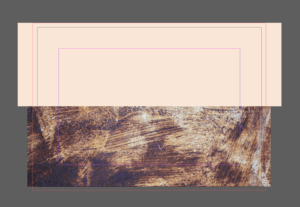 I used Photoshop to design a podcast logo inspired by images I had seen online. I incorporated this into all three of my podcast postcard designs.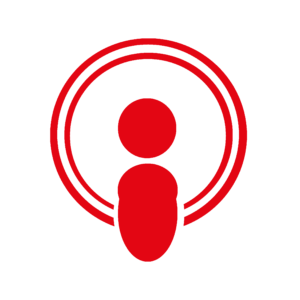 After adding the podcast logo to my design, I then layered text over the top of the solid colour. After this, I incorporated a few geometrical shapes to the design. These shapes reflect the counters of letters and characters. The font I used for all my designs is the Adobe Gala font, with a shadow, which almost highlights the counters of the letter within the name Counterfeit.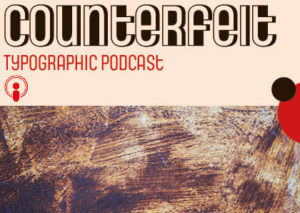 For my second design, I decided to explore the more geometric style that I used in my podcast covers. I used layers to add shapes in the same colour scheme as the previous card design. For all of my designs I made sure to exploit the bleed space on InDesign, to ensure a sleek postcard without a white border.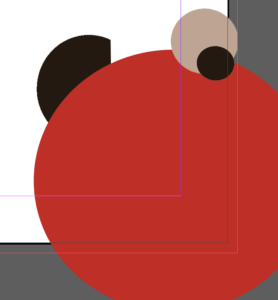 I also incorporated the podcast logo as seen in my previous design, as well as the title Counterfeit in the Gala font, with a shadow. The subheadings are also in the Gala typeface. I played around with typographic hierarchy, using different weights and sizes of text, to create a visually organised podcast card.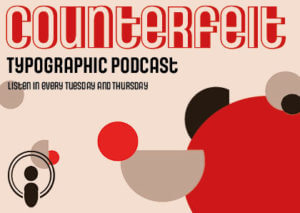 I felt that my second design was more successful, and so I wanted to develop the geometric style further. I created a third design, taking aspects from the previous designs to create an even more visually appealing and successful outcome. I decided to add more contrast to this design, and so instead of the pale beige background, I used a dark brown colour with lighter text. For this design I played more with alignment and hierarchy. I centred the main title of my podcast, but I right aligned the subheadings as well as my podcast logo.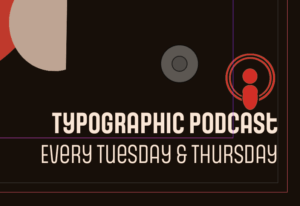 I continued with the idea of typographic counters, and so I incorporated the geometric shapes as seen previously. I exploited the layers tool to allow me to play with the relationships between these shapes.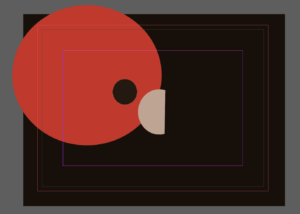 Once again, I used the Gala typeface. This final design was definitely my favourite as I believe it is eye-catching and bold, while still having a minimal, uncluttered feel.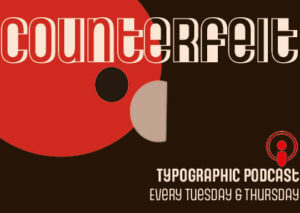 Software Tutorials
I watched Youtube tutorials and read articles to help me discover techniques and tools within InDesign. In particular, the Youtube video 'In-Design Postcard Set-up' by Lauren Rabinowitz was useful as it showed how to create the correct InDesign file for postcard design. For more information on InDesign and the tools within this Adobe app, I used the official Adobe website. One of the most helpful tutorials by Adobe was the 'How to Make a Postcard with InDesign' tutorial. One aspect of this tutorial that I found particularly valuable was the combination of text and images, using layers to do so.
Resources for Research & Inspiration
The resource that I found particularly useful was an article about Molly Scannell, and her design work, on the Adobe website. This article was called 'How Molly Scannell created "Taken"'. Although this article focused on Scannell's use of Photoshop, I was really inspired by her posters and designs. She frequently exploited layers and experimented with the positioning of the elements within her works to create eye-catching collages and composite outcomes. I really enjoyed looking at Scannell's use of layering with both images, shapes and text, which was something I aimed to incorporate within my designs. This article did show examples of Scannell's work, but it also gave a step-by-step tutorial on how she created her design 'Taken'. Although I did incorporate the layering of shapes and text within my final outcome, I would like to further explore collage and the use of images within InDesign. On top of this, I looked at Pinterest for further inspiration on compositional and typographic ideas.
Reflection
Overall, I was very pleased with my final podcast postcard design. Although my final design was more simplified and minimal, I believe it is eye-catching and effective. This task allowed me to experiment with InDesign, an Adobe app that I am less confident with. It also allowed me to implement my new knowledge on typography, such as the use of leading and the techniques used to create hierarchy within text.