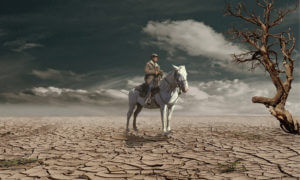 Photoshop Task – Editing images, Spring Term
The best software for editing images is no doubt Photoshop, there isn't really any other software that provides tools for editing images like Photoshop and is the industry standard for editing images.
Fundamentals of Image editing:
Removal of objects from the background
Lighten/darken parts of an image
Changing the colour of parts of a photo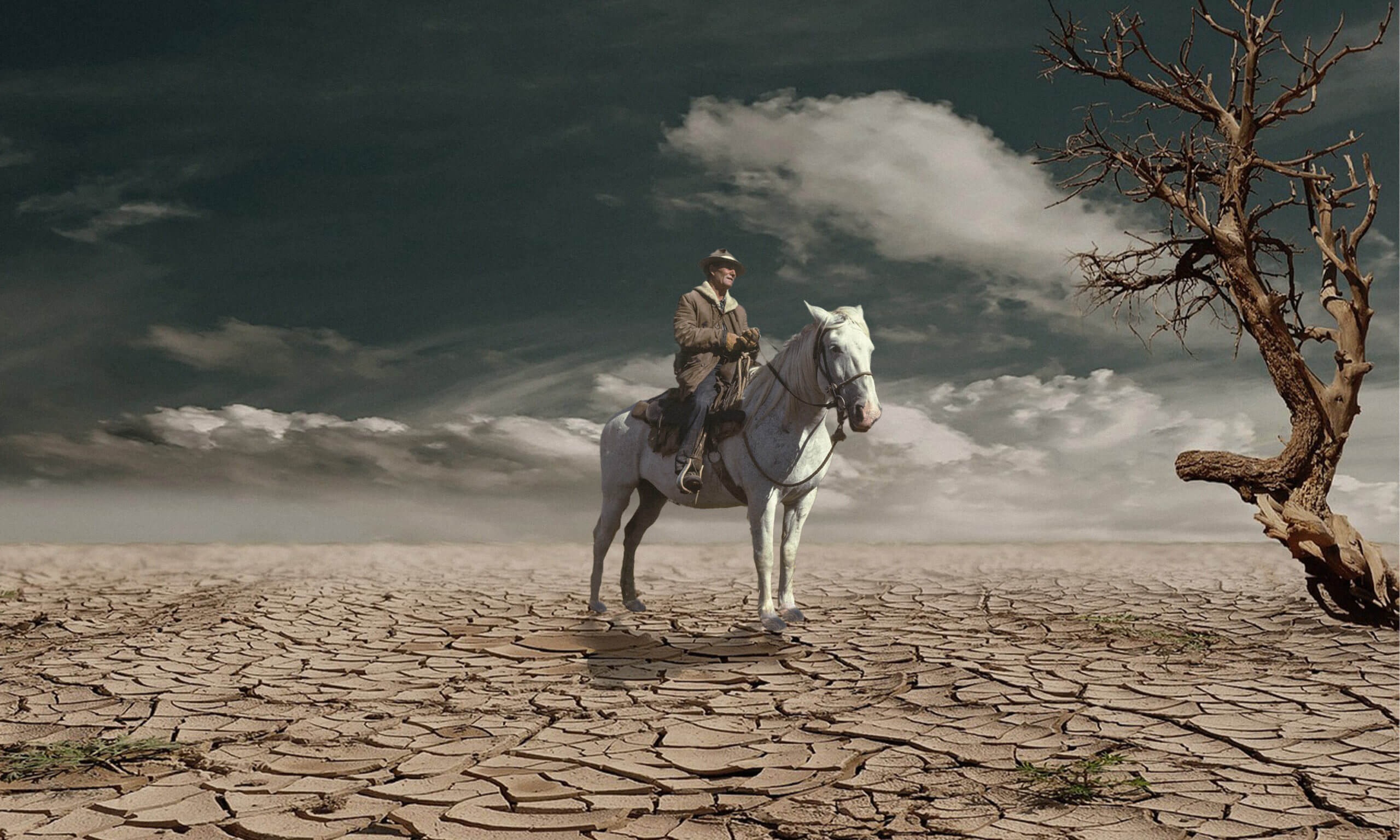 Design ideas and design process
For this design, my idea was to develop my image editing skills. I used two images to create this design, both of of Pixabay (a copyright free image library). I decided to not touch the background, to try and blend the horse and the cowboy in to the background rather than blending them both in together as it's more of a challenge. The two pictures below is what I used to create the design.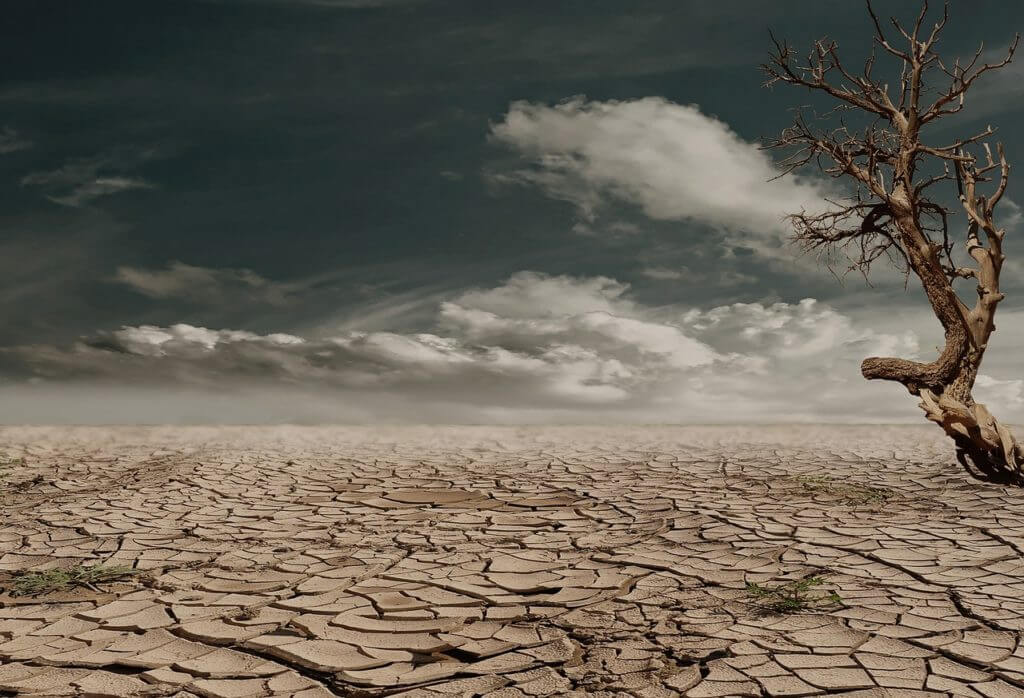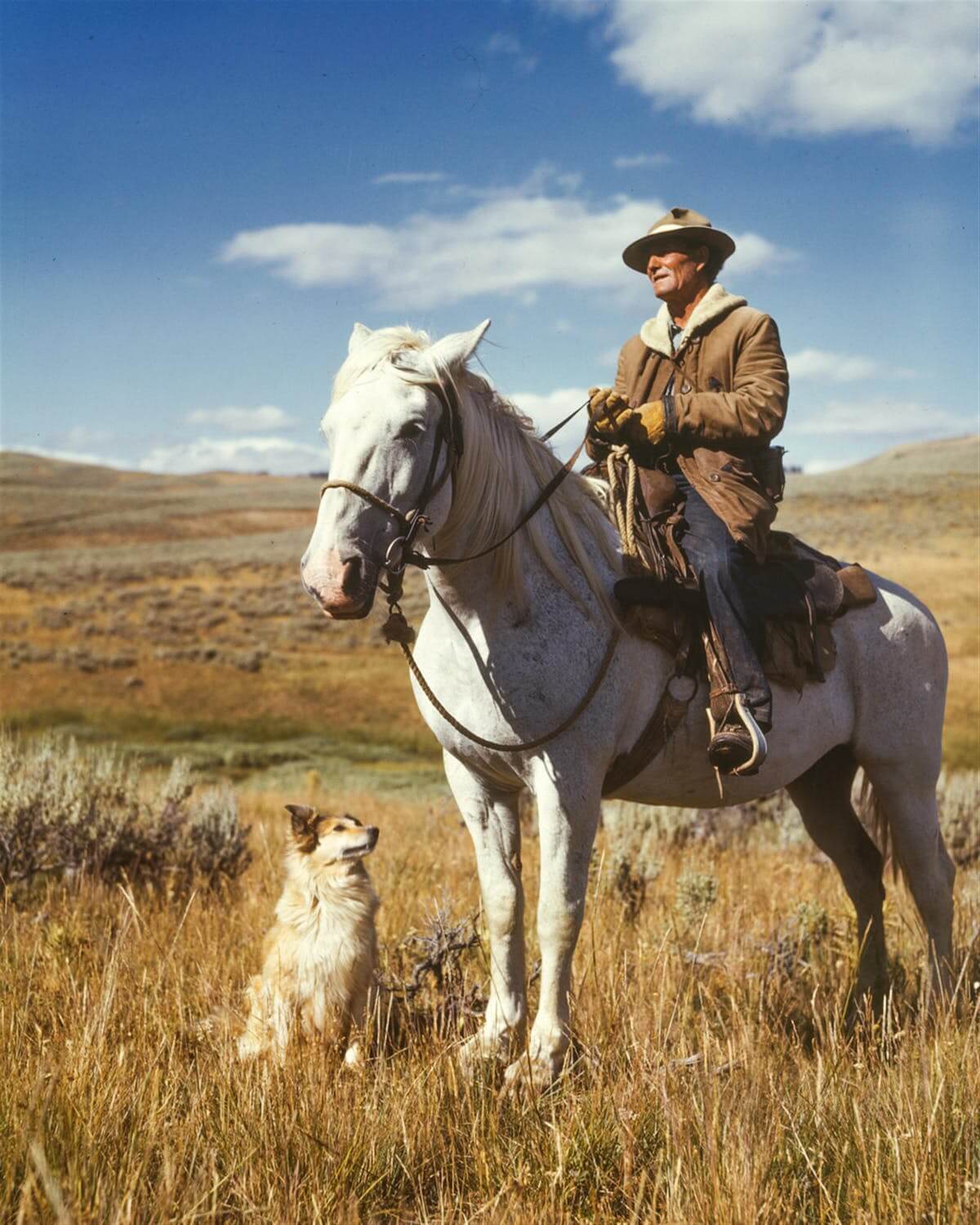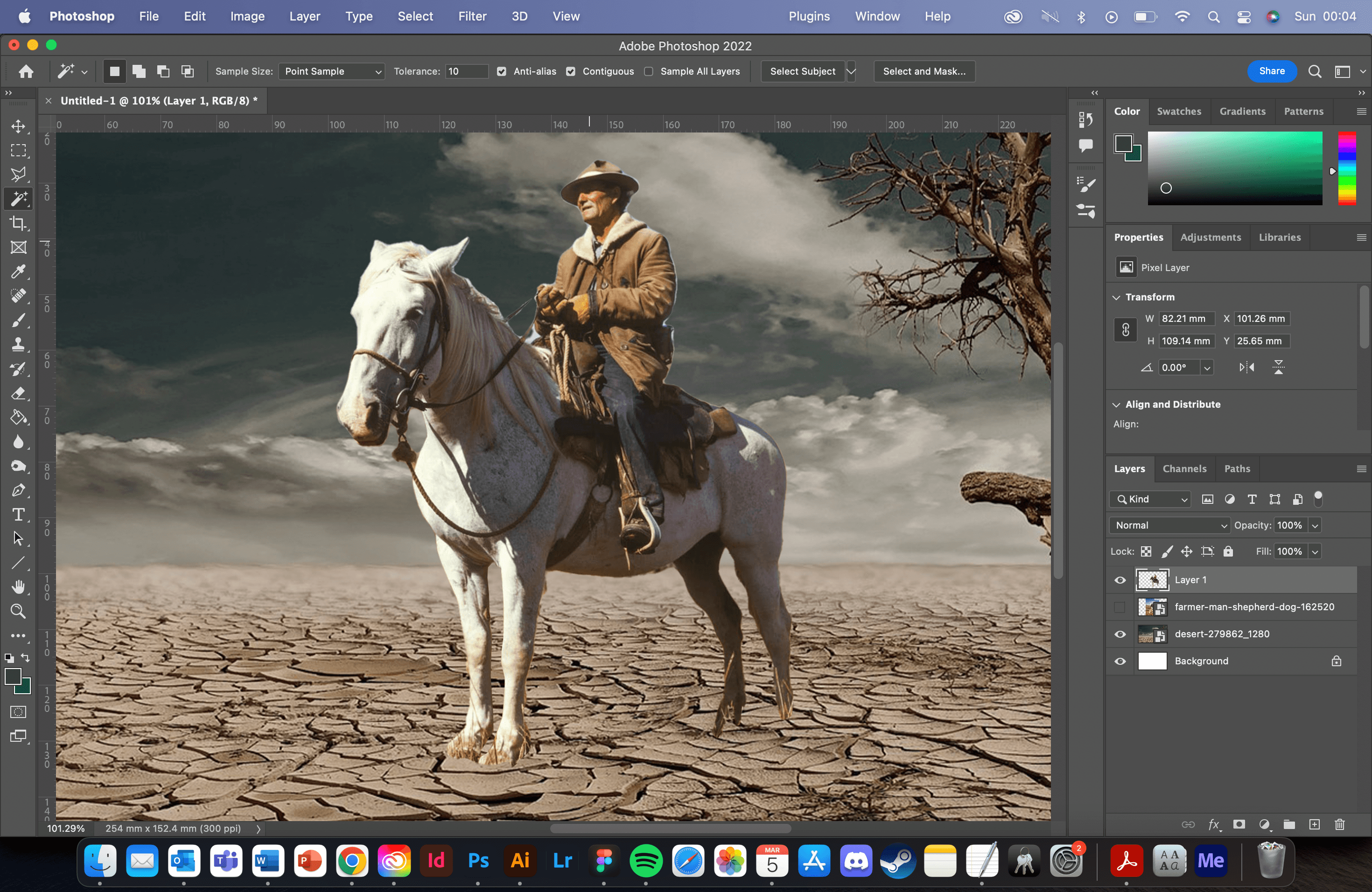 To mask the horse, I used Photoshop's AI tool, the object selection tool. However I was just trying it out and wouldn't recommend using it because it didn't do a great job of masking and I had to go over it with the eraser and lasso tool.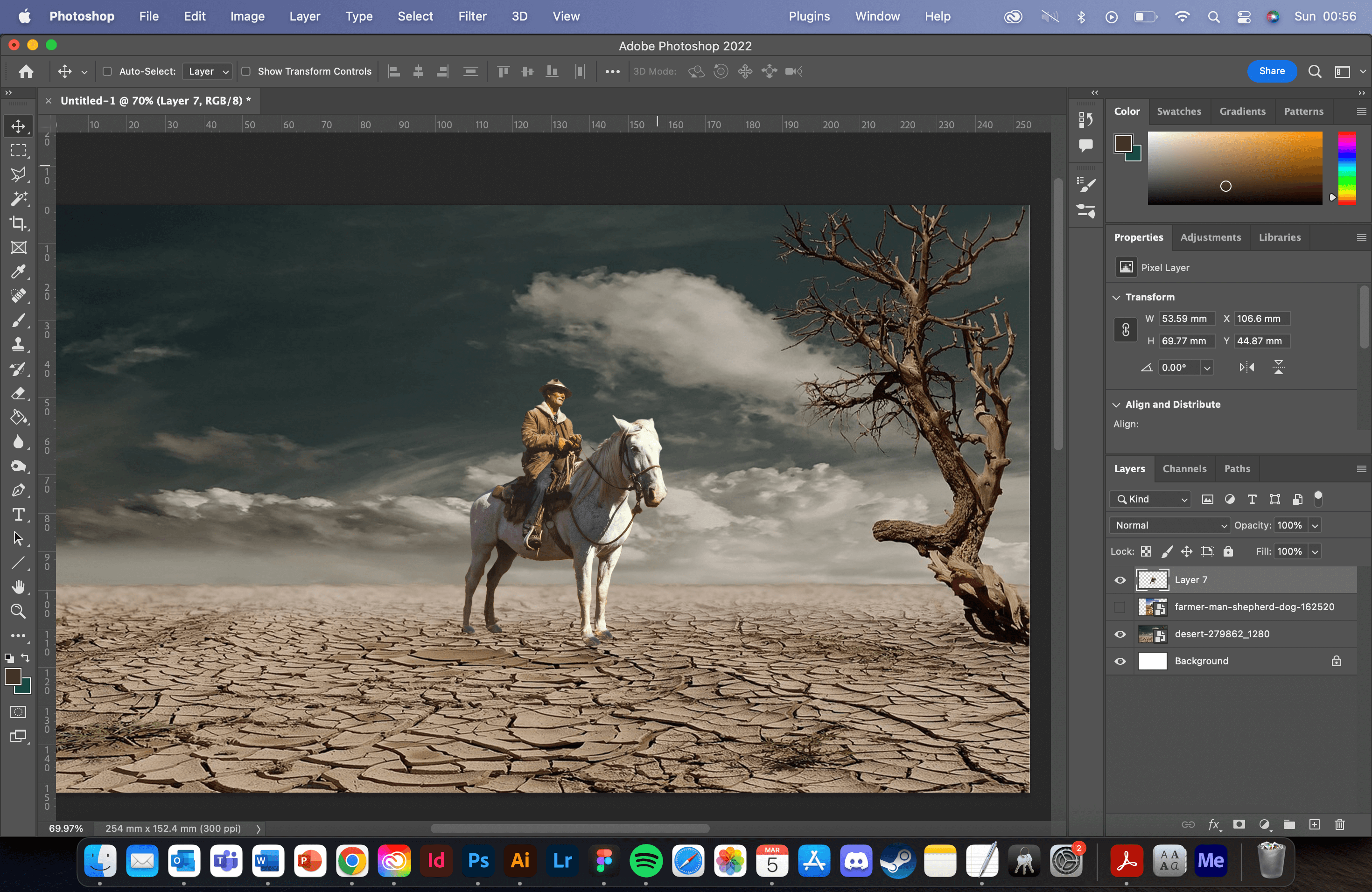 Create a perspective, to do this, find a light source and use your imagination to fit the subject into the background to make it look as realistic as possible. You also want to make sure that your subject looks like its well balanced and standing up well to create the illusion that you haven't just stuck an image on a background.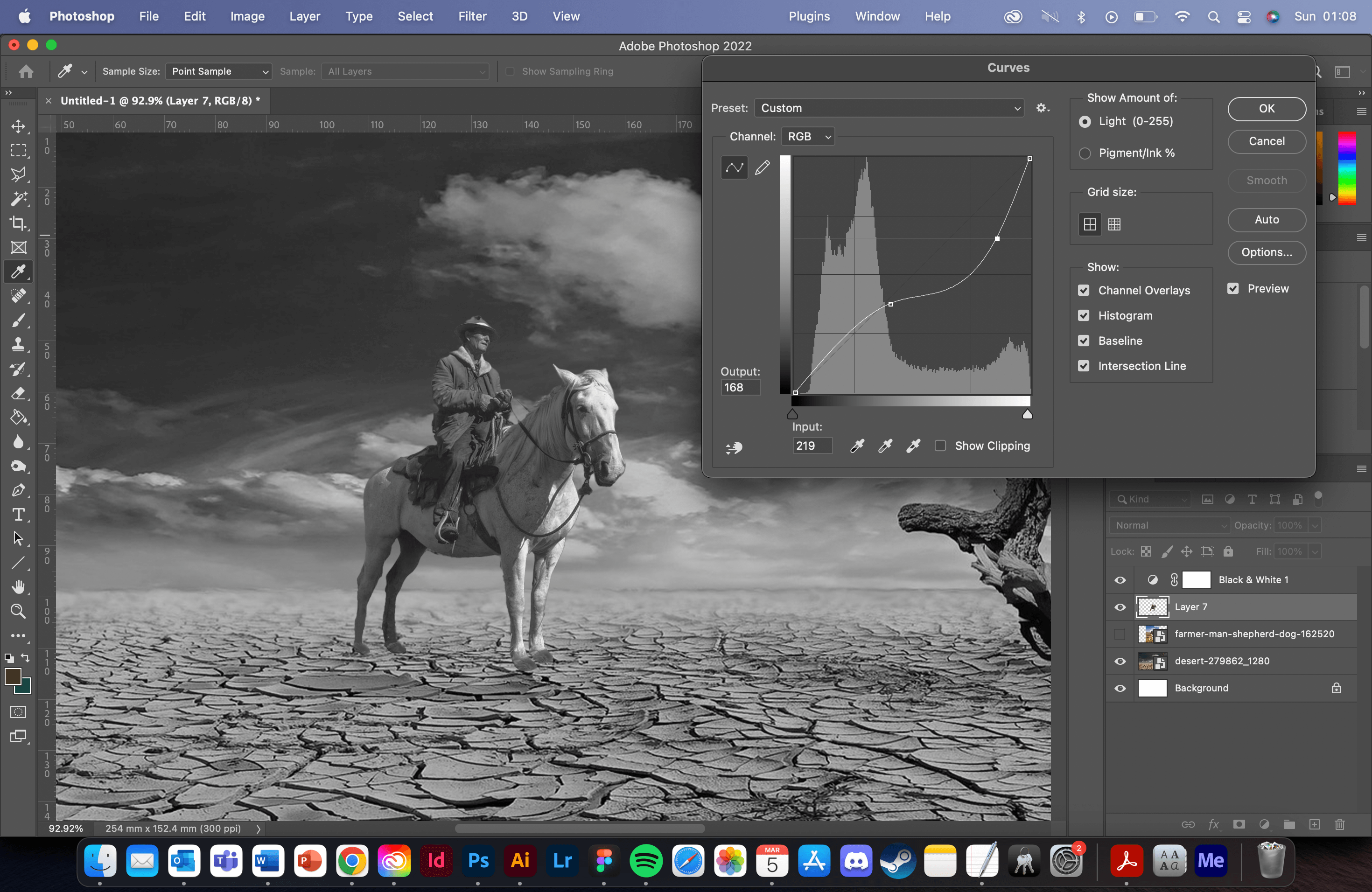 Add a temporary desaturate layer (lets you see better), then play with the curves until the subject blends in with the background.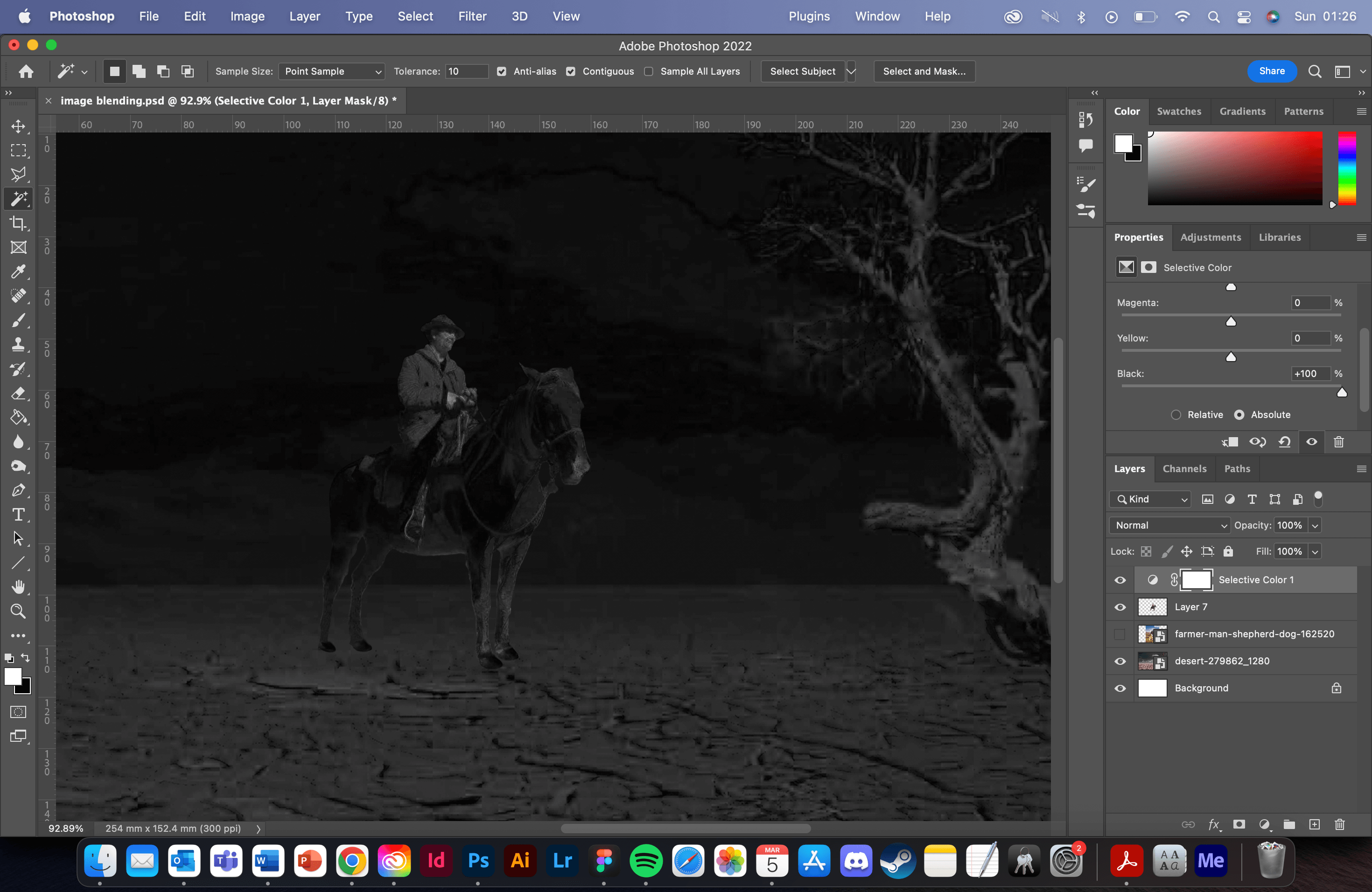 I used a Selective layer and turned down the black to -100% in every colourful colour (e.g. red, blue, yellow) and turned it up in white, neutral, and black to +100%. The reason to do this is to get information on the saturation levels in the image. Then as I did with the curves, play around with the saturation until it's as dark as the background.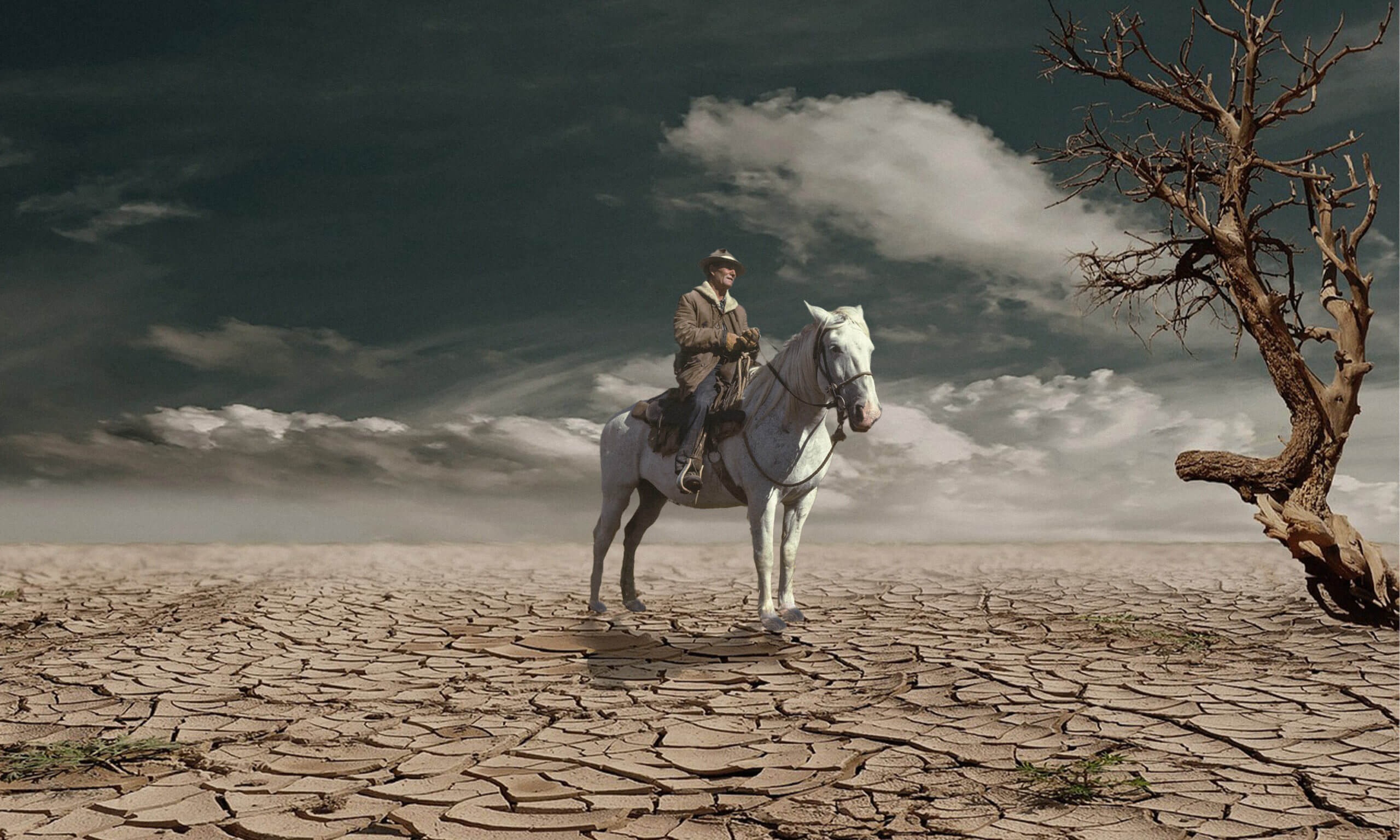 I then deleted the desaturate layer, added a shadow to help with the perspective and the design was finished.
Software tutorials
The tutorial that helped me the most to help develop the design above was this one: 10-Step GUIDE: Blend Images and Create Composites with Photoshop. A one hour in depth tutorial that really helped, and taught me a good range of tips to help improve my designs. For example, I found that desaturating the layer tip very useful. It not only saves a lot of time eyeing it up to blend it in, it also blends in the design really well for you.
I want to develop my colour matching skills further in Photoshop as I feel like you cant stop getting better at it and it can really make your designs stand out from other people as it is quite an advanced skill to learn.
Additional helpful tutorials I used:
Design resources and articles
When researching, I found these articles interesting and helpful:
I find it fascinating that there are many ways to edit images in photoshop. The two articles above are about light matching for composites and how to merge images together. As much as I found them interesting and helpful, I don't think I learn as much from them as I do with tutorials. I feel like I can pick up on skills much faster when someone is basically talking to me step by step and I can always replay it if I missed a bit. However with articles I feel like I need to fill in the blanks sometimes and the images aren't as helpful as a video because they are always missing something important like where a tool is for instance.
These articles did help me with my design ideas though. The first article gave me the idea to not touch the background so I can focus on developing my skills with modifying the subject to match the background. I'm glad I did it that way instead of just playing with the brightness and contrast on both layers until they looked the same, because this outcome will always look better if you take your time with it and go into detail.
Learning throughout the module
Skills I have learnt and developed throughout the module:
Developed idea generation
Learnt basics of digital illustration and vector shapes
Developed skills with image editing
Developed typography and layout skills
Developed time management skills
Photoshop
I am most confident with this software, and feel happy with where I am at with it. I want to keep developing my colour matching skills, because after learning more about it I think that they are a very important skill to master to become a good designer. I am happy that I developed my image editing skills as well especially with lighting and colour.
Illustrator
I am happy with my progress in Illustrator, I got a lot more familiar with the software and feel more confident with creating vector shapes to form a design. Overall, I think that I improved a lot with this software.
InDesign
InDesign was the software that I was least confident with at the start of the module. I'm glad that I got an extra week to work on the skills for it. I improved my skills in formatting text and layout, and formatting tabular content. I feel a lot more confident using the software than I did at the start of the module, I am also happy that I can use the tools it provides effectively.