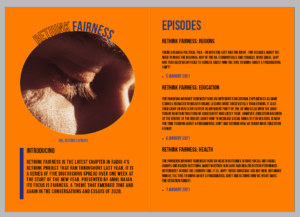 Design Ideas and Design Process
This project only consisted of creating one design, this design is my final piece. I began by researching leaflet layouts so I could understand the concept and layout of them to be able to create my own. I used a step by step tutorial on how to create a flyer linked here (https://helpx.adobe.com/uk/indesign/how-to/make-flyer.html) this gave me modern ideas and a good base layout to follow. My goals for this flyer was to create something people would be interested in reading, that wasn't too much information that people would get bored. I feel like I did well by having a large image whilst having enough text for people to understand what the flyer was about and then when and where you can listen to this radio show. All of the information was placed into indesign using paragraph styles for headings and paragraph layouts and then character styles for bullet points and hyperlinks. I used shape tools to add an image into the flyer, the image I chose is of a man, however, I see it from a creative perspective, he looks as though he is thinking about something and that ties into the theme of rethinking. The radio topics are about rethinking fairness in education, religion and health, personally I believe this picture depicts that so simply. I used the type on path feature to curve the title to the image, I did this because it fit well with the shape of the image. By using bullet points and changing the colour of the dates I could make them stand out without having to make them a large type size that would not fit with the flyer. Finally, I took a screen grab from the bbc website so I could use the same colours for my flyer.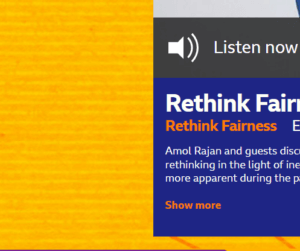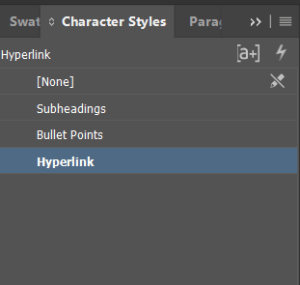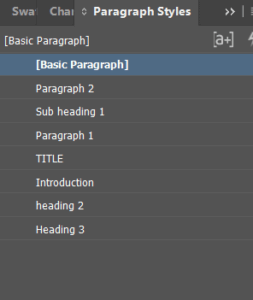 Modern flair element to remove negative space.
Software Tutorials 
To help me with my design I used paragraph and character styles, at first I had to understand what the difference was between the two, character styles are best for lists or bullet points whereas paragraph styles works for paragraphs and headings. By watching this youtube tutorial it made me feel ,ore comfortable on my understanding of these styles and their purposes. I have very minimal indesign knowledge but our book project at the beginning of University helped give me a good level of understanding. This helped me to create order through my Title, headings and paragraphs.  https://www.youtube.com/watch?v=3gW25FEVJlA
I also watched a tutorial on how to curve text in indesign using this tutorial (https://www.google.com/search?client=avast-a-2&q=how+to+curve+text+in+indesign&oq=how+to+curve+text+in+indesign&aqs=avast..69i57j0l7.4608j0j1&ie=UTF-8#kpvalbx=_S54XZO_JA8vXgQaprZboDA_30). This helped me find a new tool, the type on path tool which allowed me to write along the image I had previously imported, this is much easier than having to envelope or warp.
I also used a tutorial offered on the brief (https://helpx.adobe.com/uk/indesign/how-to/make-flyer.html). This tutorial allowed me to follow along each section and feel comfortable when following along. Being able to see how to input an image so easily and be given modern examples of designs. This is why I placed a blue rectangle along the introduction to give a contrasting colour and fill some negative space.
In the future I want to learn how to use parent pages in more depth for larger documents to allow for a faster and easier solution to creating documents. I would also like to improve my character style knowledge and further develop its purpose. My next idea will be to try and make a magazine to improve my indesign knowledge.
Design Resources and Articles 
https://www.google.com/search?client=avast-a-2&q=indesign+flyer&oq=indesign+flyer&aqs=avast..69i57j0l6j69i60.4214j0j1&ie=UTF-8#fpstate=ive&vld=cid:89419234,vid:SSniSPcPKcg
This source that I found helped me from beginning to end starting with the settings to get my A5 flyer and the circle for my image. Learning how to place text and get the right size and leading to ensure that my text is legible. I used the step by step guide from adobe and the youtube video to influence my flyer.
https://trello.com/c/QVSpJFAs/-https://www.youtube.com/watch?v=ZSc2s7jl630
This tutorial helped me discover how you place bullet points into the flyer, I was very confused until I learned that you have to create a character style and then add a bullet point in and place your distance measurement.
https://www.bbc.co.uk/programmes/m000qx05
This is the link to the BBC website that I created the flyer for, by researching the business I was able to understand what the company does and what they expect from the leaflet. I saw that the three main colours featured on their website are blue, orange and fushia, I swatched these and tried to incorporate these colours into my flyer, however, I couldn't seem to get a perfect match.
Learning throughout the Module 
TY1SK had a quiz module and I struggled with a few questions, however, I have improved since the first time I took the quiz back in October which shows that I am learning from this module. Teaching ourselves this module can be difficult at times but it means that you learn a lot because it is the only way you will find out. In the beginning of the year I had no graphics knowledge but after 6 months of learning I feel like I am really starting to understand Adobe software. I have excelled most in illustrator because I have used it the most, doing the movie poster and the pictograms and now the leaflet as part of TY1DP1.  I need to work a lot more on my photoshop skills because the only learning experience I have is from skills and it is very minimal, I believe learning to edit photos will improve my images for my essays. Finally, Indesign was extremely hard to learn, I learned how to create a penguin book in indesign which gave me the ability to understand how to use parent pages and paragraph styles, character styles, folios and much more, however, because I didn't keep using it this knowledge had to be learned again.  This module has really helped me understand different kinds of adobe software and improves my ability in class and assignments throughout other modules.