Design Ideas and Design Process
Design idea:
For my initial design, I adopted a strategic approach to delve deeper into vector animation, utilizing various flows and movements to enrich the animation. My aim was to experiment with an array of text flow/effects, as well as diverse shapes and strokes to push the boundaries of creative possibility. As such, I made the deliberate choice to refresh my knowledge on the application of the bounce effect to my text. Given my previous experience with the After Effects program, it didn't take me long to familiarise myself to the various tools and processes involved. To infuse my animation with a fun and lively theme, I recognized the need to incorporate a palette of vibrant and bold hues. Therefore, I opted to introduce an array of bright colours to my design, in order to add playfulness into the final product.
Design process:
I had used the ellipse tool and hide the fill colour to only make the stroke visible. Then, I used different settings such as stroke width to control the thickness of the stroke. For the keyframes, I had experimented the timeframes as well so that my animation does not look too awkward.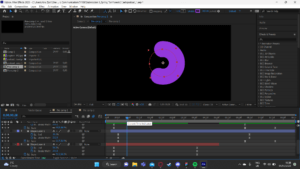 Upon completing the initial stroke animation, I made the decision to duplicate the animation, while simultaneously adjusting the stroke settings, colour scheme, and key frames to give it a fresh new look.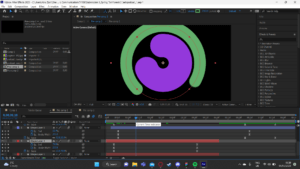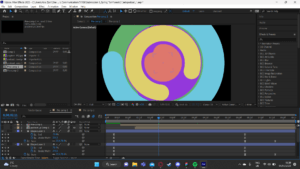 In order to further complement the lively and energetic aesthetic of the animation, I chose to incorporate a bouncy effect to the text element. Additionally, I explored the "Wiggle: position" effect within After Effects, which I discovered added some motion and dynamism to the text. I used these techniques to add playfulness to the animation, while still keeping it coherent and fluid.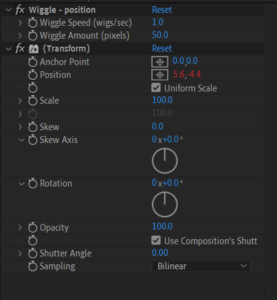 Here are the final results:
Design idea:
I wanted to create a school-themed animation for my second design, so I learned how to make a handwriting text effect. It was difficult to figure out at first, but I eventually discovered that changing the color tones can alter the handwriting effect. I chose to use a "school" theme for the design because I believed it would make the podcast more appealing and helpful to those who are interested in its topics and discussions.
Design Process:
From the text layer, I right clicked it and went to Camera > Create mask from text. From there, I searched up "Stroke" from the effects bar and applied it to my text layer.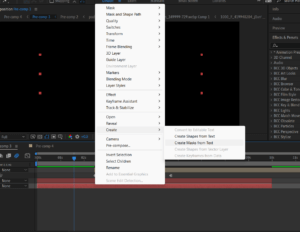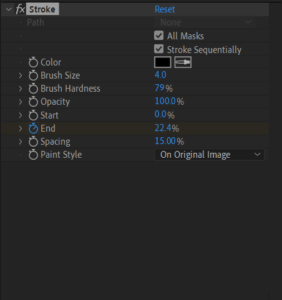 As for the podcast icon, I decided to use the brush overlay effect which was something I frequently. I then applied the Luma Matte tool on my image layer and linked the video overlay to the image layer.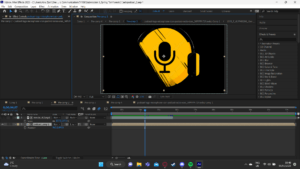 Moreover, I wanted to add a playful element so I decided to use the shape layer to make a smiley face by experimenting on the end and start keyframes as well as the stroke width. This had a similar process to the ellipse stroke animation on my first design.

After that, I organised all my elements into one composition and placed them on top of a notebook image layer. For the final touch, I decided to explore the turbulent displace effect. Since I wanted to make a crumpled paper effect, I decided to use that and set my time to "time6*". Moreover, I used the positions composition and scale composition to make some movements on my final product.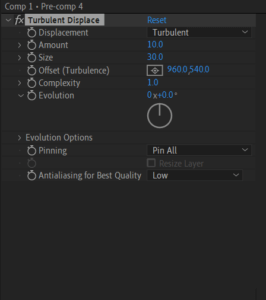 Here are the final results:
Design Idea:
In creating my final animation, I made the deliberate choice to focus on the use of transition effects with vector shapes, as I believed this approach would offer an exciting opportunity for experimentation and creative expression. What drew me in particular to the use of transitions in vector animations was the unique and appealing visual effect that it creates, something that I found both intriguing and captivating. By using transitions, I felt I could add an extra layer of dynamism and depth to my animation, making it all the more engaging and immersive for viewers.
Design Process:
I started of by doing pop ups of tiny circles by using the ellipse tool and the scale composition.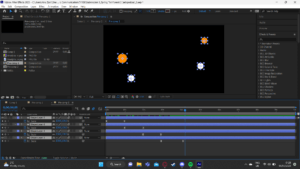 After that, I pre-composed it and placed a navy blue shape as a background then added another ellipse shape in the centre. To create my transition, I used the scale composition and increased the scale of the orange ellipse and transitioned it into a new background layer.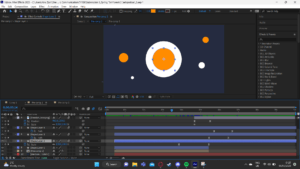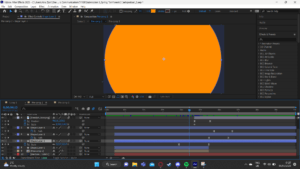 For my text, I used a masking effect with the shape tool and made my text appear halfway the composition. Other than that, I added some stroke animations to my project file because I thought it looked too empty. Additionally, I did a pop up transition with the headset image.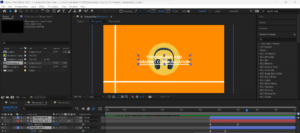 Here are the final results:
Software Tutorials:
I learned most of my software tutorials from YouTube. Although I have extensive experience with After Effects, I still used tutorials to refresh my memory. One important thing I remembered is the use of motion blur and keyframe graphs, particularly easy in, easy out, which is a fundamental knowledge any animator should possess to create smooth and fluid animations. For my first design, I watched a tutorial on the pop-up circle animation and bouncy text, which taught me that even the simplest vector animations can be unique and attractive. I also learned to access different text layer settings and keyframes for text animation, without relying on the effects tab.
In my second design, I explored handwriting text and brush overlay animation, and learned that pre-composing layers can help organize project files better. I also discovered that changing the random seed option (click + alt) in the effects tab can alter the timing of the turbulent displace effect. For my third design, I watched tutorials on text masking and vector transition. Although I had covered most of the basics in my past experiences, my goal was to explore new creative possibilities for achieving a professional look with the use of vector shapes. I also realized the potential for creating engaging cartoon vector animations for various types of advertisements. This approach could help me enhance my creative skills and create better, visually appealing transitions in future projects.
Here are some of the other tutorials I used:
Design Resources and Article:
When I was using the Luma Matte tool, I faced a challenge when a software update changed the process of using the track matte tool. But I managed to overcome this hurdle by linking my image or video layer to the overlay video and then clicking on the tiny box on the left to apply the Luma Matte effect.
I also learned that the brush overlay video needs to be in black and white to work effectively. While some people use green screens, I found the alternative way to be more distinctive. This experience sparked my curiosity in exploring other matte tools like alpha matte and chroma key for using green screens.
To resolve the issue and learn the updated process of using the tool, I used a website/resource that was helpful in familiarizing myself with the new placements of the tools.
https://community.adobe.com/t5/after-effects-discussions/the-alpha-and-luma-options-do-not-show-up-in-the-track-matte-drop-down-in-after-effects/td-p/13379977
Learning throughout the module
In my journey of learning digital design, I have come across some important techniques in Photoshop and Illustrator that have helped me in creating high-quality designs. One such technique that I learned in Photoshop is the use of the lasso tool for cutting images from their background. The add and subtract options of the lasso tool proved to be very useful in achieving the desired level of accuracy while selecting and isolating an image. Another technique that I became familiar with in Photoshop is the use of clipping masks. Clipping masks have proved to be a very effective tool in adding texture and depth to images.
In Illustrator, I discovered the importance of using grids when designing logos. I have learned that creative grid design can greatly enhance the overall look and feel of a logo. Following tutorials blindly may not always give the desired results, and it is essential to explore and experiment with different grid designs to create unique and visually appealing logos. With these techniques, I am confident that I can continue to improve my digital design skills and create designs that are both aesthetically pleasing and effective.