---
Design ideas and design process
Coming up with the idea of combining typography within the 'talking mouth' was developed during the design process. My initial thought was to create simple and identical stickers using symbolic and geometric shapes. After considering adding several shapes and images, e.g., microphone, dialogue sign, headphone, etc., I finally create the idea by turning the literal meaning of 'taking about typefaces' into graphics, by shaping the typography into the shape of a 'talking mouth', which shows the designs in below.
DESIGN 1: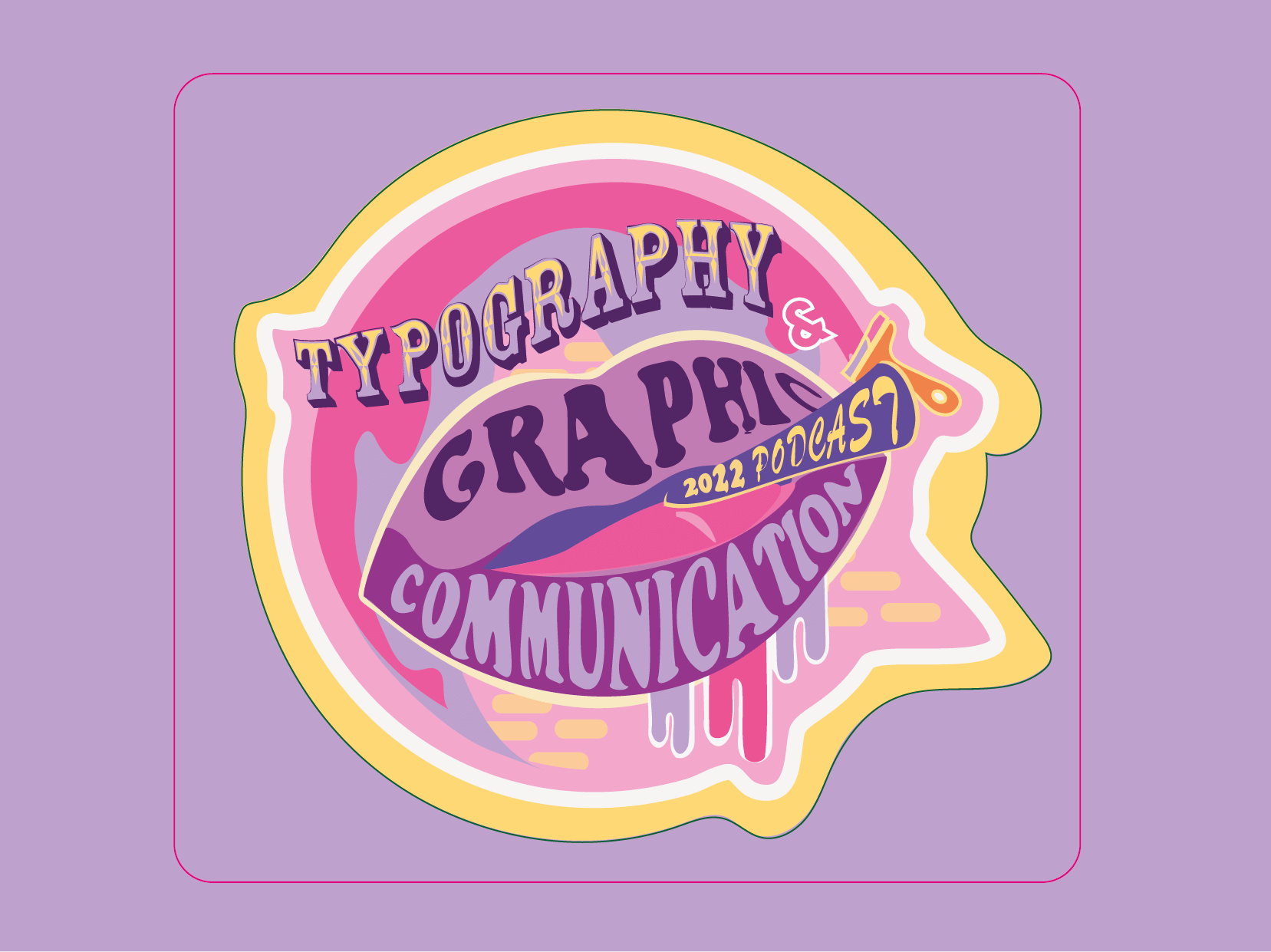 Design 1 (final design) (mainly with hand drawn illustration)
As I would like to practice drawing illustration in Adobe illustrator more flexible, I have spent more time on the first design than others to practice drawing smooth lines using the pen tool. My first design (Design 1) then ended up being my final design. By watching Youtube tutorials that teach how to use the drawing tool, I have further learned to use the width tool to adjust the stroke width, as well as the appearance panel to make changes separately and recover things easily. Besides, I have learnt to create wrap text by envelope distort effect and puppet warp tool (Screenshot 1), which these tools is efficient to create stylish typography. As I was aiming to create stylish and more recognizable stickers, I have chosen an analogue colour scheme with bluish-purple and pink, contrasting with a yellow margin. Hopefully, it was more attractive.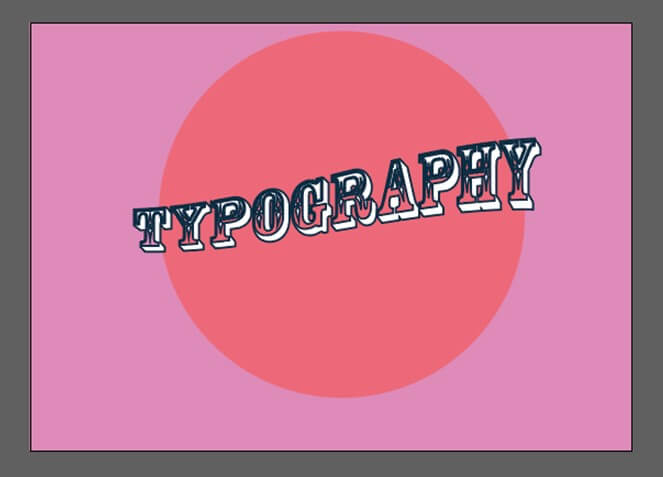 Screenshot 1: Wrap effect to the text (envelope distort effect & puppet warp tool)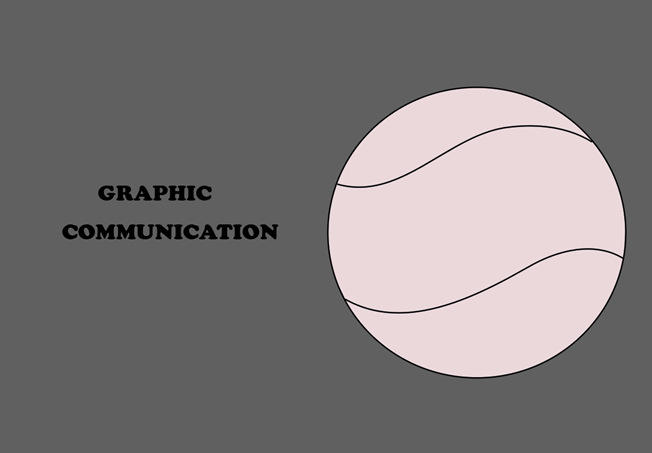 Screenshot 2: Making the text with lips shape (knife tool to cut the curved shapes from circle > replace the shape with text by Ctrl+Alt+C > puppet warp tool to shape the lips)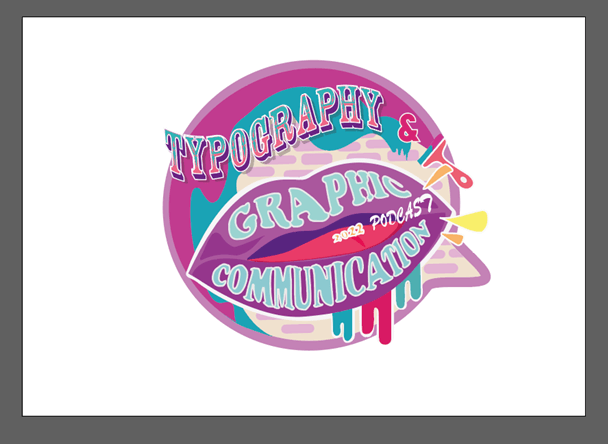 Screenshot 3: Drawing illustrations for decorations (pen tool)
---
DESIGN 2: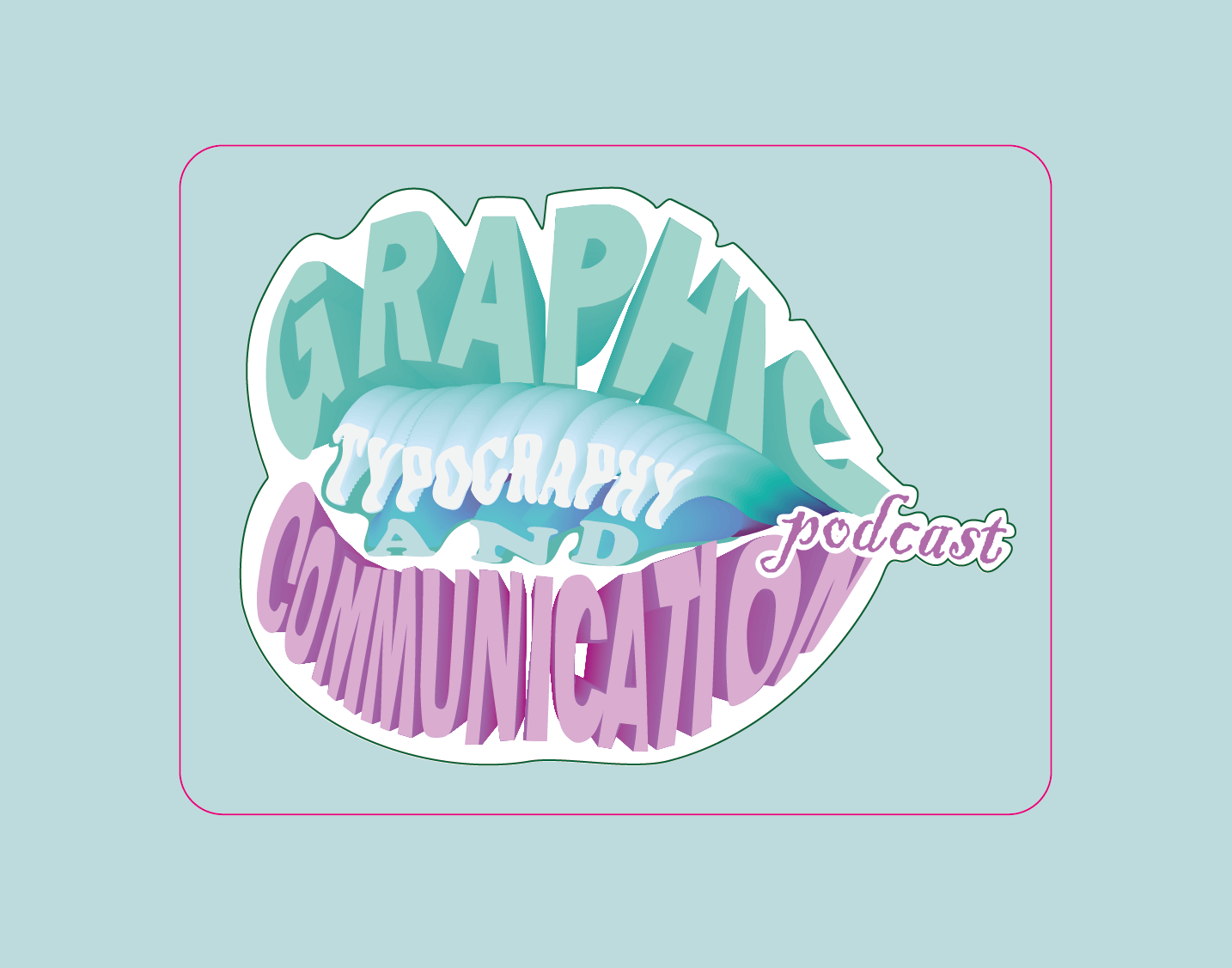 Design 2 (Experiment with 3D text)
Further developing the idea of making the typography into a mouth shape, I then created a 3D version using the blend option (Screenshot 4), as well as shaping the 3D text by using the puppet warp tool that learnt while creating the previous sticker (Screenshot 5).  I remain to choose an analogue colour scheme of Cyan and purple while using gradient colour for the tongue to make it look more realistic. It ended up quite successfully.
Screenshot 4: Creating 3D text (Blend option & puppet warp tool)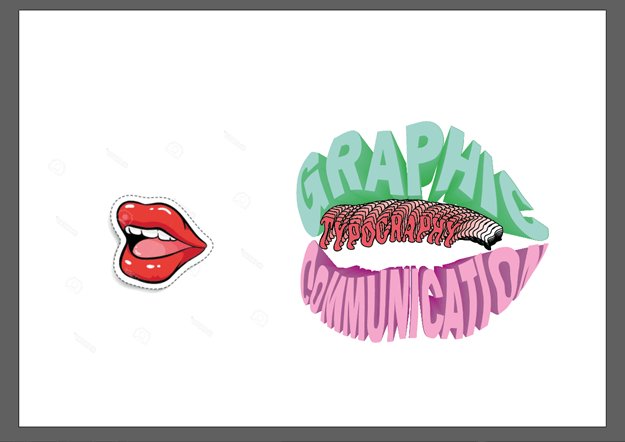 Screenshot 5: Apply the 3D text into a curved stroke (blend> replace-spine) ; Shape the 3D text into a mouth pupplet wrap tool
---
DESIGN 3: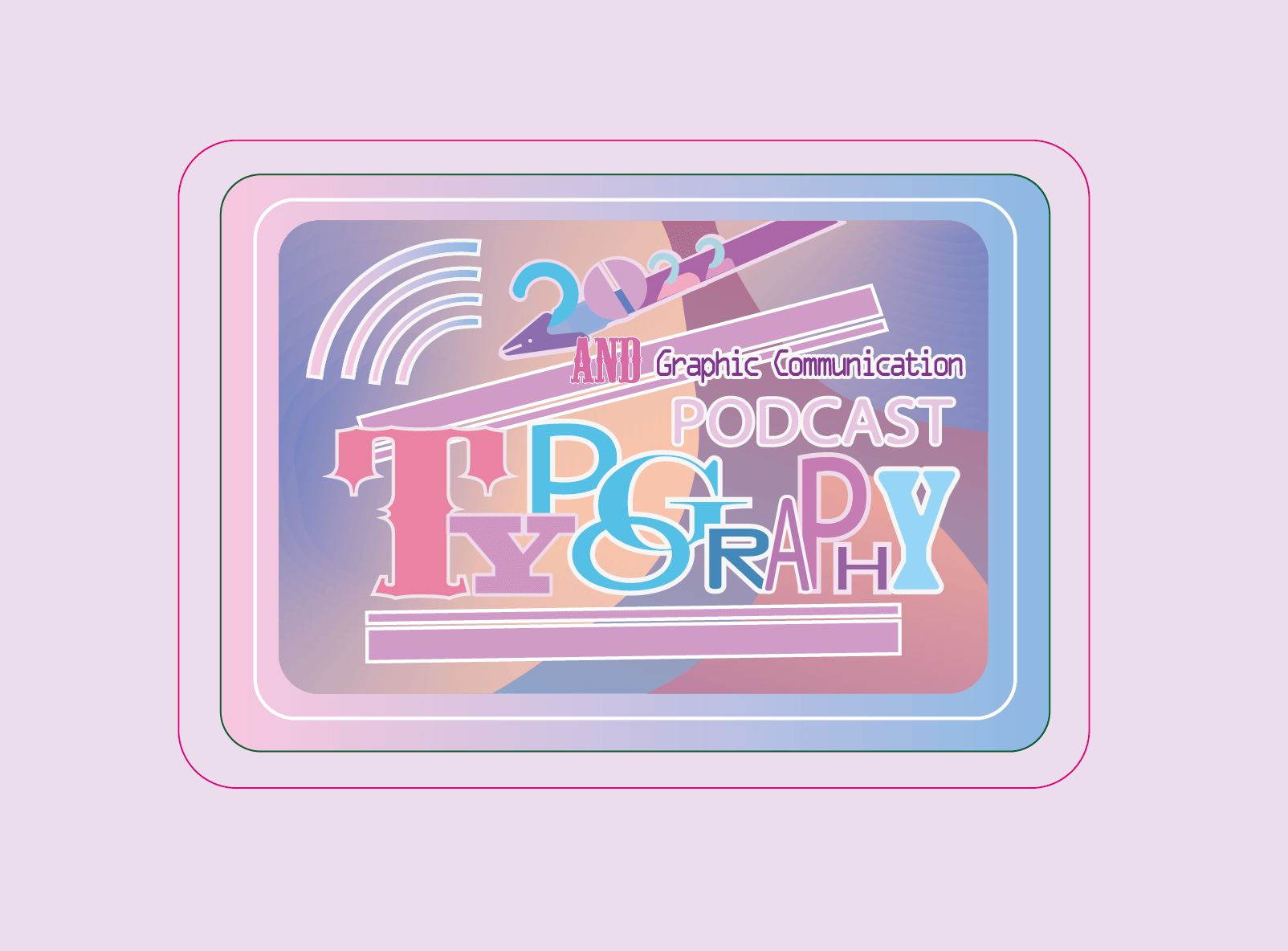 Design 3 (Playing with shapes, letter forms and gradient colour)
In Design 3, I have developed skills in constructing text and adapting gradient colours within designs. I came up with another approach playing around with the composition and different letterforms using the pathfinder tools. The background was filled with gradient shapes and colours using the gradient tool, also drawing of  simplified graphics are added, such as the book in rectangle shape, and the typography pen, both were drawn and constructed with the pathfinder tools.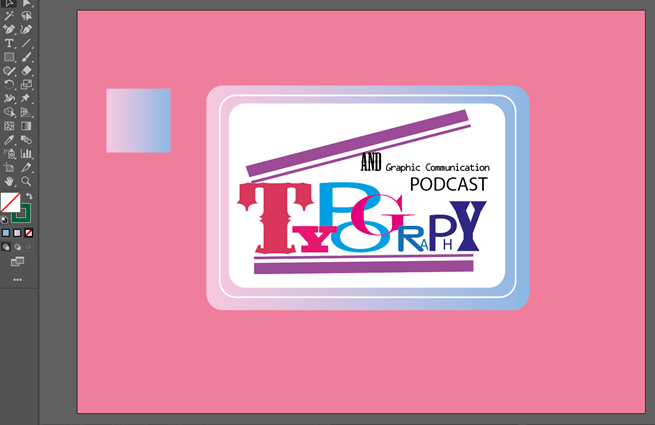 Screenshot 6: Constructing the text with different letter forms (pathfinder tools)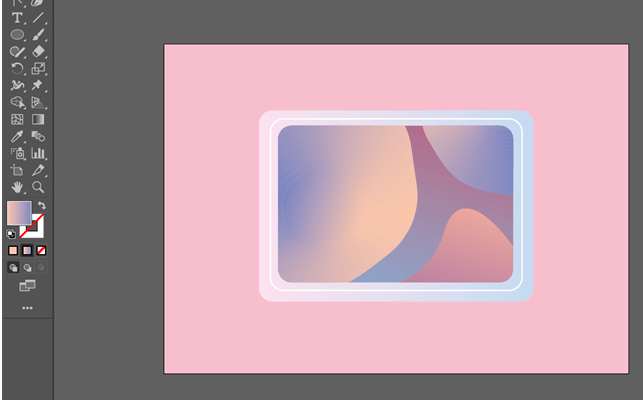 Screenshot 7: Creating background with gradient-shapes (gradient tool)
---
Software Tutorials
By learning the fundamental techniques in Adobe illustrator, I began with watching a few resources from Adobe creative cloud for a tutorial like creating monograms and adding texture to illustration, to learn how to write text within a circle using text on a path tool and scissors tool.
For specific techniques, I watch a tutorial from Linkedin learning: illustrator 2021 Essential training by Tony Harmer,  which I found useful and more organisable. It includes a tutorial on almost all tools and even a specific aspect. In Design 1, I have learnt to use shapes and line drawing tools to create a variable-width stroke. It also allows me to develop skills in constructing shapes and forms using pathfinder and shape builder tools. (Screenshot 6)
The most useful technique I have learnt from these design tasks will be using blend options, which I have learnt from several Youtube videos. In How to design a wave shapes gradient background, I learnt to adapt the gradient shape effect using the blending option (Screenshot 7). In Warp Text Into Shapes Illustrator Tutorial , it allows me to further adapt the technique in my design by creating the 3D typography with shapes of talking mouth.
---
Resources for research and inspiration
I mainly found inspiration from Pinterest (My Stickers inspiration) (Reference picture 1), which provide loads of sticker designs with any styles that allow me to make references with their composition of text and graphics. Furthermore,  99 designs also provide professional stickers desigsn for me to observe how they manage to create an attractive sticker.
By exploring how others shaped the text to a mouth, I found quite a lot of designers have been using the idea (Reference picture 2), so I only make references with the shape of the lips while shaping it with my text and typography style. Lastly, reading the article 'Top 13 Tips To Create And Print Sticker Designs That Stand Out', teaches us how can creating efficient sticker designs. It is said that stickers should look simple while funny, and make things super large to create readable text, so I enlarged my text in my Design 2 as much as it can.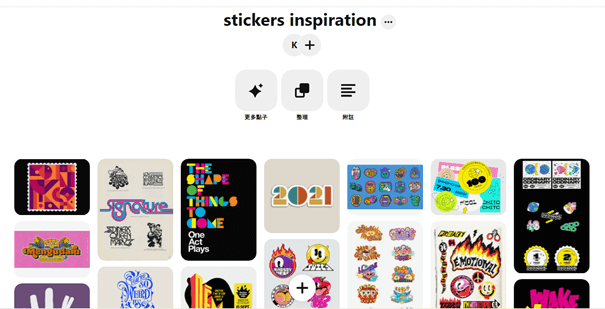 Reference picture 1: My pinterest board (stickers inpiration)
Reference picture 2: By googling 'Typography mouth'
---
Reflection
By reflecting on my design, I think it was not quite successful in my design 3, as the text looks a bit messy with too many small objects, I can improve by unifying the text by using the same gradient colour similar to the background, so it may look more harmonious. Another solution is to enlarge the object and remove the non-necessary part.
At the time, my sticker designs are lack of funny elements to attract the audience. In future design, I need to improve on the skills of developing creative ideas and reflect on how I can create more eye-catching stickers with simple graphics. For example, I can use contrasting visual elements, line strokes or simple characters in order to make my designs more interesting. Besides, I may get more inspiration from other artists. To develop my skill further, I still want to practice using the pen tools and other tools that I haven't used in Adobe illustrator.