Design Ideas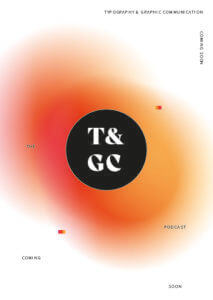 For the Photoshop Task, I experimented with the use of gradients, I continued this for my postcards, to create synergy between the branding elements. For this particular design, I wanted it to have a poster feel on a smaller scale. It includes a logotype, as well as body text that includes the title and information about the podcast. I felt that this design paid off and I was able to solidify my skills on InDesign, it is probably my favourite of the three.
---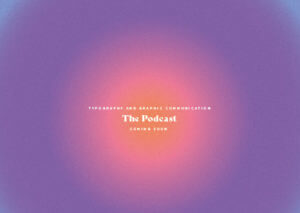 For my second postcard design, I wanted to replicate my screensaver by using the gradient tools on InDesign. I also wanted this particular style in landscape, I thought it leant itself better this way. I felt that this didn't challenge me as much however, I did learn how to create a grain effect.
---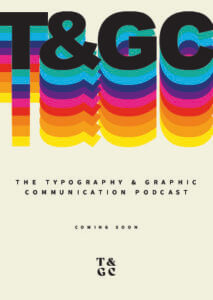 For my third postcard design, I wanted to experiment more with type and paragraph styles. This was particularly fun and I enjoyed making swatches for my repeated text. This design was nearly my favourite because it was rather straightforward to make but also required me to use various tools.
---
Design Process
I started by creating three swatches and then using these to create a gradient swatch. Then I created a circle with the ellipse tool and set the fill to black. After that, I made a larger circle over the top with the fill set to the gradient swatch and then sent the larger circle to the back of the document. Then I selected object>effects>gradient feather. I set the type to radial and then adjusted the gradient stops. I then copy and pasted the gradient circles twice and moved them to to the left and right of the original circle.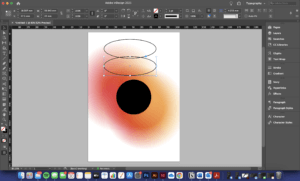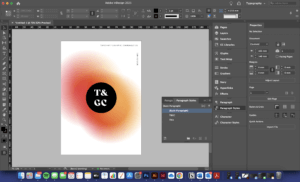 Software tutorials
I found tutorials on InDesign really beneficial. I haven't used InDesign as much as the other software so was least confident for this program. I began by watching the tutorial on Adobe which was a very brief video about creating a postcard on InDesign. One of the most useful tutorials I watched was another of Adobe's which showed how to apply colour and effects to my postcard. The most useful tutorial was probably one I found through Pinterest when looking for inspiration. This tutorial showed how to create gradient effects. These tutorials helped me develop my general skills and confidence in using InDesign. I now feel that I can confidently implement gradients and utilise swatches on an InDesign file. Some areas I would like to improve are consistently using paragraph styles, I found for this project I forgot; whereas, in the TY1INT book design project I rarely forgot. I would also like to experiment more with the tools as there is still a lot that I haven't used so hopefully I can watch some tutorials and follow them.
---
Design resources and articles
Alongside the David Pearson article and the Molly Scannell article, I also found my own. I did a lot of research on social media in particular Pinterest and Behance. I found it useful to see how others designed postcards in general or podcast branding. I also used Behance to look at general work created on InDesign to get a better feel for it. In particular, one article I looked at was for gradients, this was interesting to me for background and also seeing how it's applied.
---