Design ideas and design process
The task I chose for week one was the Creative Images Photoshop task where we were free to create any sort of image which distorted reality in some kind of way and demonstrated progression in our photoshop skills. I liked the idea of this because we had complete freedom with our designs to make anything we wanted rather than a set goal to complete. For the first design, I wanted to create something interesting with an eye. I had the idea to only have the iris in colour so made an adjustment layer to convert the image to black and white, then used the brush tool to add colour back to the eye. I added images of a forest, moon and starry sky using layers and clipping masks with the quick selection tool. I discovered that the refine edge brush tool was really useful to capture the small details of the trees. After this I used the brush tool to get rid of the the areas of the images that I didn't want to be visible, so that they were positioned how I wanted them inside the shape of the eye. I also used the gradient tool to blend them in, as well as changing the opacity on my brush and using this around the edges.
With my second design I used the same process of clipping masks, while adding some more adjustment layers to alter the effects of the image in the sky, and to make the girl look more blue so that she fitted into the sky better.
For my final design I used two images together and experimented with how I could combine them. I used an image of a girl and the umbrella as the base layer and then imported the lightning as a layer on top of this. A challenge I overcame here was that I wanted to integrate the entire image with the girl and the rain drops with the lightning, so i reduced the opacity, however this faded away the girl too. So again, I used the brush tool to make the parts I wanted 100% opacity by removing the foreground photo from these sections, while the rain drops and the background of the photo were faded in order to blend with the lightning photo. Lastly, I used the eraser tool over the shape of the umbrella to make it appear in full colour and solidity.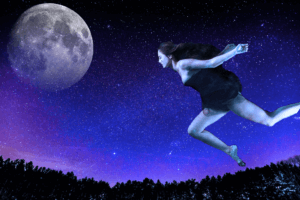 Software tutorials
I watched some tutorials in order to learn some more complex tools and techniques in Photoshop. I started off by watching the photoshop tutorial on layers and layer masks on youtube which really helped me get to grips with how layers can be used in different ways to your advantage. I hadn't understood how layers worked before this, and now I can easily integrate images using layers. I then looked at the adobe tutorial 'combine black and white with colour in a photo' which gave me more of an understanding about how the layers work and the use of adjustment layers. The next tutorial I watched was the adobe youtube video: How to use layer masking, which gave me some more complex information on how to integrate different images by removing parts of one image and showing parts of another. In addition, I used the adobe tutorial: How to make a photo composite in photoshop, which demonstrated the steps of using layers masks to get the final piece. All my tutorials were based on what layers are and how they work, which gave me lots of really useful knowledge for improving my photoshop skills. After using these tutorials I was able to create new layers, use the quick selection tool to cut out images, use the brush tools to control areas of clipping masks, and add adjustments to the colour settings.
https://helpx.adobe.com/photoshop/how-to/black-and-white-with-color-photo.html
https://helpx.adobe.com/photoshop/how-to/composite-photo.html
Resources for research and inspiration
For sources of inspiration, I browsed through examples of photoshop creative images on the web which helped me brainstorm ideas of my own. I especially found that Pinterest was full of creative images and I saw many examples of photoshopped eyes which stemmed by idea for my first design. It was really fascinating to see other people's ideas of how they can distort reality by using ordinary subjects and placing then in unusual contexts as well as editing the colours and shapes. Also, browsing through creative instagram accounts gave me lots of inspiration as I admired other's work, and even just searching #photoshop resulted in lots of amazing photoshopped art. Additionally, I used Pixabay to search for all the images that I used in this design task, and some of the photos gave me inspiration and ideas for how I could use them. Finally, having looked on our spring term Padlet wall, I could see what creative images some of my fellow students had come up with which inspired my own designs and gave me some direction in what sort of image to design and create. I really enjoyed looking at other's work, especially students who were at my level of photoshop skill because it gave me a rough idea of what I might be able to achieve myself.
https://www.pinterest.co.uk/search/pins/?q=photoshop%20art&rs=typed&term_meta[]=photoshop%7Ctyped&term_meta[]=art%7Ctyped