Introduction
In this part of my journey, I was asked to edit a variation of images in Photoshop. Upon approach to this task, I felt quite skeptical because I had very little experience in Photoshop. However, Photoshop is something I have always wanted to excel in but had not yet had the opportunity to fully practise the software. This was my perfect opportunity.  As someone who is aware how crucial Photoshop can be in the Design world, I was eager to get on and start this task.
Design Ideas & Process
I began by familiarising myself with the software. Considering my lack of experience in Photoshop, I thought practising a bit first was important. I research a couple of tutorials on youtube and this is where I found the inspiration for my first practise where I made a cow disappear from the scene using the clone tool. I would then take this skill i've picked up onto something a bit more relevant to the likes of a Typography and Graphic Design Communication Podcast cover.
Before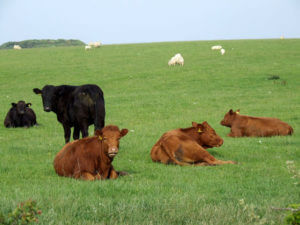 After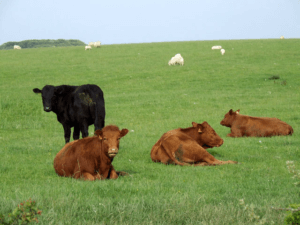 I then directed my practise towards something a little bit more complex. I wanted to create a sort of colour pop image where everything is in black and white but with a pop of colour. I instantly thought to make the colour of an eye pop and thought this would be great practise where I could then go on to apply this to something more relevant. Here, I am experimenting with adjustment layers and the eraser tool to create an hole through the adjustment layer, therefore showing the image behind the black & white adjustment layer.
Before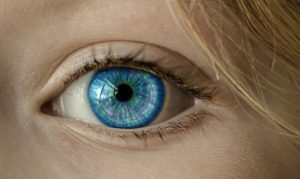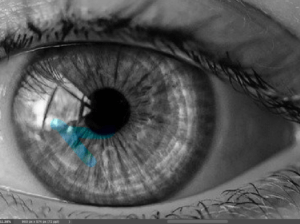 After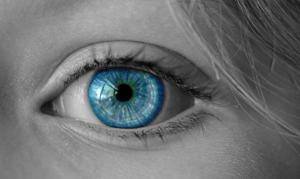 After having a bit of practise, I decided I may be ready to start some more relevant designs. I came across a desk image which I thought I could play about with. The cup of coffee was a bit awkwardly placed for me, as I also wanted to include some text. I applied my previous cloning experience to make the cup disappear. I used a variation of colours to contrast the clinical background and then used the clone tool with a more abstract approach to create a David Carson grunge inspired Typographic feature in the bottom right. I felt this would most definitely be suitable for a podcast cover.
Before

After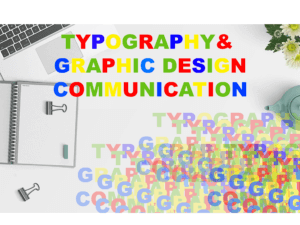 I then came across another image that inspired me and I thought it could be more abstractly interpreted into the design world as it is quite artistic and unique. With this image, I wanted to practise upon the previous black and white adjustment layer I had managed where I erased the layer to reveal the colour layer behind. I'm really happy with how this turned out, I think i've developed well on previous skills and I could now easily be able to carry out this task again with little difficulty.
Before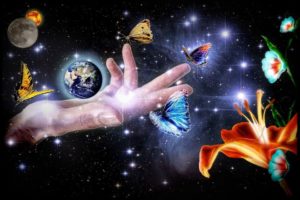 After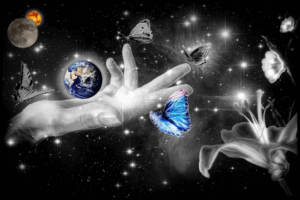 Lastly I found this one image that I was particularly drawn too. I felt it was extremely fitting to the Podcast theme and I wondered how I could change it to make it somewhat my own. I used same black and white adjustment layer technique to create a pop of colour but I also edited the colour settings to achieve a darker more grungey appeal. I'm really happy with how this panned out.
Before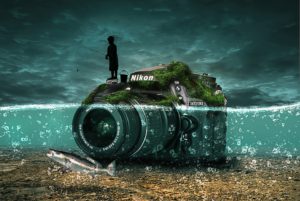 After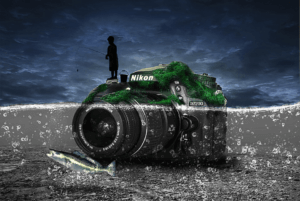 Software Tutorials
The resource above is the one that kickstarted my design and development journey. As you can see right in the beginning, he removes a sheep from a field – I found this quite fascinating and from this I recreated my own using the field of cows you have seen above. This was a great starting point for me as a way of removing things from an image which I then went on to use further in this task. This was extremely quick and helpful, sometimes the longer videos can be a bit longwinded and you tend to loose focus but I found this was straight to the point and when I got stuck I had just had to rewind and watch a bit more carefully. So this was the basis of the skills behind my first design where I experimented with the clone tool in many different ways. I also read through THIS page > https://helpx.adobe.com/photoshop/using/retouching-repairing-images.html < before starting and this helped me to understand the true basis of what I was about to take on.
Below is another link that heavily influenced a lot of my work here. This resource, although short, was extremely helpful and I only had to walk through it once before getting the hang of what I was doing. I did have to rewind once but it was very good at portraying the message it wanted to convey. I was really proud of myself and what i achieved with the help of this resource.
Skills I would want to develop further within Photoshop, would be the cutting out and replacing the backgrounds of images. I have always been interested in the likes of these projects and it is something I would like to practise within my own business where I buy and sell or hand-make items. Generally I would love to develop my skills in Photoshop, as this is something I have always longed to do but I never really had the confidence. Now I have completed these tasks, I do feel I could take on future challenges much more willingly having the confidence i do know my way around the software now.
Resources & Inspiration
As you can see most of my resources were taken from youtube. Youtube is a great platform for learning and I always turn to it when I am unsure where to start or if i'm stuck on a particular thing – if you are unsure on how to approach ANYTHING, youtube it! There is always a solution on there for everything.
Not only have I payed close attention to the resources provided by the lecturer of this module, I also made sure to venture out and discover my own resources. I find these type of videos extremely helpful as long as they are not too longwinded and confusing. The videos I provided were all short and to the point which is how, I believe a good tutorial should be.  The tutorial below is a perfect example of good qualities in a resourceful tutorial.
I also took some different approaches by keeping an eye out on for inspiration on the likes of Pinterest and Instagram. Similarly, I looked up key words like "Typography" and "Design" on free image download website as a way to kickstart my creative thinking. Another way I kept myself inspired, was by referring back to our classroom Padlet wall where we all post our work. Sometimes I find it helpful to look at my peers work, making sure i'm on the right track and to draw inspiration from here while keeping it original and true to myself.
Inspiration is something you can find in all different ways and walk of life. All it takes is to take a walk or look around the house to draw inspiration from things you may never have expected. I found it helpful familiarising myself with the task brief and then coming back to it a few hours later while I had collected some thoughts.
Conclusion
I really impressed myself on this particular topic and I truly do feel like I have learnt a-lot along the way. Having come into this with next-to-no experience in Photoshop, I am leaving eager to get practising my skills again. I have selected a variation of tools and developed them in such a way that I now feel I could do it again without much difficulty. I really enjoyed myself here and felt i pushed myself to achieve more than I thought possibly. I have done things that I have always wanted to learn to do and i cant wait to practise this for fun rather than because I have too.