Design ideas and Process
Design 1:
I saw a YouTube tutorial which involved a messy, scribble- like approach and I thought this would be a good fit for typography as it reminded me of script and calligraphy. I included a lamp as it gave the image a warm feeling, like a podcast might and it also quite literally shed light on something and an insightful podcast should be illuminating. I thought the title script tease was a good pun (strip tease). I was looking through photos I had on my camera for inspiration, when I saw a photo of a streetlamp in dusk. I thought this would be good for a podcast image as it had an atmosphere like it was illuminating some foggy subject.
I opened this photo on photoshop, where I erased a lot of colour from the image so that it would have less noise and fewer colours. I then created a brush from scratch using scribbles I had made with the pen tool. I used this brush to create a scribble behind the lamp, which I then turned into a clipping mask. This made the lamp look like a scribbled drawing. To complete the image, I added text in a script front as with worked in harmony since it looked like part of the scribble.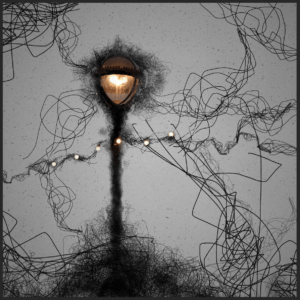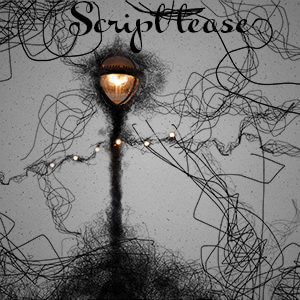 Design 2:
For my second design, I wanted something a little more straightforward. I thought a marble texture would look very eye-catching, particularly if it used complimentary colours. The pattern was easily achieved by using the liquefy tool on an arrangement of different colours.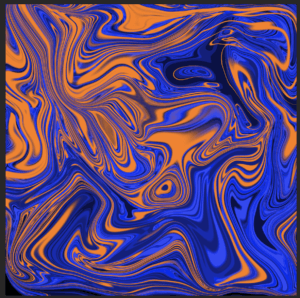 To give the podcast branding opportunities I needed to add a title. This required a minimalist approach as anything else would me the psychedelic picture loud and hard to look at. I placed a white square with a low opacity over it, and cut out the title so that it was written with negative space. The typeface I used was Helvetica, which is well suited to minimalism.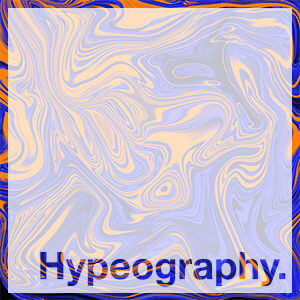 Design 3:
The liquefy effect I used on design 2 really inspired me, and that I wanted to create an even more psychedelic design. I wanted to create a design with a retro feel, as my last design felt quite contemporary. One of the ways I did this was to reuse a texture I downloaded for the first design because it gave an aged, grainy texture. To make my design more visually striking I used the whole colour spectrum which breaks the rules a little bit, but what better way to stand out from the crowd?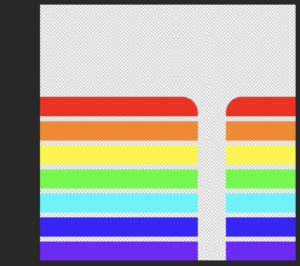 To add more contrast to this design, I titled it 'blackletter' which seemed the polar opposite to the 80s psychedelic effect I was creating.
I then used the liquefy function to create the appearance of paint dribbling down the colours, causing them to blend.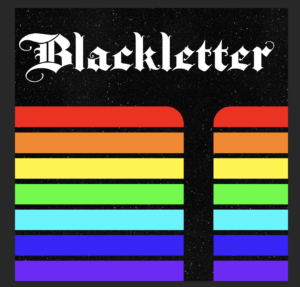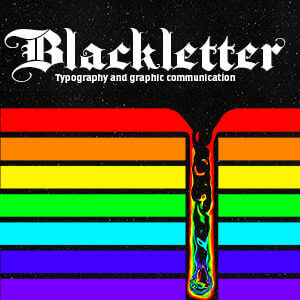 Software tutorials
Scribble effect: https://www.youtube.com/watch?v=9MPb9_QSYq0&feature=emb_logo
I used this tutorial to develop idea 1. While I may not need to make the effect ever again, it was very useful to me as I learned how to make a custom brush from scratch. This means that for a more demanding photoshop project I will be able to use this to make artwork quicker. Moving forward, I want to develop my brush making skills so that I can tailor a tool for any brief. One thing that is impressive about this effect is that it looks like it would take a lot longer to do than it really does. I think what this means is that there is almost always going to be a quick way of doing something on photoshop.
Marble effect: https://www.youtube.com/watch?v=loIjVxLb2Gg
This was used primarily for idea 2, but because I really liked the aesthetic it created, I also used it in a small part of idea 3. This was actually quite a simple photoshop function, but I hadn't used it before. This tutorial showed me that a very wide range of textures can be made through photoshop, and are definitely not limited to the images you open in the software. Here I have created a simple pattern, but with a change of colour and brush weight, it could easily be water, or any other liquid.
 Text cut out: http://photoshoptrainingchannel.com/editable-cutout-text-photoshop/
The text cut out was a better way of doing something which is a basic photoshop trick. Before, I thought I had to created a clipping mask, but this process has greatly streamlined that. I found photoshop quite overwhelming to begin with, but it is shortcuts like these that will really come in useful for the future. They also help to make complex processes seem more straightforward. I think that in the future I want to improve at finding more shortcuts like this, to be as efficient as possible.
Resources for research and inspiration
Paper texture: https://www.mediafire.com/view/jatp59cw828hxd0/Texture.jpg/file
Although I found the paper texture through a YouTube tutorial for my first idea, it actually inspired me to create my third idea. I think I should endeavour to get the most use out of textures that are freely available through the internet because the more I have saved, the wider range of aesthetics that I can produce.
Retro packaging: https://www.beatsinabundance.com/blog/nostalgic-vhs-packaging-design
The distressed paper texture that I found reminded me of vintage packaging, particularly that of the 80s. These designs tend to have contrasting colours and the designs really catch your attention in a way that minimalist designs of today maybe don't. Perhaps then, something I could take away from this is that when looking for examples or inspiration, I should remember to look at designs from across time. A vintage design could be useful as it might break typical conventions but in only such a way that it will still obey rules. You would simply be working along a different era's guidelines.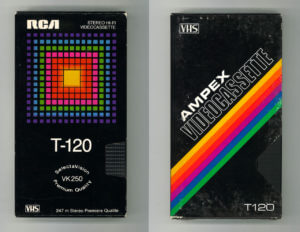 Photos from my own camera
For my first idea, I looked through the photos on my camera to generate ideas. I think this is an important thing to do because it allows you to draw from your own experiences, which make your design unique as it is more personal to you. Furthermore, I think photography can be used to build up a catalogue of impactful images that you can revisit to tackle a brief. Potentially, it is also a visual way of making a note of good design that you may see out in the world.