Design Ideas and Design Process:
Before I started, I researched different types of stickers to take inspiration from. I found some that were purely typographic and some that included graphics too. I also downloaded the template file and swatches before, to ensure I was prepared.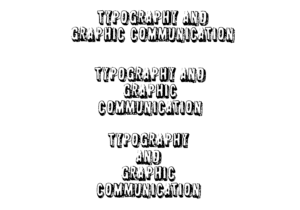 For the first design, I chose to keep it purely typographic in an attempt to ease myself back into illustrator and get a grasp of the task. I started by experimenting with 3 fonts that I had downloaded from Adobe fonts. I wanted a clear design that was also visually exciting. I was also looking for a nice silhouette of the phrase 'typography and graphic communication', so I played around with different layouts of the text. I felt that the 'and' on the same line as 'typography' made the silhouette too long and so moved it below. This was the same case for 'Graphic' and 'Communication'.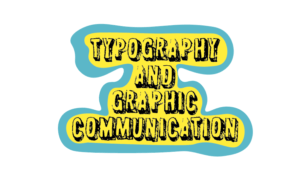 I then moved on to the background, which was the bubble around the text, this was a fairly simple process. I chose to use the curvature tool to work around the text and form a silhouette behind the text. I then repeated this, but slightly further out. For the colours, I chose yellow, blue and orange as I felt these stood out and worked well together.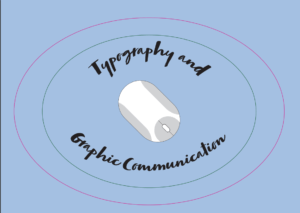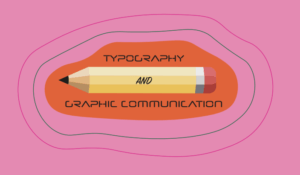 My process was similar for designs two and three except with the added element of an image. To do this, I drew out my illustrations on another file on illustrator and then placed it into my sticker file. This way, it kept my sticker file tidy and not over complicated. For both graphics, I used the curvature ­­­tool as this is what I found easiest to use and created the smoothest lines.
My favourite design was design 1. I wanted all my designs to be simple, as stickers are often printed at small scales and so if they're too busy it can be hard to distinguish what they are depicting/what the text says. I think that the first design achieves this in the most effective way out of the three designs as the repeating silhouette and the typeface I chose adds dimension and texture. Making this more dynamic than my other two.
Software Tutorials:
This tutorial, which was provided to us, showed you how to open up ASE swatch files. This helped me set up my Illustrator file and make sure that all the files I had been provided with, were in the correct format. This then allowed me to download the colours accurately in order for them to be cut correctly. Without this, the sticker would not have been functional when printed.
As I had not made a sticker before, I needed to further research how to do this. I found this video on YouTube that provided a tutorial of how someone else had done it. Although they were not specifically graphic design stickers, it was useful to see how others approached creating stickers on Illustrator and showed me ways I could potentially use the tools in Illustrator to my advantage. For example, manipulate shapes with the white arrow or joining multiple shapes to create just one using the shape builder tool. Before starting the task, I used the Adobe website to watch through general videos on how to use Illustrator to give me more confidence.
Having completed the task, I would like to further develop my Illustrator skills in order to develop from my current designs. In particular, I would like to develop my use of the pen tool because I found it difficult to create accurate lines. I would also develop my use of the brush tool to create a design that I had drawn myself. I will do this by continuing watching tutorials on the Adobe website and other tutorials available to me. ­­
Resources for research and information: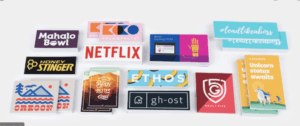 To begin my research, I looked at other typographic style stickers to get some inspiration for style and design. I found this useful in terms of how the size and colour of the typeface can be visually exciting or in the other case, how overcrowding and clashing colours can make it difficult to read.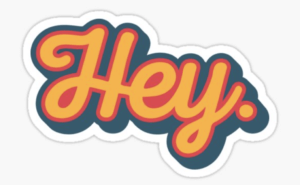 The inspiration for the style of my first sticker came from this image on the left. It was fully typographic and felt this was fitting for my sticker design in line with the brief. I felt that the contrasting colours worked well in making the word stand out and the bubble style worked for a visually exciting sticker. Although I decided not to go for a script font in my design, I liked the idea of following the silhouette of the text and then repeating that in another colour. I then used this in my idea and felt it looked most effective and ended up being my favourite design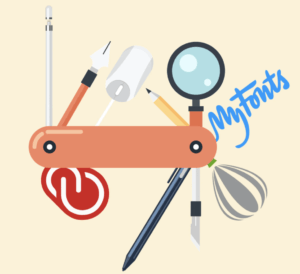 Finally, for my other designs, I wanted to develop my skills and use an illustration or a picture in the sticker. I researched images of items related to typography and found that this one incorporated that. I liked the clear and simple illustrations, and I knew that I wanted to include something like that in at least one of my own designs.
Going forward I would like to look at doing logo designs on illustrator and other types of branding as this is often what people use illustrator for.