Design ideas and processes
When been having told that we would choose which task we could choose to talk about, my first instinct was to choose the photoshop task.
For my first design idea, fig1, I started off by creating the background for this. I did this by selecting the background layer, then choosing a colour to change the colour. Once I chose this light blue colour and used the gradient tool. The gradient tool allowed me to get a very slight change of light, where it looks like a different perspective.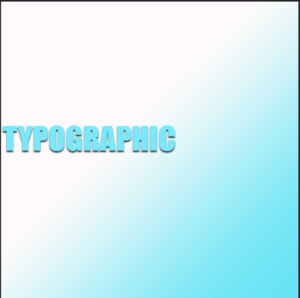 Once I did that I then decided to include some text, this was the next step in creating my design, as I didn't want to get too confused when adding in my images for this design. There are two colours that I have also used for each word, and I did this to ensure that it didn't have a stale and dull look to it. The first word was typographic and I wanted to make sure that this was all caps, to make sure it's as clear as possible to read.
The next thing that I did, was that I decided to try to then use another colour for the second word for this title of the podcast cover. The second colour that I used for this was white. For this step, I also made sure that this white text which said 'PODCAST' was behind the typographic font, also a lot larger than the other word. This achieved a very simple but effective look to the whole design.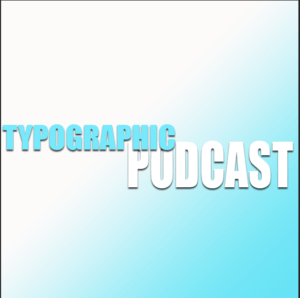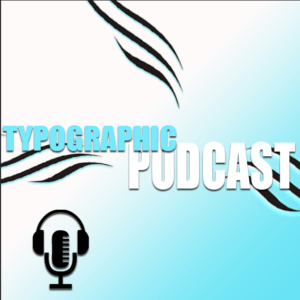 The next step and thing that I did to this design, was that I included four images, and three of these images were the same, however, I wanted to ensure that the three images in Fig 4, were all the same size however I did change the orientation of these three images. The fourth image that was included was an image of a microphone and a headset.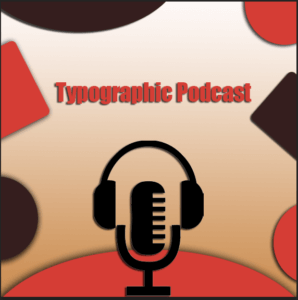 Within my second design idea (Fig 5) I was hoping to try new things within photoshop. One of them was trying to attempt and implement shapes and different shades of a certain colour to this particular design. I wanted to ensure that the gradient of the design, was a match for the colours of the title of the cover, and for the shapes that I included within this design as well.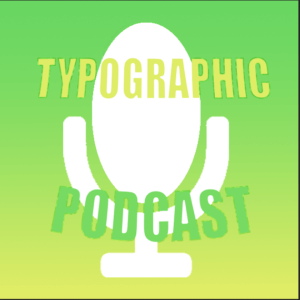 For my final design, Fig 6, I started off with this idea of various colours open, and also from google, I did have quite a few options of colour designs I was looking at. Eventually, I decided to go for another very intriguing colour or colours. I went with green,  yellow and white.
Software Tutorials
I have been using YouTube to get inspiration and to also gather the basic foundation of how to actually use Adobe Photoshop, because of the fact that I am still learning and would class myself as a beginner at using this software.
Since the videos and tutorials on YouTube were made to be very specific and also sometimes very general and vague. This meant that for me whilst trying to gather information and knowledge on how to do all of these tasks on Photoshop, was quite a user-friendly experience. This was also great for me, for keeping a track of what I know and also don't know, as I watched a playlist of videos to help me understand how to use this software. Whilst doing this I think that I would have been less likely to look at the videos again and again, and not forgot anything.
Another thing I used was actually going on Photoshop and then comparing my work to other professional work. For example, there are a lot of designers that have uploaded their work online for all of us to see. This gave me a good idea of how a podcast cover was supposed to look like. For example, the Joe Rogan podcast was one of the images I was looking at from the internet. These tools actually did help me develop my skills due to the fact that they allowed me to look at which areas I needed to go back on and learn how to complete them. For example, when I was struggling with certain functions of each tool on Photoshop, I went back to the YouTube videos I had open and referred to it to ensure it was the right way to do it. The main skill I want to develop further is drawing in Photoshop.
Resources for research and inspiration
I have been again using a lot of sources from YouTube, which are both very detailed for tutorials and obviously an inspiration. People that upload videos on YouTube have a lot of passion for Graphic Design, and they want to upload their work and how they created their work. This is why I think that this is one of the best sources of information, and definitely an inspiration to use due to the fact that it has millions of pieces of work people have made. The videos that I watched did actually help me develop my ideas because of the fact that when I was struggling with finding ways to add character to a plain design, they said to make sure you do have a structure and some symmetry within your design.
The video I used for the most inspiration was https://www.youtube.com/watch?v=4i2F7zLjS7c&list=PL6LaxAQbT3qkjNy3VbM0yd6KnLKxpg1X1&index=9
This video had quite a few tips and tricks of thinking outside of the box and using your mind in a lot of ways to look at designs and the software as one. Due to this, I created all three of my designs with this mindset. From this inspiration, I have definitely learnt a lot. The topics that I would like to explore further would be to ensure that I am very strong and confident with using images as text, and text as images. In a way to look at them both at different perspectives, because there are definitely ways of doing this. With all of these videos and people online helping me have different perspectives will always improve my work in ways, even I will not realise.